Bellagio, a small town in Italy, sits on a promontory on Lake Como where the lake splits into two southern branches. It's a fabulous setting but definitely not what I expected. The hills are bigger, it's very lush and there are far more towns and villages around Lake Como than I ever anticipated. Bellagio is a very popular tourist destination – but it's not for everyone. Mostly I saw romantically inclined couples and young families but there wasn't a backpacker in sight, perhaps because of the lack of hostels. There's enough to keep you busy for a few days and I think that's probably enough time for most people. Check out these fun things you can do in Bellagio, Italy.
This post includes some affiliate links. If you make a qualifying purchase through one of these links, I may receive a small percentage of the sale at no extra cost to you. Thank you very much for your support.
Fun things to do in Bellagio – Wander the back alleys
Enjoy window shopping as you wander the back alleys. There are some superb clothing, jewelry, wine and art stores that will tempt you – and that's coming from a non-shopper. I still have treasures I found in the small town years after my purchase.
Stroll the promenade in Bellagio
Head to the waterfront and hit the promenade. Find a bench and watch the world go by while enjoying the views of Lake Como. It's also a good place for people watching.
Check out the formal gardens at Villa Melzi in Bellagio
Visit the Gardens of Villa Melzi. For only 8 Euros (2022 prices) you can spend an enjoyable hour meandering the garden designed by architect, Luigi Canonica, and Luigi Villoresi. The paths take you along the lake and then up the short hill with a view to the towns on the far shores.
Take a boat tour of Lake Como starting in Bellagio
You can rent private boats but an inexpensive option is to get a day's pass for 14 Euros. This will allow you to jump on and off at a variety of towns on Lake Como – including Menaggio, Varenna, Lenno, Tremezzo and Cadenabbia.
You do need to pay attention to what type of boat you get on – the fast ones (which are more expensive on a one off ticket basis) or the slow ones which basically do the milk run stopping at every town along the way. Also check the schedule so you aren't waiting around on a dock for a few hours.
Have lunch or dinner in another town on Lake Como
Hop on a boat in Bellagio and head over to Varenna or Menaggio, popular options to explore, dine and then hop back on the boat again. It's a fun way to experience Lake Como.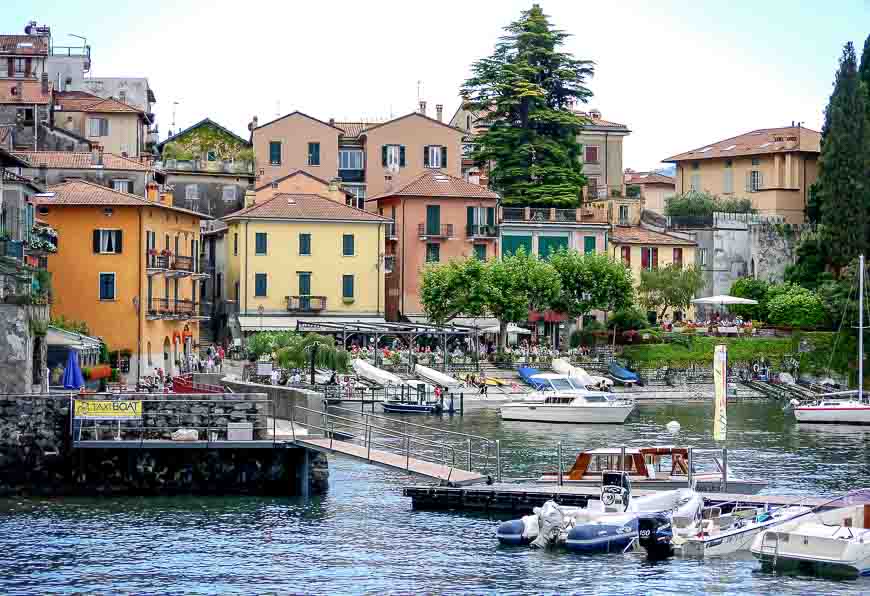 The café culture is alive and well in Bellagio
Find a table at one of the many lakeside cafes and have a mid-morning coffee. Or perhaps a gelato in the afternoon. People watching and checking out the activity on Lake Como is an enjoyable way of spending a few hours.
If you're more adventurous then try a swim in Lake Como (though not for me with the amount of boat traffic and the look of the water), rent a windsurfer or paddle a canoe.
Bellagio is accessible by car but if you don't have one then try a boat ride from Como or a combination of a bus ride from Como to Menaggio and then over to Bellagio by boat.
If you're looking for more adventures in a drop-dead beautiful landscape check out Laurel's post on hiking the Cinque Terre in Italy.
Where to stay in Bellagio

For a B&B experience with a view of Lake Como check out Miralago B&B and Apartments.

The Hotel du Lac where we stayed has a great location and is rated superb.
Further reading on travel in Europe
Click on the photo to bookmark to your Pinterest boards.