A large bike box containing the 72-pound Himiway all terrain electric cruiser bike showed up on my doorstep recently. It had taken three weeks to make it to Calgary from California via UPS ground, but it arrived in one piece with all bits inside carefully wrapped up – and everything in its place. Important parts like derailleurs were taped with protective layers. And there was a box holding all the accessories which made it way easier to assemble.
I already have a mountain bike and a hybrid bike, but I figured the Himiway electric bike would be an interesting one to add to my bike collection. It won't be a bike I use for vigorous exercise; more as a replacement for the car when I want to do errands (and my house is near the top of a big hill). When real life returns and we start having houseguests again, I think they might want to try it too – as there is a high fun factor with an electric bike.
There are lots of Calgary bike rides where a little boost would make the ride that much more enjoyable, especially for anyone who hasn't been on a bike in a while.
Have a look at how much fun the bike is to ride.
How the Himiway electric bike arrived
I got a notice from UPS that the bike would arrive on the one-day John and I were heading overnight to Kananaskis Country. This isn't the kind of package I want to have left on my front porch for 24 hours, so I coerced my daughter into driving by late in the afternoon to see if it had showed up. It had – but I never got the details as to how she dragged the 94-pound box (the weight with all the packing) into the garage.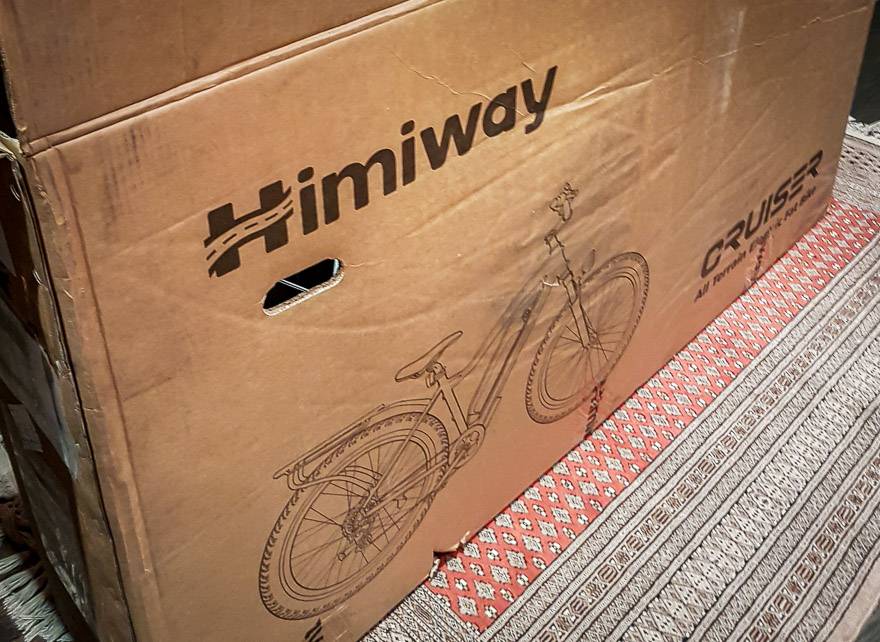 The bike was incredibly well packed. Considering it had spent three weeks in transit, I was surprised by just how well the cardboard box held up. There was no damage whatsoever to any of the bike parts.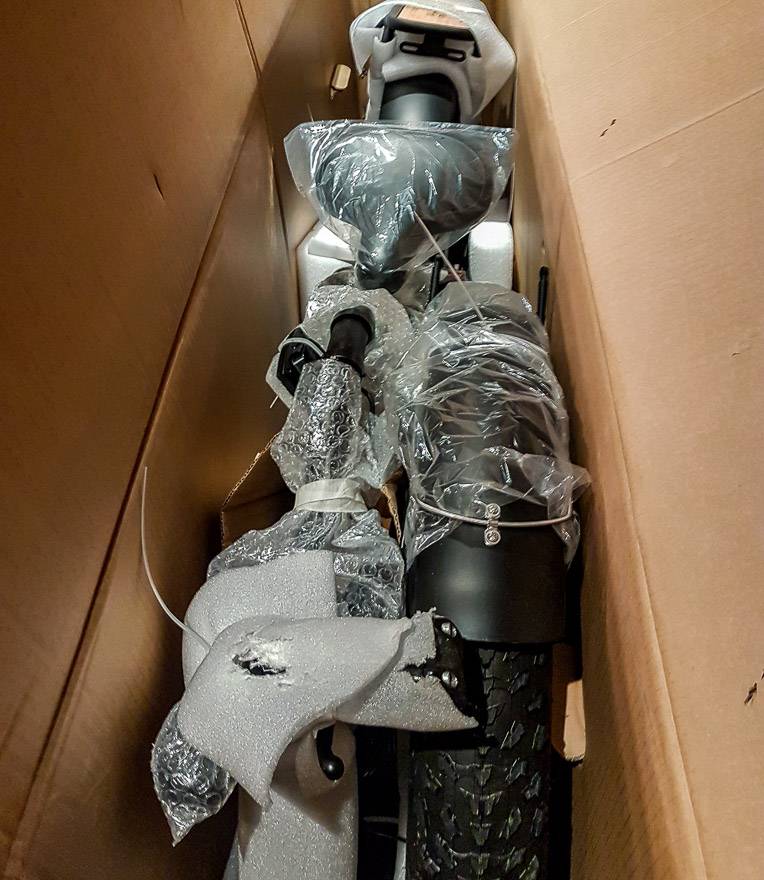 Putting the Himiway electric bike together
I unpacked the bike, but John put it together. The bike comes with a full tool set which is a brilliant idea. Because John is a guy, he doesn't read manuals (really – how many of you do?) but for those of you who like to follow directions, there is a step-by-step assembly book. It took him just over an hour to put all the pieces together.
There were a couple of parts I considered a bonus. A bell comes with the bike, a rear carrying rack, front and back lights, and lightweight but useful, front and back fenders. A bomb-proof kickstand is also part of the deal. There is of course, a battery charger included.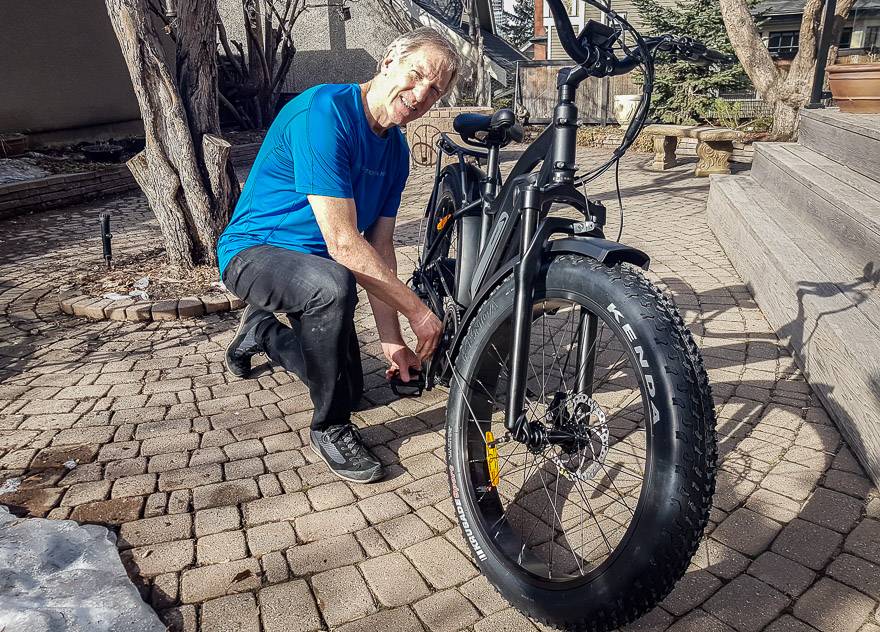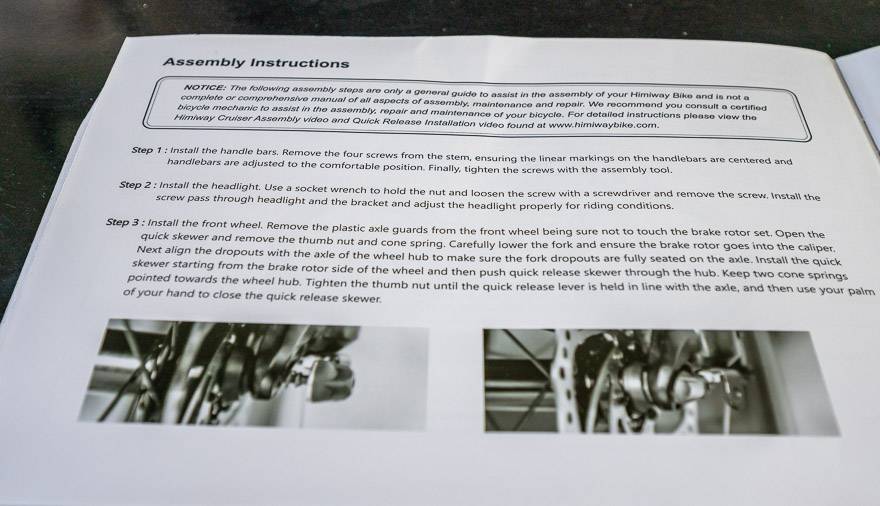 What you should know before using the bike for the first time
The next part was the fun part – taking the bike for a test drive. Before I did that though, I charged the bike for about 8 hours, so it had a full charge. Reportedly it can travel for 35 – 60 miles (56 – 100 km) on one charge – but that will be a function of how many hills you climb, how much of a power boost you choose over the duration of the ride and how much you pedal.
This bike is heavy – and you don't want to be caught in the middle of nowhere trying to ride it back to your starting point. Be mindful of how long your planned ride is!
This bike has tremendous power so to avoid hurting yourself, I think it's particularly important to understand the features that impact power. This is one instance I really would recommend reading the owner's manual.
John and I were playing around with it in level 1 and inadvertently touched the throttle on the right handle bar while standing. The bike surged forward and we were completely unprepared for that. But now, you are!
To start the unit, find the control module on the left handle bar as shown in the photo below. Hold down the button on the centre right for 2 seconds. The LCD display in the middle of the handlebars (two photos down) should come to life. In the top right-hand corner of the display, you will see the power setting (shown set at level 5 two photos down) which is adjustable on the control module from 0 to 5. Level 1 is the lowest level of pedal assistance and the one I would recommend starting with. But before you even put it into level 1, I would suggest being on the bike with your bike helmet on and ready to go.
To adjust the power setting, look at the control module on the left handle bar and note the "+" and "-" buttons on the left hand side of the module. Press the buttons to raise or lower the power level. These can be adjusted on the fly so if you press "+" you'll get an extra hit of power instantly. Press "-" to lower the power level if you are trying to save power – or as an example if you're doing a tight turn on a bike pathway – and you don't want a sudden increase in power.
There is also a button for the lights (top centre on the control module) – a feature I love. It turns on both the front and a rear light, standard fare on the bike. ALSO touch the brakes and the rear light becomes a brake light!
The information button ("i") corresponds to the LCD display – that shows battery charge level, speed, power, imperial and metric conversion, mileage, and a whole lot more. This display is well positioned and easy to read.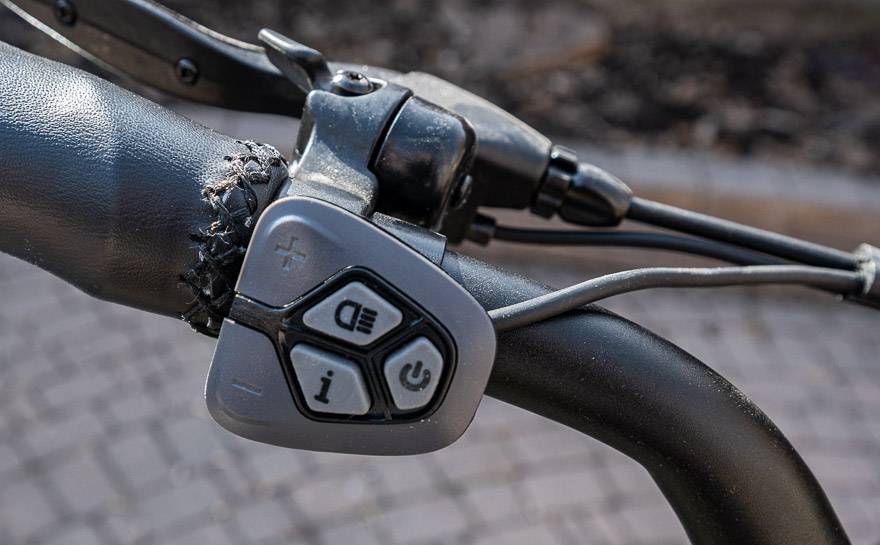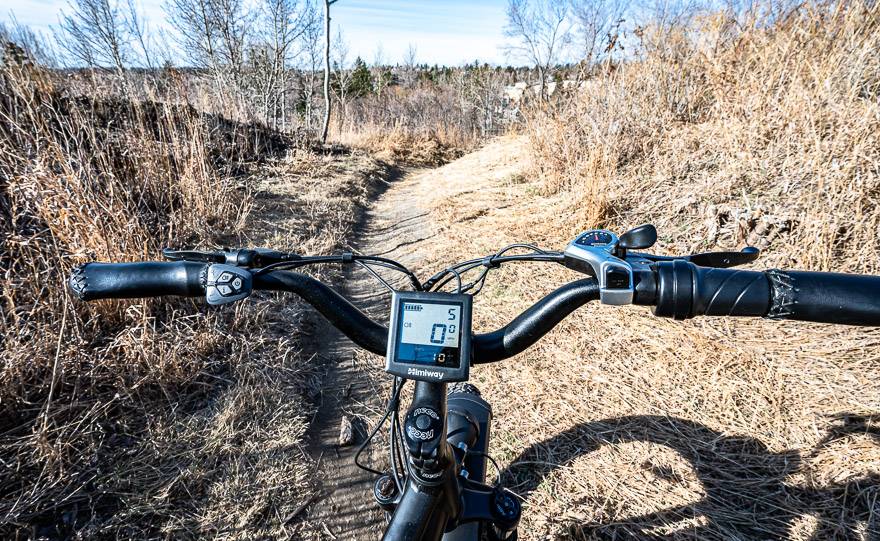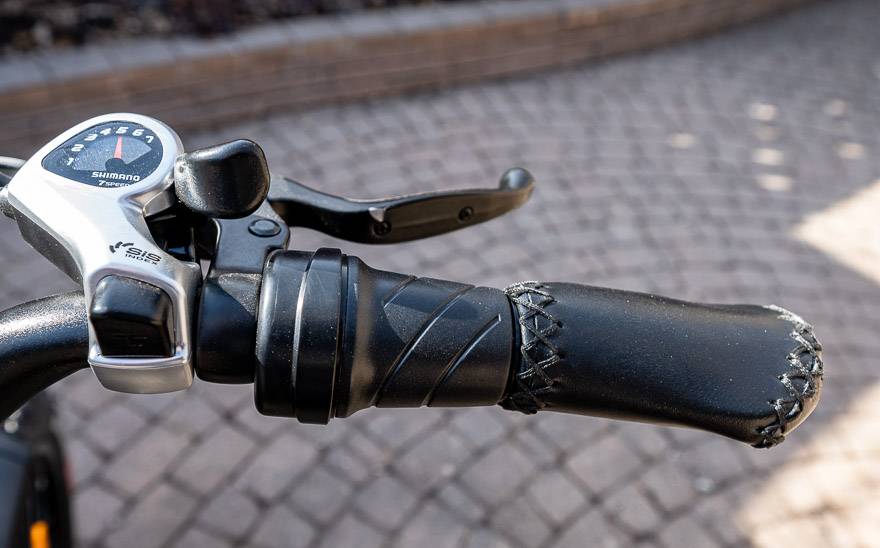 My one initial concern
I have ridden e-bikes about a half dozen times including a full day in the saddle on a gravel e-bike climbing 3,000 feet in Czechia. I would say from my experience that this bike is touchy – and the acceleration is initially not as smooth as others I've ridden. I say initially, because after you've ridden it several times, you get the hang of things and you know how to make the transition smoother.
I tried the bike on paved roads, bikeways and single lane tracks with roots and rocks. It cornered well and gave me all the juice I ever wanted. I only opened it up for speed at level 5 a couple of times on flat roads, and couldn't believe how fast the the speedometer moved. There was an increase in 10km/hour in literally seconds with absolutely no effort on my part. This is a fun bike for sure, but practice a few times, somewhere safe, especially if you are new to electric bikes.
Who would enjoy a Himiway electric bike?
The electric bike market has exploded. E-bikes seem to be all the rage. In fact, in the spring 2021 edition of Explore Magazine, David Webb the editor says that "the e-bike market is forecasted to grow by 42% between 2017 – 2025, not including the Covid-19 surge." He predicts that "by 2031, e-bikes will be second only to public transit as the primary mode of urban travel."
There are many reasons for that – and one I alluded to at the beginning of the blog. The e-bike is a fantastic substitute for doing errands around a city, especially where there are effective bike arteries – something we have in Calgary. They also allow the older population – even those with joint issues – to continue biking for much longer that they would normally be able to. Apparently, there is also a growing market for fat tire e-bikes, so people can take them into the backcountry for camping, fishing and hunting experiences.
I personally am thrilled when I see people who haven't been on a bike in years, out enjoying the experience of an e-bike. On a hilly bike trip I did several years in the Peterborough area, one older gentleman was able to join the group and knock off the 90 km we cycled in the day, without blinking an eye. And he had a blast!
E-bikes are fun
The other reality about the Himiway electric bike is that its great fun to ride especially as you can legally hit the 32 km/hour limit. It took me a bit to avoid sudden acceleration moves, but now that I'm onto it, I feel like I can cruise anywhere. If I go to the bank or grocery store, I don't have to think about the giant hill on the way home. The fat tires also give you a good feeling of security and comfort. And reportedly the Himiway bike should see me through any snowstorm Calgary wants to throw my way.
Lock this bike
I don't want this bike to be stolen. I always take a heavy duty lock with me and I guess if I was going to be away from the bike for some time, I'd take the bike's battery with me. There is a key for it and with practice it's easy to remove, though a tad heavy.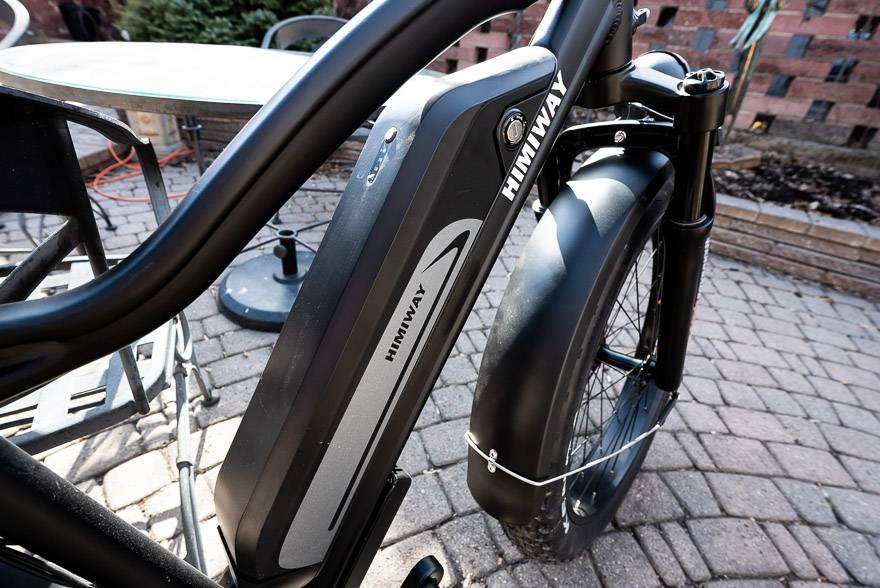 Where can you buy the Himiway bike?
You can purchase the Himiway electric bike on the company website. They ship to Canada and across the US. They are busy so if you order, it will likely be 5-10 days before it ships – along with shipping time. The border is slower than normal because of COVID, but at least this company has stock.
The Himiway bike I received (a giant thanks to the company) retails for $US1599. They have two other models to choose from. All are stylish.
If anyone has a particular question, shoot me a message in the comments and I will answer.
More reading on where to take your e-bike
Click on the photo to bookmark to your Pinterest boards.