The first thing we did on arriving in Bogota was to visit the Museo del Oro – the world's largest gold museum and one of the highlights of Colombia with over half a million people visiting yearly.
Interestingly only about 15% of its collection containing roughly 50,000 pieces is on display. And what a display it is. Even if you're not normally a museum person this one is worth visiting. It's likely to be one of the highlights of your stay in Bogota.
At the Museo del Oro there isn't just gold to be seen. The pieces in stone, pottery and metal are equally captivating. It's not only the pieces that are so remarkable; it's the way they are presented. They provide a glimpse into the lives of the people from pre-Hispanic times.
The fantastic workmanship and the volume of gold pieces is astounding. The only other place I've been that rivals this for gold is the Topkapi Palace Museum in Istanbul.
The displays are first class and the lighting is sophisticated. Grab an audio guide so you get some understanding of the objects you're seeing.
And don't miss the pitch black room on one of the upper floors. You start in the dark and over the course of many minutes the walls light up revealing gold pieces – and the cylinder in the center of the floor fills with gold objects.
Useful information about Museo del Oro
The museum is open from Tuesday until Saturday from 9 AM until 6 PM. It is closed on Mondays.
On Sundays and public holidays it's open from 10 AM until 4 PM.
The entry fee is 3,000 Colombia pesos (about $1.50) but on Sundays it's free.
Audio guides can be rented in English, French or Spanish.
There is a restaurant and café on site.
For more information on Colombia visit the Colombia Tourism website.
The curators want to leave you with an unforgettable feeling about Bogota's gold museum!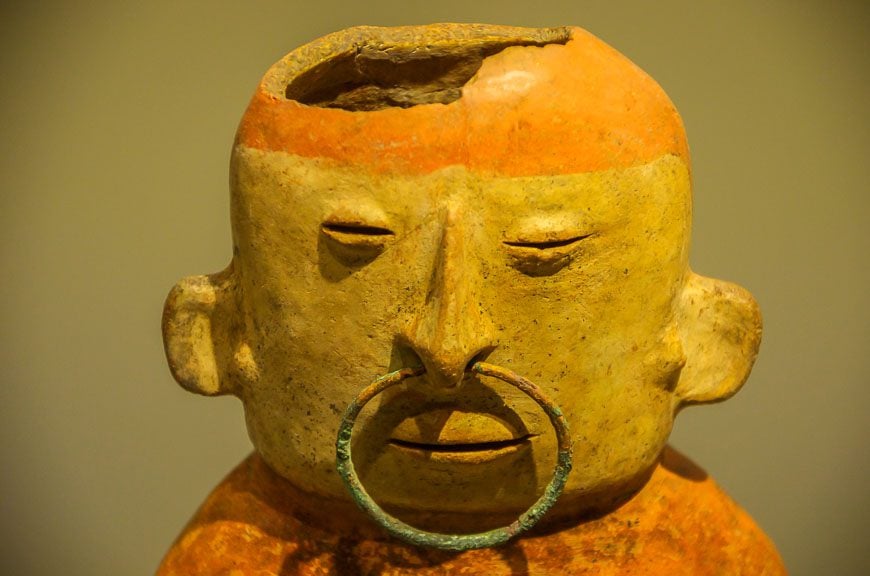 Further reading on South America
Click on the photo to bookmark to your Pinterest boards.