An overnight stay in a Wadi Rum camp in Jordan finally got checked off my bucket list in March of 2019. I'd been angling to get to Jordan for well over a decade. The country has been on my radar since I first read Desert Queen: The Extraordinary Life of Gertrude Bell: Adventurer, Advisor to Kings, Ally of Lawrence of Arabia. Instagram provided further fodder – with lots of drool-worthy photos over the past few years.
My wish to see Jordan came true when I was invited on a week long cycling trip in Jordan with Exodus Travels. Of course John had to come on this trip. For a small country, Jordan packs a punch. Its home to five UNESCO sites including the Wadi Rum Protected Area. Our time at a Wadi Rum camp, home to wide open spaces, silence and black, starry nights was a real highlight. I wish we'd had another few nights of camping and exploring here.
This post includes some affiliate links. If you make a qualifying purchase through one of these links, I will receive a small percentage of the sale at no extra cost to you. Thank you very much for your support.
Wadi Rum Camp – via bike and jeep from Aqaba
Our bike tour in Jordan was not an end to end one – more like hopscotching down the length of the country with a ride on a tour bus filling in the rest. On this portion of our trip we biked about 30 km starting outside of Aqaba and ending about 3 km short of our Wadi Rum camp. The last three kilometres would have been next to impossible on a bike with all the deep sand.
The bike ride in Wadi Rum was one of the easier ones as it was flat for a change. I think that was the biggest shock for both John and I.
Parts of Jordan are very hilly and mountainous – which made for some epic cycling described here. Note the sign showing camel crossings. While we didn't see any on our bikes we saw loads of camels at sunset and on our jeep tour the following day.
Catching the sunset in Wadi Rum
There's something magical about catching the sunrise or sunset any time you're in a desert setting. I had a similar experience in Morocco's Sahara desert last year, also on a camel, but at sunrise when it was freezing cold.
We opted to pay the extra money so we could get a repeat of the experience from our Wadi Rum camp. It hurt as much as I remember from last time – with my inner thighs and backside screaming at me. Despite the pain, I highly recommend the experience. There's a rhythm you get into on a camel that's very meditative, and of course the scenery for the outing is nothing short of stunning.
After about 30 minutes we hop off the camels to clamber up some rocks and get a view just as the sun is setting. Off in the distance we spy more rocks so race off to repeat the experience. While there are loads of people from various jeep tours and desert camps around, it's dead quiet – all of us in awe of the timeless beauty before us.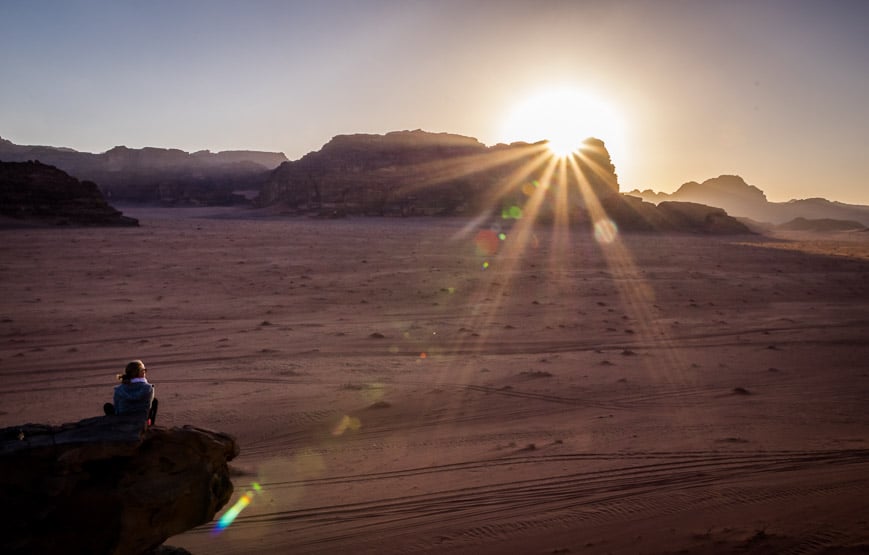 The Wadi Rum Camp Experience
Exodus Travels runs its own private desert camp in Wadi Rum. It's simple, with about a dozen tents that each sleep two people, an outdoor fire pit with seating all around it and bathrooms for men and women with toilets and a couple of sinks. It's in a beautiful location with mountains surrounding it on three sides. You can't see another Wadi Rum camp or soul once you're there.
We arrived late in the afternoon with just enough time to move our bags to our tent and hop on the camels. By the time we returned it was almost dark – and in the desert without any light pollution that means inky black skies.
After changing out of our camel wearing gear, we head to the campfire to enjoy a drink (we brought our own wine and beer as it's not available for sale at the camps) and some freshly baked bread over the fire with a dip of olive oil and oregano called za'atar. It is absolutely delicious.
Dinner is cooked in hot coals under the sand for three hours. It takes some digging to uncover it – but when it sees the light of day, its made up of layers of meat (camel and chicken) along with vegetables.
We dine on delicious food under the night sky and then listen to the woeful playing of a one stringed instrument by a local Bedouin. Something gets lost in translation for me and I head to bed, with several layers of clothes on to keep the desert cold at bay.
A worthwhile jeep tour of the desert
The following morning after a simple breakfast of eggs, pita bread and Nescafe coffee we head out on jeeps for a couple of hours. It's a glorious way to explore the countryside – which is way more varied than one might think.
We make four or five stops where we get out of the jeep and have a wander around. I love the peaceful feeling I get in the desert, perhaps because there's not a cell signal for miles around. It's also so quiet you could hear a pin drop once the jeeps turn off their engines.
We admire grand views from high places, investigate canyons and have a look at the stone carving of Lawrence of Arabia. Then it's time for tea in what is basically a roadside teahouse for camels and jeeps. I chat with one of the fellows in the photo below – who drives camels and has picked up enough English in the last 18 months to have a very good conversation.
As a factoid, most of the movie – Lawrence of Arabia was filmed in Wadi Rum. I'm just not sure where.
So ends our time at our Wadi Rum camp. Wadi Rum is a unique, otherworldly place that deserves to be on your itinerary should you visit Jordan. (And you should. It's a safe and very interesting country.)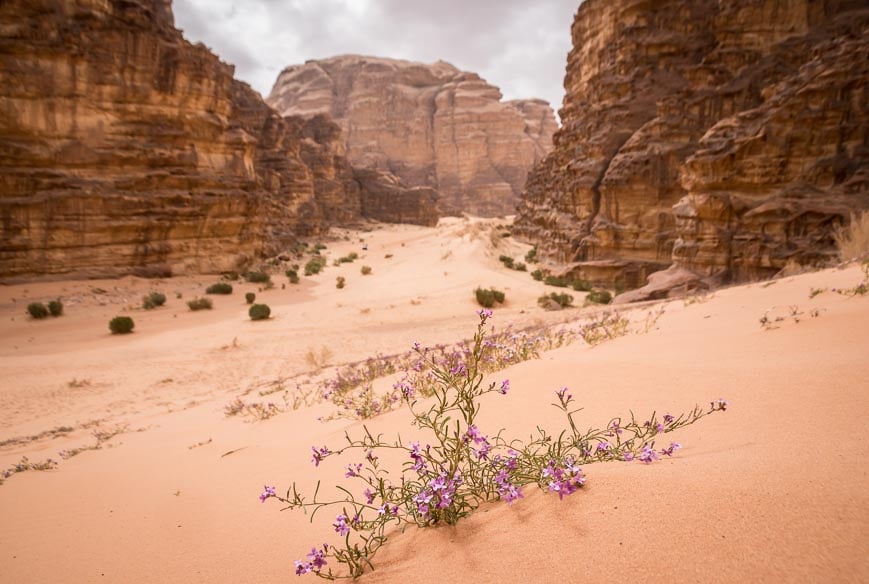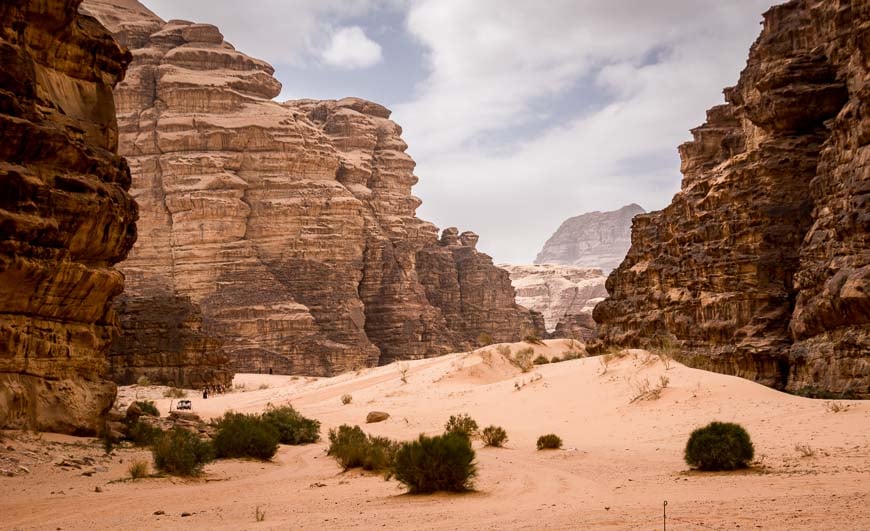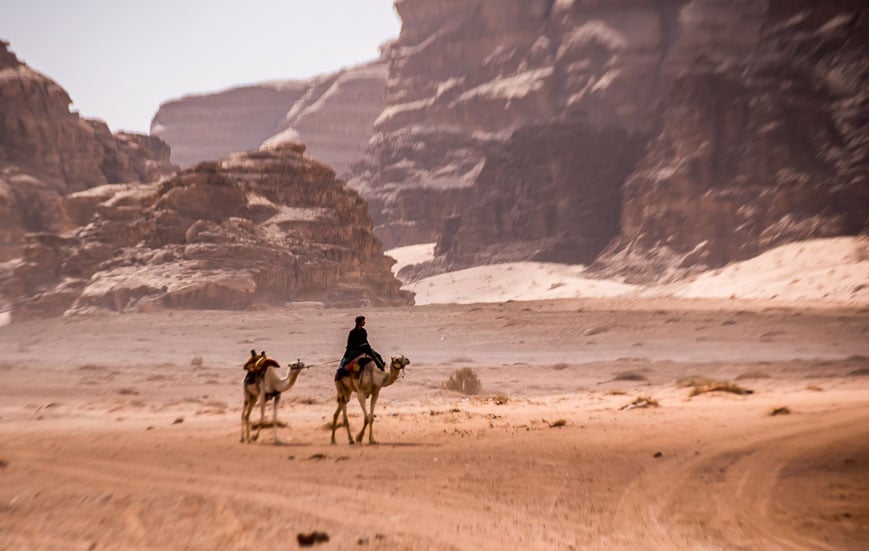 I was a guest of Exodus Travels but all thoughts and opinions are my own. For more information on my tour visit their website here.
Further reading on Jordan
Click on the photo to bookmark to your Pinterest boards.