Calgary is a city of parks. The City of Calgary website suggests that there are 5,600 park sites within the city boundaries. I'll have to take their word for it. It's Nose Hill Park in Calgary, established in 1980, that is the biggest and my favourite. (Fish Creek Park to the south is a provincial park and not a city park.)
Boasting an area of over 11 square kilometres, Nose Hill Park feels quite wild, especially down in the coulees, despite being surrounded by a dozen neighbourhoods. It offers 60 km of designated trails and pathways – and it's one of the few places in Calgary where my dog can run free.
On the slopes of Nose Hill there are sections of Foothills fescue grassland – considered to be one of the most threatened ecosystems in the world. It's particularly important to stay on trails to preserve the grasslands.
The park is Calgary's largest natural environmental park, a landmark that has been used over the years by Native people's, farmers and at one point a gravel operation.
Nose Hill Park is no Central Park
Apart from washrooms in a few places, there are no services in Nose Hill Park. The park is full of hiking paths on a variety of surfaces – from asphalt to dirt to grass – and off-leash dog areas. Parts of the park contain native grasslands, one of the few examples left on the prairies.
I love Nose Hill Park for the sense of space it gives me in a big city. And I love the expansive views you get as Nose Hill Park sits at a height of land in northwest Calgary. From the top, not only do you get a superb overview of downtown Calgary, but of the Rocky Mountains, the Bow River Valley, and the Calgary Airport.
I love the light and the dramatic skies you get up here. And it's always a bonus when there's a wildlife sighting. Deer, coyotes, porcupines, Richardson's ground squirrels and northern pocket gophers all call the park home – and the bird life can be fantastic.
You can go to the park for an hour or the better part of a day. I usually end up doing a giant loop that takes me a couple of hours to hike. There is some signage about, but I find it just as easy to get my bearings by taking stock of where I am in relation to various city landmarks.
Nose Hill Park – all season park for visiting
I visit the park in all seasons, and at all times of the day but it's the early morning and evenings that I like best in spring. (The park is officially open between 5 AM and 11 PM so no camping is allowed.)
In winter, it can be bitterly cold if you catch the wind in your face up on the plateau. Bundle up and keep to the trees and coulees wherever possible. If there's a big dump of snow, the snowshoeing is good too. I find the wind scours the park pretty quickly and icers are the best defense for staying upright for several months of the year.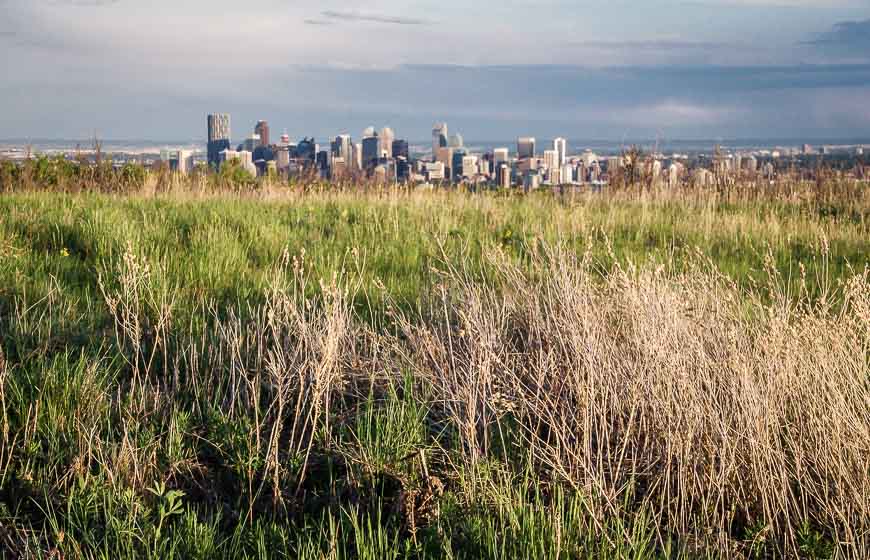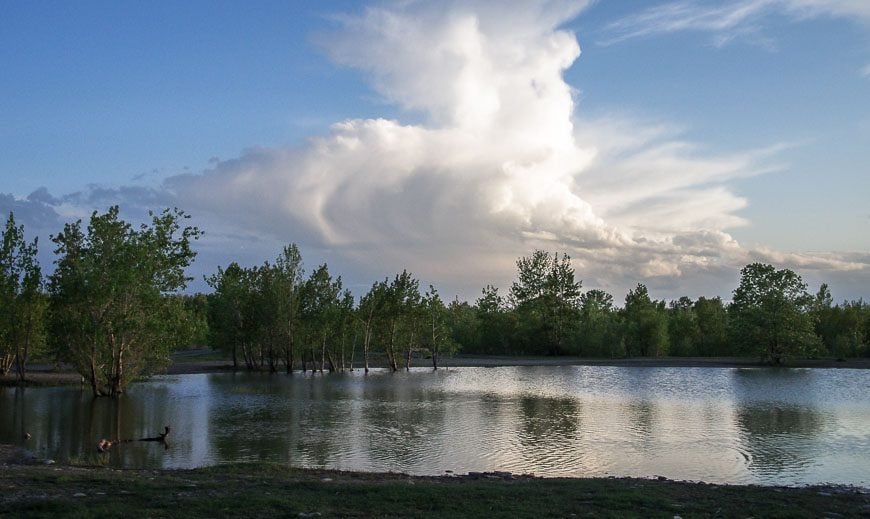 Mountain biking in the park
Nose Hill Park is also ideal for mountain biking. The trails are multi-use so you will find a lot of mountain bikers around from spring until fall. You can include some riding in this park as part of a bigger circuit in the city. Or bring your bike, park and explore the vast network of trails.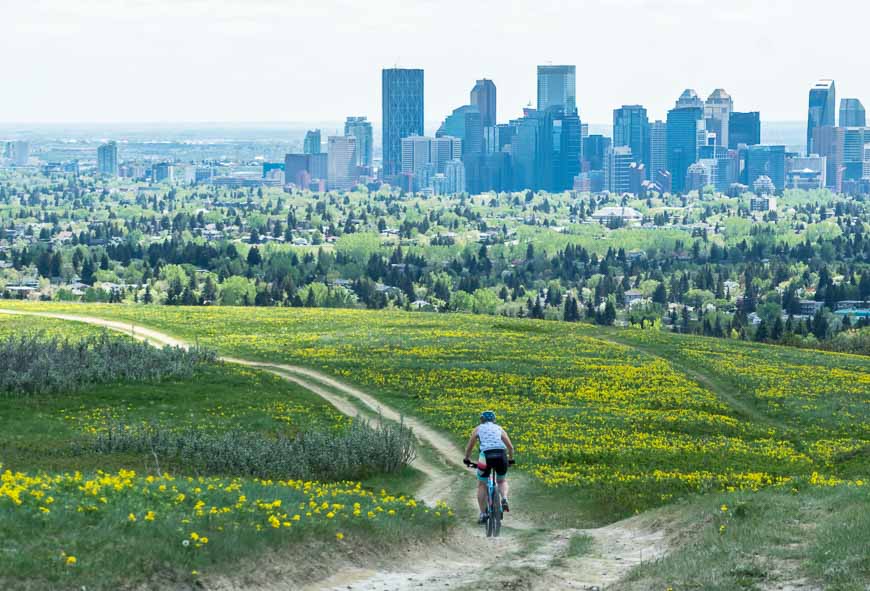 Parkrun in Nose Hill Park
Every Saturday at 9 AM there is a parkrun at Nose Hill. It's free and it's you against the clock. Register online so you can get your time. It's considered a friendly run so after it's over people head to the Friends Cafe on Edenwold Drive.
Lots of access points to the park
There are numerous entrances to Nose Hill Park and ample free parking. Check out this map for the location of the parking spots. They are all free. There are garbage cans in the parking lot, should you need to get rid of dog poop bags.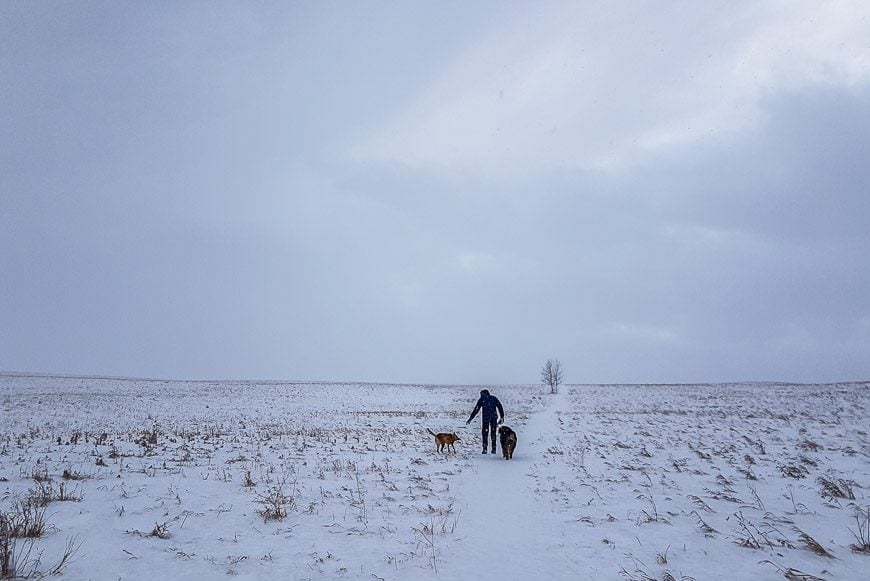 Further reading on things to do in Calgary
Click on the photo to bookmark to your Pinterest boards.