I tried upping my street cred (okay, hiking cred) recently while having pints with a group of fellow hikers. Emboldened by a pint (or two) of IPA, I claimed out aloud: "You know, you could say that I've hiked with Robert Redford and Martin Sheen." The deafening silence was quickly followed by an outburst of derisive laughter that basically suggested: "Dream on, dude!"
While I haven't actually hiked with either of these stars—I have shared the same hiking trails, albeit at different times. Robert Redford, of course, starred in the movie version of "A Walk in the Woods," Bill Bryson's entertaining account of his actual long-distance hike on the Appalachian Trail. In fact, the movie poster for this film features Redford and co-star Nick Nolte at the top of the summit to McAfee Knob, which is the only stretch of the Appalachian Trail that I've hiked. Below, you'll also see a pic of me in the very same spot.
This post includes some affiliate links. If you make a purchase via one of these links, I may receive a small commission at no extra cost to you.
Similarly, I've "hiked with" (using that term loosely, of course) with Martin Sheen,
who starred in "The Way," a wonderful movie about a novice hiker who walked the Camino de Santiago de Compostela, the 500-mile (800-km) pilgrimage route across northern Spain. I had the good fortune (and time) to walk the entire Camino in 2015—and, yes, I did pass by iconic scenes from the movie.
My faux celebrity claims aside, I've encountered a selection of movies that will enlighten and inspire anyone who's considering a long-distance hike—once the Covid-prompted travel restrictions come to an end.
Here are my five favourite hiker-friendly movies:
Title: The Way
What's it about: A grieving father (Martin Sheen) decides—on the spur of the moment—to walk the Camino de Santiago de Compostela, an ancient 500-mile (800 km) pilgrimage route across the north of Spain, after his son (played by the actor's real-life son Emilio Estevez) dies only a few days into his Camino.
The movie captures the challenges (physical and psychological), the camaraderie, cultural and spiritual aspects of a long-distance pilgrimage walk. "The Way" is an excellent introduction for anyone thinking about walking the Camino—or any long-distance walk.
Practical tips include: Walking at your own pace is key to anyone who's eager for a long-distance hike. "The Way" makes this very clear. Increasing or decreasing your stride and speed to match that of a hiking companion can be the death knell of any long hike.
Reality check: Anyone who's tackled (or is inspired to embrace) a long-distance hike, whether solo or with friends, will tell you about the communal aspects of long-distance trail-walking. Group dynamics, whether involving strangers you encounter along the way or with your chosen hiking mates, is full of its own joys and challenges.
To get more information on this hike: Camino, by definition, is any route to Santiago. There are about half a dozen popular routes that lead to Santiago de Compostela.
The Camino featured in "The Way" is the one I completed in 2015: Camino Frances, which starts in St. Jean de Port in France, up over the Pyrenees and then across Northern Spain.
The de facto guide, based on my experience, is John Brierly's "A Pilgrim's Guide to the Camino de Santiago: St. Jean – Roncesvalles – Santiago." It's full of practical details, maps (broken into sections) and comprehensive information on accommodations.
You can watch "The Way" on: Amazon Prime.
If you feel inspired to walk the Camino: Contact the Canadian Company of Pilgrims.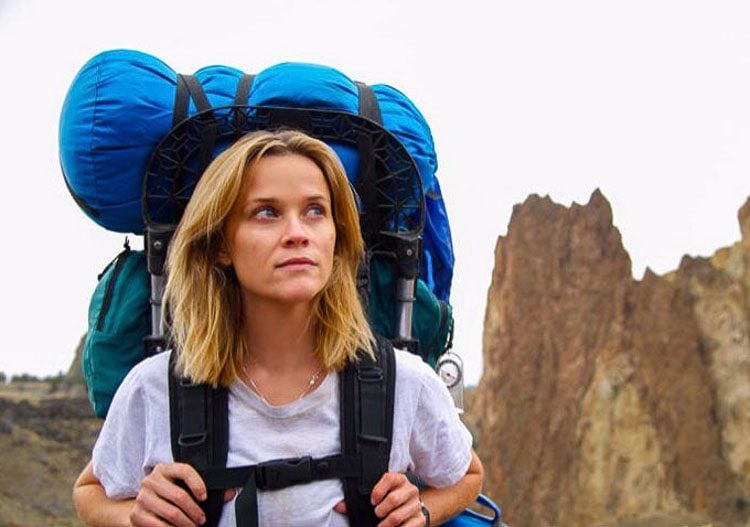 Title: Wild: From Lost to Found on the Pacific Crest Trail
What's it about: The movie "Wild" is based on Cheryl Strayed's memoir of her 1,100-mile solo hike on the Pacific Crest Trail (PCT), beginning in the Mojave Desert, one of the driest in North America, then through California and Oregon to the Bridge of the Gods, which spans the Columbia River between Oregon and Washington state. Strayed is portrayed by Reese Witherspoon.
Practical hiking tips: You'll learn a lot of practical elements about hiking the PCT, especially the vital mail drops and resupply boxes. Replenishing supplies is probably the biggest logistical obstacle that hikers face on the PCT. Don't be surprised if you find yourself taking notes while watching the movie.
Reality check: There's a scene in which Cheryl sits down at the edge of a steep cliff and pulls off her toenail. Her reality checks are good lessons: too-tight boots and overstuffed packs are to be avoided at all costs.
To get more information on the Pacific Crest Trail: While the movie focuses on the 1,100-mile stretch that Strayed completed, thru-hikers who complete the entire length of the Pacific Crest Trail will walk the 2,653 miles (4,270 km) from Mexico to Canada. An excellent source of practical information and support is the volunteer-driven Pacific Crest Trail Association.
You can view "Wild" on: Amazon Prime.
If you feel inspired to walk the Pacific Crest Trail: Read Cheryl Strayed's book, which includes content not covered in the movie version. It's also available on Amazon.
Title: A Walk in the Woods
What's it about: The movie is based on Bill Bryson's hilarious travelogue about his adventures hiking the Appalachian Trail, "A Walk in the Woods Rediscovering America on the Appalachian Trail." Robert Redford plays Bryson and Nick Nolte steps into the role of Katz, Bryson's out-of-shape pal who's never hiked. The AT, as it's known, is a marked 2,200 miles (3,500 km) hiking trail in the Eastern U.S. stretching between Springer Mountain, Georgia and Mount Katahdin, Maine.
Practical hiking tips: "A Walk in the Woods," intentionally or not, is chock-full of hiker wisdom. Among the nuggets of advice: be prepared for dramatic temperature changes on long-distance hikes. On the AT, you're apt to get blazing sunshine, rainstorms and snow, as experienced by Bryson and his pal.
Reality check: The terrain of the Appalachian Trail, as mirrored in the movie, is challenging in places. For instance, Mound Madison gains 2,812 feet (850 metres) in elevation in just 2.6 miles (a little over 4 kms). You'll want to be trained in steep ascents.
To get more information on the AT: The Appalachian Trail, the longest hiking-only footpath in the world (no bikes, no horses), requires significant research. Start with the Appalachian Trail Conservancy.
You can view "A Walk in the Woods" on: Amazon Prime.
If you're interested in walking the Appalachian Trail: Why not consider listening to Bill Bryson narrate his book on audio—while you're out on a training hike.
Title: Tracks
What's it about: "Tracks" is an adaptation of Robyn Davidson's memoir of the same name chronicling her 1,700-mile trek in 1977 from Alice Springs to the Indian Ocean on foot with four camels and a dog as her companions.
Practical hiking tips: Hydrate. Hydrate. Hydrate. Water. Water. Water. "Tracks" makes this abundantly clear—and it's important to understand that staying hydrated isn't a hot-weather practice only. The same rule applies if you hike or snowshoe in winter: stay hydrated.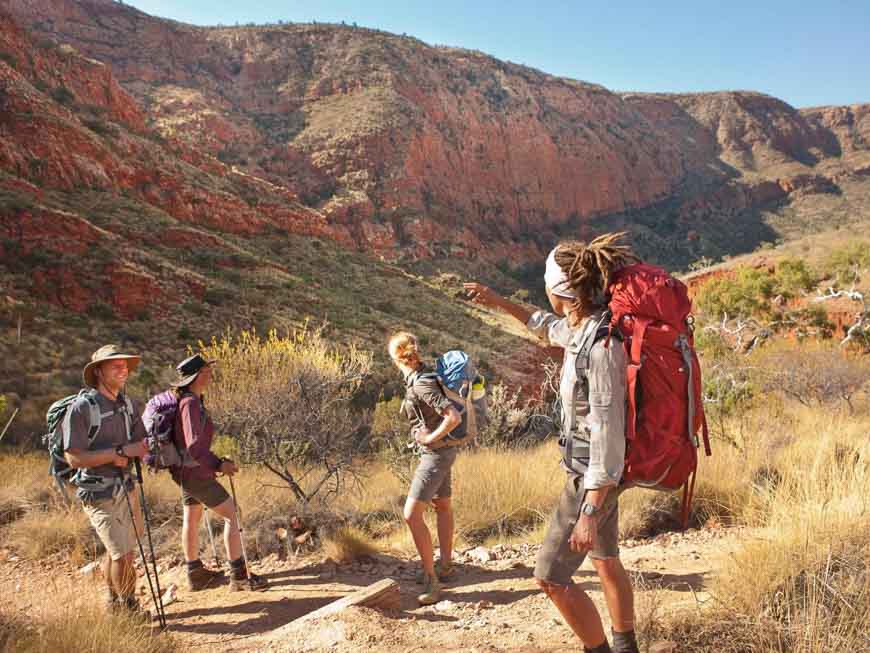 Reality check: As Davidson (played by Mia Wasikowska) encounters, not everyone will understand or appreciate your decision to embark, especially solo, on a long-distance trek. Ignore the naysayers.
To get more information on hiking in the Australian desert: One of the areas Davidson trekked through was the Gibson Desert. To learn more about that stretch, read Adventure Tour's "A First-timers Guide to the Outback."
If you're interested in reading more about trekking in the Australian Outback: Read Robyn Davidson's memoir Tracks: One Woman's Journey Across 1,700 Miles of Australian Outback.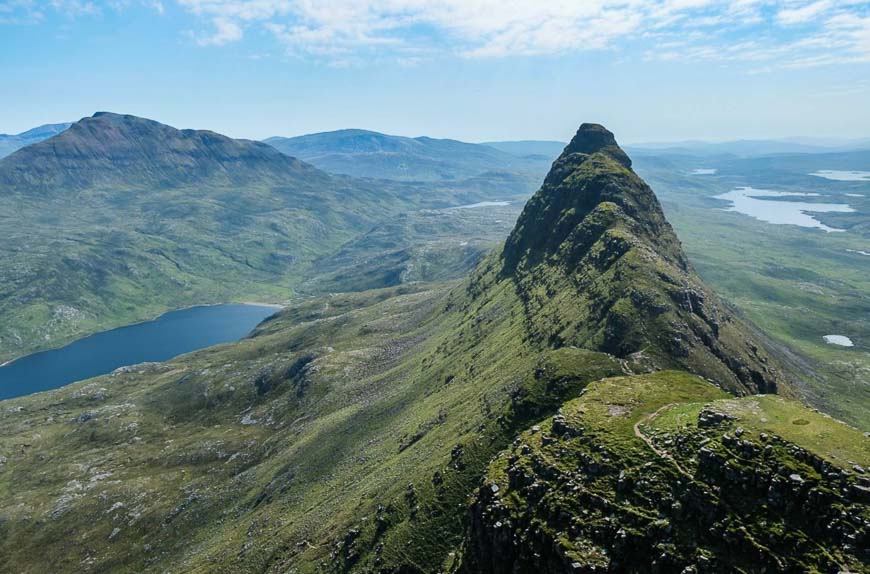 Title: Edie
What's it about: Newly widowed Edie (played by Sheila Hancock) embarks on a trip to a remote part of the Scottish Highlands to realize a lifelong dream of hiking up the remote Mount Suilven, which involves a steep-sided ridge about 2 km in length after traversing a landscape of bogs, moorland, bogs and small lakes. Elderly Edie hasn't hiked in decades.
Practical hiking tips: A must-heed lesson that's reinforced in the last 15 minutes of the movie: never, ever head off on a hike without informing someone of your planned route
Reality check: You're never too old to hike. Edie is excellent proof.
To get more information on hiking up Mount Suilven: Visit Walk Highlands.
You can view "Edie: on: Google Play and Apple iTunes.
If you're keen to hike in the Scottish Highlands, consider also the 96-mile (154-kilometre) West Highland Way.
Note: I've included recommendations of streaming services and video-on-demand sites where you can view the movies. The offerings on streaming services in the United States and Canada sometimes differ. What's available on Netflix U.S. isn't necessarily available on Netflix Canada. When in doubt, you can also search for movies on Amazon Prime, iTunes and GooglePlay.
Further reading
Click on the photo to bookmark to your Pinterest boards.