The Ryten hike plus Kvalvika Beach combination on the southern island of Moskenesøya was the first outing we did in Norway's Lofoten Islands. What an unforgettable hike it was! Climb Ryten on its own and enjoy a fantastic experience – including stupendous mountain and sea views in all directions. And if you add in a hike to Kvalvika Beach – a white sand beach that looks like it belongs in the Caribbean, you up the wow factor considerably. Unlike many of the other hikes we did in the Lofoten Islands, this one started off gently. I highly recommend it!
This post includes some affiliate links. If you make a qualifying purchase through one of these links, I will receive a small percentage of the sale at no extra cost to you. Thank you very much for your support.
Ryten hike summary
Distance to Ryten from Innersand parking lot: 7 km return
Elevation gain: 520 m or 1,706 feet
Difficulty: Easy if you hike frequently, otherwise moderate
Time needed: Approximately 3 hours return
Ryten hike – Kvalvika Beach summary
Ryten and Kvalvika Beach combination distance: 12.5 km
Elevation gain: 930 m or 3,051 feet
Difficulty: Moderate
Time needed: 5 – 7 hours; allow for a long break on Kvalvika Beach
Best time for the Ryten hike and Kvalvika Beach
Summer is the most popular time to do the Ryten hike as it's peak season for good weather, mild temperatures, and long days. It's also the busiest time of the year and parking can be a challenge.
The Ryten hike would be fantastic in fall as there is still enough daylight, and the number of hikers drops off.
The hike up Ryten can also be done in winter and spring, but you'll want some daylight – and it's best if the weather is in your favour. It's not a lot of fun to hike in the fog (and I say that from my experience hiking Nonstinden where there was nary a view to be seen for most of the hike.) Dress for the conditions. Consider taking snowshoes, hiking poles, and microspikes. The upside of a winter hike is quiet trails and beautiful wintry scenes, especially if you score a sunny day.
According to Guide to Lofoten, you should start the winter hike from "the centrum" in Fredvang.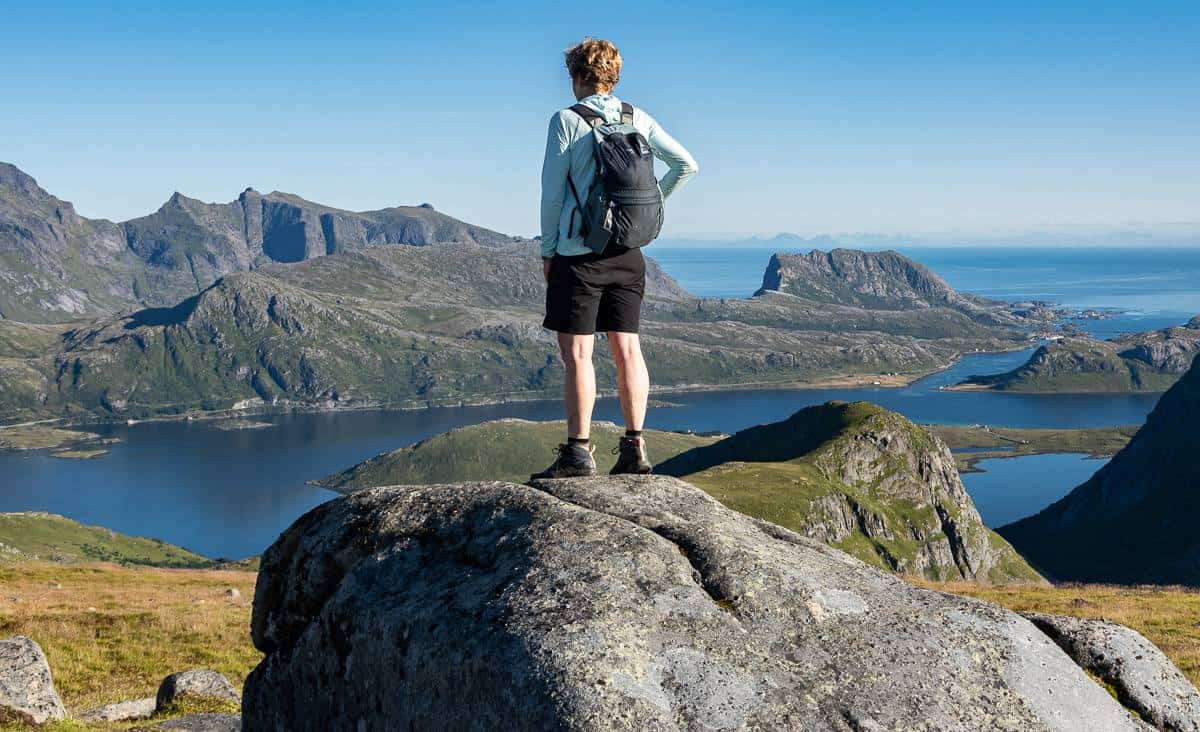 Where to park for the Ryten hike
You'll find parking for the Ryten hike about a 10-minute drive away from Ramberg, one of the towns that offers gas, cafes, grocery stores and more.
Parking is a massive issue for the Ryten hike. Please be considerate as everything I have heard is that people will park on narrow roads where it's not allowed, making life very difficult for the locals. Make sure you've got some cash as there will be many more instances where you'll need it, if you plan on hiking in the Lofoten Islands. Here's what we found.
Parking lot #1 – We passed a parking lot in a yard with a box for cash on the left-hand side of the road after on the drive towards the trailhead – after the Fredvang bridges. The parking lot is well signed and is on my map below with the following GPS coordinates -68.090594, 13.156800. It's about a kilometre to walk to the trailhead from here.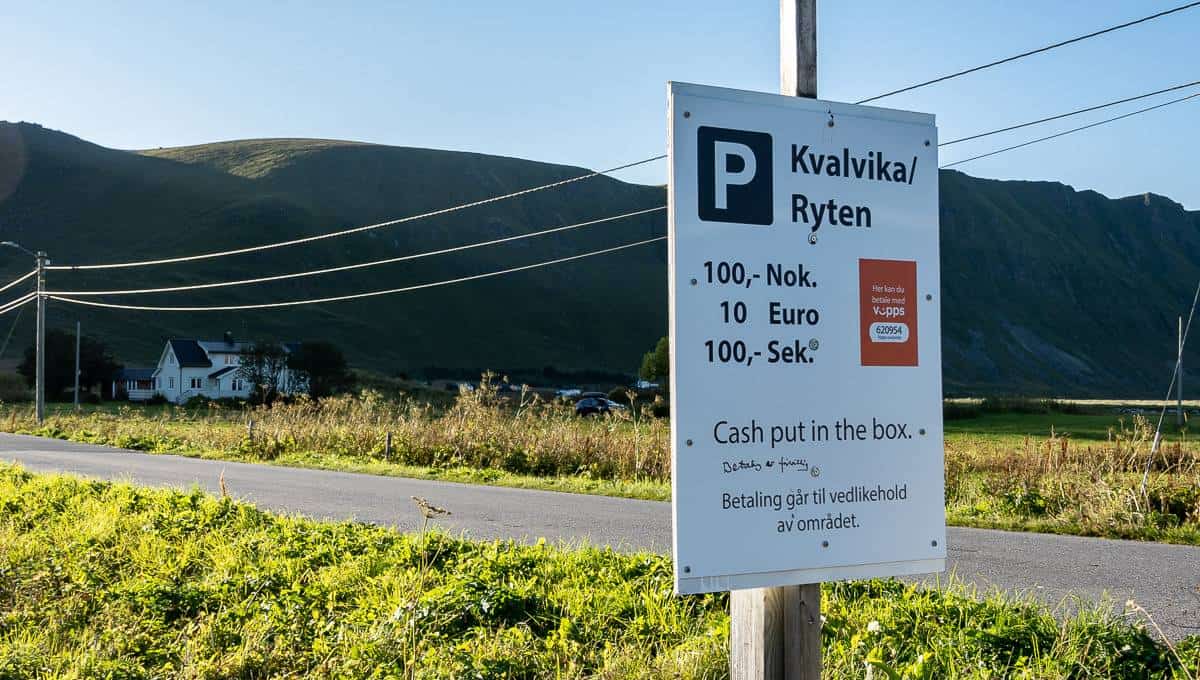 Parking lot #2 – This is a huge parking lot right beside the trailhead called Innersand – with GPS coordinates 68.089147, 13.140483. You can even park overnight, but it will cost you more. They direct you to a parking spot, so no space is wasted. As you can see in the photo, they sell coffee and chocolate as well.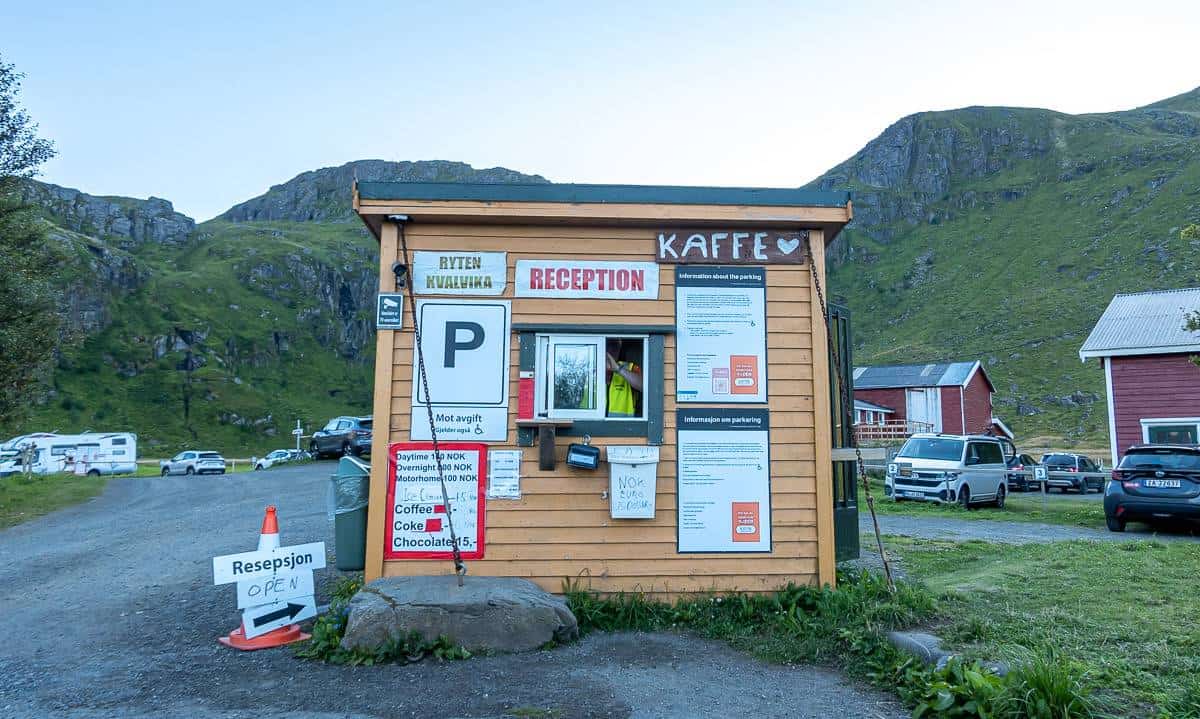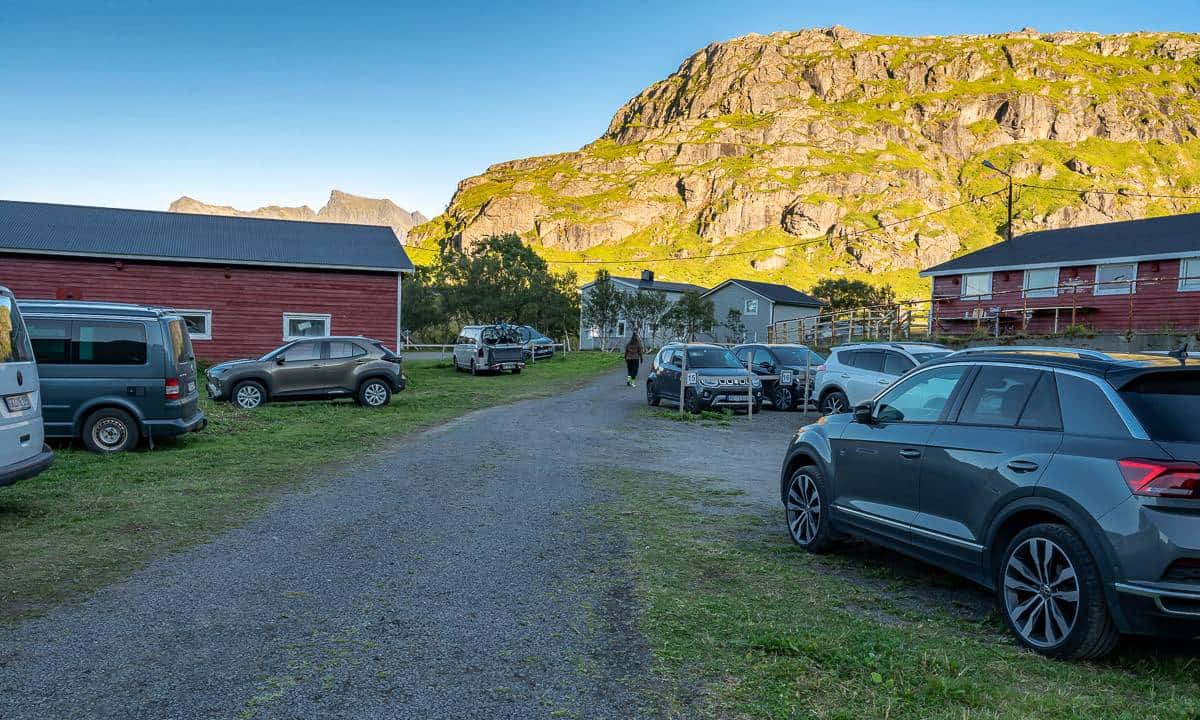 Parking lot #3 – I didn't visit, but I've read about an 8-stall parking lot in Torsfjorden that provides access to Kvalvika Beach. It fills fast. If there are no spaces, turn around and do not park illegally on the narrow road.
Parking lot #4 – We inadvertently happened on the parking lot for the hike to Mulstoa Beach with room for perhaps 20 cars. It is free, but it's approximately a 1.2 km walk each way. The approximate GPS coordinates are 68.099734, 13.1352283.
Location map for the Ryten hike and Kvalvika Beach
Things to know before hiking Ryten and Kvalvika Beach
Weather forecast
Check the Ryten weather forecast before you go. I know lots of hikers will only have one opportunity to do the Ryten hike, but there's not a lot of point if it's socked in by fog or if the forecast shows nothing but rain. Because of its elevation, the weather will likely be worse the higher you go.
If it's foggy, why not choose one of the coastal walks. We really enjoyed the nearby hike to Mulstoa Beach.
Plan ahead
Let someone know where you're going and when you plan to be out. Carry the hiking essentials as weather can turn quickly. Don't forget raincoats and warm layers, even if you start out on a sunny summer day.
In Reine, stop in at the Lofotodden National Park Visitor Centre. Get updated information and purchase WAG (waste aggregation and gelling) bags – so you can pack out your own poop if you're planning to camp on Kvalvika Beach. You could also buy the bags here on Amazon.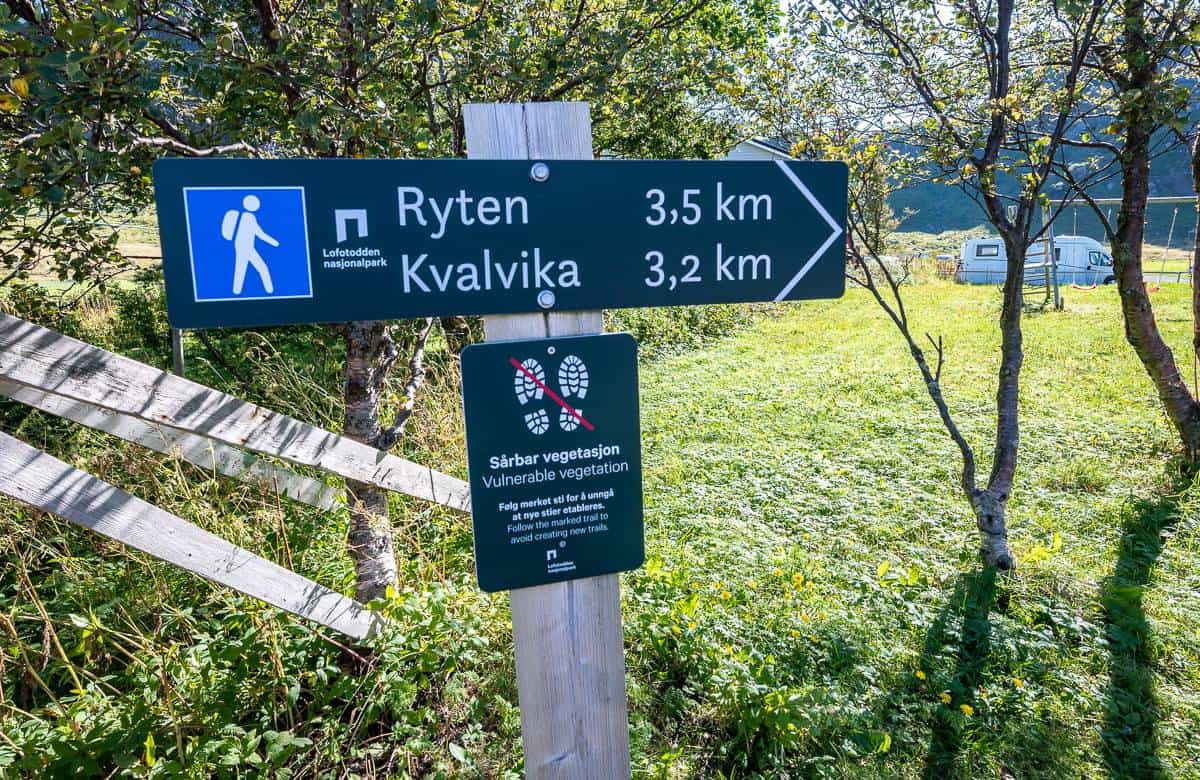 Ryten hike description
Look for the trail leaving the parking lot in Innersand. It starts off flat on a combination of dirt and boardwalk. Periodically there are places on the boardwalk to allow for passing. Then the climbing starts but so do the views. Looking back, you'll see green fields, red-roofed farms, a gorgeous beach in the distance, and the jagged peaks of Flakstadøya Island.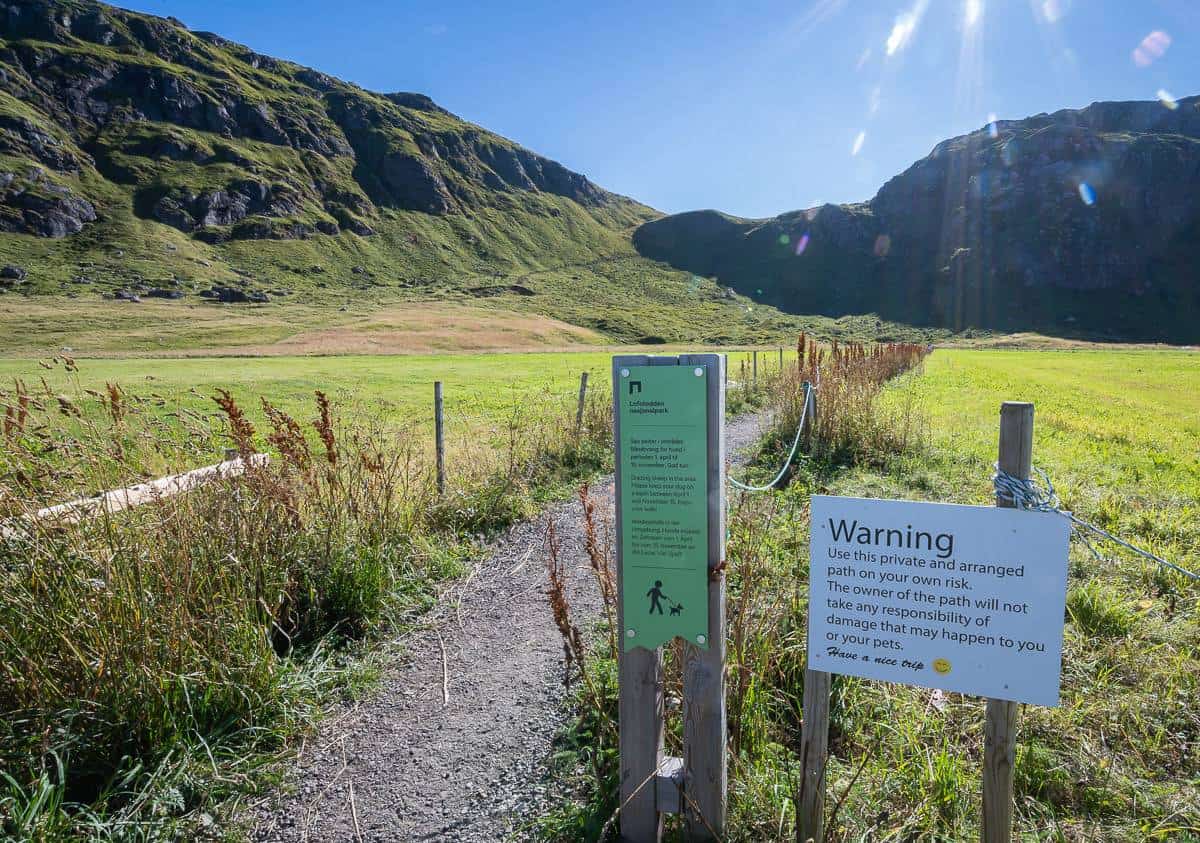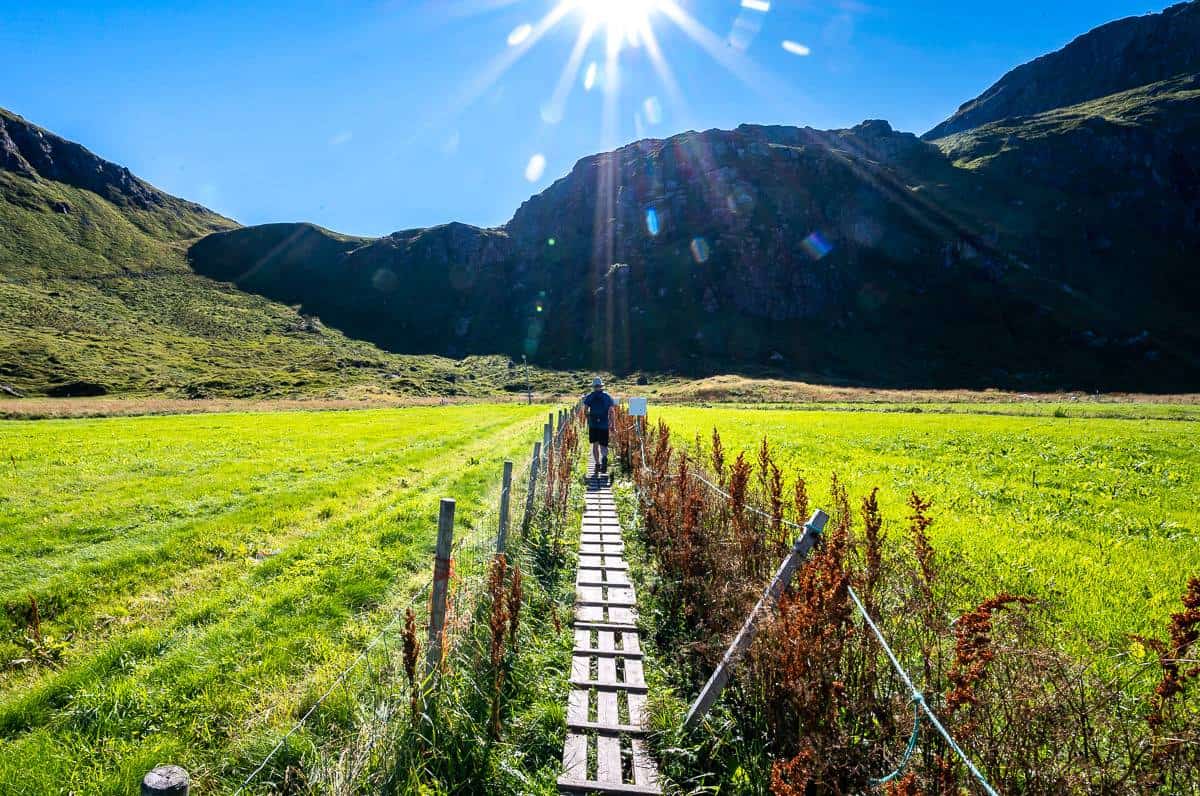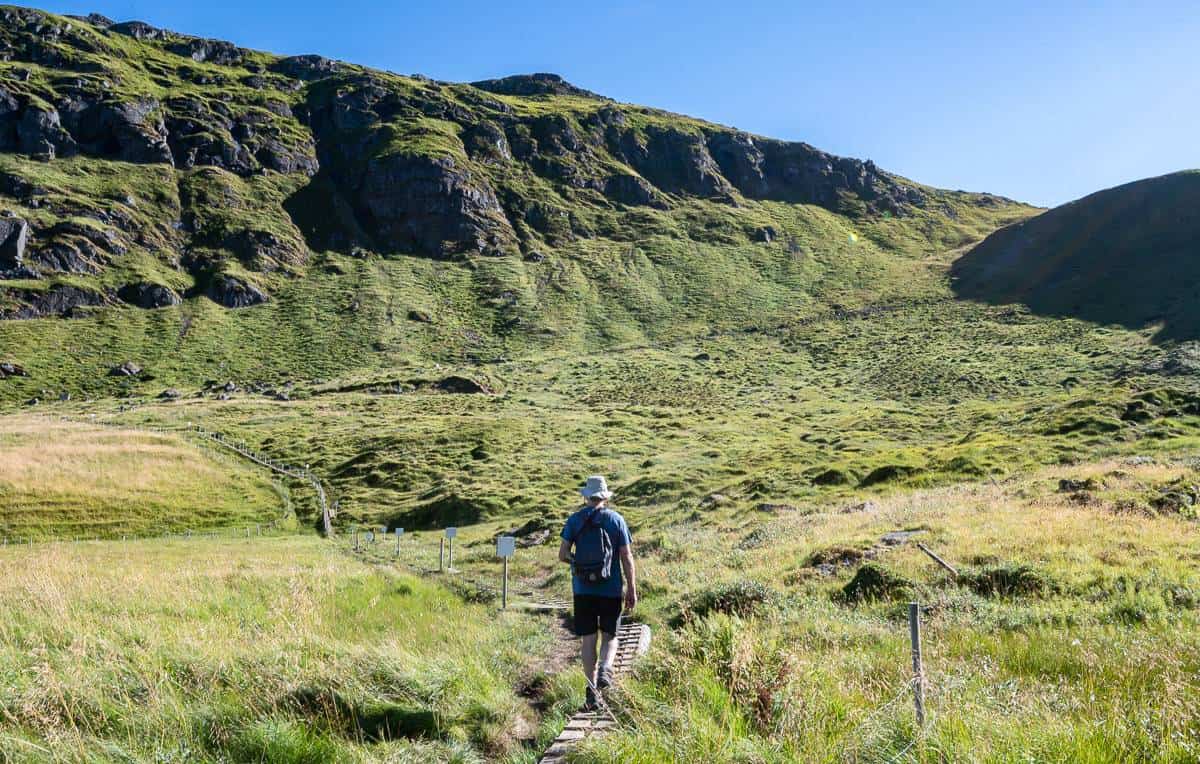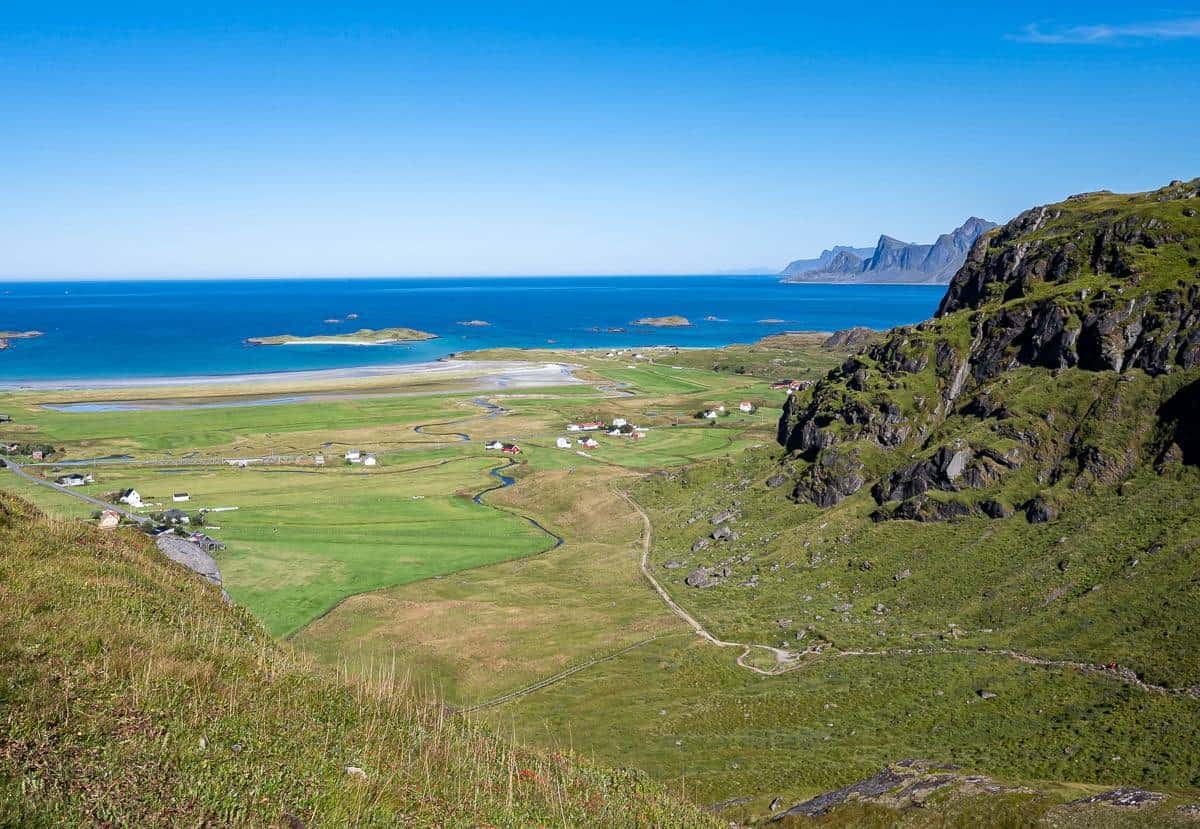 After passing two lakes in a short, flat section you'll start climbing again, but more steeply this time. There are as set of chains that some hikers might find helpful, especially under slippery conditions.
Then there's a section of boardwalk where you can see the trail climbing up Ryten. There is the option to detour and hike up to the Fredvanghytte – but you're going to get better views as you go higher, so unless you're the sort that needs to hike every inch of trail, give it a pass. When you reach Forsvatnet Lake, you'll need to decide if you're going to the beach first or up the mountain. (We chose to hike to Kavalvika Beach first.)
It's a steady but not difficult hike up Ryten. It was dry on the day we hiked Ryten but under wet conditions, you'll be into mud. Be a good person and don't contribute to trail braiding.
As you climb higher, you'll be close to cliffs if you keep to the left. There's more drama if you do that, but if you're fearful of heights, just step a few feet to the right.
I didn't notice it on the hike up, but I did on our descent thanks to all the people trying to get photo ops. Just below the false Ryten summit is a cliff that looks like the famous and much photographed Trollunga. It's here you can get a copycat picture with beautiful Kvalvika Beach a long way down below.
From the false summit, it's a five-minute walk to reach the real summit. I highly recommend finishing what you started as the views on top are extraordinary.
To return to your car, simply retrace your steps.
You can camp on the Ryten summit should that appeal – though you must carry extra water or go back down to the lakes to get some. You can also camp near Forsvatnet Lake.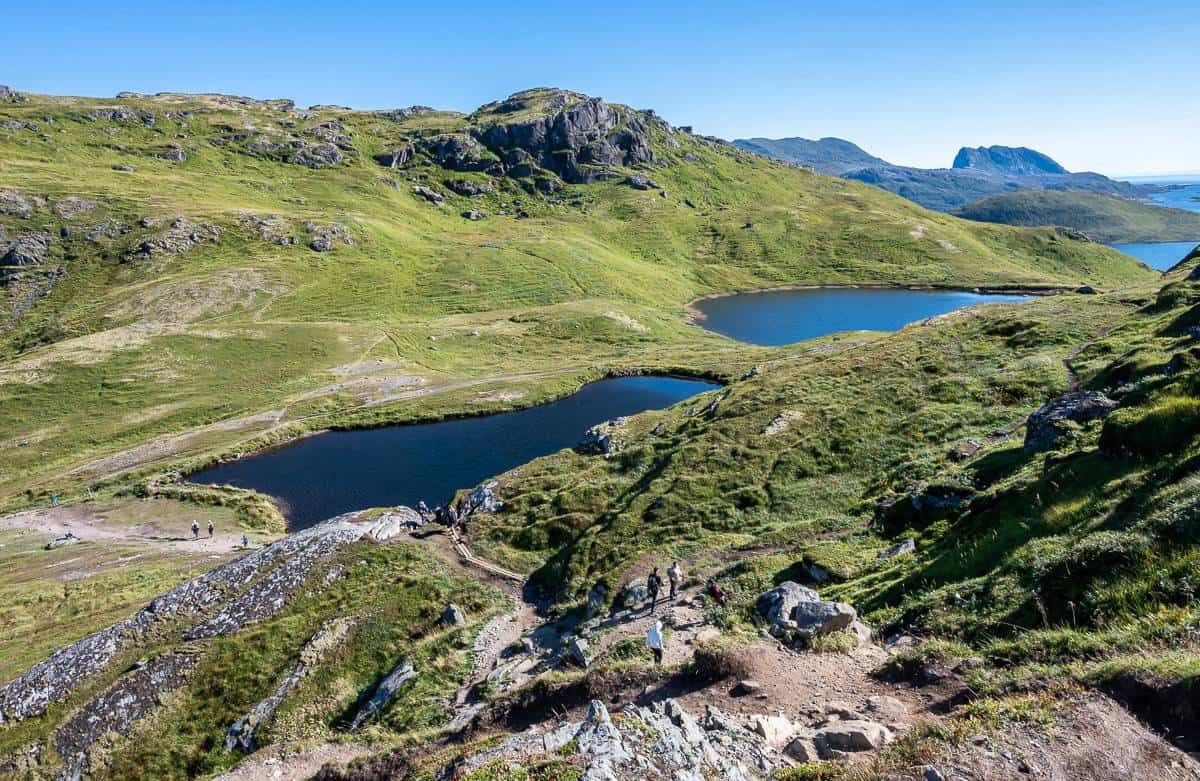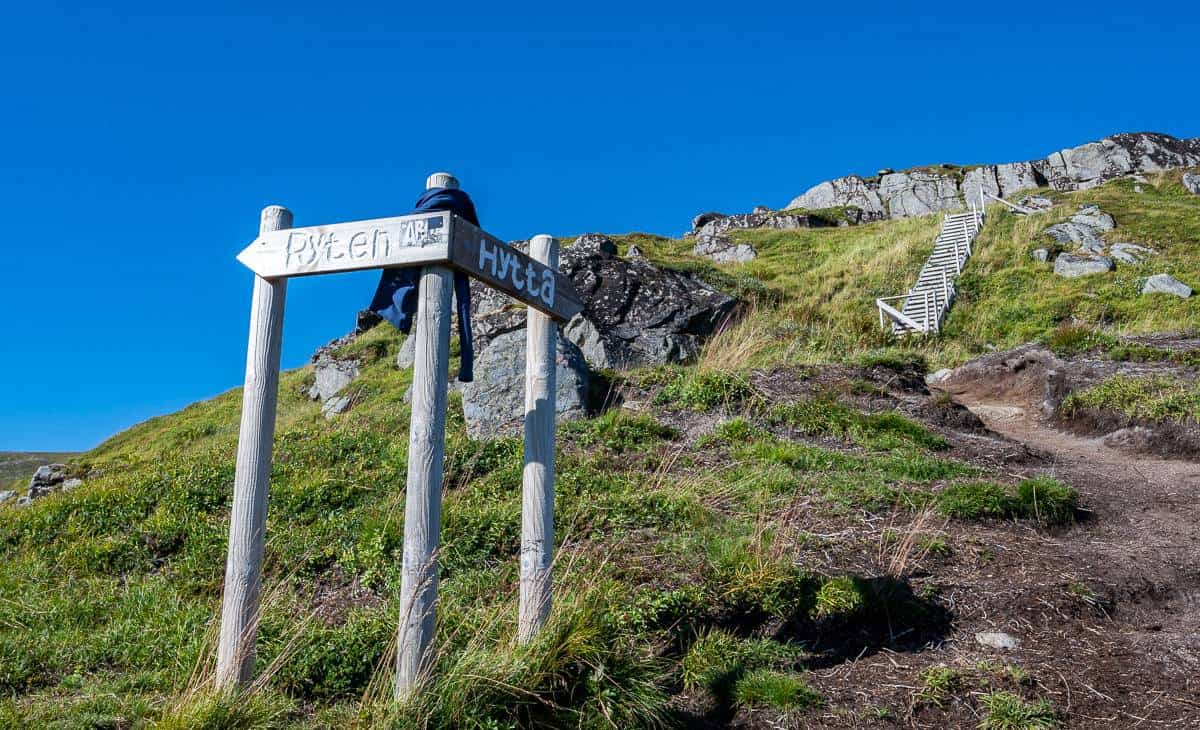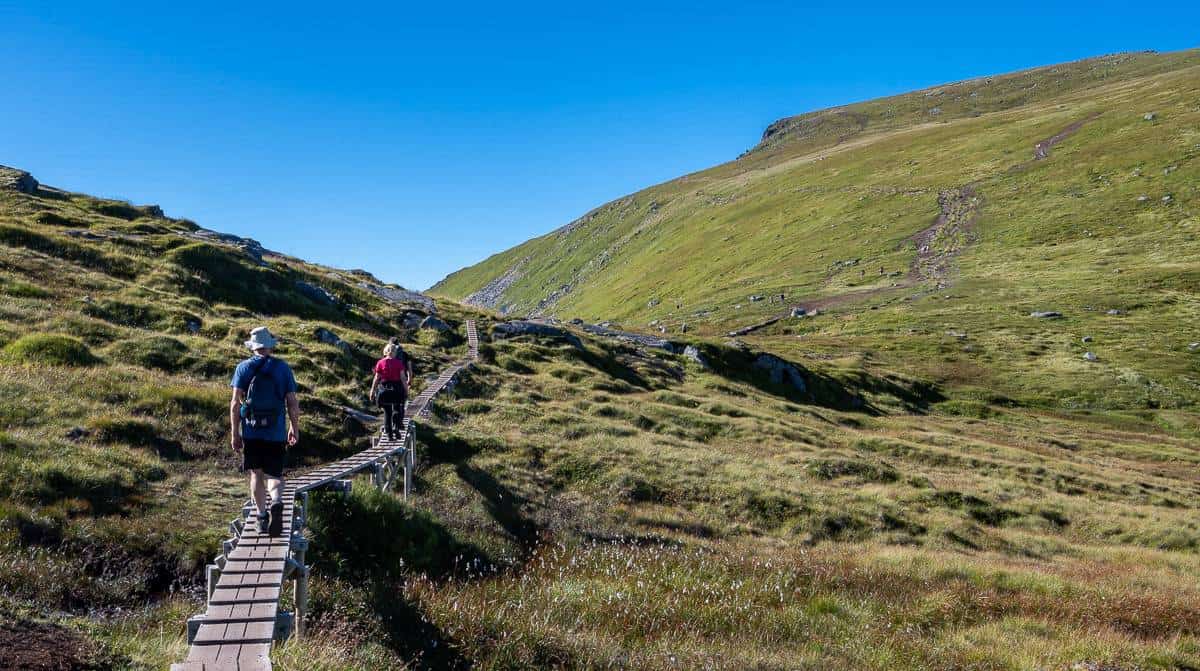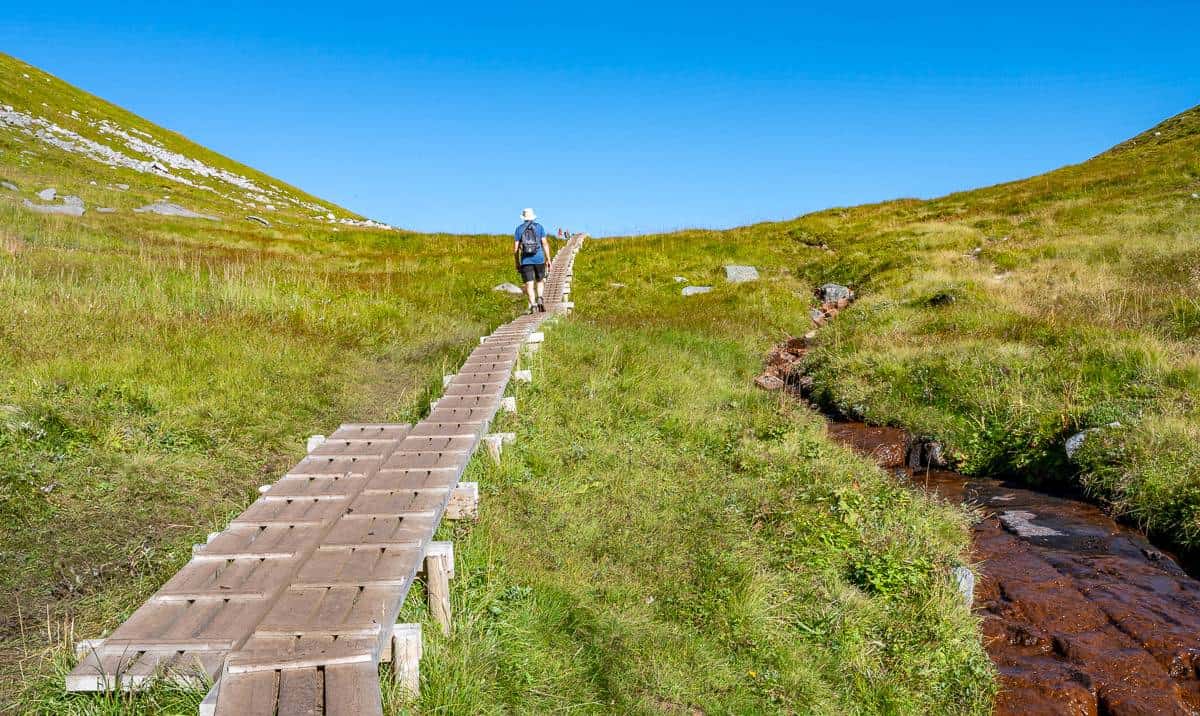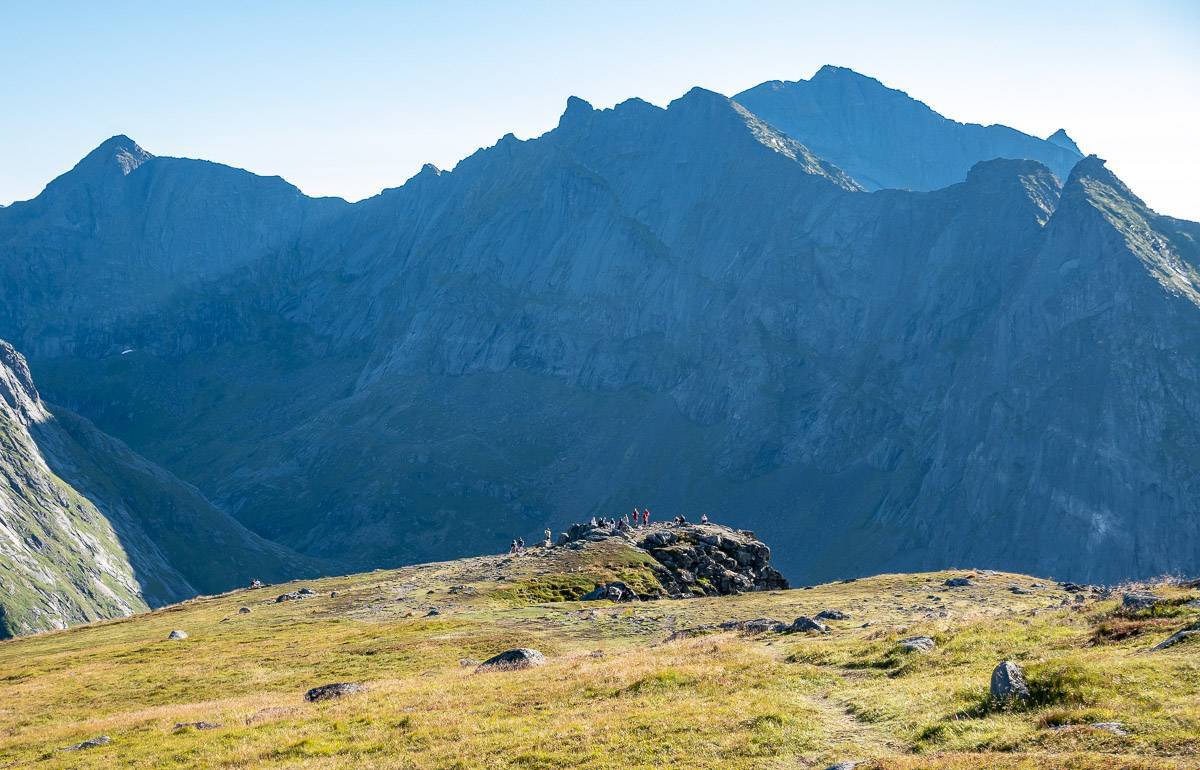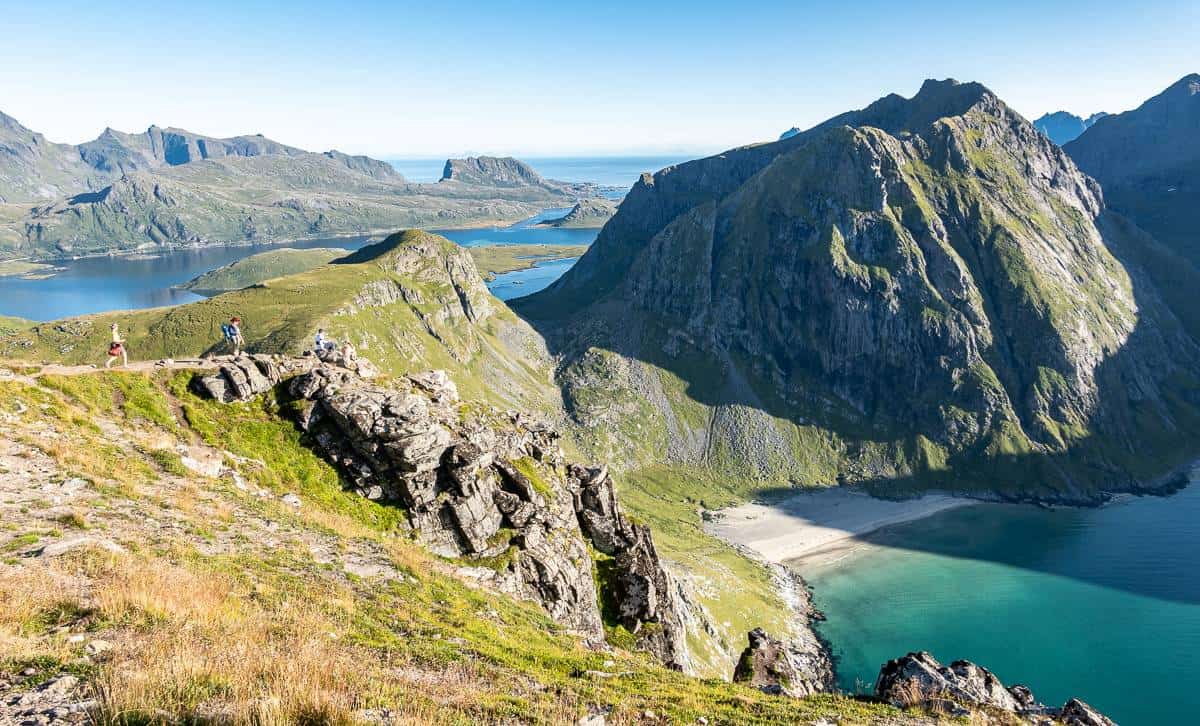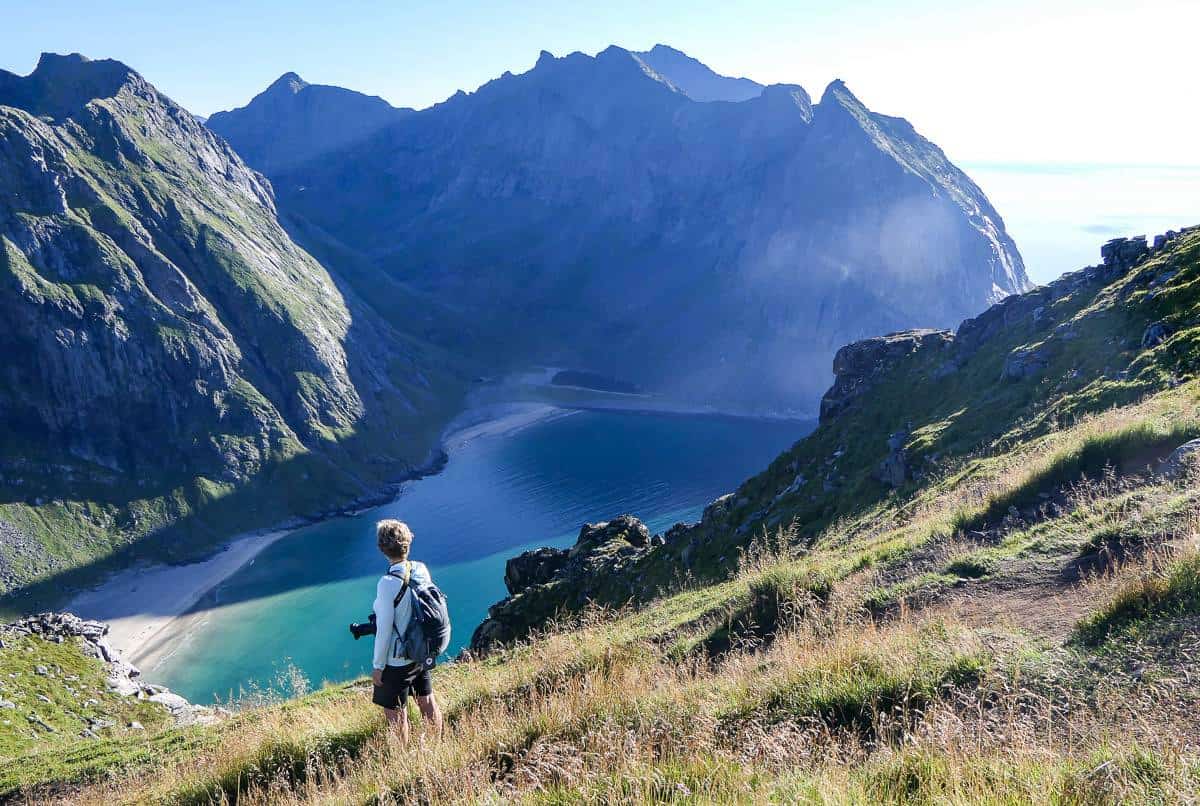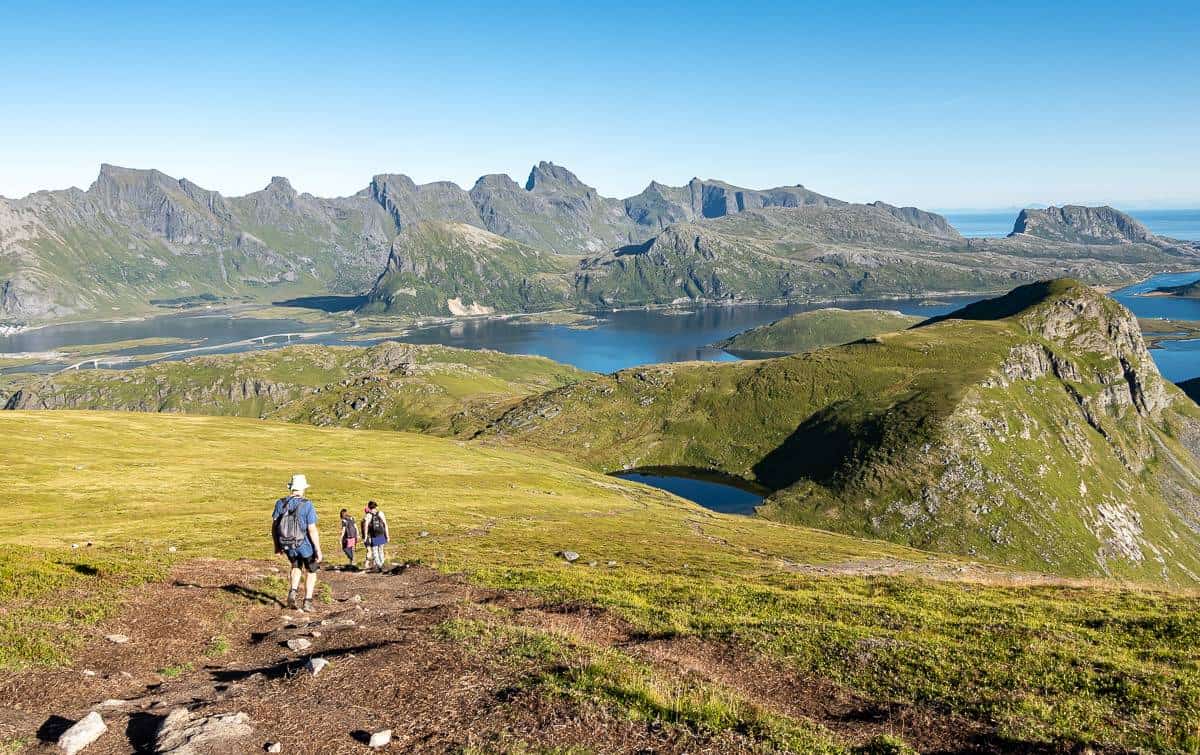 Kvalvika Beach Hike
We did the hike to Kvalvika Beach first and then backtracked up the steep hill and finished the Ryten hike. To get to Kvalvika Beach from the trail to Ryten, keep right at Forsvatnet Lake and hike down on the wooden boardwalks. This is a fun bit of hiking.
When the boardwalk ends, be prepared for a steep descent. This is a good time to pull out the poles as they'll help you navigate the rocky, muddy, and sometimes slippery trail. We picked our way down and were at Kvalvika Beach in no time.
When you reach the beach you can go for a swim in the chilly Arctic waters, wander the length of the beach – losing people the further you walk, or simply find your place on the beach and enjoy a bit of rest and relaxation.
If you've already completed the Ryten hike, there is the option to return to the parking lot by climbing the col behind Kvalvika Beach. Although you may not see the trail clearly when you're standing on the beach, you can usually pick out people ascending or descending on it. This is a much easier and shorter climb out. From the top of the col, the trail heads towards the parking lot at Torsfjorden. From there, you can walk the road back through Fredvang and back to the paid parking lot at Innersand.
I prefer to stick to trails rather than roads, so I was happy to hike out the same way we hiked in. At least there's another option, and it's only about 2 km to the parking lot for Kvalvika Beach.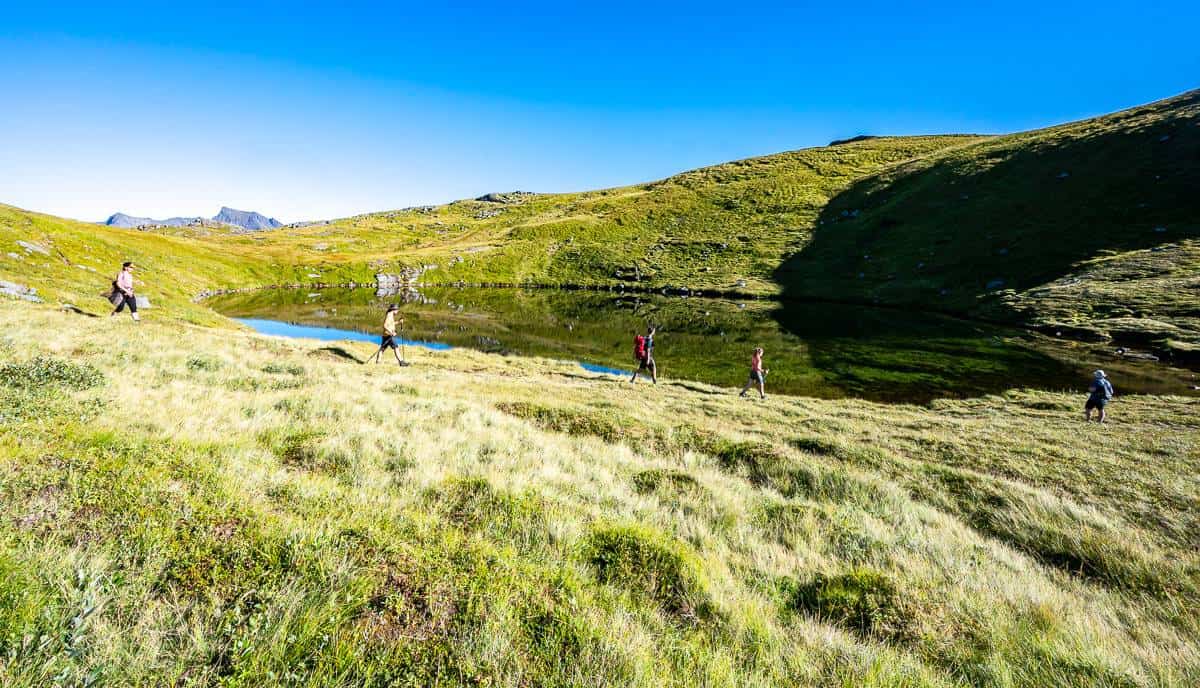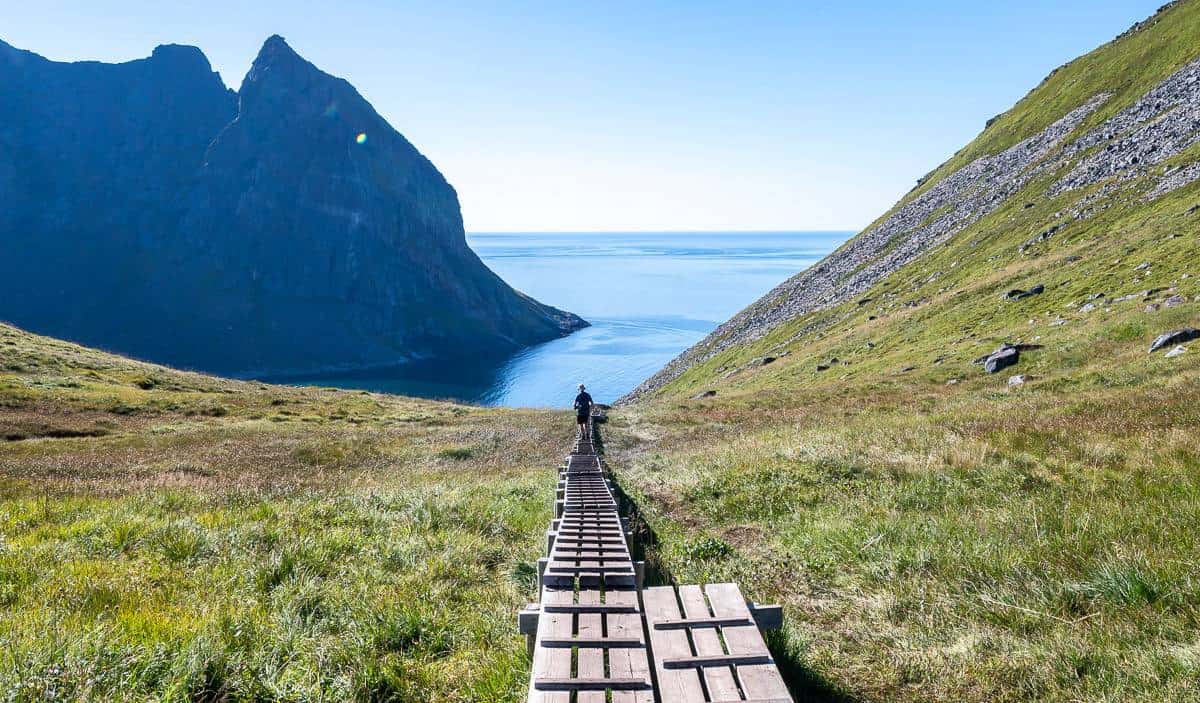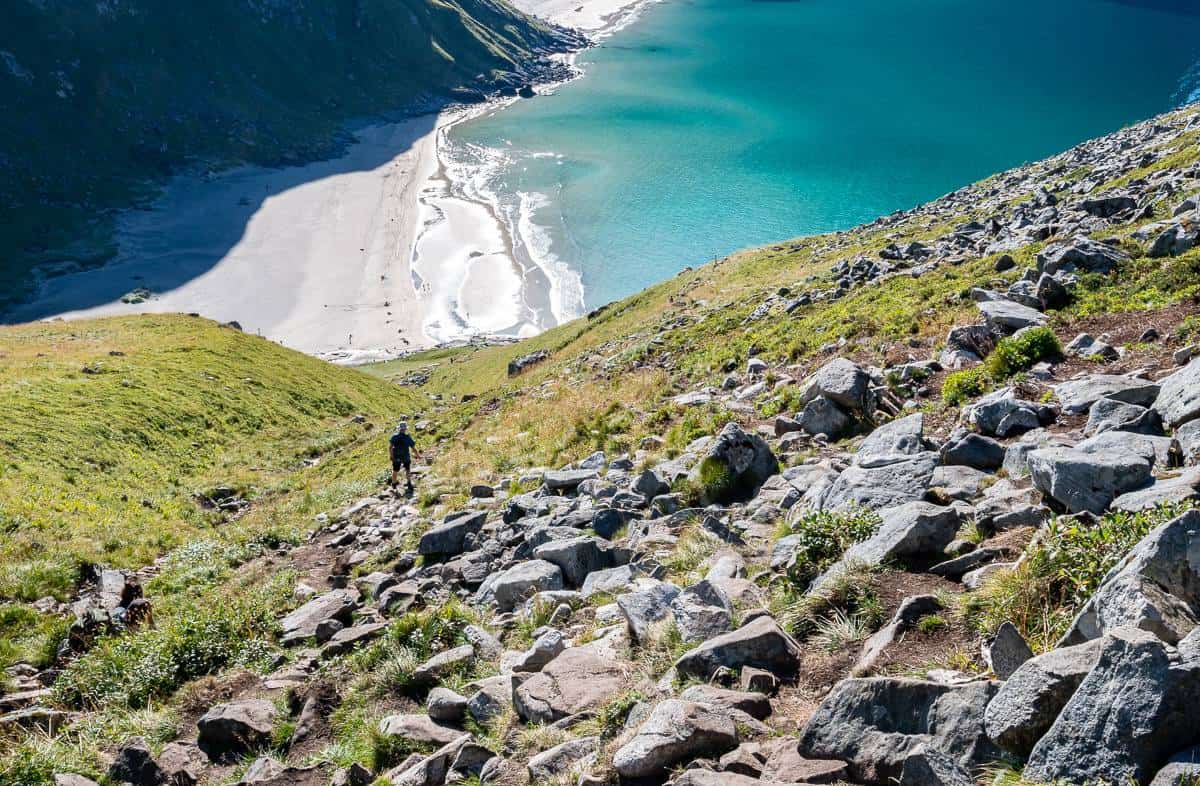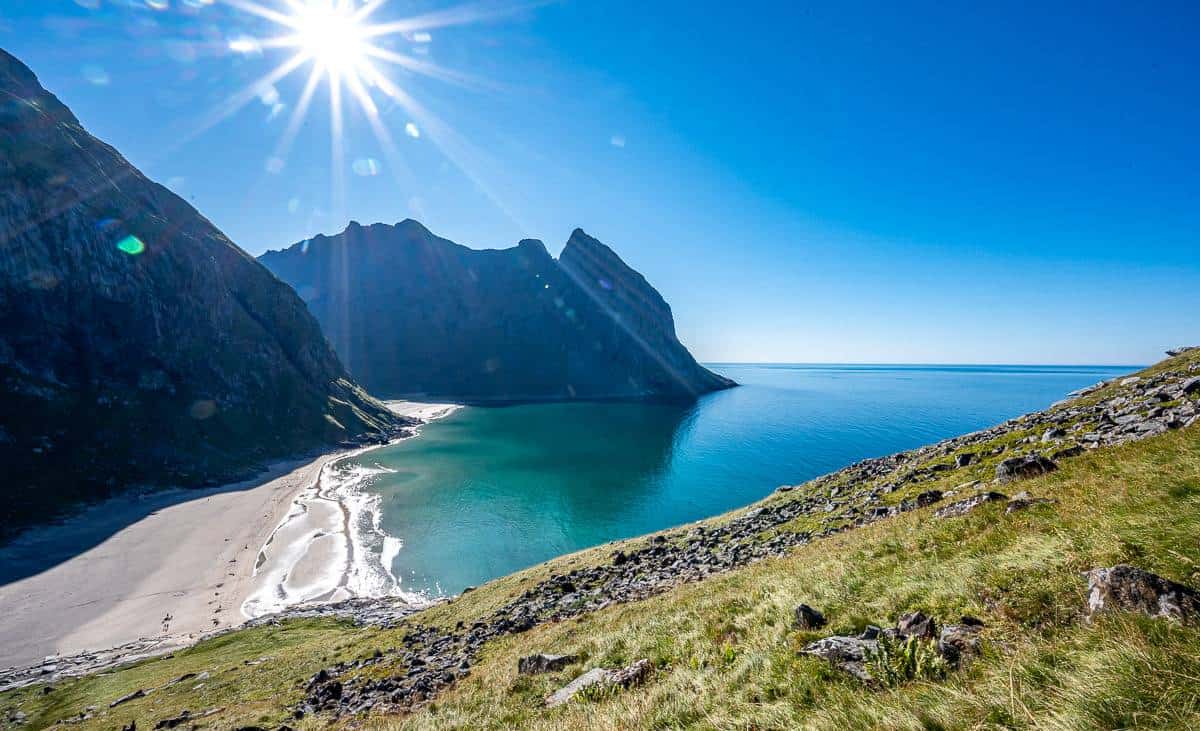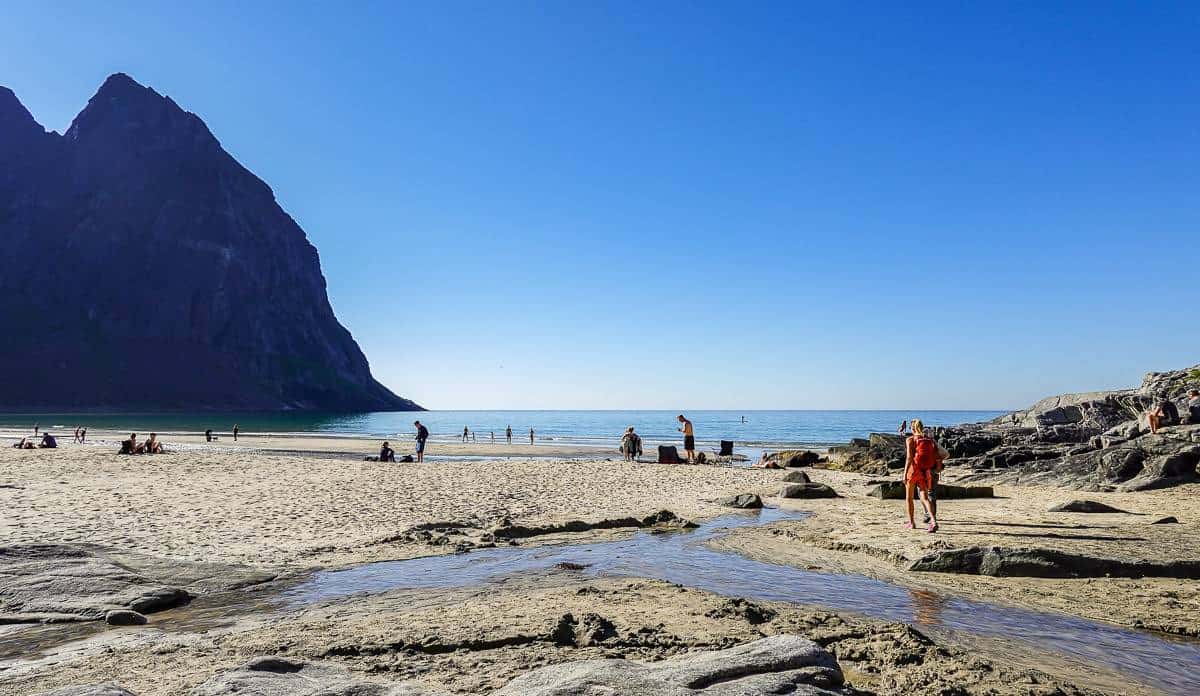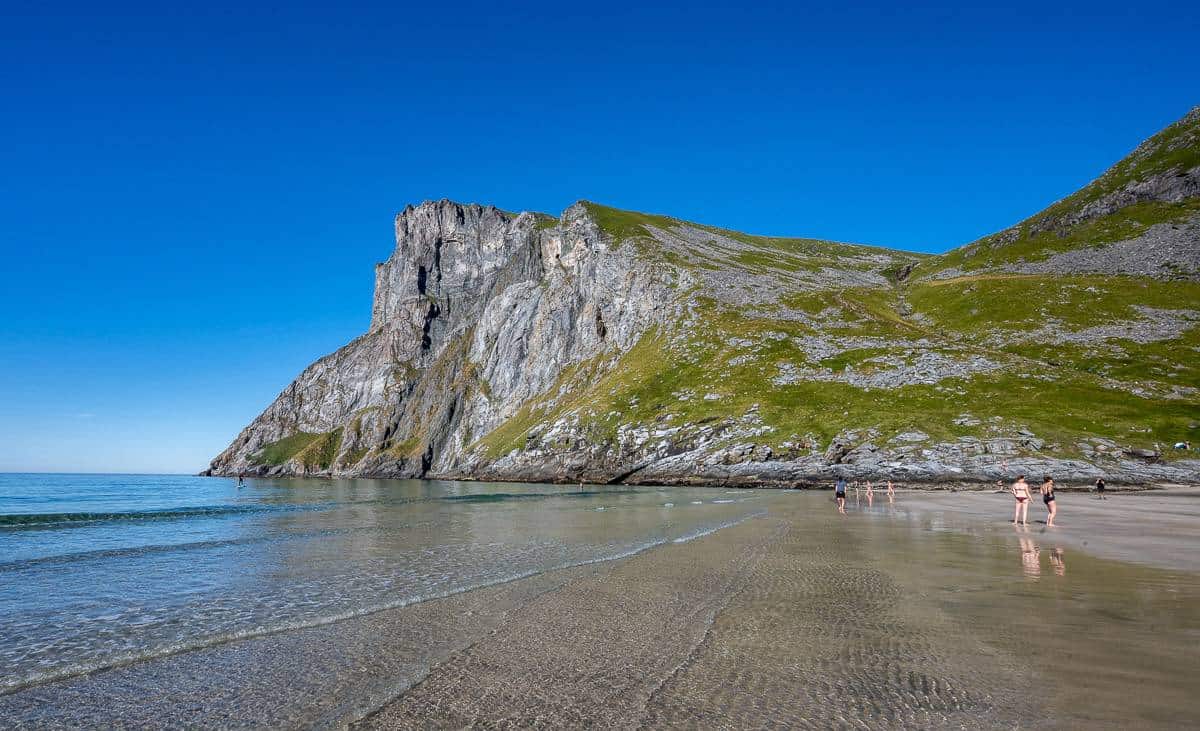 Wild camping on Kvalvika Beach
I was surprised to see tents at Kvalvika Beach – but for now wild camping is allowed, even though you're in Lofotodden National Park. Reportedly this is one of the busiest wild camping spots in the Lofotens – and I can see why. You can get to the campsite via a short hike – which makes life easy if you're carrying a moderate load, the views are sublime, and the beach is perfection.
But there are problems and helpful things every camper can do.
The sheer number of people wild camping in summer (up to 100 people some nights) without any toilets set up is causing degradation to the landscape and the freshwater streams in the area have been shown to contain E.coli. Don't even think about filling water bottles without treating and/or boiling the water.
If you still choose to camp at Kvalvika Beach, the most important thing you can do is to Leave No Trace. That means packing out EVERYTHING you pack in – even poop. (You can buy special poop bags (WAG bags) that don't smell and won't burst. I was shocked at the amount of toilet paper I saw – not so much on this hike as I didn't go looking, but on other hikes in the Lofotens. No one wants to see this, especially the locals. If you don't have a WAG bag, dig a hole away from all water sources, and bury your waste BUT pack out toilet paper and/or wet wipes.
Stay away from fragile sand dunes to preserve the ecosystem.
There is a ban on bonfires from April 15 – September 15th. When you can make a campfire, keep it small using wood lying around on the ground, but don't use old or dying trees as they still provide habitat for many organisms.
Go prepared for adverse weather as conditions can turn on a dime. Your tent should have a fly and be waterproof. Pack extra layers of warm clothing.
If the thought of camping with 100 people is a turn-off, as it is for me, aim for the shoulder seasons in late spring or early fall.
Always let someone know your plan, pack a first-aid kit and an InReach or something similar in case you have an emergency.
After your Ryten hike
Many of you will be hungry after a hike up Ryten or a visit to Kvalvika Beach. There's a food truck you can't miss on the road back to Ramberg. They make delicious made to order wraps – and there are lots of picnic tables to sit back and enjoy the view.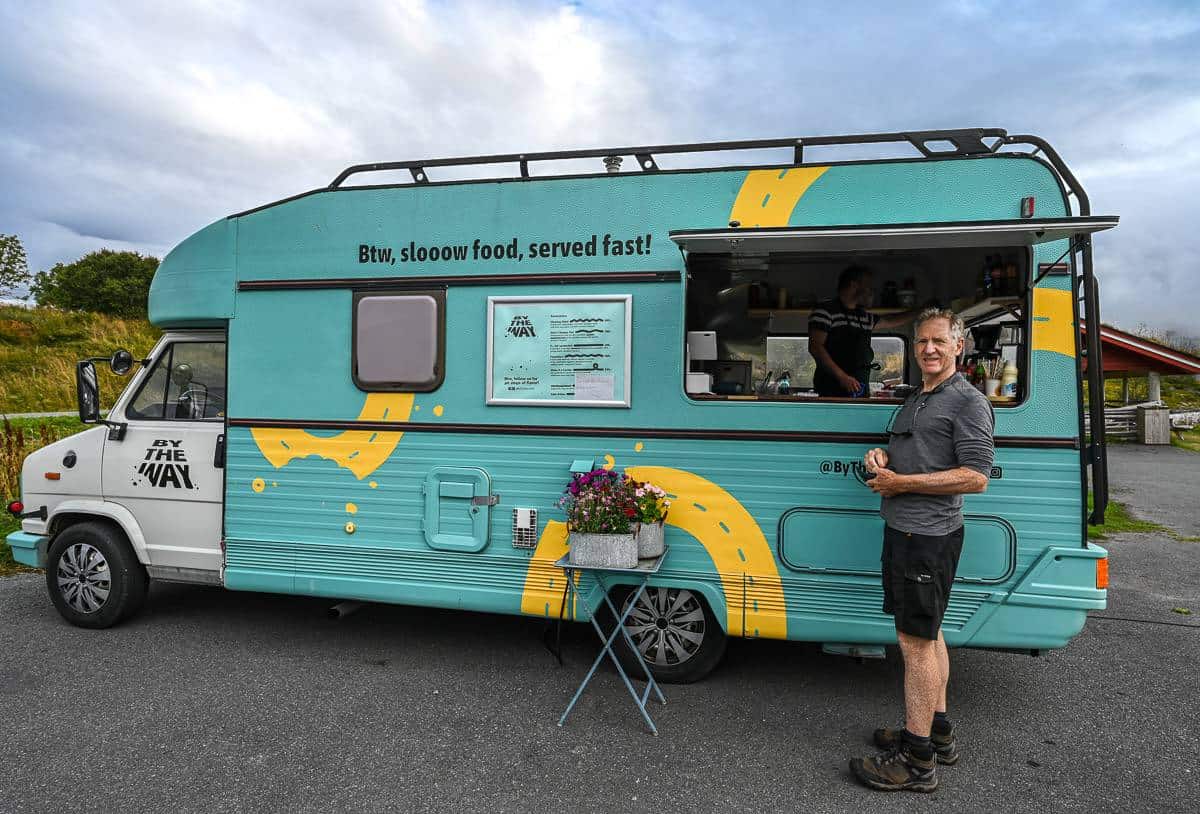 Where to stay in the Lofotens
Some ideas include the following spots.
Olenilsøy Cabins in Reine are rated as fabulous.
We stayed at Modern Rorbu Ryten 1 and did all are own cooking. It was very peaceful and we loved looking out over the water. It wasn't fancy, beds were small, but the main rooms were spacious.
The Lofoten Cabins – Kakern in Ramberg are highly rated and would be an excellent choice.
Interested in more hikes in Europe & the Lofoten Islands?
It gets a bad rap from many people, but if you can score a parking spot, I think it's highly worthwhile to hike the Reinebringen Trail. Enjoy some of the best views in the Lofoten Islands.
If you're short on time, but you want a hike that delivers 360 degree views, opt for the Offersøykammen Hike.
Another outstanding hike located in Sørvågen near the end of the E10 is the Munkebu Hut hike with a climb of Munken Peak.
How about hikes in Europe?
The Via Alpina in Switzerland is a magnificent multi-day hike – with no camping involved.
You can't beat hiking in Mallorca in winter. The hike from Valldemossa to Soller was the highlight in my opinion.
The Tour du Mont Blanc may be a popular hike – but that's because the scenery is superb day after day.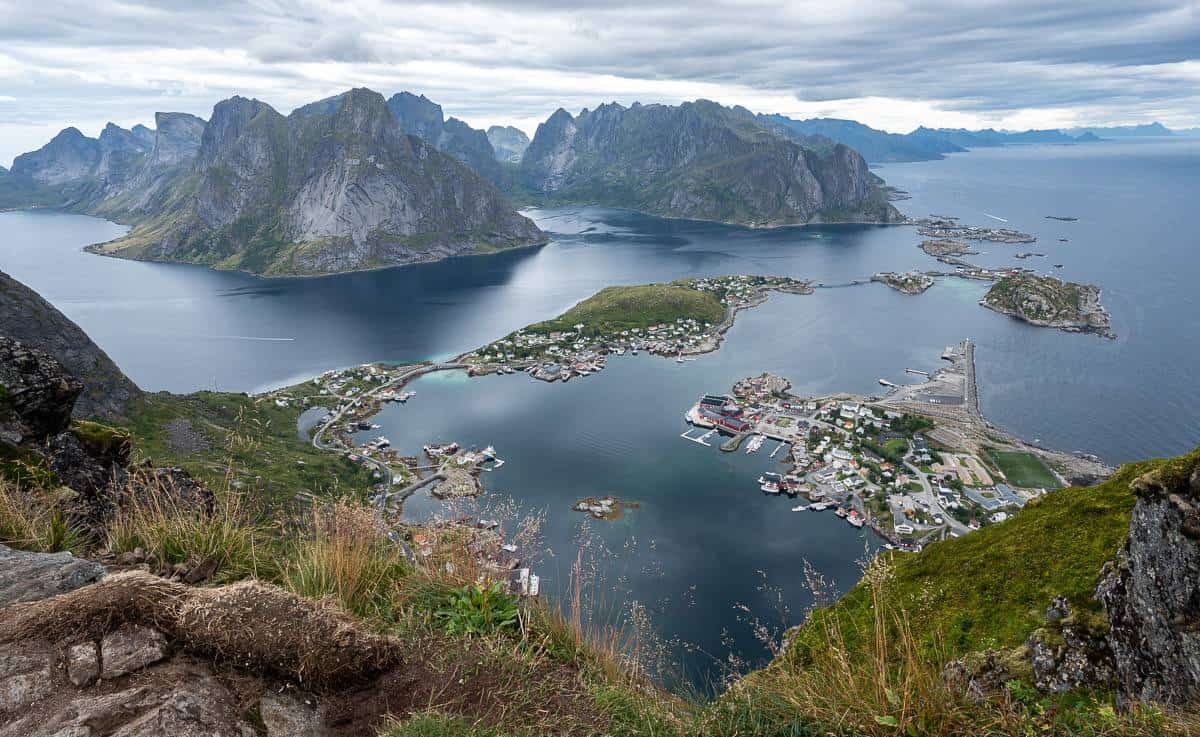 Click on the photo to bookmark to your Pinterest boards.
Thanks for reading.
Leigh McAdam
Author of Discover Canada – 100 Inspiring Outdoor Adventures
Co-author of 200 Nature Hot Spots in Alberta
HikeBikeTravel
Subscribe to my monthly newsletter
Follow me on Facebook, Twitter, Instagram and Pinterest