I admit to a bias. I love the outdoor clothing from Arcteryx- despite its hefty price tag. The clothing is timeless and doesn't wear out. Unlike Bill Bryson whom I quote below – I actually like what I've bought or been given – but I get to the point where I wish it would wear out. I'll have to live to 100.
In his most recent work The Road to Little Dribbling, Bill Bryson waxes on about his shirt.
I have an L.L. Bean shirt that I have been trying to wear out for nearly twenty years. I wear that shirt up to two dozen times a month. I have washed the car with it. I have used it to clean the grate in the barbecue. I hate the shirt. I didn't actually like the shirt the day I bought it. But I will wear it out if it kills me.
I did not clean my car or my barbecue grate with the two pieces of Arc'teryx gear I received – and maybe they wouldn't last as long if I did. But I do try like Mr. Bryson to wear out my clothes – and I have a hard time doing that with Arc'teryx products as they are made to last.
I headed up into the mountains to test the Trino Women's Tights – and with winds forecast at over 80 km/hour the tights were definitely tested under extreme conditions.
What I liked about the Arcteryx Trino Tights
Supremely comfortable, stretchy so great for hiking or any outdoor sport in coolish to cold weather, completely windproof. It would be easy to throw a pair of long underwear under the tights for even more winter warmth. (I can see wearing them a lot for snowshoeing and cross-country skiing.) Liked the foot long zippers at the bottom that allowed the pant to sit comfortably on my boot – and not ride up. The length of the tights was great for someone like me who is 5'8″.
Needs work:
Size large tights were a bit too big for me (I'm normally a size 10), especially in the waist. There is a draw-string but other than knotting it (and then it's not very easy to pee) there is no easy way to tighten the pants and KEEP them tight. I added a small 0.25 cent piece of hardware and solved the problem.
Recommendation: Great pair of pants if you get the sizing right. Loved them once I added the piece of hardware.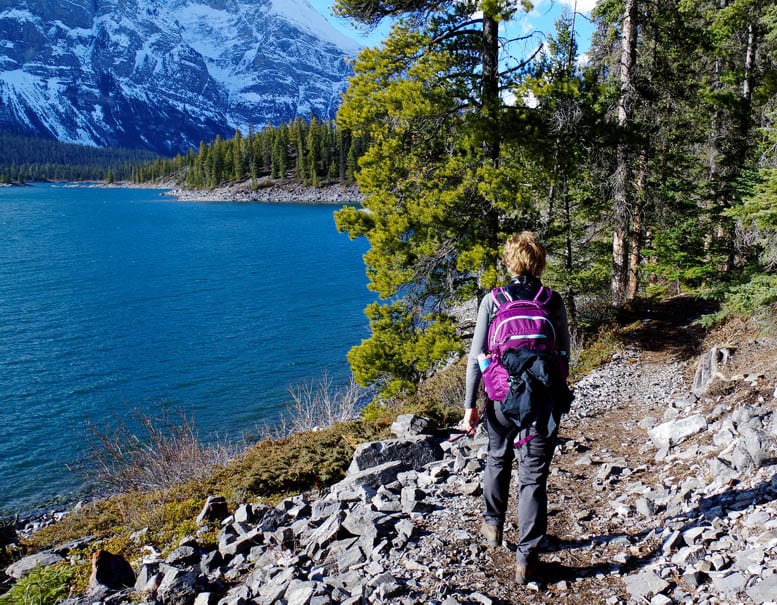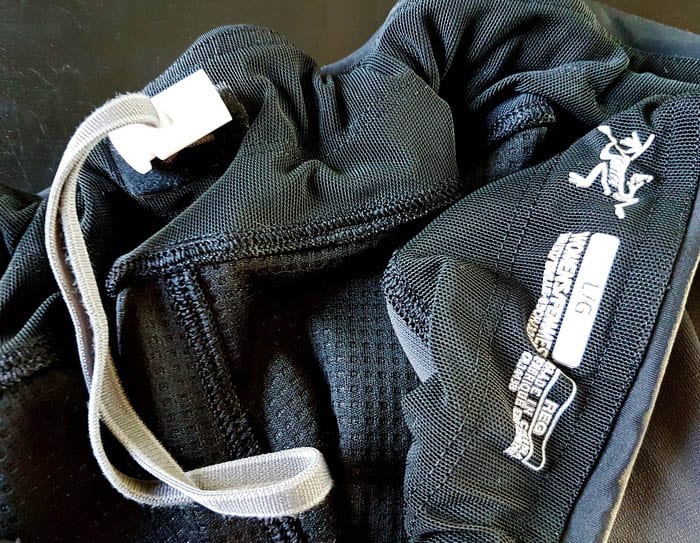 This post includes some affiliate links. If you make a qualifying purchase through one of these links, I may receive a small percentage of the sale at no extra cost to you. Thank you very much.
Arcteryx Trino Women's Jacket
This is one of those pieces you can wear indoors – at least in my cold Calgary house, or outside under cool, windy conditions.
What I liked about the Trino Jacket
Feminine cut and fit, two hand pockets (one with an interior key pocket), colour options (blue, violet and black), windproof and breathable, great piece for workouts so you don't overheat, stretchy cuffs and an internal back pocket that is great for stashing snacks if you're going light.
Needs work
Again it's the sizing. I have two Arc'teryx jackets; both are large but not baggy on me. The large Trino Jacket was too big on me so pay close attention to measurements and sizing before ordering.
Recommendation: Another great piece of Arc'teryx clothing. Wear it in your garden, in the hills and as a layer when you're cross-country skiing.
Arc'teryx customer service
The good news is that Arc'teryx has the best customer service of ANY outdoor clothing store I have ever bought from.
A case in point: I sent a jacket back once for repair. Within 24 hours of receiving it, I had a call saying to me that the material was delaminating and would I like a brand new jacket. I said yes and had it in 48 hours. The jacket I sent in was about four years old. I have been a believer ever since.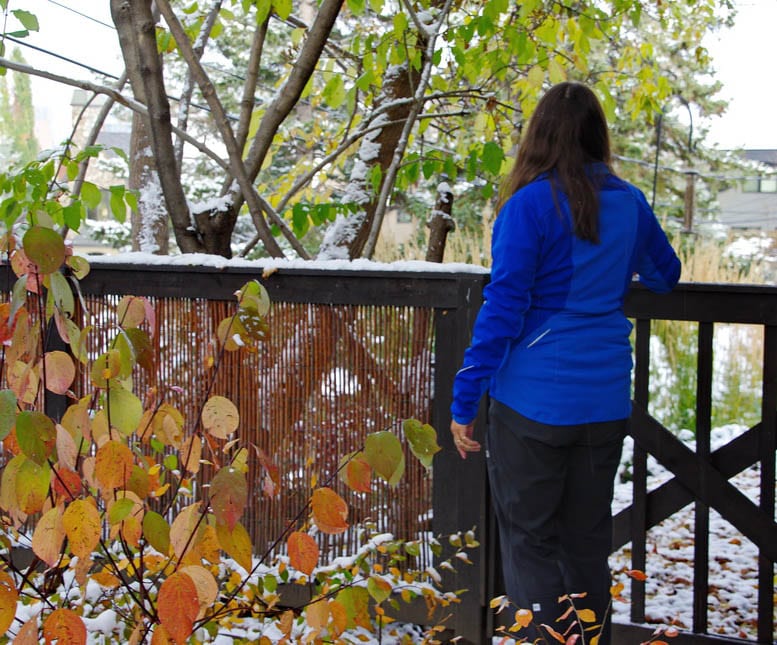 Check out the great selection of outdoor clothing on the Arc'teryx website. These folks make great outdoor clothing with flattering cuts and colours for women – and best of all they completely stand by their products.
Further reading on things you can do in these Arc'teryx pieces