Crossing the Andes on the Mendoza to Santiago bus, or vice versa, is a superb way to see some stunning countryside. It's also a heck of a lot cheaper than flying. It's only going to cost you $US30-35 one way for a reserved seat.
Plan to do the Mendoza to Santiago bus ride during the day so you can enjoy the views.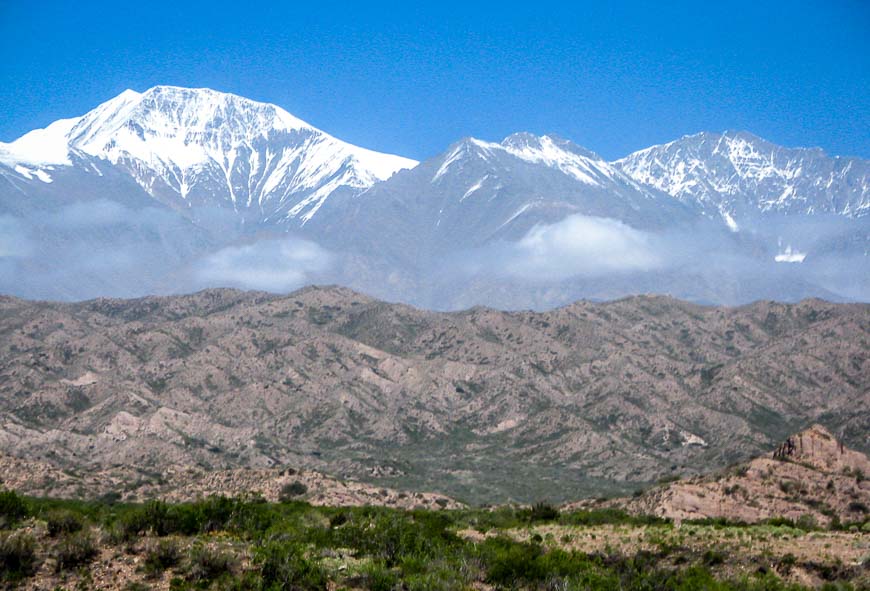 This post includes some affiliate links. If you make a qualifying purchase through one of these links, I may receive a small percentage of the sale at no extra cost to you. Thank you for your support.
Mendoza to Santiago bus trip – buying tickets
We purchased tickets about five days before our departure when we were in the Tucuman bus station from the Andesmar Bus Company. There are many bus companies to choose from – CATA Internacional, El Rapido Internacional and Pullman Bus to name a few.
We stuck with Andesmar because we'd had such a good experience on a 14 hour overnight trip from Tucuman to Mendoza. Deep leather seats are bigger than an airplane business class seat and you can recline without bothering the person behind you.
Book a bi-level bus and choose a seat on the upper level. You'll need your passport to book the ticket.
You can also save a lot of grief by booking online with Busbud – a company I highly recommend. By booking with them you can easily see your options and avoid language issues. I have used them in Canada and Chile.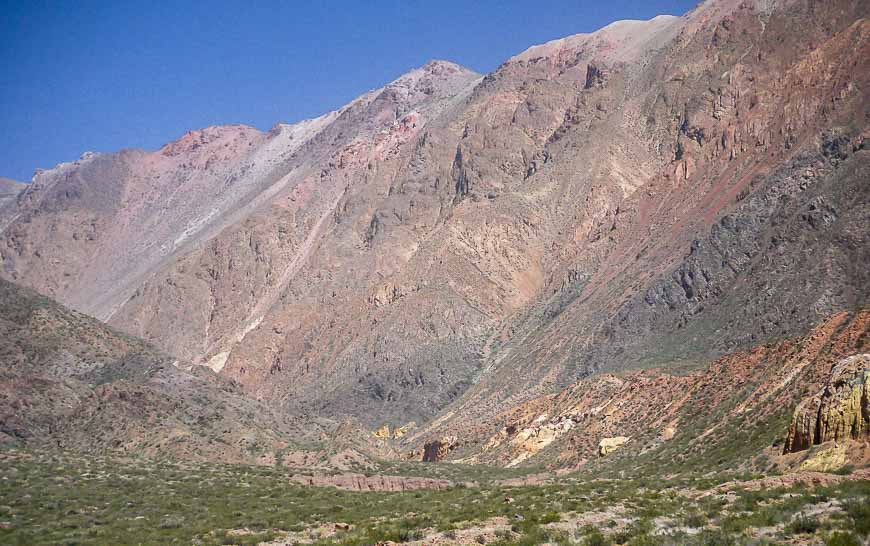 Count on a 2 hour wait at Chile border on the Mendoza to Santiago bus ride
Pick a bus that leaves in the morning so you can enjoy the scenery. Most companies have buses leaving around the same time – 8, 9 or 10 AM, though there are noon time buses and an evening bus too. It's really only about a six hour ride but the border crossing especially on holidays can get clogged. We were at the border for a solid two hours.
I would not want to take this bus ride in the winter. Wait till you see the road on the Chilean side with its umpteen curves. I can picture sliding off the road to my death!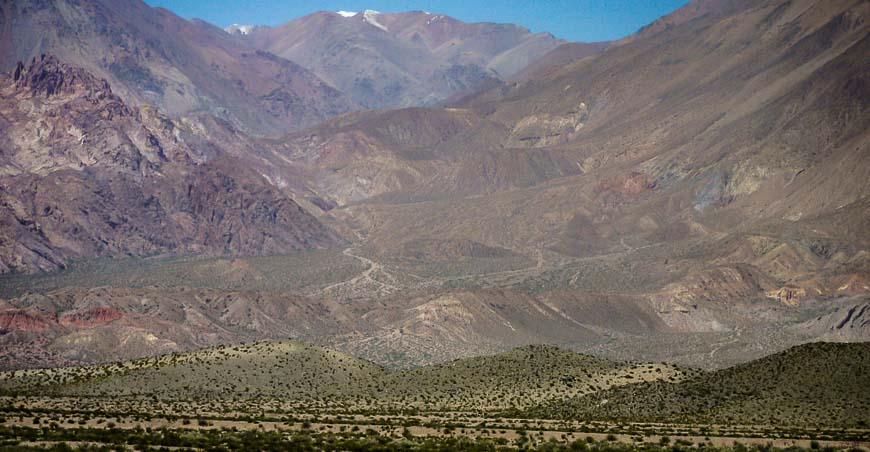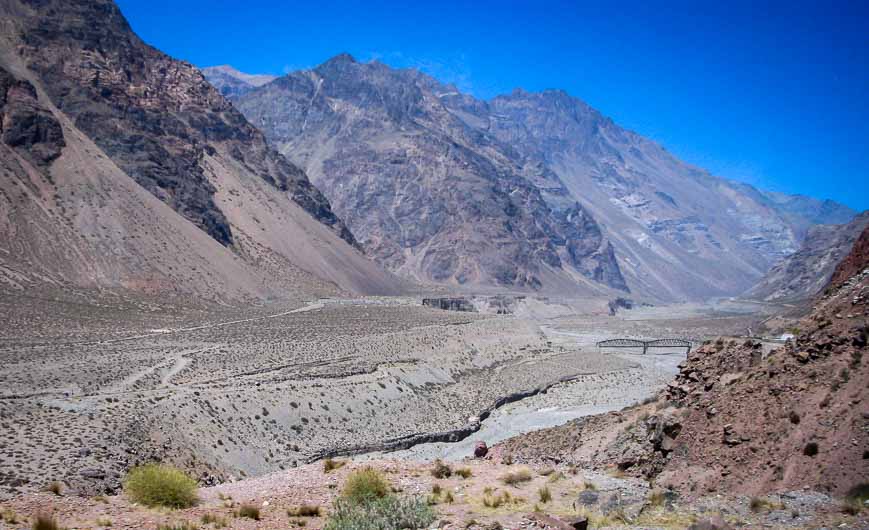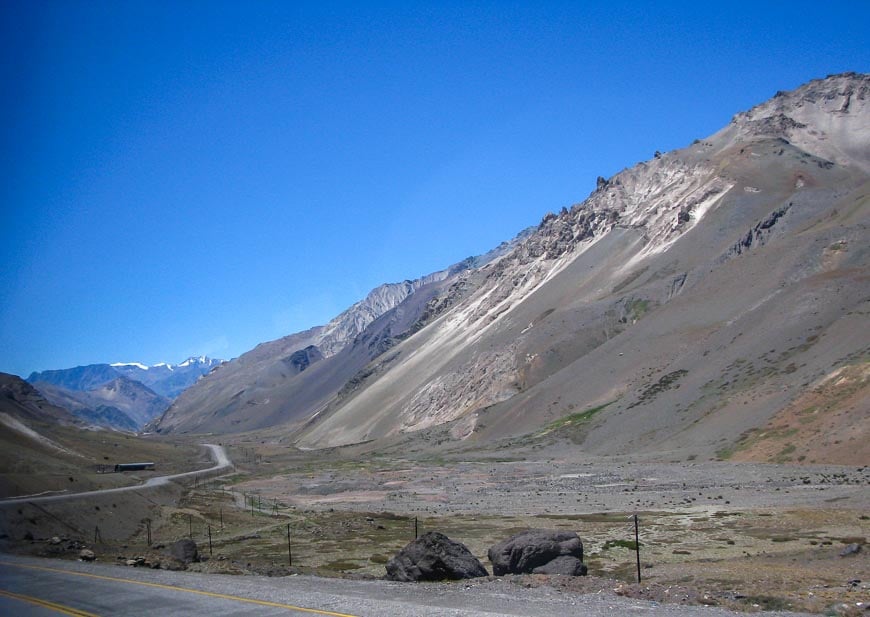 The bus ride – Argentina Side
Leaving Mendoza you travel through the city and then past miles of vineyards framed by the snow capped Andes. I saw one organic winery within sight of a gas or oil refinery. Makes you wonder what constitutes organic.
Then you start climbing into the foothills of the Andes. It's dry country when I'm here in January. Lots of interesting geological formations keep my husband riveted. There's nothing scary about the drive to the border.
Save that for the Chilean side of the trip. It's all a very gradual climb through the mountains with nary a village in sight. If you get bored with the scenery then you can watch one of the incessant movies playing on the bus.
The Argentina – Chile border
Speed is not a word that I would use to describe the actions of anyone working at the border. It's really quite a process.
Everyone loads off the bus and gets into a line-up to leave Argentina. Passports must be stamped.
Shuffle sideways three feet and get into another line-up to enter Chile. Get your passport stamped.
Wait for everyone on the bus to do the same thing.
Get back on the bus. Drive 30 metres.
Get off the bus with your belongings and enter a room with two rows of tables. Put your belongings on the tables. Watch the cute sniffer dogs run up and down the table looking for bad stuff. Don't risk bringing in anything illegal. If the customs people don't get you, your fellow passengers will. They don't want to be kept waiting because of one individual.
Did I just say that? Turns out that my bag and my friend's bag were the two that were held up for closer inspection. If that happens to you be prepared to march over to another table in front of everyone and let the agents go through your bag. Apparently the x-ray machine had picked up my glass jar of Dulce de Leche – the same with my friend, Jo. That's allowed but honey is not and that's what they were looking for. You're also not allowed to bring in any wood that isn't treated. That means all those handicrafts made out of cactus are NOT ALLOWED and will be confiscated if found.
Before leaving the customs room a hat is passed around. We thought funds were being collected for the dogs. Wrong. It's for the guys unloading the baggage off the bus – or that's what we think.
Two hours passed from start to finish at the border though we have heard that that is longer than average.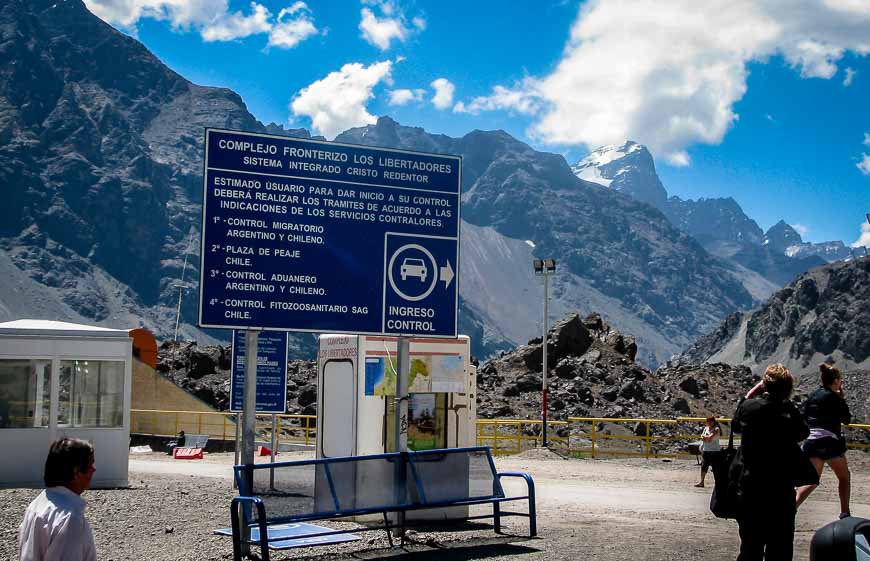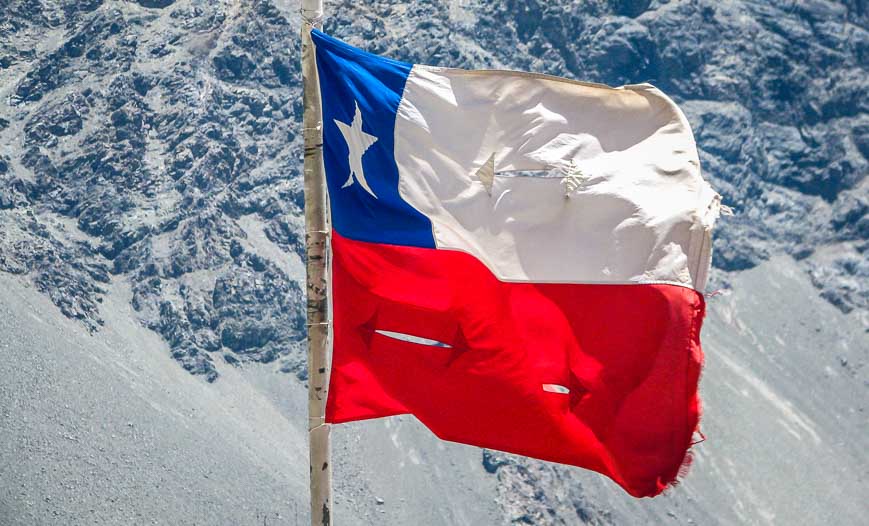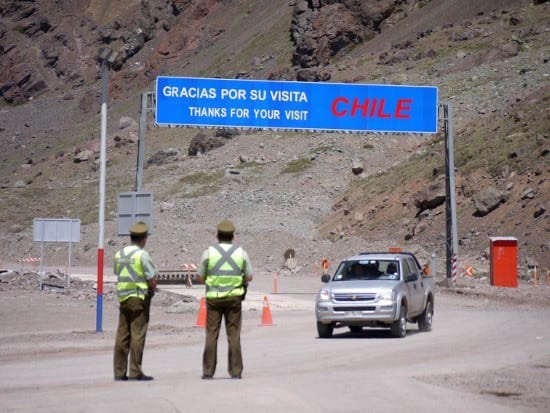 The bus ride – Chile Side
Right after leaving the border you'll pass the Portillo Ski Resort. The place looks like it's for the hard core ski crowd.
Then the road continues down via a series of 27 switchbacks; this is not a road I would ever want to drive in the winter months but really kind of fun in the summer. You just have to hope the bus companies service the brakes at regular intervals.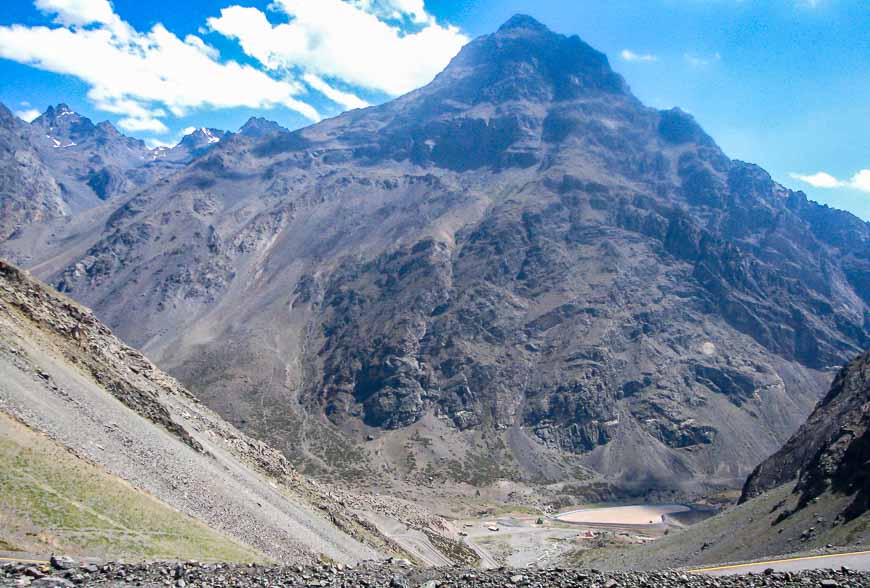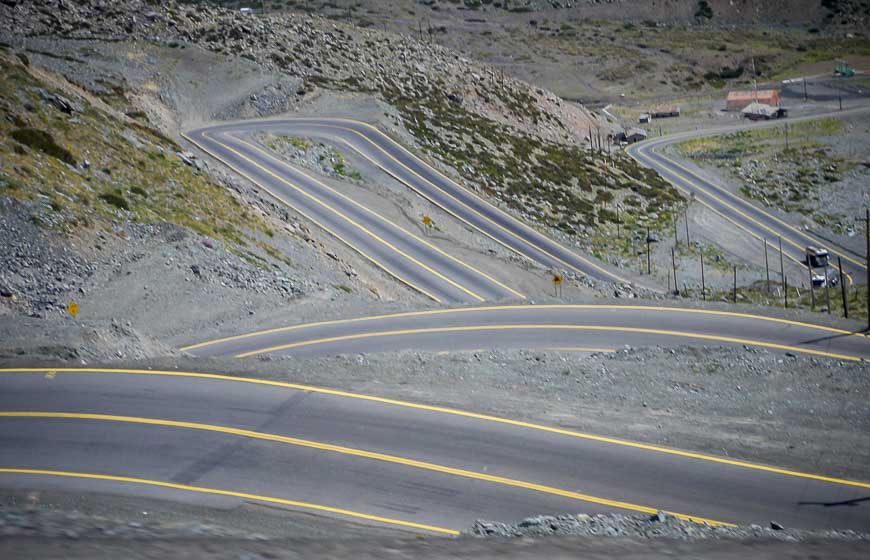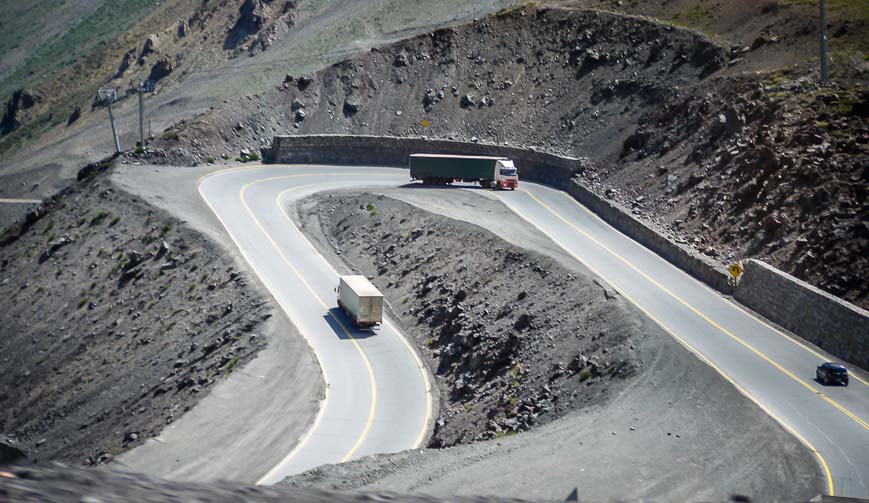 Once you're through the curves then you follow the river but in no time you get into greener countryside – first small trees and then huge vineyards. It's only about a two hour drive to Santiago from the border.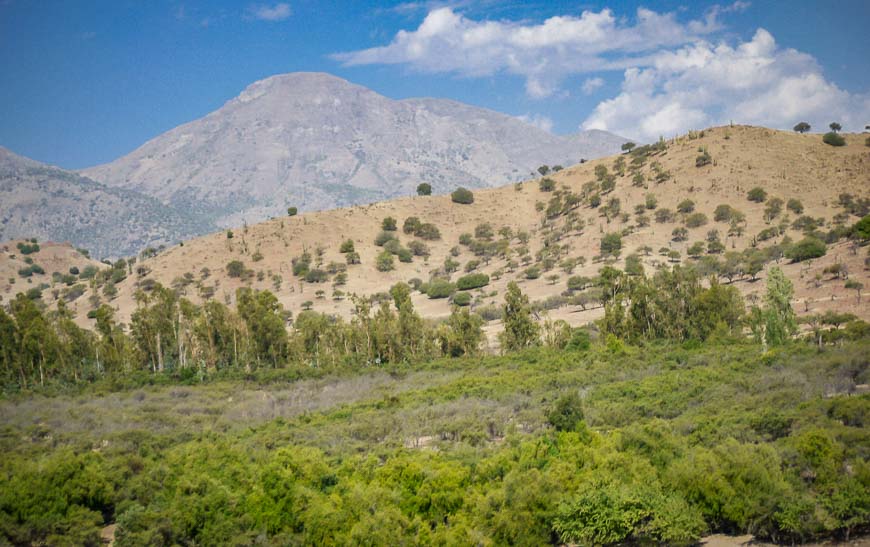 Arrival in Santiago
Santiago hits you with its mass of people and housing. Fortunately traffic is reasonable and in no time you're downtown at the bus station. When you pick up your bags don't forget to have some change or small bills for a tip. It's expected.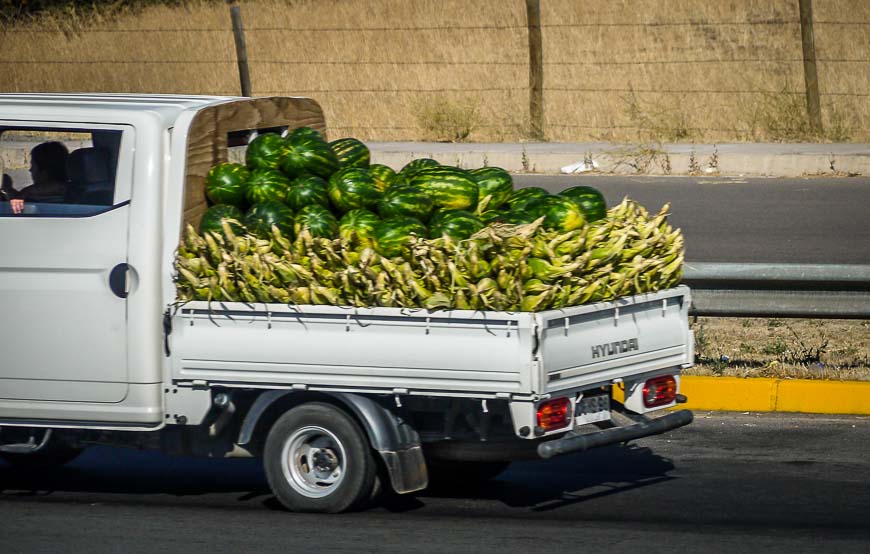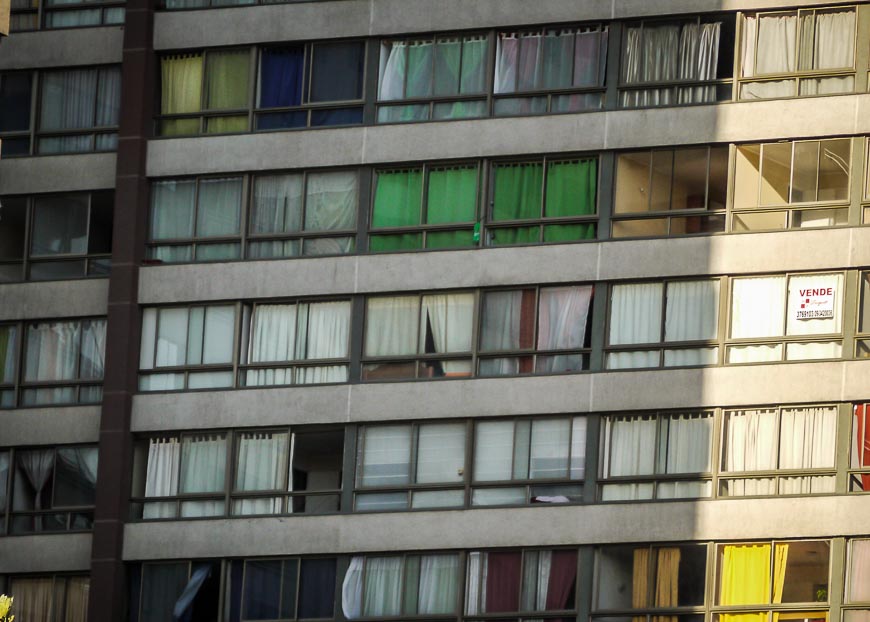 We had also crossed the Andes by bus in the northern part of the country – from San Pedro de Atacama to Salta.
It was a longer trip but I think overall a prettier trip and more interesting – wildlife, colourful rock formations and the desolate but beautiful altiplano. My husband disagrees – he thinks the Mendoza to Santiago is the better bus ride. You'll have to go and see for yourself.
Before you get on the bus check you might want to check out my blog on 30 Tips for Long Distance Bus Rides.
What bus rides have you been on that were unforgettable?
Further reading on things to do in South America