Our goal while in Chile and Argentina is to move between the two countries using public transport wherever possible. Not only is is much less expensive but its a great way to absorb some of the local flavour. We traveled from Chile's Atacama Desert, specifically San Pedro to Salta in northern Argentina by bus. I was less keen on this ride, mainly because of its length – 11 hours.
Updated December 2020. This post includes some affiliate links. If you make a purchase via one of these links, I may receive a small commission at no extra cost to you.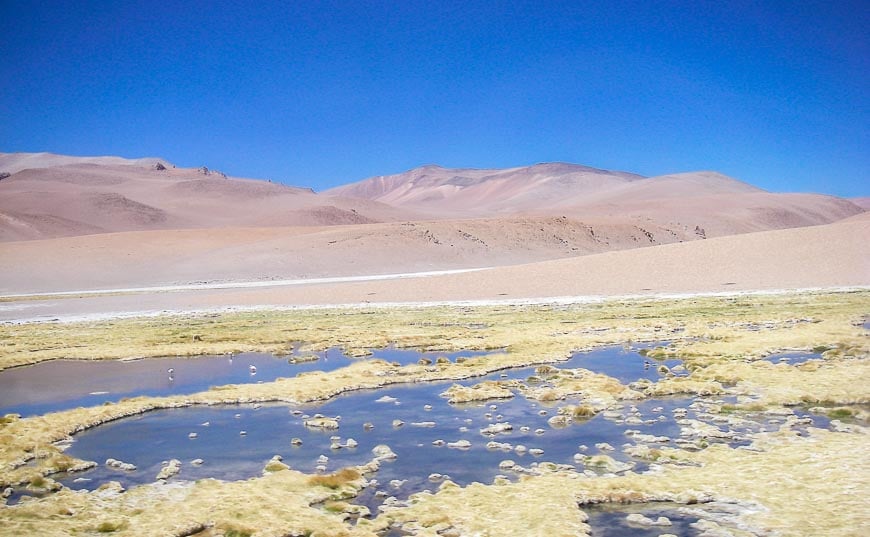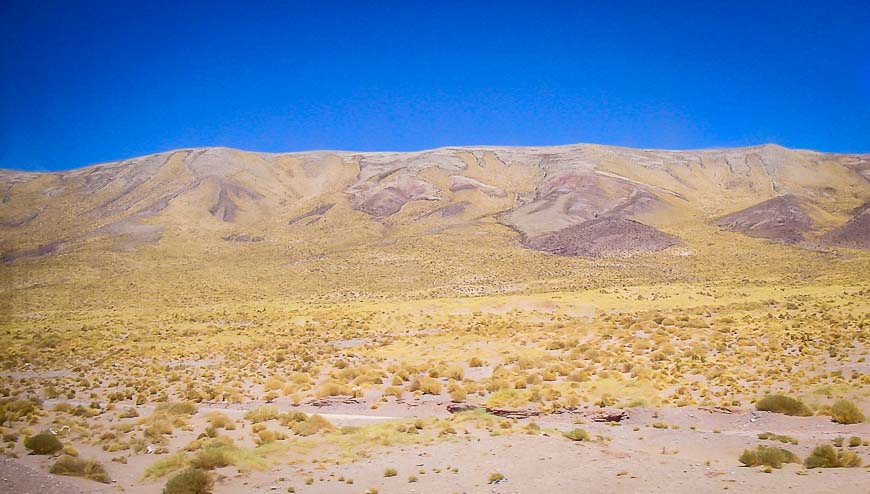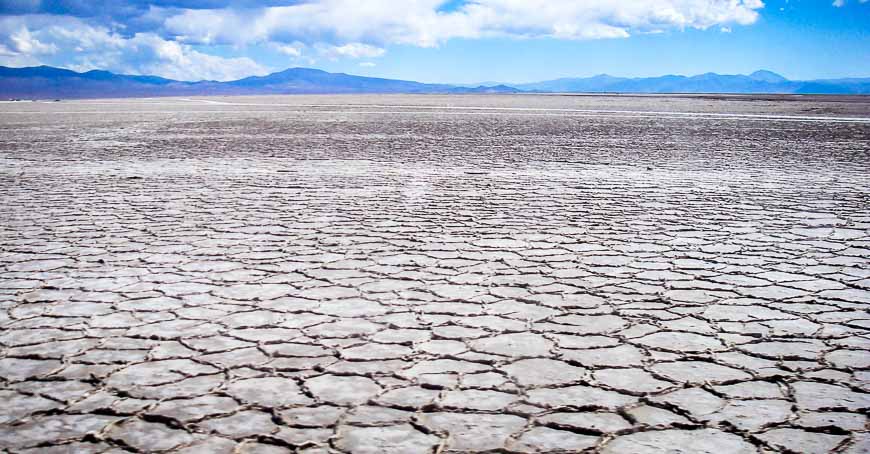 What a beautiful bus ride it is from San Pedro to Salta
We left at 10 AM, drove less than a kilometre and then piled out of the bus to go through Chilean customs for exiting the country. Don't ask me why. That took the better part of half an hour but then we were off.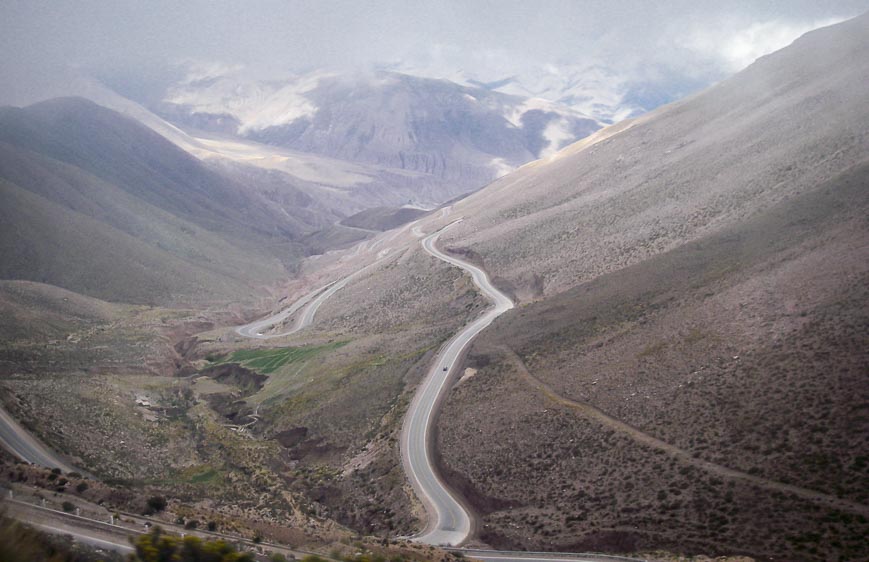 In one section the bus gains 6,000 feet
The scenery out of San Pedro de Atacama initially is not that interesting but you climb quickly, up and out of the valley into a land marked with yellow-coloured grasses framed by volcanoes.
In no time you are at an altitude of over 14,000 feet and the bus feels like its straining hard. It is. The vertical gain is over 6,000 feet in this stretch.
Then it's down, down, down to a broad valley where there is a small river flowing which attracts the wildlife – mostly flamingos and vicunas. In no time you are at the border and that´s where you stay for about 90 minutes.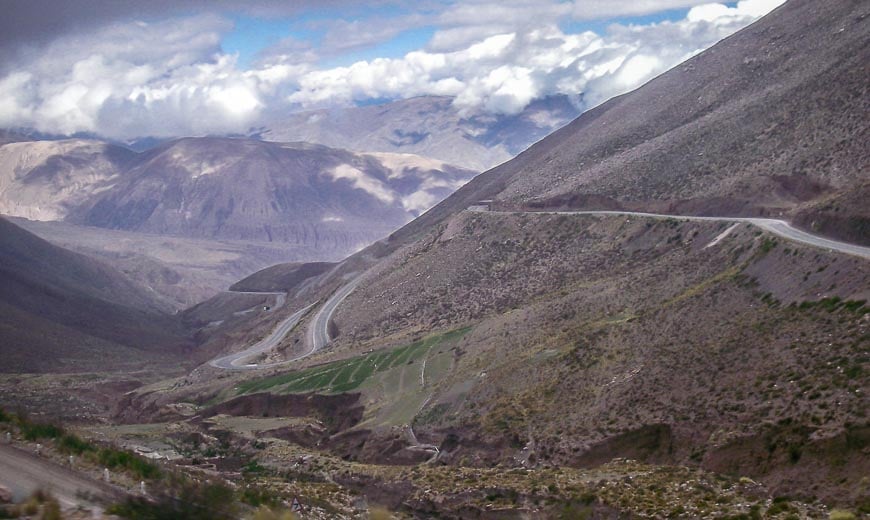 The Chile-Argentina border crossing
Unfortunately at the Chile-Argentina border there was another bus in front of us – so we had to wait for them to clear customs before we could get started. We sat on the bus, though the drivers did throw some lunch at us – a package of crackers, two hard candies and two orange drink boxes. Yum.
Go prepared because there are no opportunities to purchase anything. Then you all clear the bus (again) with all of your stuff and go to get your passport inspected.
Once that is done pick up any of your bigger luggage and wait in line so you can put your luggage through a portable x-ray machine. Again WHY? I have no idea. Collect luggage and go back inside building to have luggage inspected. Tell the agent you have dirty clothes and you should be finished.
Then wait another 45 minutes for the rest of the people to clear customs. Head back to the bus and the best part of the trip lies ahead – but we didn't know that at the time.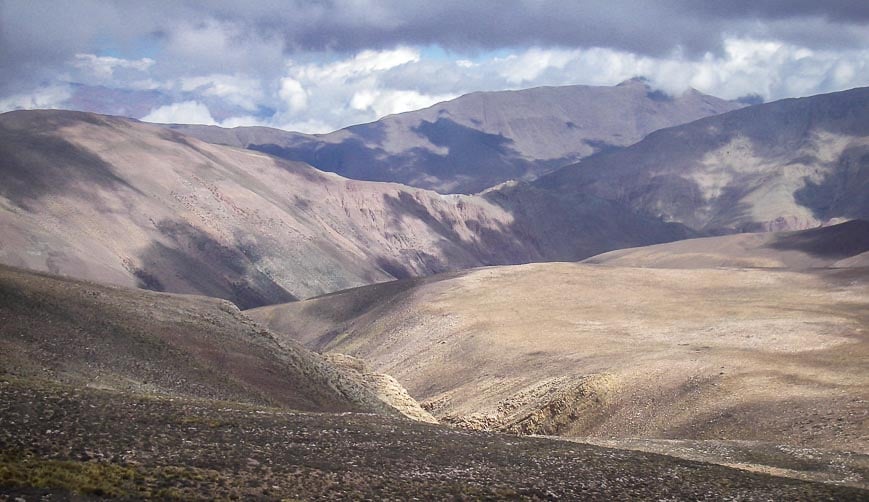 Count the switchbacks on the highway between San Pedro and Salta
I thought the scenery out of San Pedro was pretty special but it pales in comparison to the next mountain crossing. The big crossing took us on a series of 72 switchbacks.
For those of you afraid of heights the few hours to complete this part of the journey might be a tad terrifying.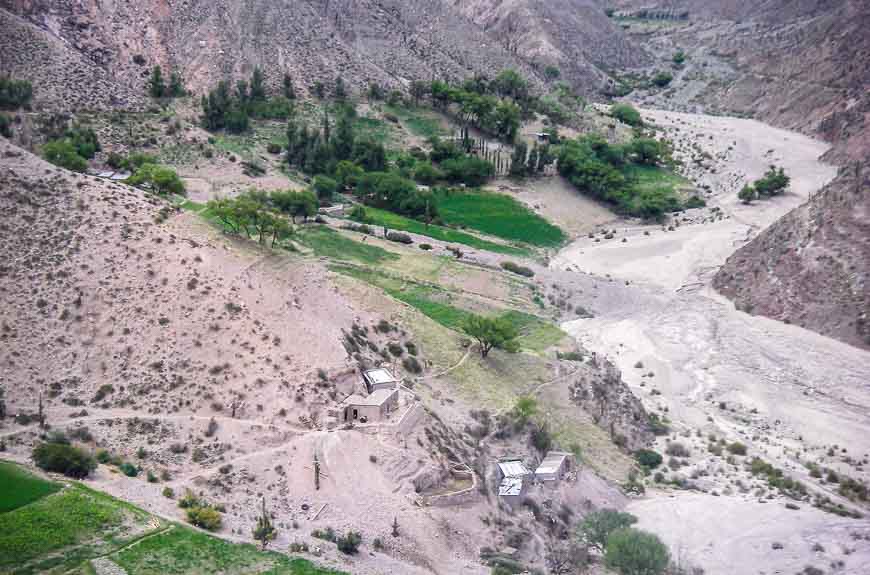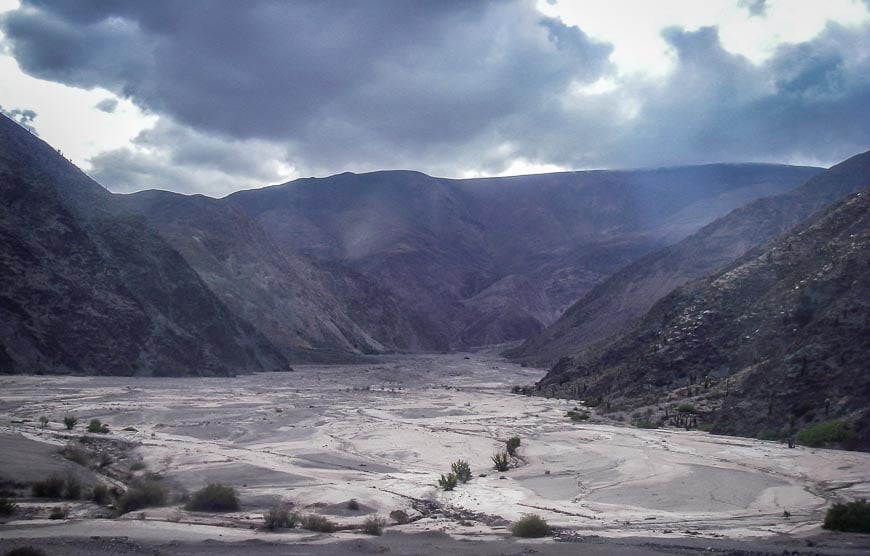 Near the end of the mountainous section we passed through a series of rocks that were incredibly colourful. I was on the edge of my seat in awe for several hours.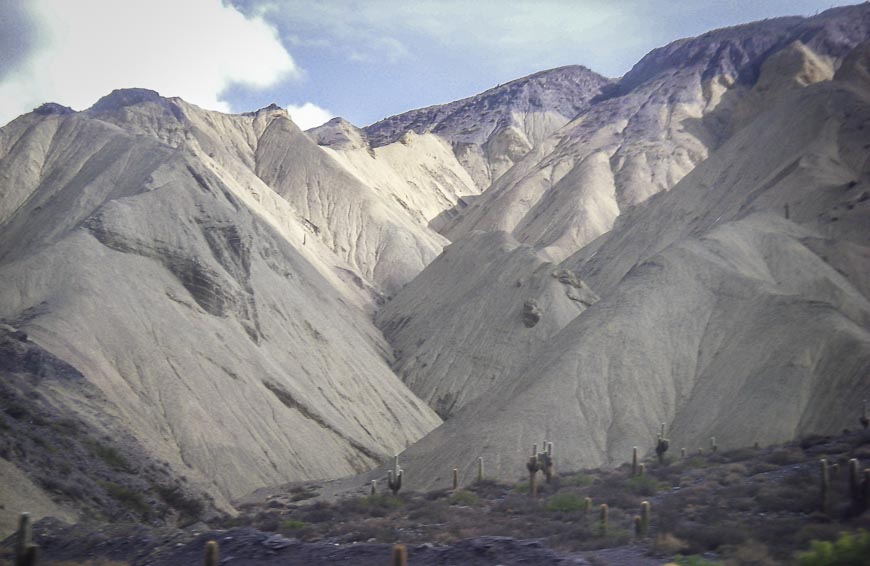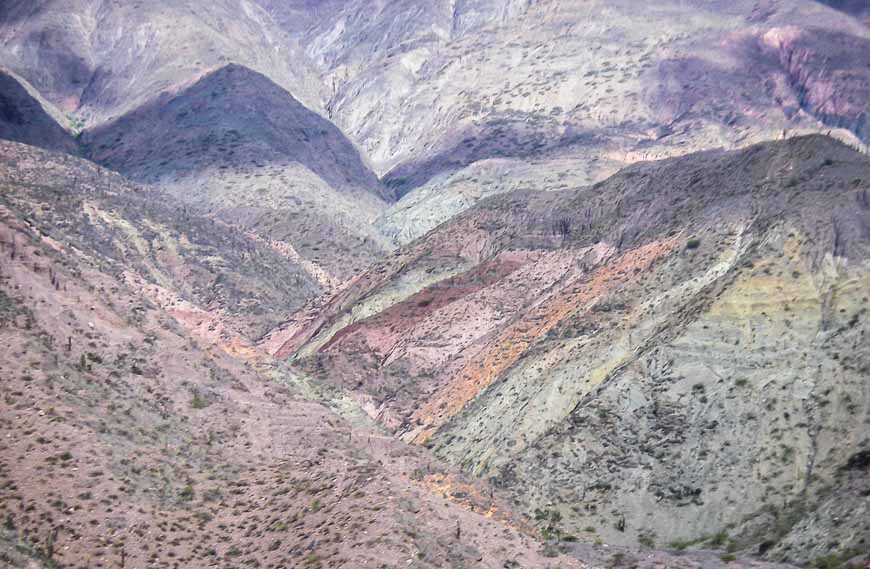 The landscape becomes lusher and lusher the closer we get to Salta.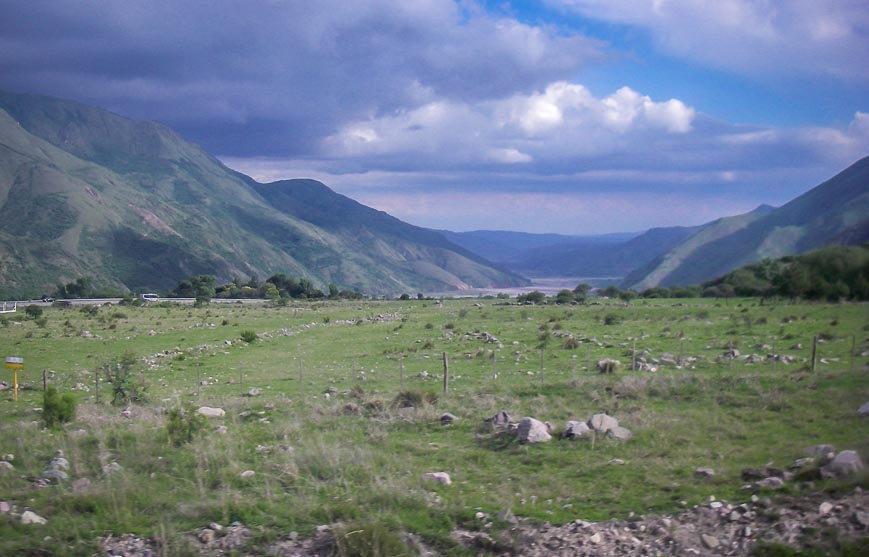 The bus stops for a very short time in the forgettable town of San Salvador de Jujuy.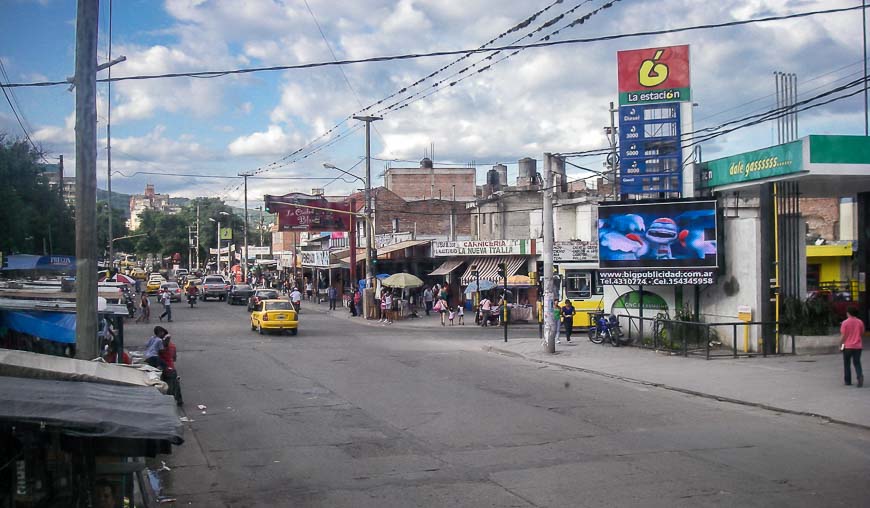 Then it's on past miles and miles of tobacco fields.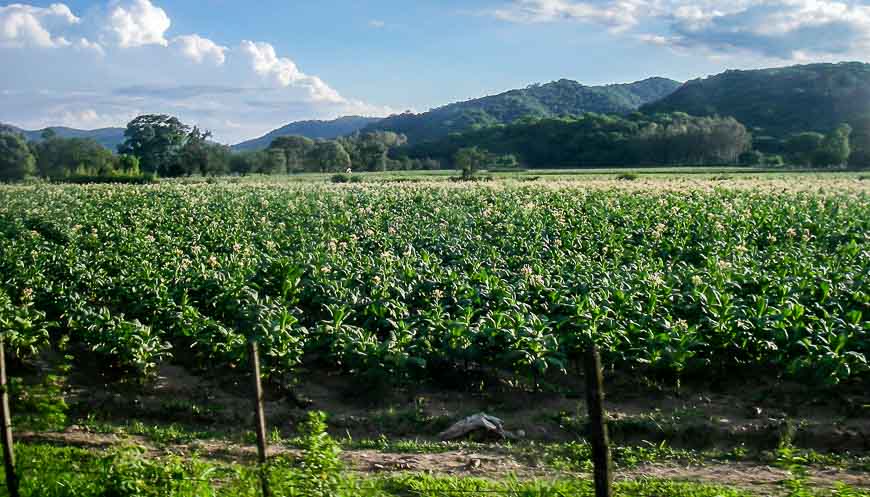 During the last hour of the trip we saw hundreds of people lining the highway – with their kids, cameras and with a real party atmosphere happening. It turns out the Dakar road race and been by earlier that day.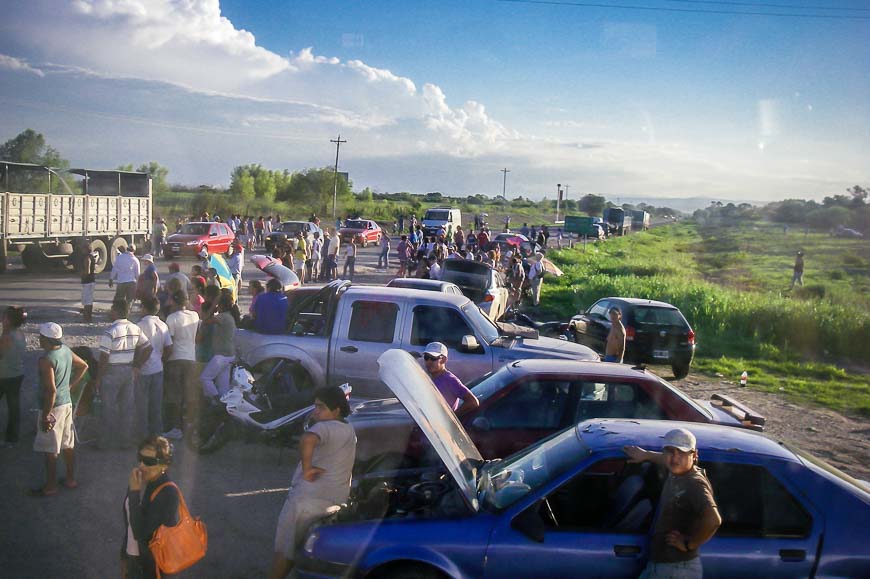 Buying bus tickets from San Pedro to Salta online
It can be a pain to buy bus tickets. I HIGHLY recommend using Busbud – something I have done in Canada and in Chile. You can pick your seat online. It seems they only work with Pullman on certain days of the week. Buses with Busbud leave at 9:30 AM and arrive at 8:50 PM.
Other useful information for the San Pedro to Salta bus ride
The cost is around 43,000 Chilean pesos (about $Cdn72 or $US54). Unless you order online the ticket must be paid for with Chilean pesos. And the ATM doesn't always work in San Pedro de Atacama.
Reserve your seat ahead of time . Phone or go to the ticket office in person. You will need to bring your passport with you when you buy a ticket.
The Gemini bus line uses professional, seasoned drivers who really knew what they were doing. There are two bus drivers per bus.
A small lunch and early evening snack are provided but bring more food and definitely bring water.
Fortunately only two movies were shown – English ones with Spanish subtitles. The rest of the time it was quiet. (Thank heavens.)
Make sure your camera batteries are charged.
Buses leave San Pedro de Atacama on Tuesdays, Fridays and Sundays.
Further reading on South America
Visit the Chile Tourism website if you need more information.
Visiting Machu Picchu: 5 Things You Must Do
Click on the photo to bookmark to your Pinterest boards.