John and I spent a couple of days at a lovely Airbnb near Le Havre and that's where we found out about the must do Hirtles Beach Gaff Point hike. The owner exclaimed that "the hike was varied, and the views were fantastic, especially when the Atlantic Ocean got a little moody." So, after a lazy half day at the SENSEA Nordic Spa in Chester, we headed to Hirtles Beach – where we started the stunning Hirtles Beach Gaff Point hike.
The Hirtles Beach Gaff Point hike delivered in spades. It offered a bit of everything from beach walking to forest hiking along with Gaff Point's picturesque headland (one of the last few undeveloped headlands in Lunenburg County) – and up-close walking on outcrop by the Atlantic Ocean. It is one of the top coastal hikes to enjoy in Nova Scotia – and one that requires a low effort for a high reward.
As a side note, two other coastal hikes in Nova Scotia I highly recommend include the Port Joli Head Loop in Kejimkujik National Park (Seaside) and the hike to Cape Split.
This post includes some affiliate links. If you make a qualifying purchase through one of these links, I will receive a small percentage of the sale at no extra cost to you. Thank you very much for your support.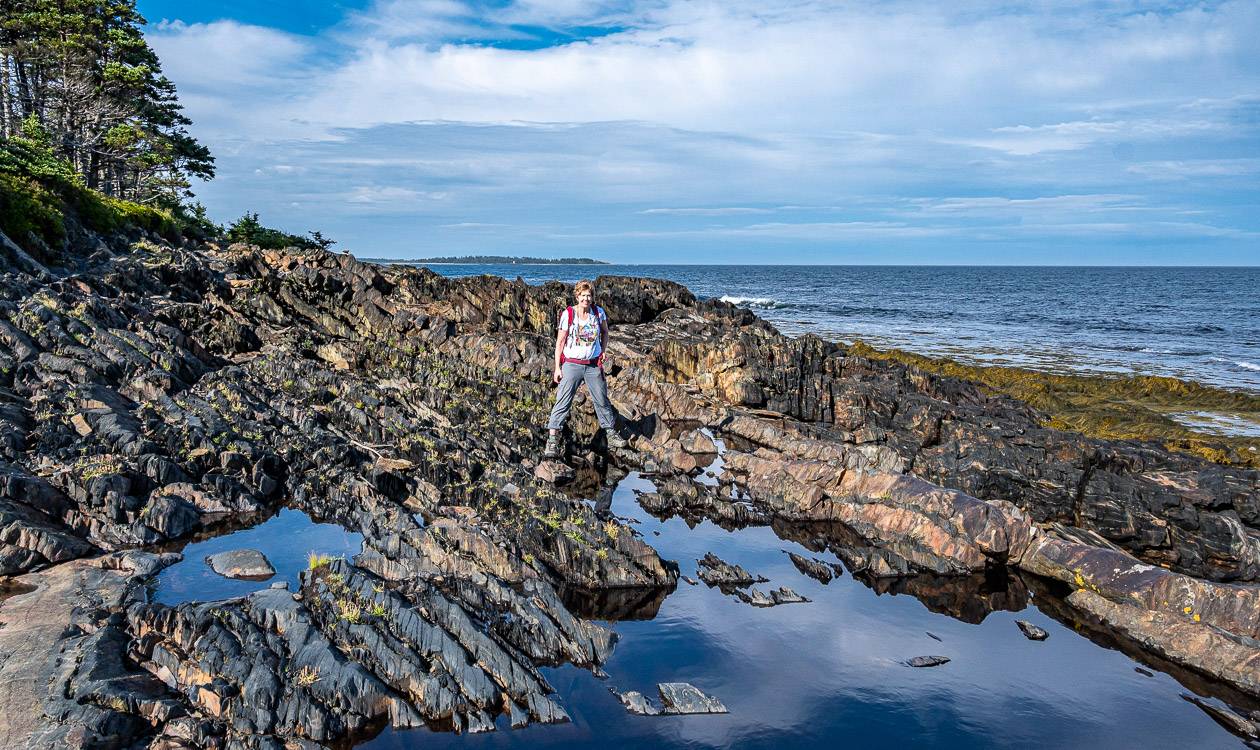 Hirtle's Beach
The other wonderful part about the Hirtles Beach Gaff Point hike is beautiful Hirtle's Beach itself. Try to leave time at the end of your hike to enjoy up to three kilometres of white sand beach. Kids will love it – and apparently stand-up paddle boarders do too. Plan to make a day of it and bring a picnic, beach towels, and lounge chairs but get to the parking lot early if it's a beautiful sunny day on a weekend.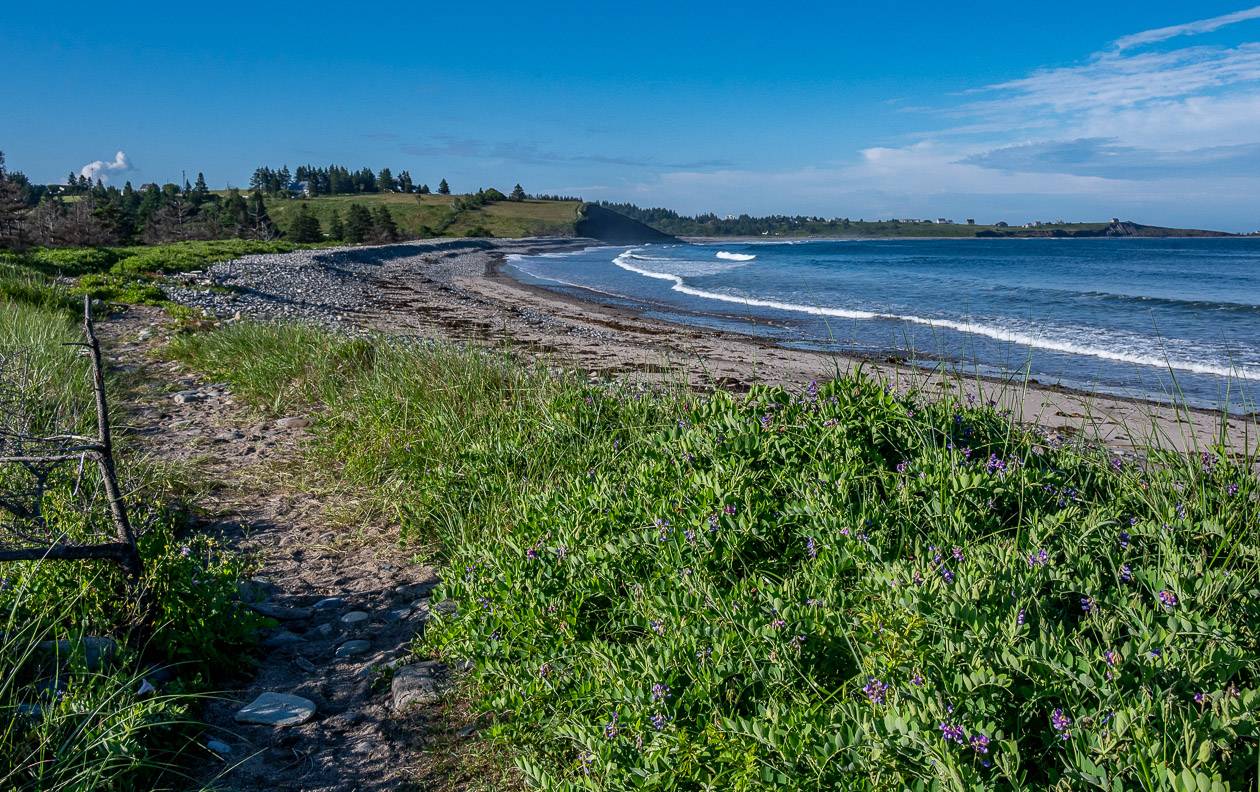 Finding the Hirtles Beach trailhead
From the parking lot as you look out at the Atlantic Ocean, head right to reach the boardwalk. The boardwalk is basically the start of the Hirtles Beach Gaff Point Trail hike. Notice the names inscribed on the boardwalk – supporters of I'm assuming one of the three organizations that have an interest here including the Nature Conservancy of Canada, Kingsburg Coastal Conservancy, and the Nova Scotia Nature Trust. Thank you to these organizations for preserving this beautiful slice of Nova Scotia so generations can enjoy it.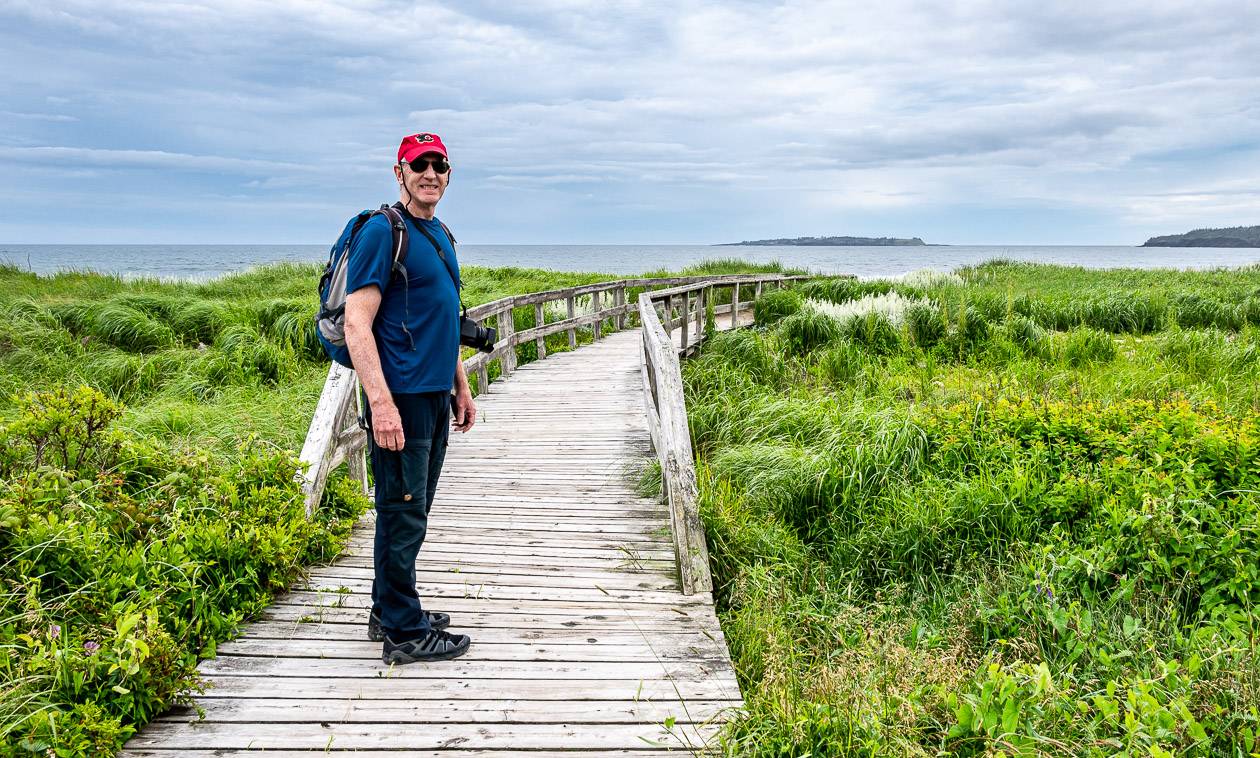 Hirtles Beach Gaff Point hike information
Distance: 6.5 km (4.0 miles) round-trip – and part of the hike is a loop
Elevation gain: Approximately 70 metres or 230 feet
Time needed: 2 – 3 hours; we did it comfortably in two hours with lots of stops for photographs.
Level of difficulty: Easy and family-friendly though not stroller friendly.
Dogs allowed: Yes, on a leash and it goes without saying that you should bring poop bags and dispose of them in the garbage cans in the parking lot.
Best season to hike: Spring, summer, and fall.
Map: Take a picture of the map at the trailhead.
Signage: You'll find maps and yellow markers on the trail.
Concerns: Check for ticks after the hike, especially if you've climbed the hill through the grasses. Consider wearing long pants tucked into your shoes or boots.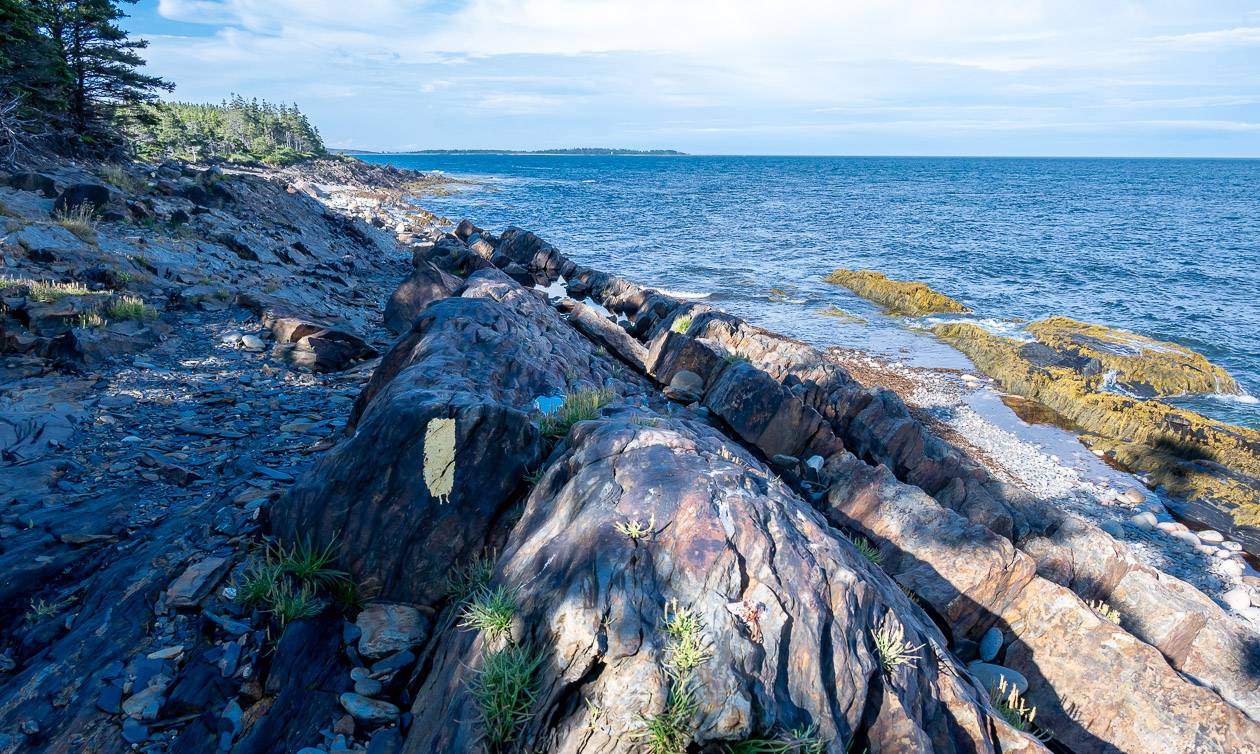 Hirtles Beach Gaff Point hike description
For a short hike, the Hirtles Beach Gaff Point hike delivers a lot when it come to variety and ocean views. There are three parts to the hike – a 1.5-km beach hike to the actual Gaff Point trailhead, the 3.5 km loop trail around Gaff Point, and the 1.5 km return hike to the parking lot via Hirtles Beach.
To start the hike, find the boardwalk and continue to the end of it. As it was high tide when we visited, the option of walking on the sandy part of Hirtles Beach was out. There is a well-defined path through the rocks that is especially pretty when the wild rose bloom.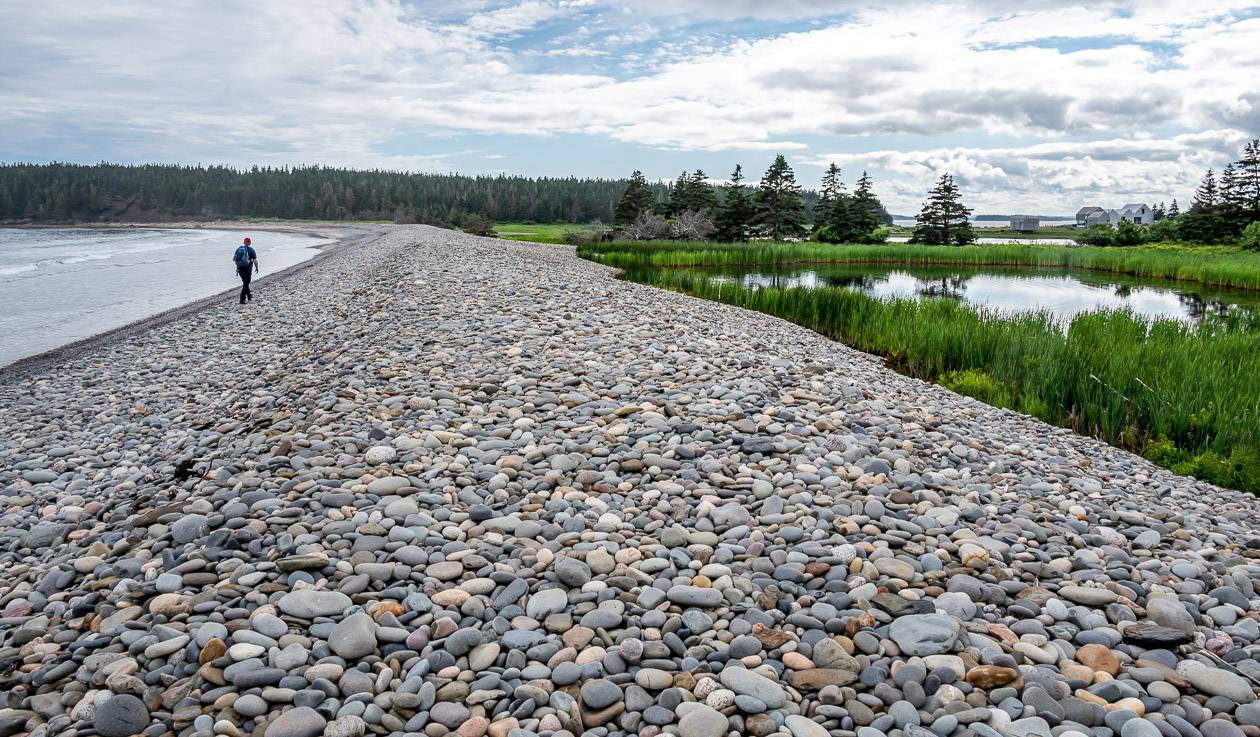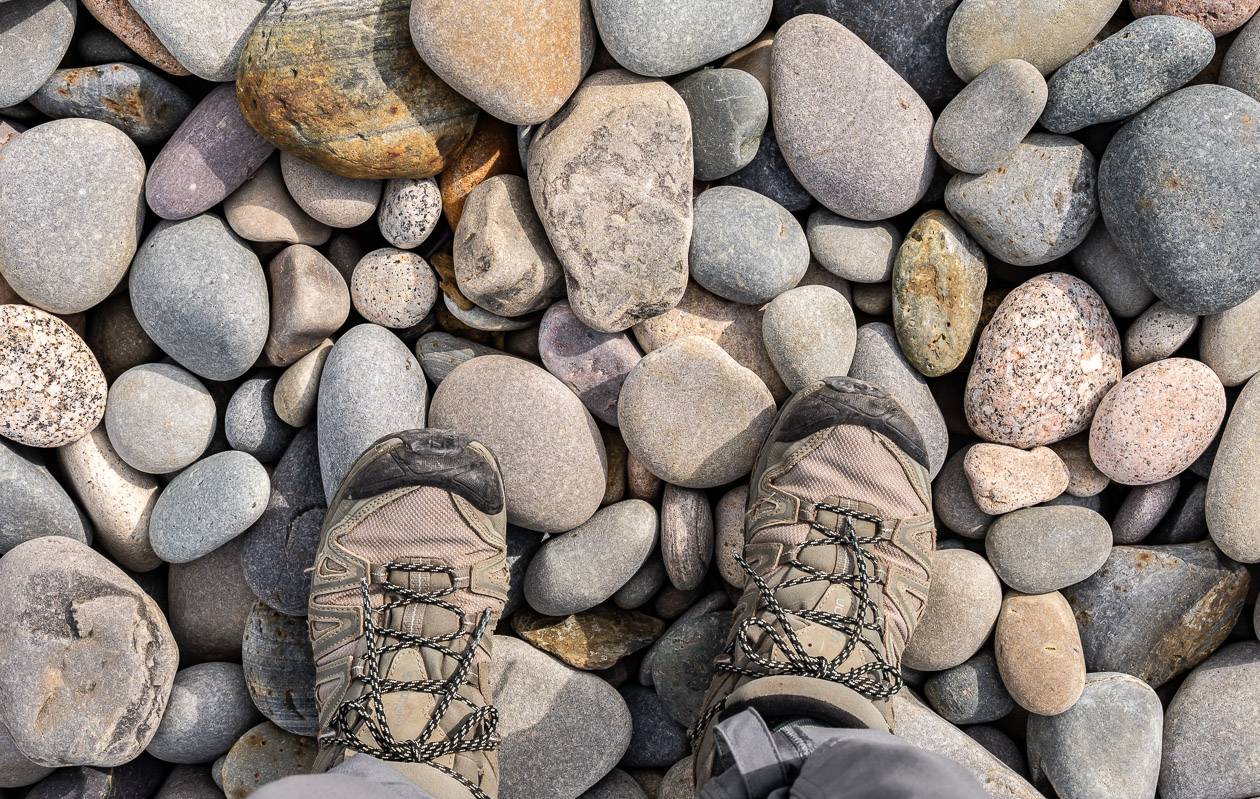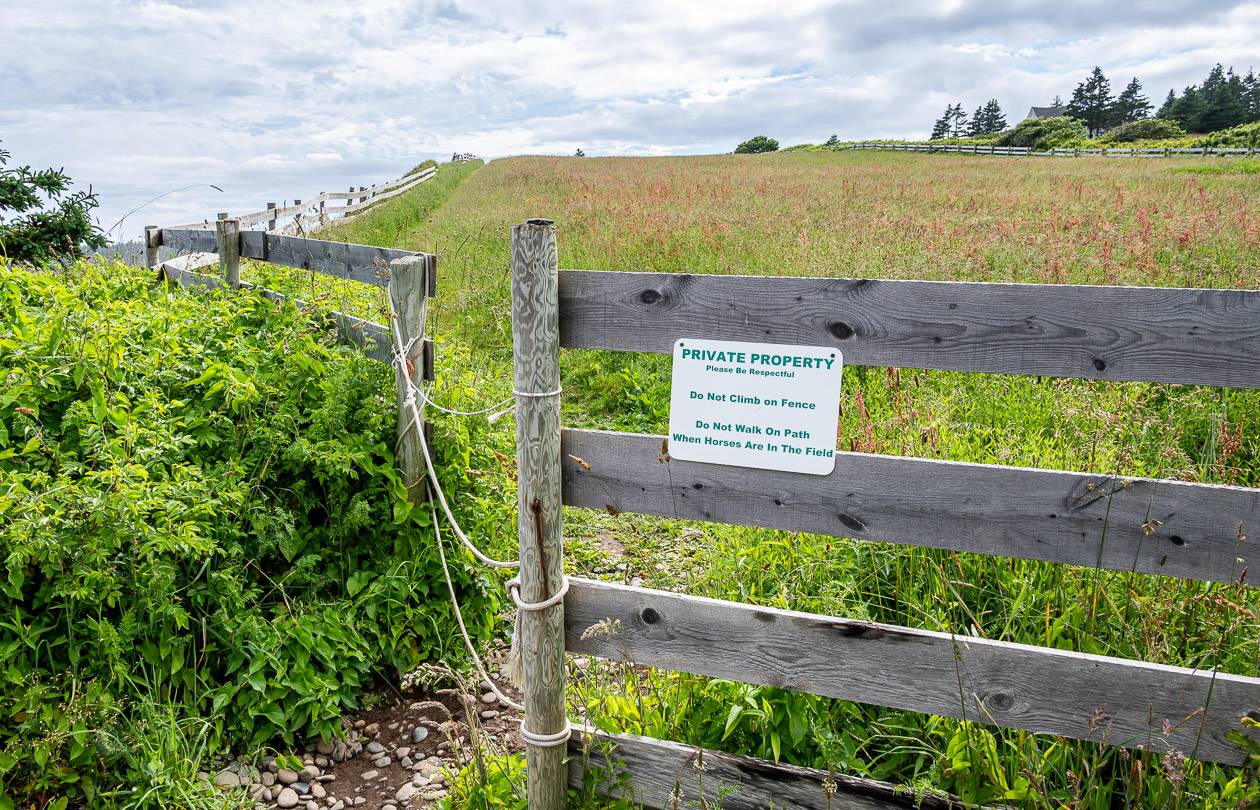 When you reach the cliff area, you can opt to hike through the grass up a small hill (if horses aren't present in the field) or just continue along the beach if it's safe to do so. The Gaff Point trailhead near the end of the beach is marked by an easy to find plaque.
Hike up the forested trail for approximately 400 metres to reach a clearing on top of a cliff. Apparently there is a path down to Grabble Cove on the other side of the peninsula and from there through you can get to a secret beach via rock climbing and ropes. I didn't do it so can't comment on the level of difficulty.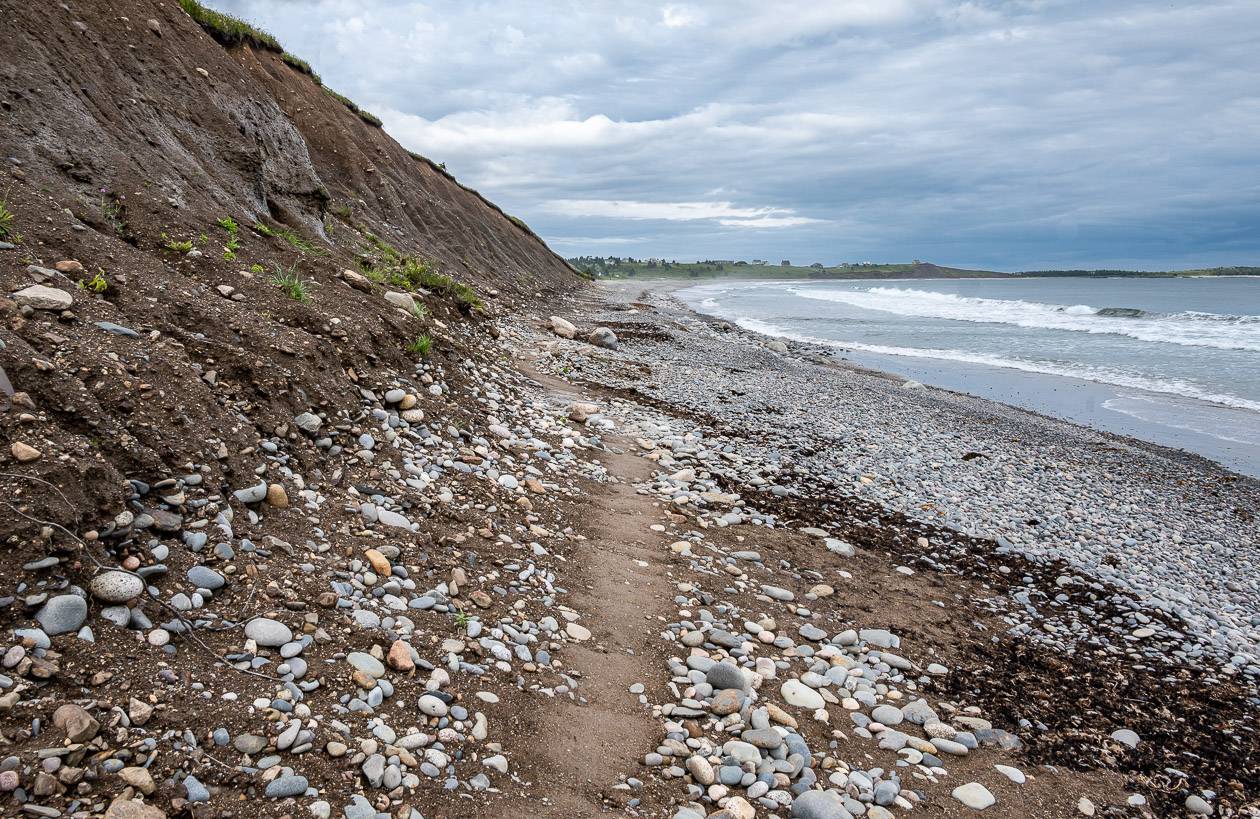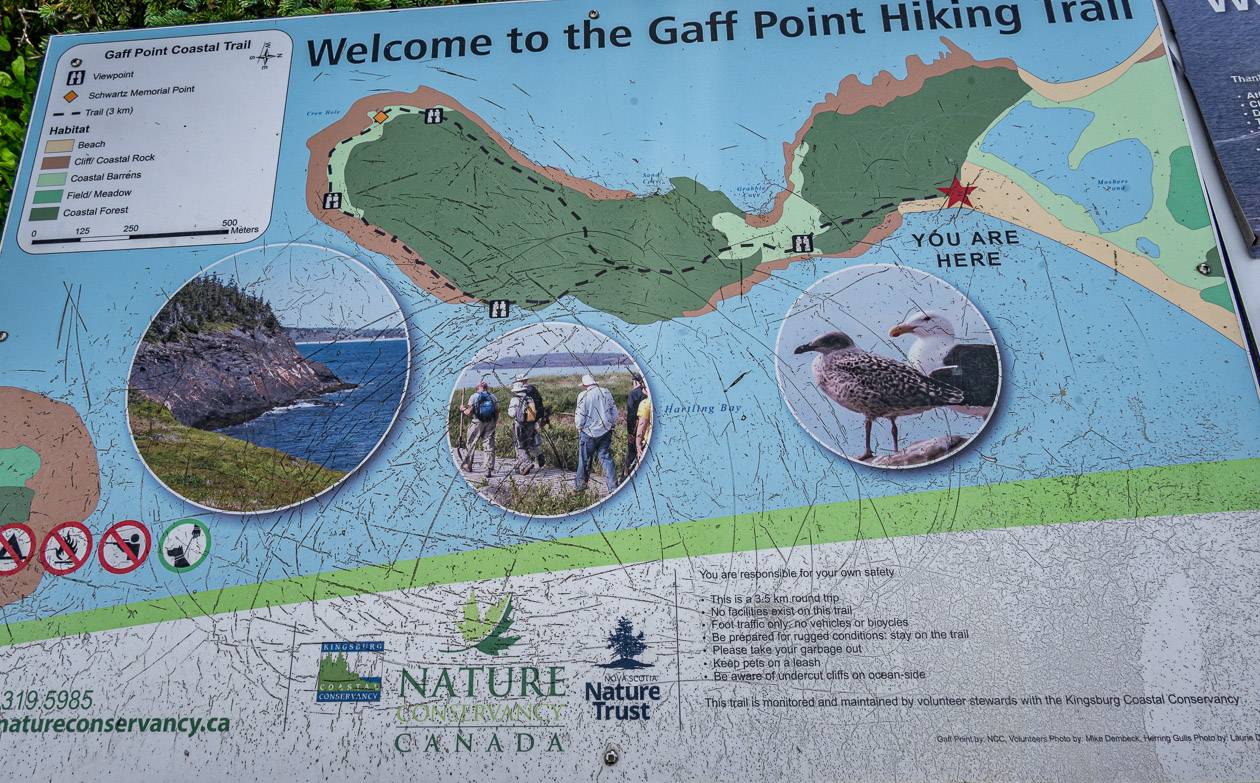 Continue hiking through the forest, sometimes through a dense growth of evergreens, for a further 400 metres to reach a fork where you'll have the option to hike clockwise or counter clockwise around the Gaff Point Headland. John and I chose to go in a clockwise direction – but really, it's your call. There is no easier or harder, right, or wrong direction. But by heading clockwise you get to enjoy the coast that much sooner.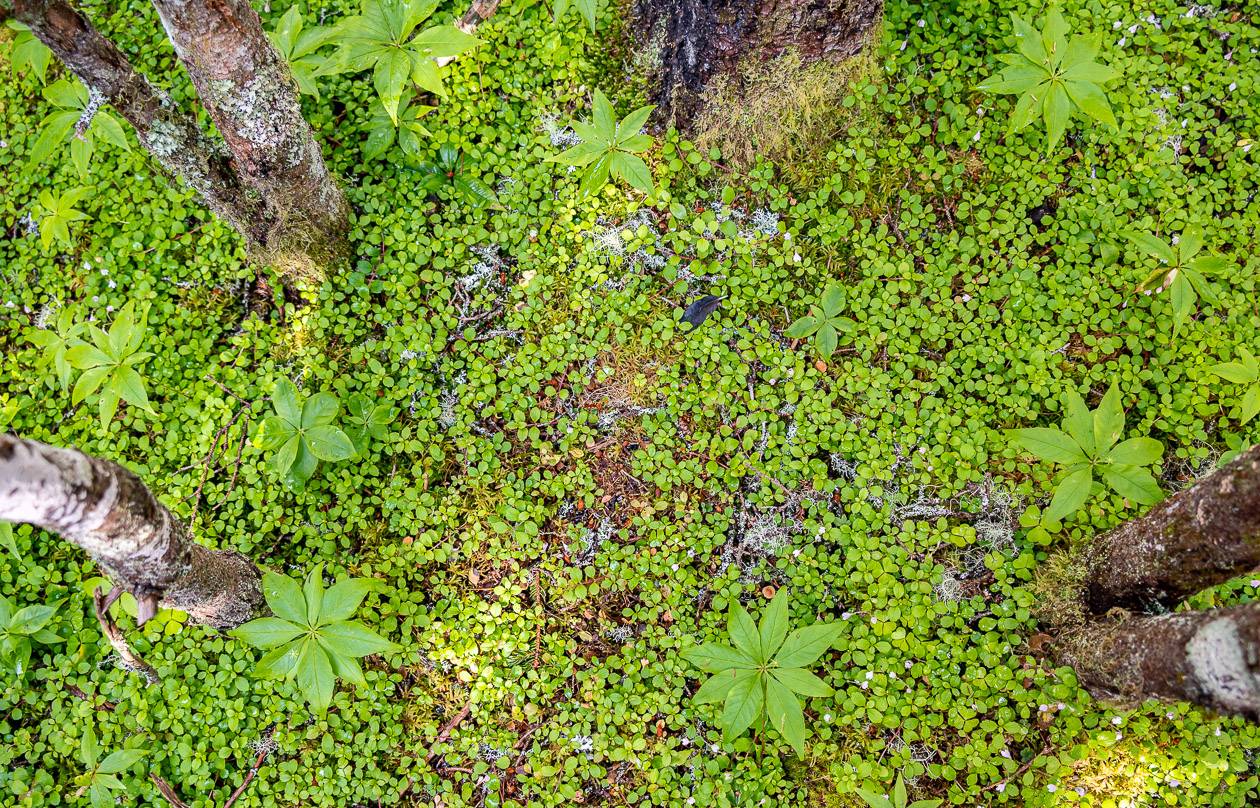 I adored the hike along the coast. The rocks were wildly tilted in places and wonderful to look at. Boulders were scattered around, along with kelp and pieces of driftwood. The views out to West Ironbound Island and the larger Mosher's Island were fantastic. Unfortunately, we didn't spot any sea life and even the birds were quiet. Lucky people might spot whales, seals, and a variety of seabirds.
At the tip of the peninsula, I can only imagine how wild it would be a on a stormy, windy day. It was calm for us as it often is in the early evening. Shortly after rounding the tip we arrived at the William E. Schwartz Memorial Point plaque, dedicated in August 2004 to the former Chair of the National Board of the Nature Conservancy of Canada from 1993 – 1995.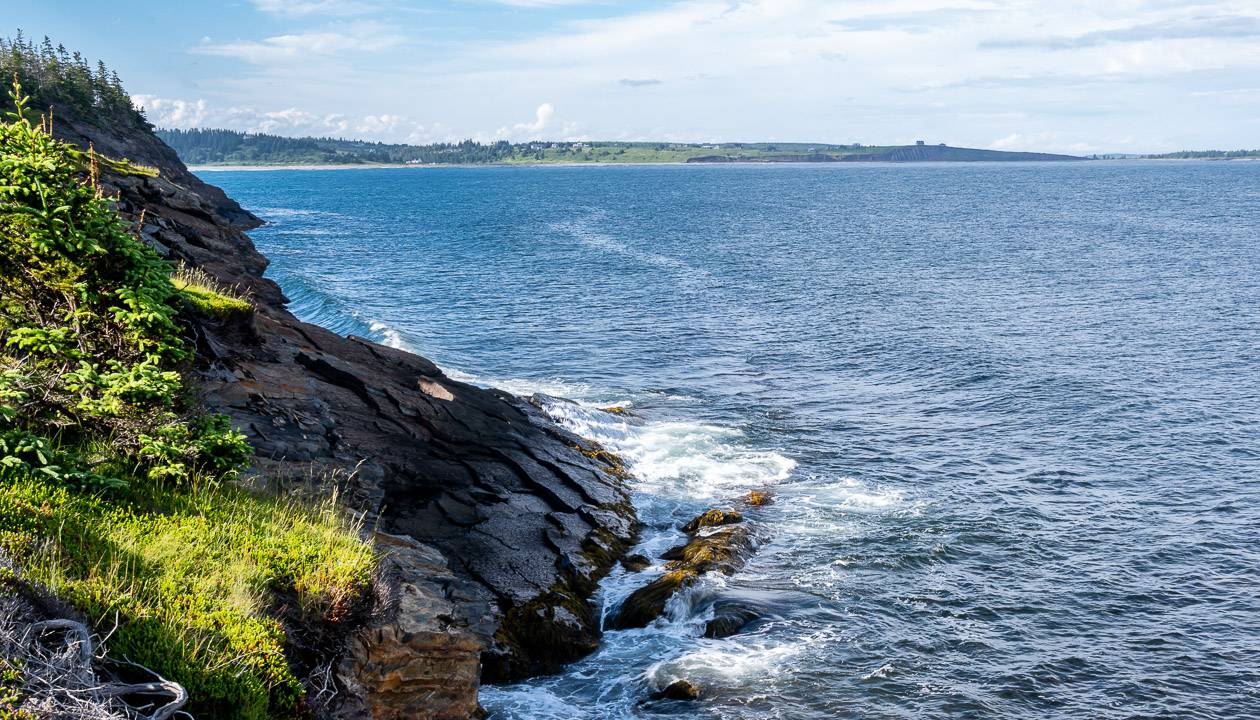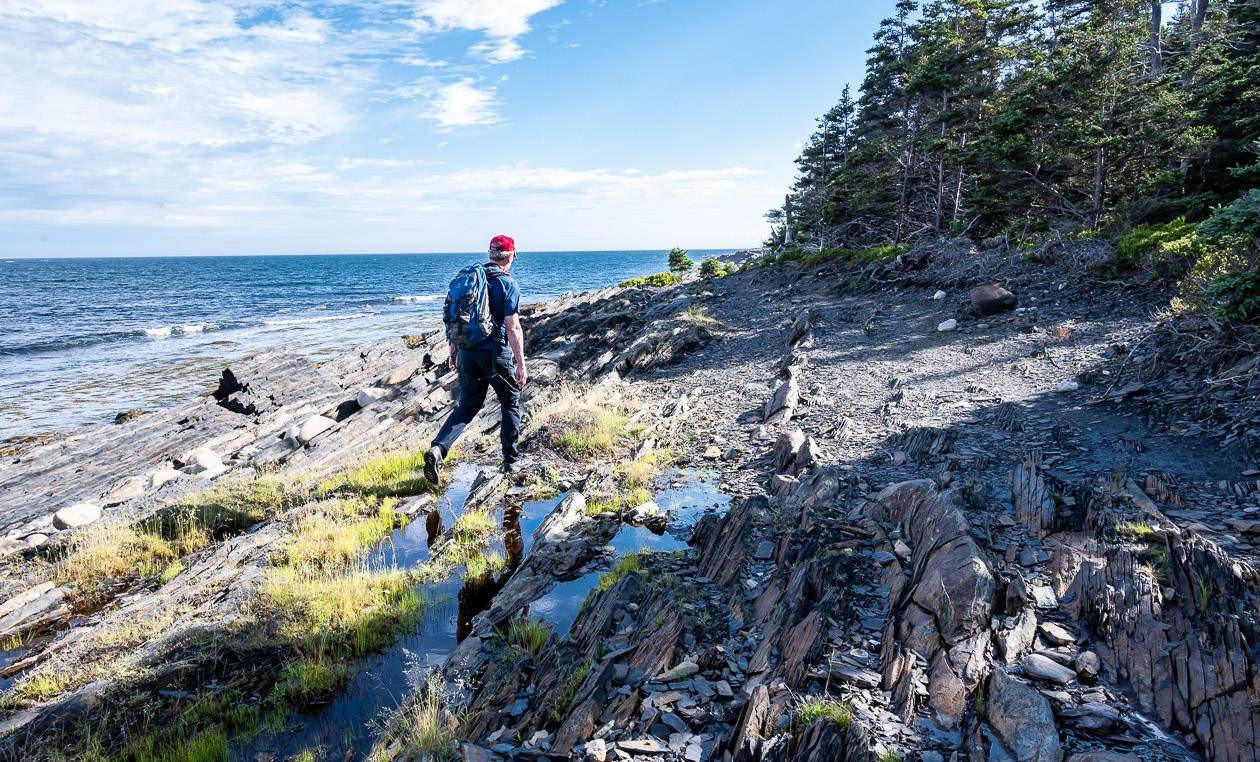 Shortly after seeing the plaque, we were back in the woods walking through a mix of deadwood and conifers. I particularly loved all the textures and plant varieties as you'll see near the end of the photos. In no time we were back at the intersection and a short distance from the beach and the quick walk back to the parking lot.
My first impression from the parking lot was that Gaff Point looked a long way off. But don't be fooled. In two hours, three hours max, you can do the full round-trip hike and then hang out on the beach enjoying a cold drink and perhaps watching the odd stand up paddleboarder dealing with the waves. The Hirtles Beach Gaff Point hike is an exceptional way to spend a few hours.
The photos in the blog will give you a good idea of what you'll experience on the Hirtles Beach Gaff Point hike. Always go prepared with the 10 hiking essentials and after this hike, do a full body tick check. I didn't appreciate until this visit, what a problem ticks are in Nova Scotia.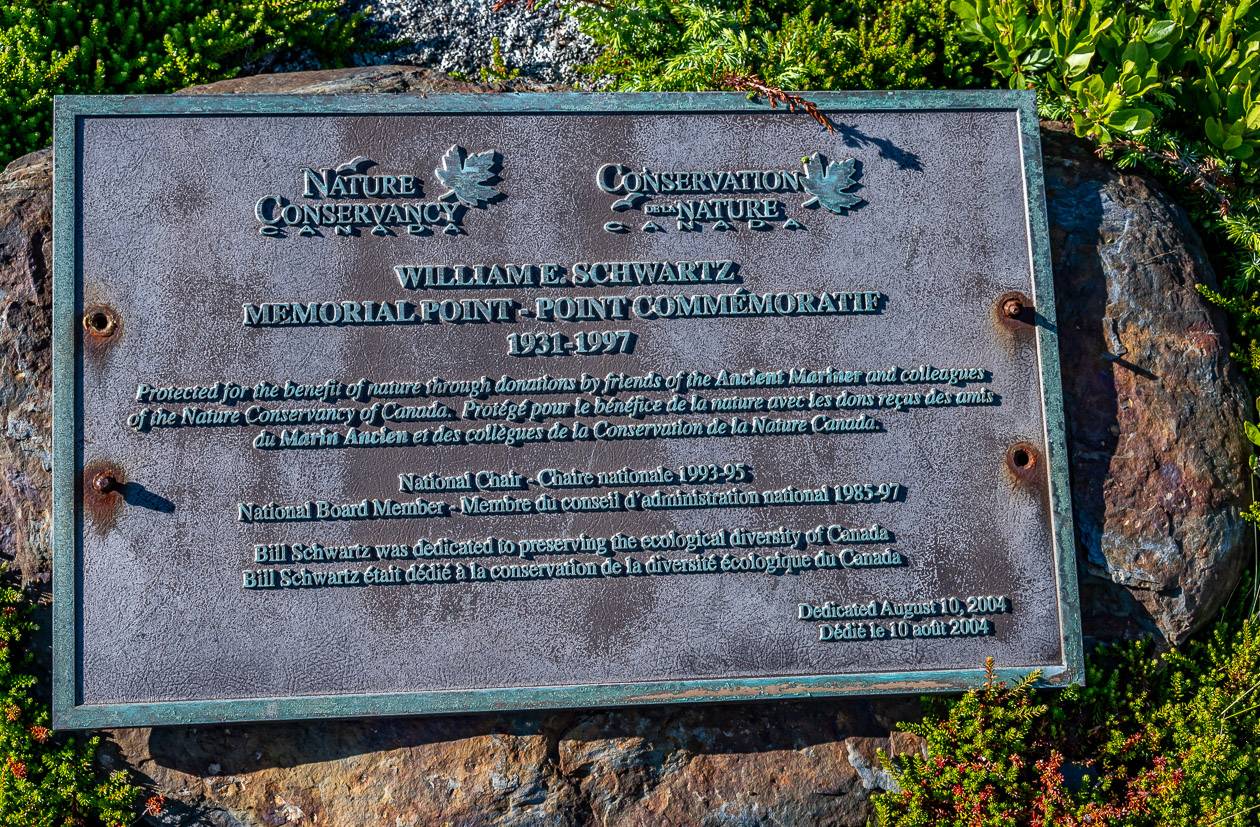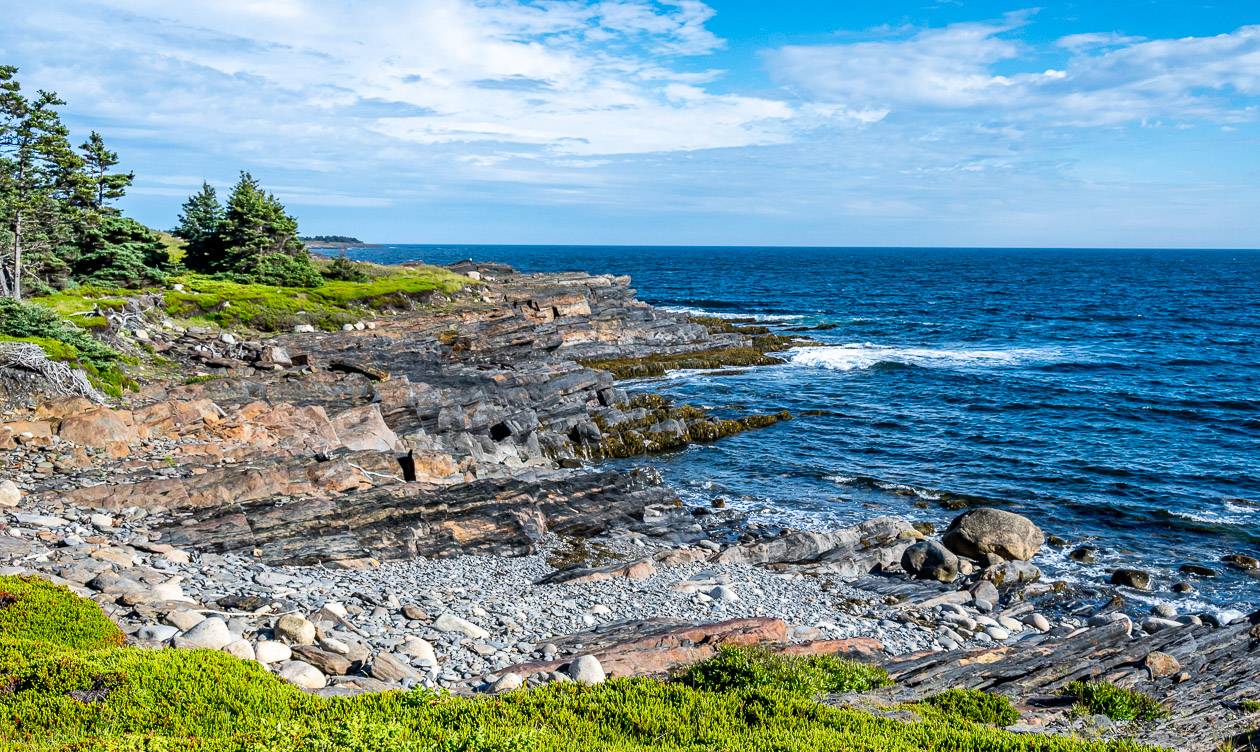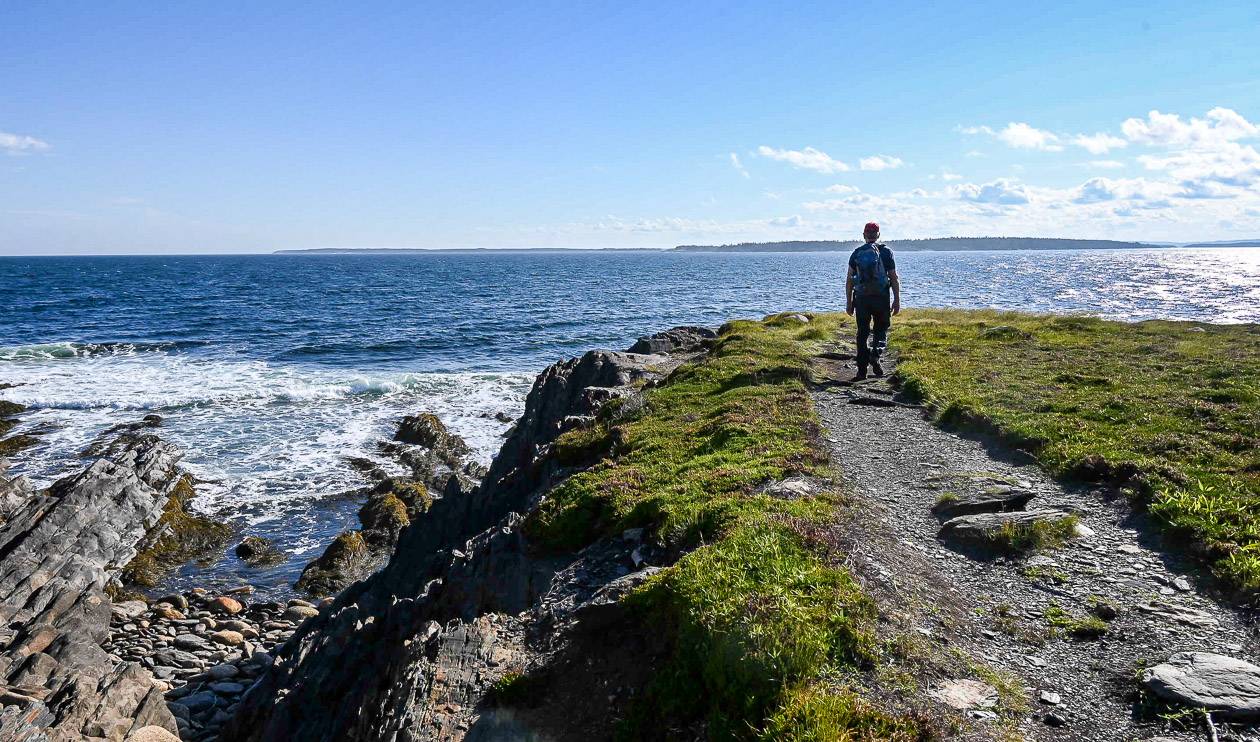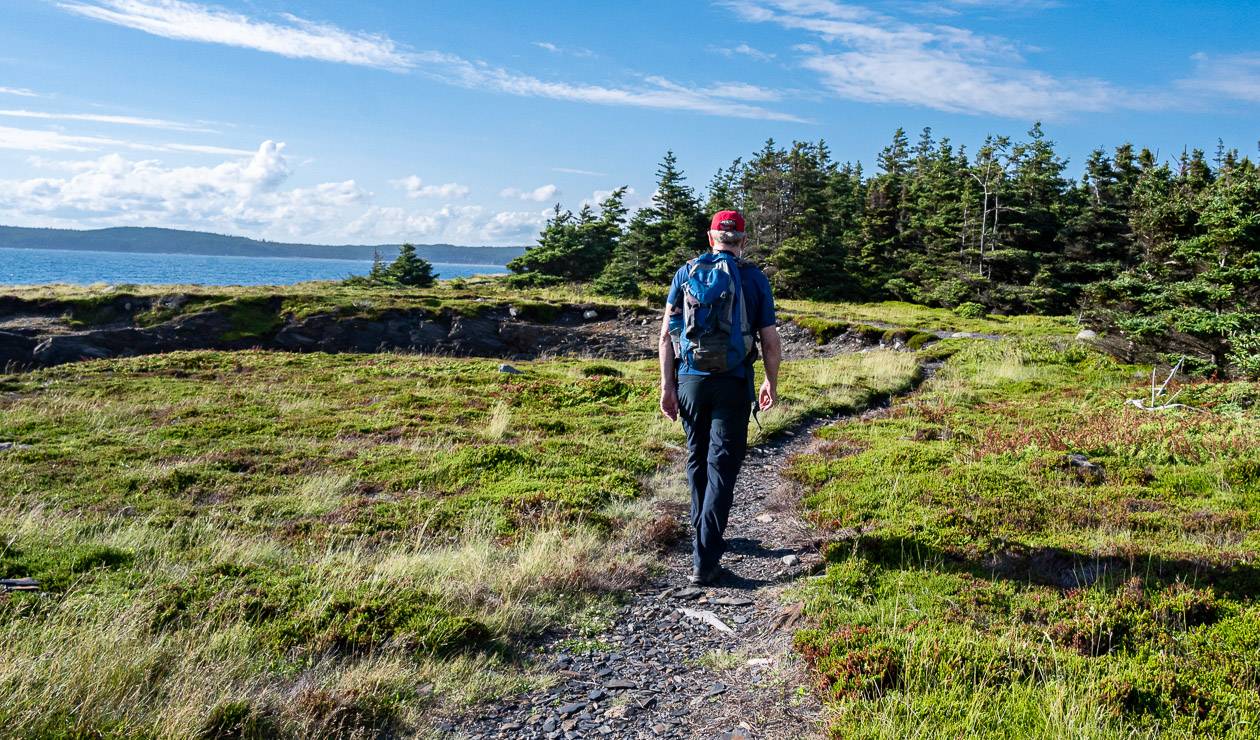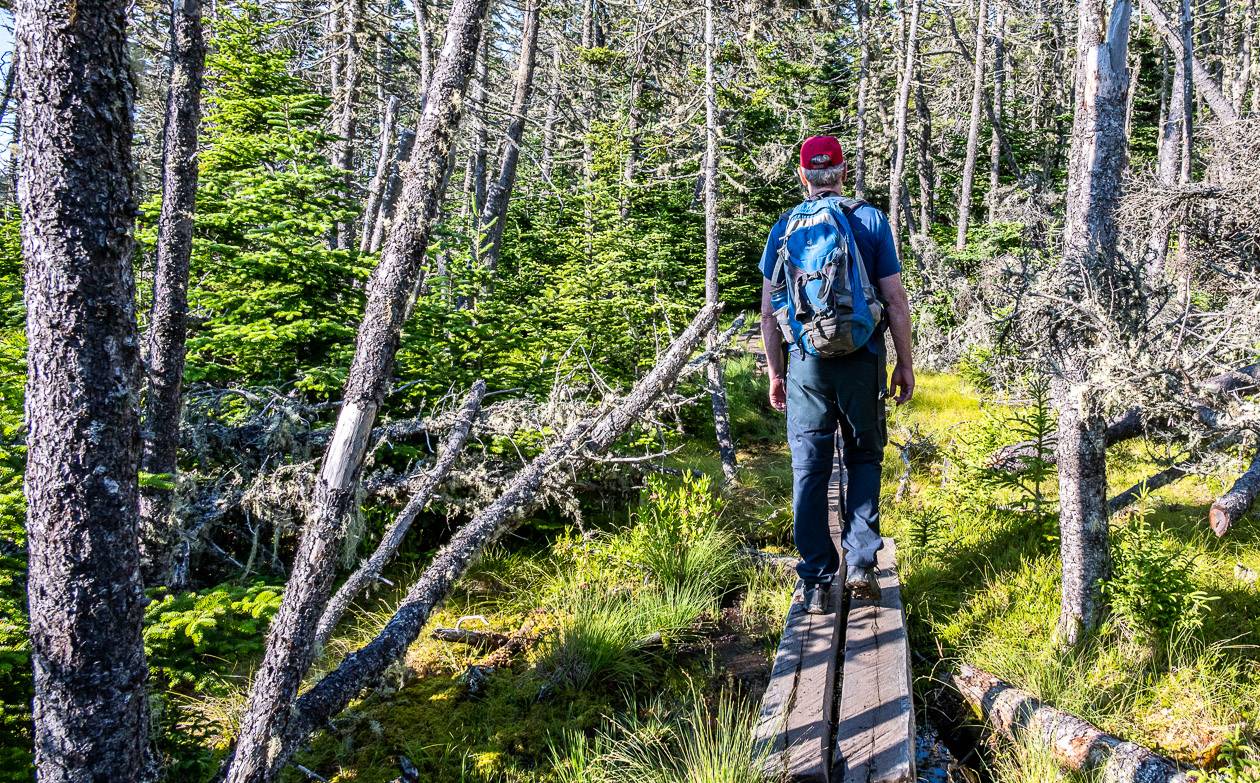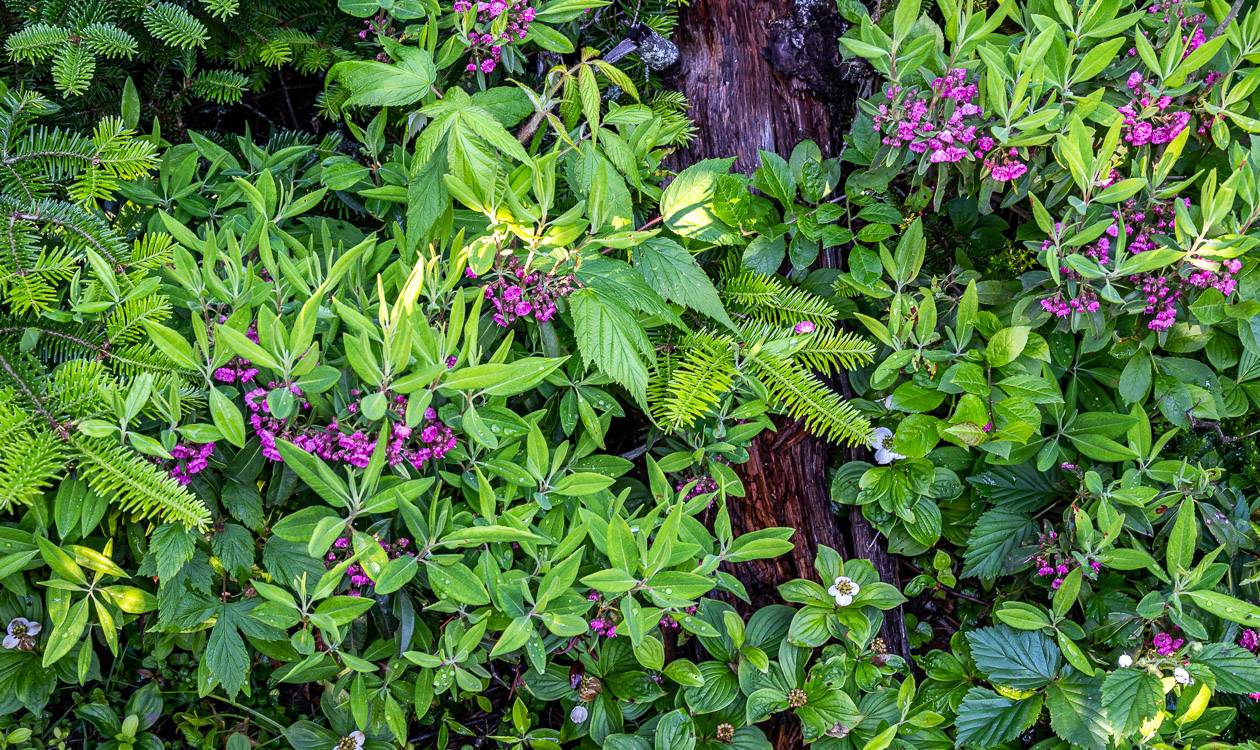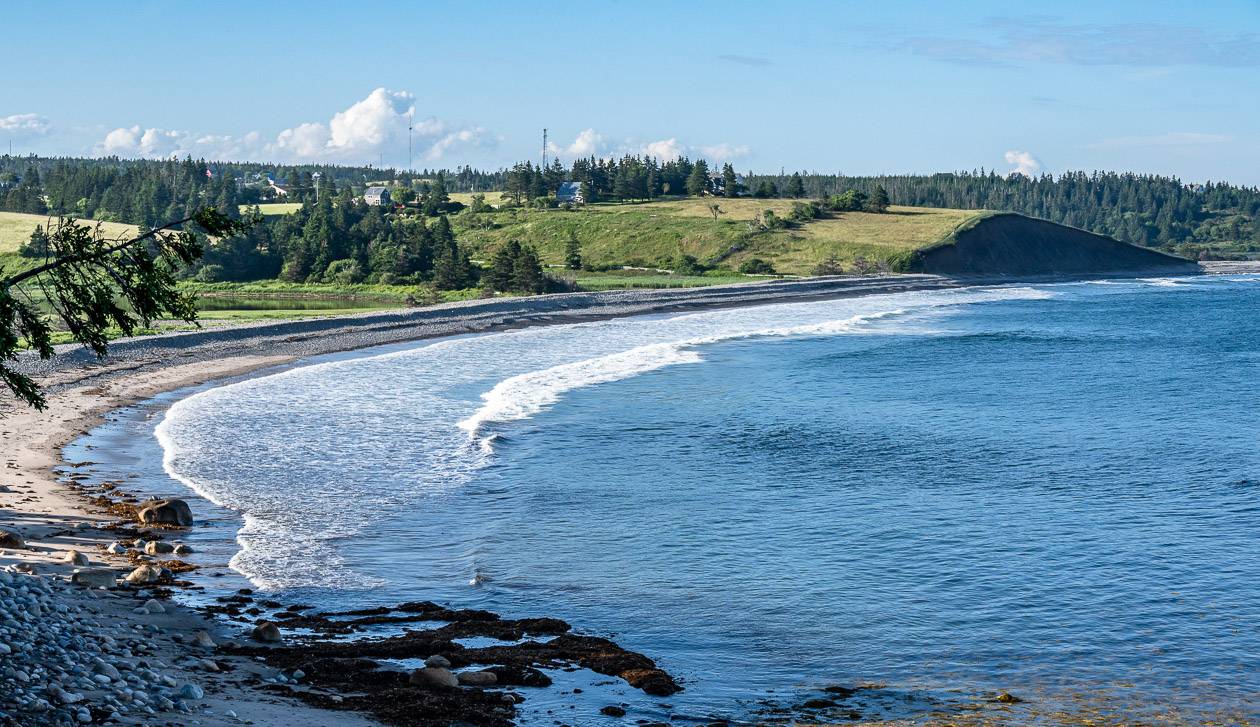 A few things you might want for this hike
a soft cooler that will keep your drinks and picnic cold for up to 24 hours
a beach blanket with a waterproof bottom for those dewy days
Where to stay in and near Lunenburg
Alicion Bed & Breakfast, rated exceptional, is just a kilometre from the Fisheries Museum and some of the other must see sights in Lunenburg.
Salt Shaker Deli & Inn overlooking Lunenburg Harbour is rated as fabulous. Two of their four rooms have kitchenettes.
In East LaHave, Toba's Bed & Breakfast is also rated as exceptional.
Getting to the start of the Hirtles Beach Gaff Point hike
From Lunenburg take Highway 3 west to Highway 332. Continue on Highway 332 past Riverport to Roso Bay. Take a right on Kingsburg Road. When you reach Hirtle Beach Road, turn right and follow it to the parking lot. Allow about 25 minutes driving time.
From Halifax allow 1.5 hours of driving time each way.
Interested in seeing more of Nova Scotia?
If you've never been to the Shelburne – Liverpool area on the south shore of Nova Scotia, you're in for a treat.
If you're after a hike try one of the following.
For a road trip check out this one – 6-Day Central Nova Scotia Road Trip Itinerary
For a part of Nova Scotia most people miss, visit Brier Island.
If you have a few days in Halifax try and knock off some of these 25 Things to do in Halifax, Nova Scotia
Click on the photo to bookmark to your Pinterest boards.