If you're looking for an off the grid spring or summer vacation within easy driving distance of Toronto check out Island Spirits on Grasshopper Island in the middle of Rice Lake, Ontario. Owned and run by the energetic and enthusiastic Trudy Jo (TJ) Chernuck, Island Spirits is home to several off-grid eco-cabins and a number of campsites scattered around the island. Think rustic with a lake view, along with all sorts of unexpected cool things to do.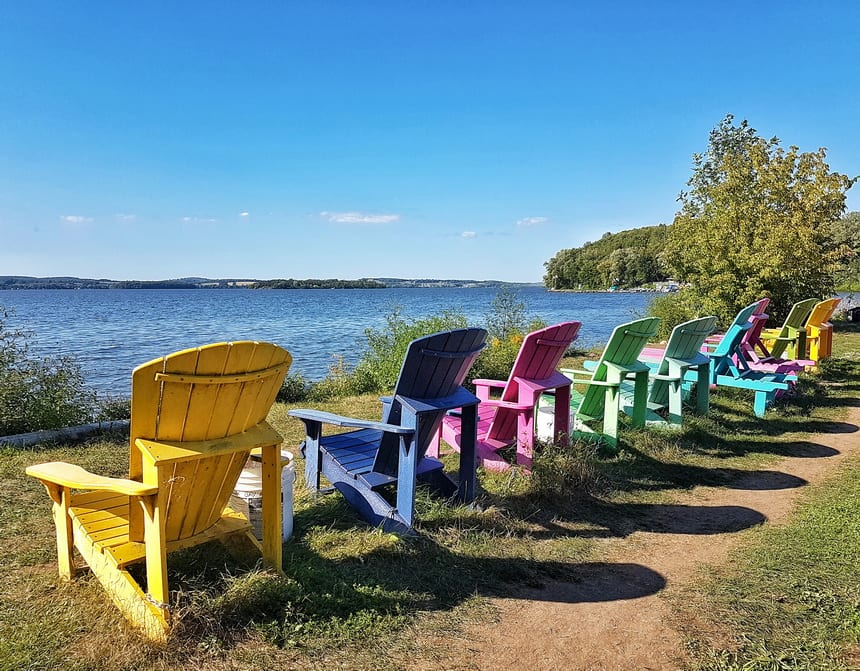 Island Spirits appeals to a broad range of the population – from grandparents with their grandchildren to couples to bachelor and bachelorette weekend parties.
As TJ says to me "in 11 years I have never had a complaint." In fact she says "she is one of the few places that actually welcomes the bachelor-bachelorette parties and everyone on the island gets along."
How do you combine the party scene with families and have a successful vacation at Island Spirits?
Grasshopper Island is a private 25-acre island. There's plenty of space so cabins and campsites aren't on top of each other. In fact, they're spread around the island so everyone has privacy. John and I stayed in one of the eco-cabins at the far end of the island that slept six.
We had no one near us. In fact just metres from our front door we had a lovely sandy area with chairs to enjoy a sunset or a swim. Our cabin had a private solar shower and close by was an outhouse.
What is there to do on Grasshopper Island?
You'll be surprised at the number of things to do on Grasshopper Island, assuming you want to do more than curl up with a good book on the dock.
The biggest draw for kids – and a lot of the adults are the farm animals. The year I visited there were a couple of alpacas, pigs, goats, bunnies, and lots of hens so you could get fresh laid eggs.
A trail around Grasshopper Island allows opportunities to stretch your legs and find a private dock – some of which are accessed via a rope down a steep bank.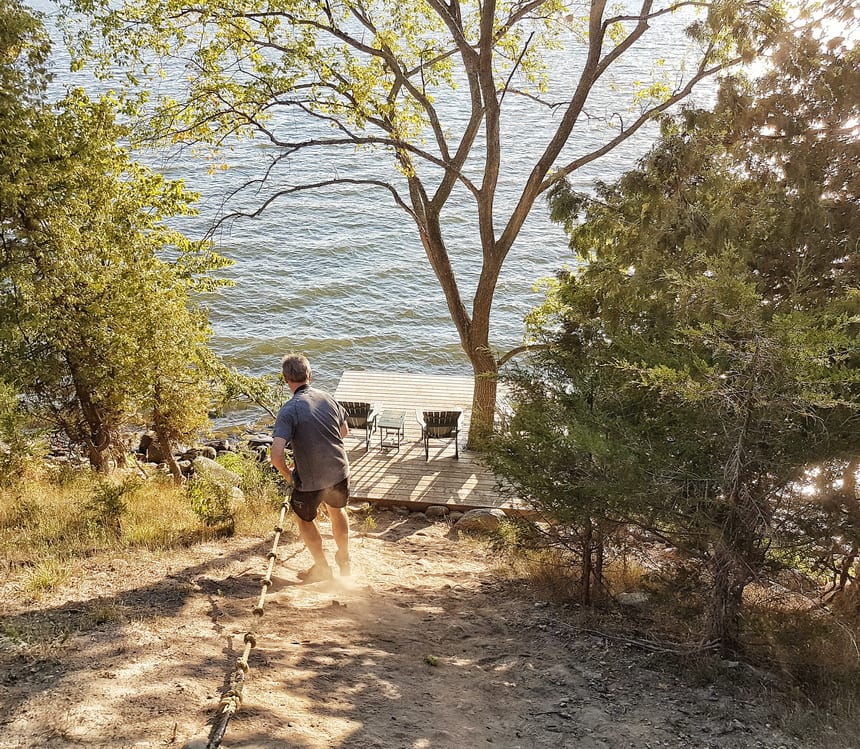 Some other cool things to do at Island Spirits
Whip up a pizza and cook it in a 100 year old fireplace that's been converted to a pizza oven. All other cooking is done on a BBQ, over a fire, or on a camp stove.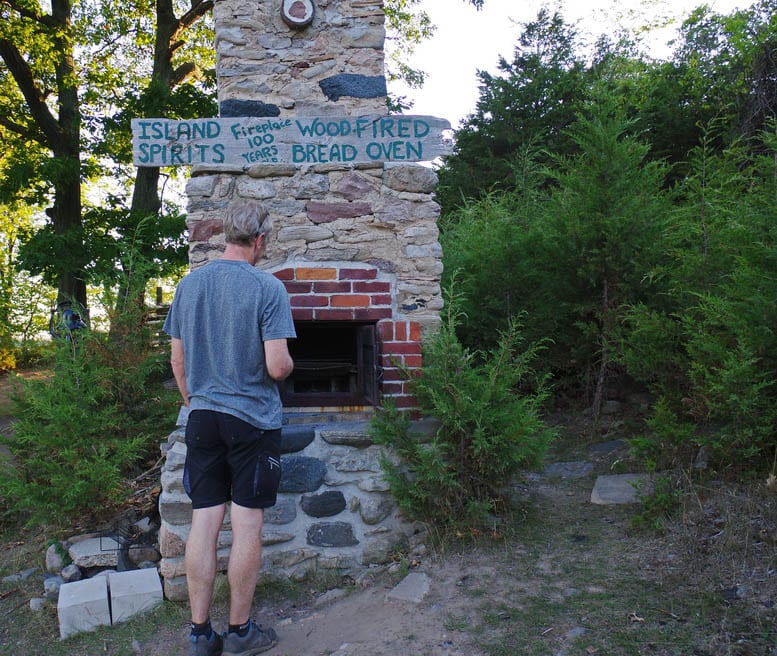 Go swimming, fishing or kayaking with boats provided. Eat ice cream on Saturday. Get your photo taken in old bath tubs. Read the signs scattered around the island that attest to TJ's sense of humour.
I particularly love these words. Seize the moment. Remember the women on the Titanic who waved off the dessert cart.
It's all about the fun at Island Spirits
The bottom line is TJ wants you to come and have a good time. As she says "Experience pure FUN; anything goes." Leave the stress of the big city behind. Unplug (though there is WiFi sometimes). Enjoy the sunset and your friends and family.
How do you get to Grasshopper Island?
One return ferry ride is included with your reservation if you stay on the island. You launch from Cedar Bay Resort on the mainland, about a 90 minute drive from Toronto.
When you reserve you are asked to text or call TJ once you turn off Highway 401 as you're only 30 minutes away at that point. The ferry is passenger only and there are wheelbarrows to help move your gear.
When does Grasshopper Island and Island Spirits open for the season?
Opening time is the last weekend of April and the island stays open until the end of the third week of September. Make reservations here.
A full list of what to bring with you is available on the website. TJ tells me she has a new type of farm animal coming this year but it's a surprise. You'll have to visit to find out.
Further reading on things to do in Ontario in summer
Click on the photo to bookmark to your Pinterest boards.
Thank you to Northumberland Tourism for hosting my visit. It was great fun and a real getaway. Thank you also to TJ for an awesome breakfast with freshly laid eggs.