I'm happy to have a few girlfriends who say yes to adventures most won't consider. Cue my friend of almost four decades – Jo. She has always wanted to visit Quetico Provincial Park in northwest Ontario, though a Quetico girls getaway winter trip was perhaps not what she initially had in mind.
To her credit, she said she was game for a stay in a simple cabin on a frozen lake, accessed via a 2 km snowshoe in. And she was prepared to cough up the airfare to get to Thunder Bay, our meeting point for the adventure.
How many people do that? In return I promised her a fold-out couch, meals cooked in a microwave and a glass or two of wine every night. I also told her she could sleep in if she didn't feel like skiing or snowshoeing on our Quetico girls getaway.
This post includes some affiliate links. If you make a qualifying purchase through one of these links, I will receive a small percentage of the sale at no extra cost to you. Thank you very much for your support.
Quetico Provincial Park in winter
What we both got in Quetico Provincial Park in winter – that far exceeded expectations – was absolute solitude and silence, incredible winter beauty, a cozy cabin, and the ability to explore a network of close to 30 km of snowshoe and cross-country ski trails. The stars every night were exceptional too.
Although we didn't have a complete digital detox since we had cell service, there wasn't any WiFi so there was no point in opening the computer. That was a treat for me – and made for the perfect winter Quetico girls getaway.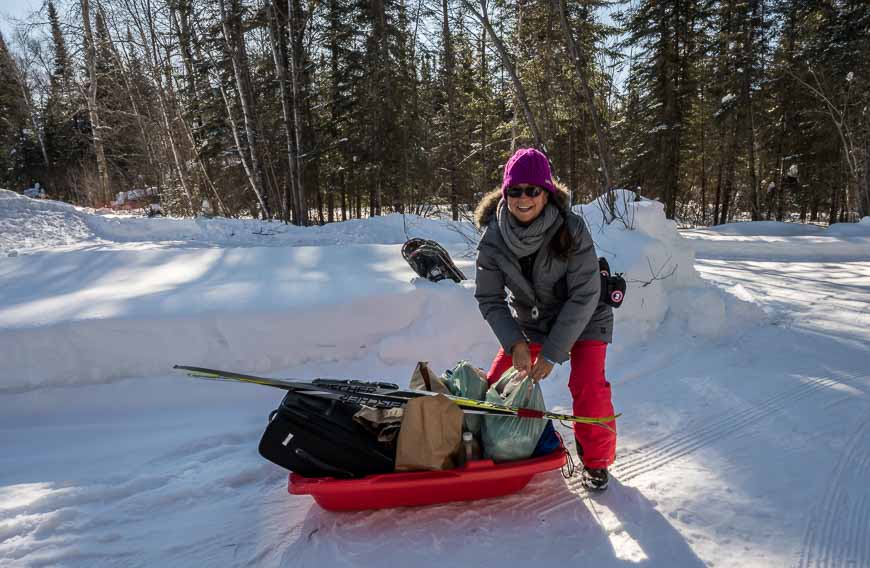 Getting to Quetico Provincial Park in winter
We were lucky with clear, sunny weather on our trip trip to Quetico in February. It's about a two hour, 160 km drive west to Dawson Road from the Thunder Bay Airport via Highway 11. The drive can be gnarly in a winter when the snow flies.
The turnoff to access the cabins (and campground in summer) is well-marked. The town of Atikokan, the town paddlers frequent in summer for rental canoes and supplies, is a 40 minute drive away.
Finding our Ojibway Cabin in Quetico
When we arrived in the parking lot, we knew immediately we were in the right spot. Shoved in the snowbank were two sets of snowshoes and a bright red sled. These are included with every cabin rental.
It didn't take long to load up the sled and get on our way, especially with the trailhead no more than 75 m from the parking lot. At the trailhead was a great big map – and the trail to the cabin was well-signed at every intersection. (I always recommend taking a photo of maps at trailheads too.)
Off we went on our Quetico girls getaway, with me pulling our heavily-laden sled and Jo carrying a backpack with every piece of survival equipment her husband could convince her to take.
It took us about an hour to reach the Ojibway Cabin – which sounds kind of lame considering the distance – but it was hard work pulling the sled and we missed the shortcut to the cabin, taking the full loop through the Ojibway Campground, which probably added 10 minutes.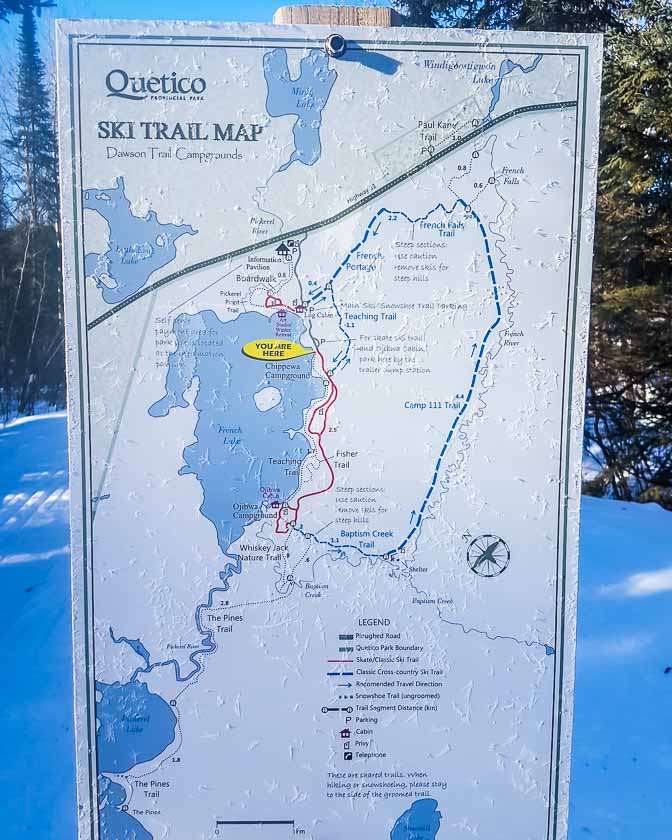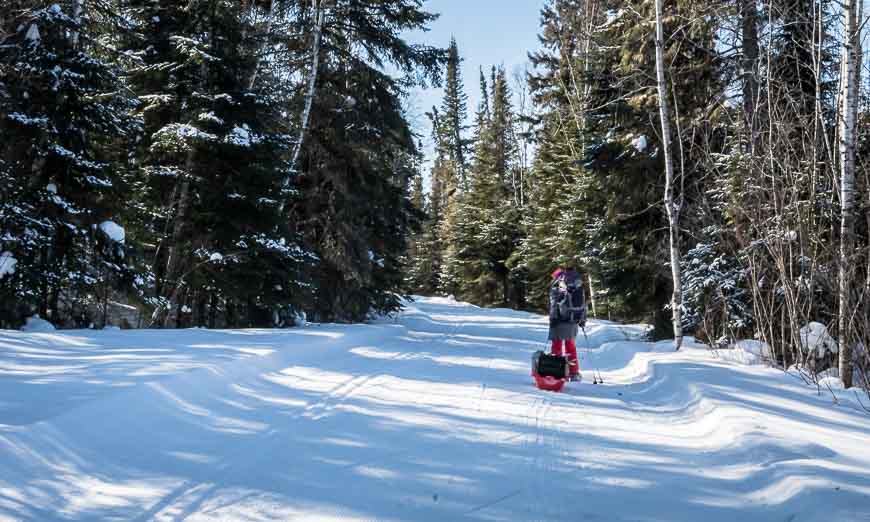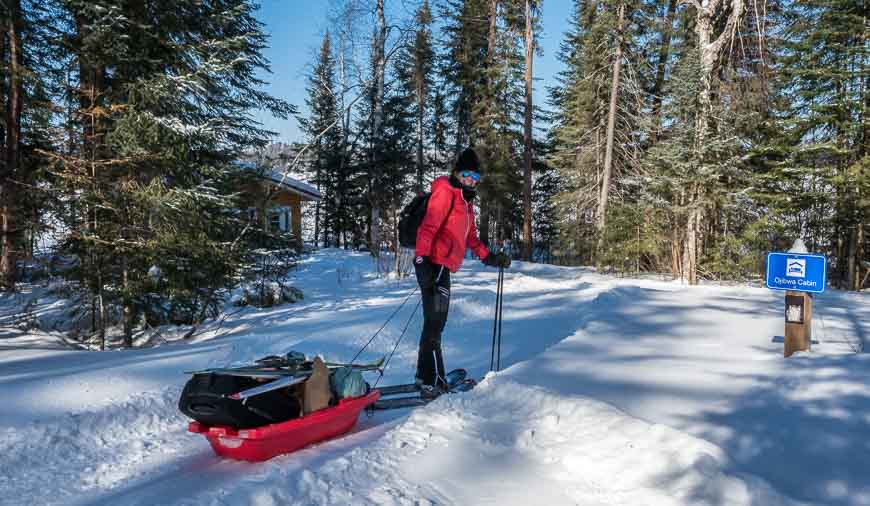 The Ojibway Cabin in Quetico Provincial Park
The Ojibway Cabin, a renovated former pump house, was home sweet home for three nights. I'd recommend at least that amount of time as there is plenty to do – without even setting a day aside for reading and relaxation.
There are two other cabins in the park that are available in winter, both of which you can drive to – the Log Cabin and the Art Studio/Winter Retreat. The Log Cabin in particular is quite lovely inside BUT it's not on the lake and you won't get quite the same sense of solitude.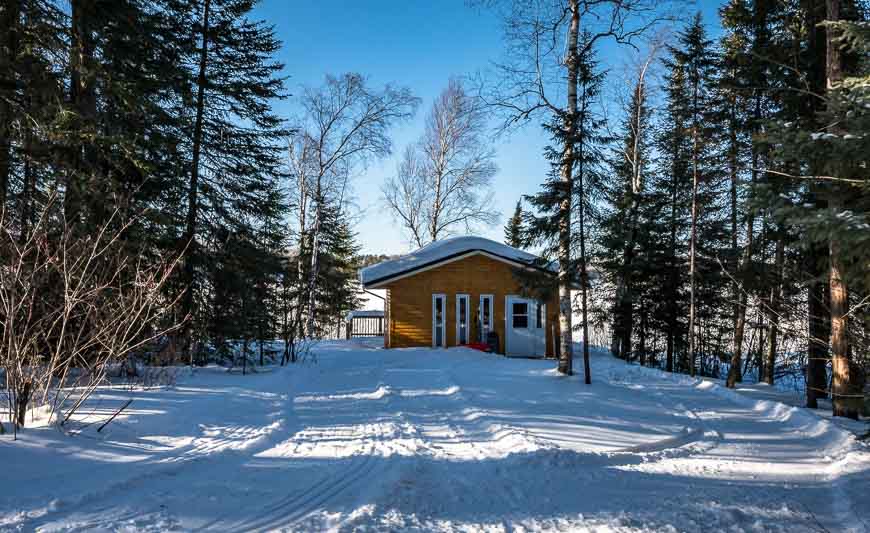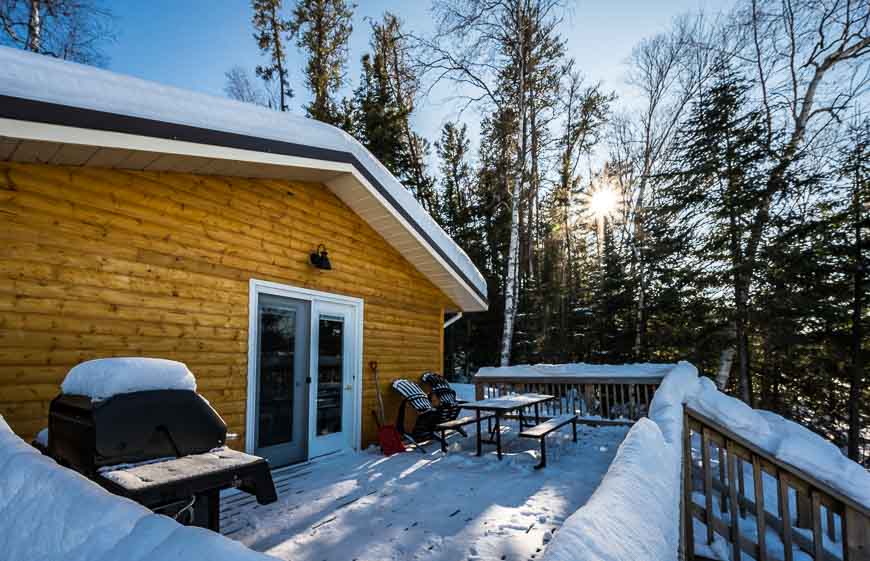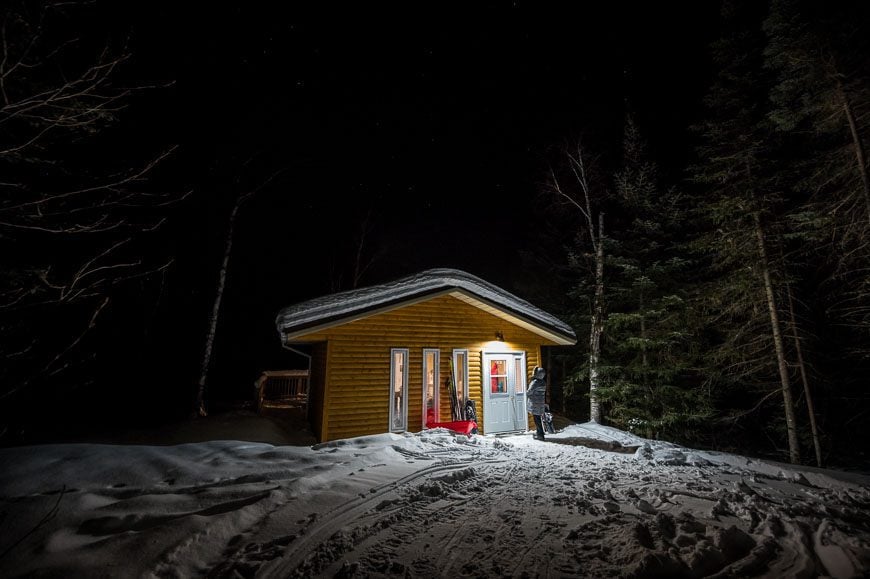 What comes with the Ojibway Cabin
The Ojibway Cabin in Quetico Provincial Park is the simplest of the three cabins. As you can see there is a comfortable double bed, a two seater couch that you can pull out into a bed, a table with four chairs, a small fridge, a microwave, and a coffee maker.
Outside there is a gas barbecue with a propane burner so you can boil water or fry up something. In summer, take advantage of the picnic table and deck chairs. There's also a fire pit with wood provided. We had a great intentions to use it one night – but got lazy.
All cabins have electric heat. When we walked in, to our amazement the cabin was already toasty. The Log Cabin also has a wood stove and the Art Studio an electric fireplace.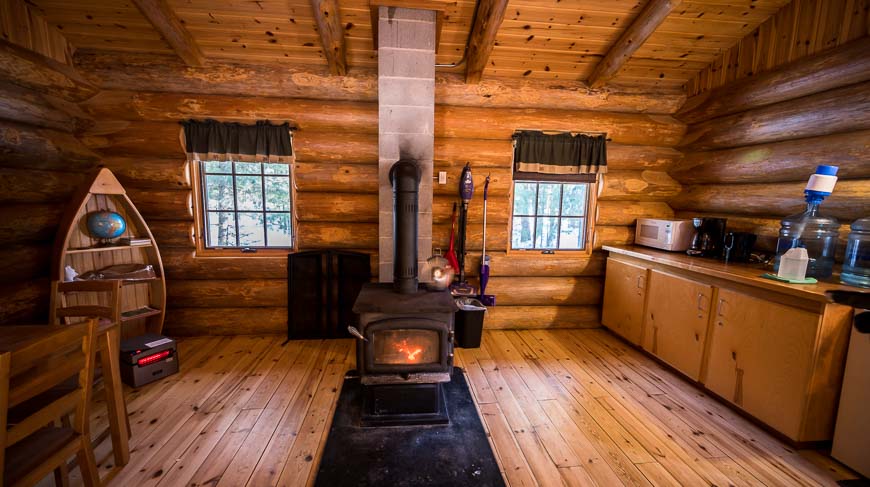 Each cabin also comes with 20 litres of clean water, but you do need to bring any extra water if you think you'll need it along with all cooking utensils, cutlery, bedding for the futon and your food.
There is no indoor plumbing – and therefore no toilet. But there is an outhouse about a 75 m walk away – which is fine during the day but a long walk on an inky black, cold night in the depths of winter. Don't forget your headlamps!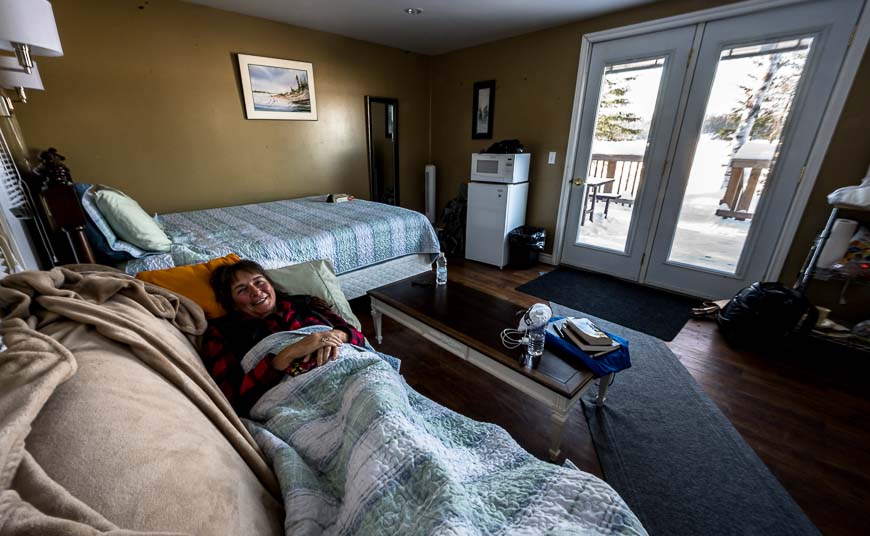 What can you do on a Quetico girls getaway in winter?
Jo and I were happy to slow the pace down once we arrived at the cabin. We kept the cooking simple – bagged salads and pastas with pre-made sauces we'd bought in Thunder Bay. We also picked up delicious homemade granola from Roots to Harvest – where a friend of Jo's works. (It's an NGO that focuses on food education and employment for youth.)
The bottom line is we spent very little time cooking or cleaning up but a lot of time out in the woods on beautiful trails.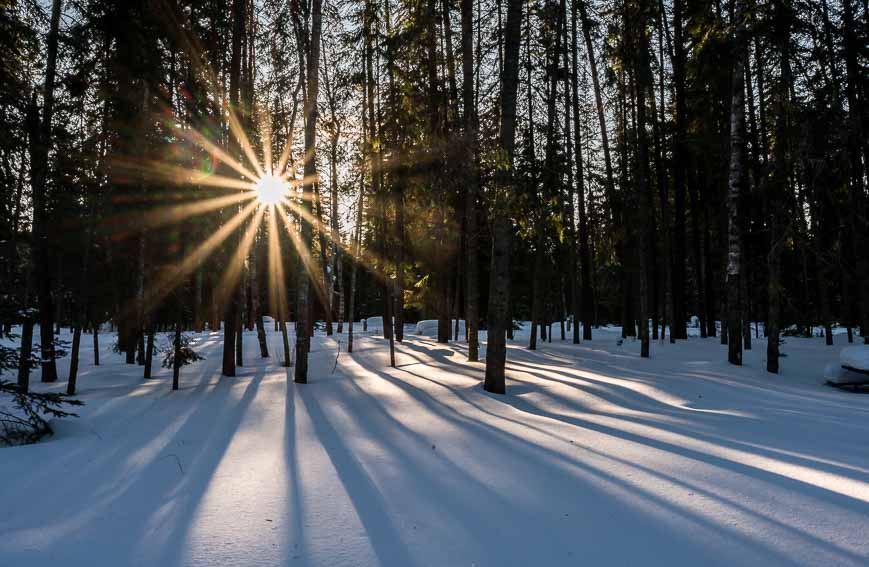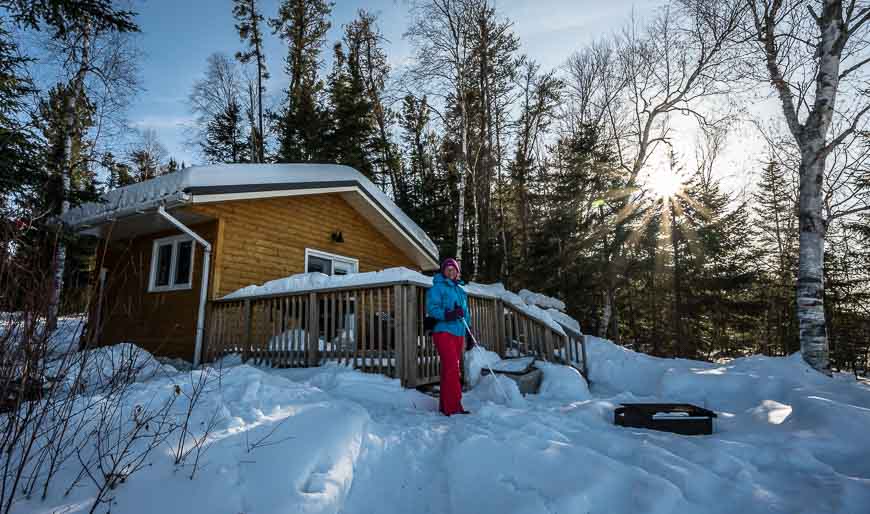 Catch a sunrise and sunset in Quetico in winter
The beauty of a Quetico girls getaway winter visit is that you can catch a winter sunrise from your bed at a civilized hour. It was somewhere close to 8 AM, so much better than a 5 AM sunrise in June. On the warmer of the three mornings, I got up in time to walk down to French Lake and snap a few photos.
Sunsets were also beautiful from the back deck of the cabin.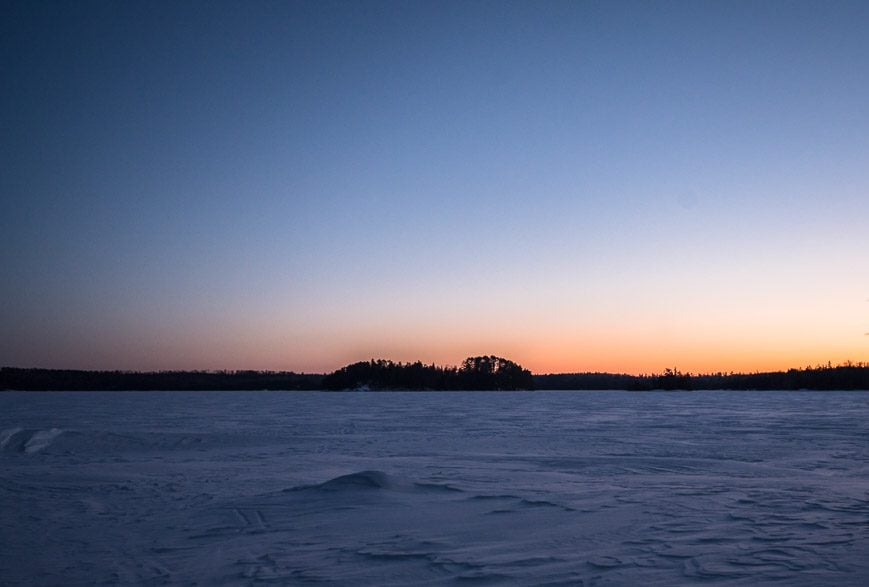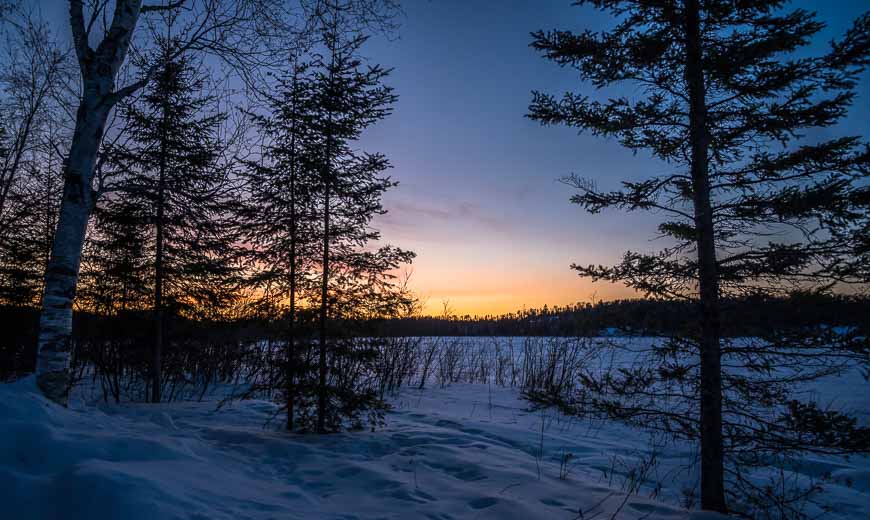 Go cross-country skiing in Quetico in winter
We had brought cross-country skis so I was keen to check out the trails. On the first outing we joined Trevor, the friendly superintendent of the park, and got a narrated tour of the easy trails. We would have missed Quetico Quill, a porcupine who apparently doesn't move far, without him.
The next day I left Jo in bed and took off at 8 AM to do a 12.5 km loop that I was told would require a minimum of two hours. (It took me 2.25 hours door to door.)
I took a combination of the well-signed Baptism, Camp 101, French Portage and Teaching Trail to complete the loop. I never feared getting lost on the trails but I admit to looking back behind me on numerous occasions as I felt there were eyes on me.
I have never seen so many fresh animal tracks at one time. For kilometres at a stretch I followed moose, lynx and snowshoe hare. I'm pretty sure I saw coyote tracks and after skiing with Trevor, I was able to identify the wing marks left by grouse. Despite all the tracks I saw no wildlife.
And I never saw another soul skiing or snowshoeing over the three days!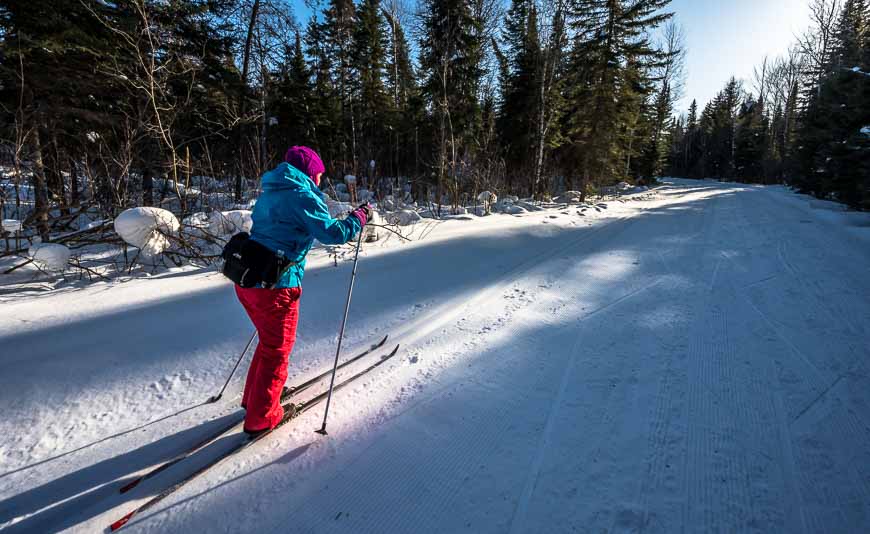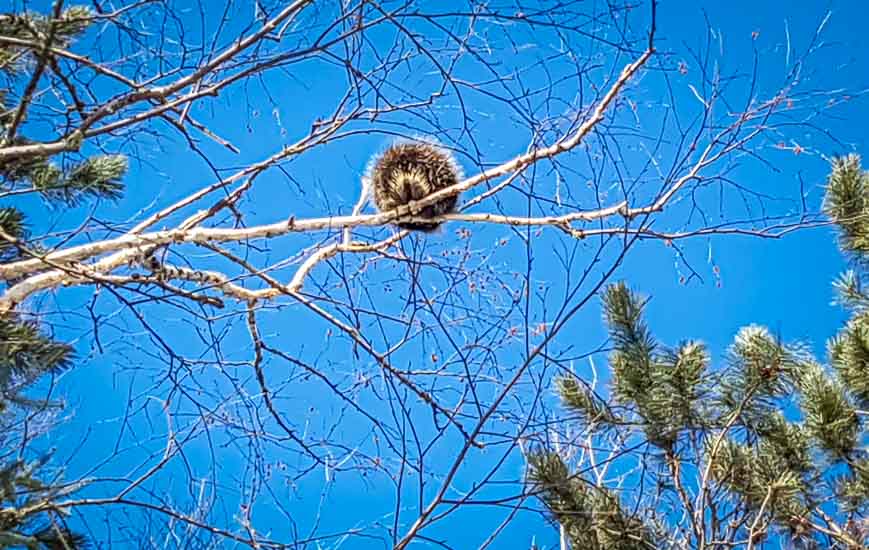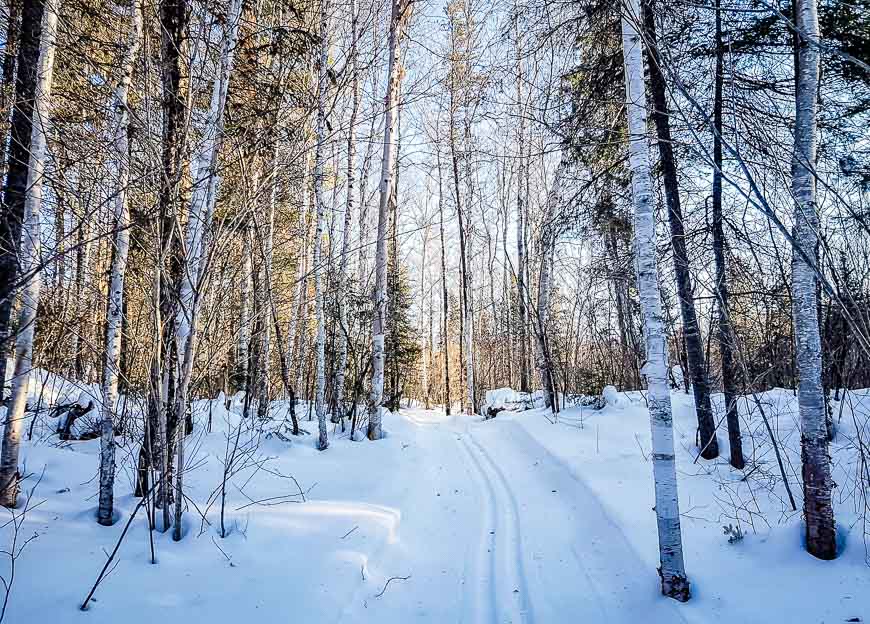 Go snowshoeing on a Quetico girls getaway (or guy's getaway)
There are four main trails to snowshoe in Quetico Provincial Park. We didn't have enough time to do the trail along the east side of French Lake but we did knock off most of the Pines Trail, the Whiskey Jack Nature Trail, and an easy loop near the other cabins.
The 10.8 km out and back Pines Trail is particularly beautiful as it takes you through beautiful stands of old-growth red and white pine. We turned around just shy of Pickerel Lake, not making it to the sandy beach – which would be a great destination in the summer.
Our excuse was that we would have had to break trail for 1.8 km – and not only was the snow deep, but it was heavy because of the spring-like temperatures.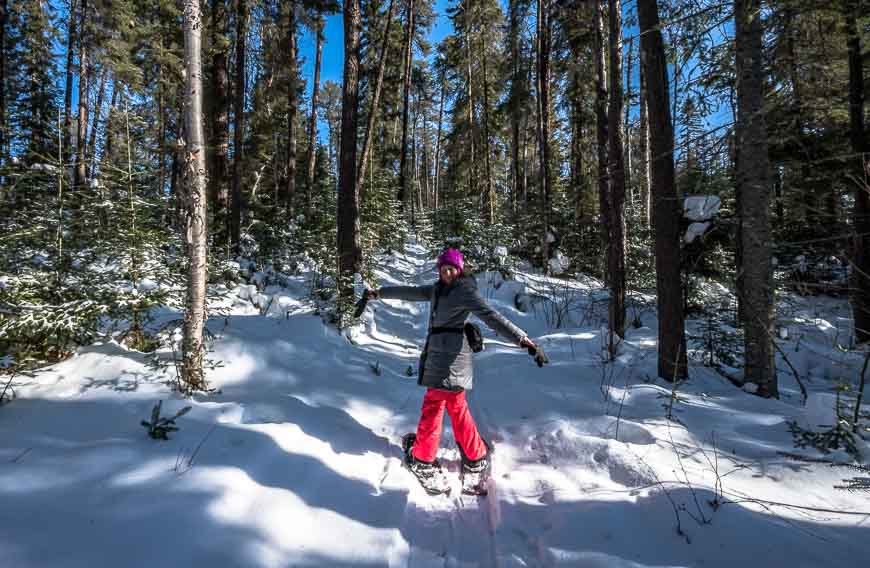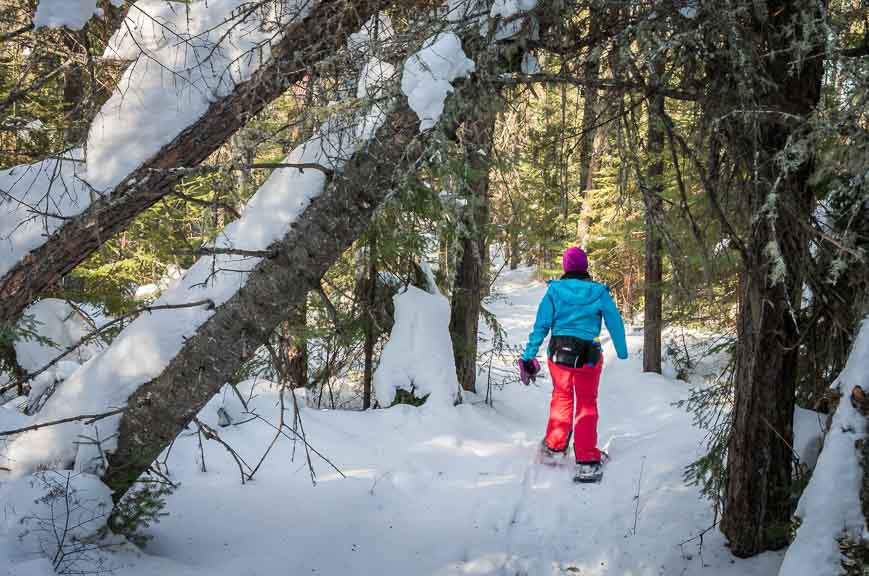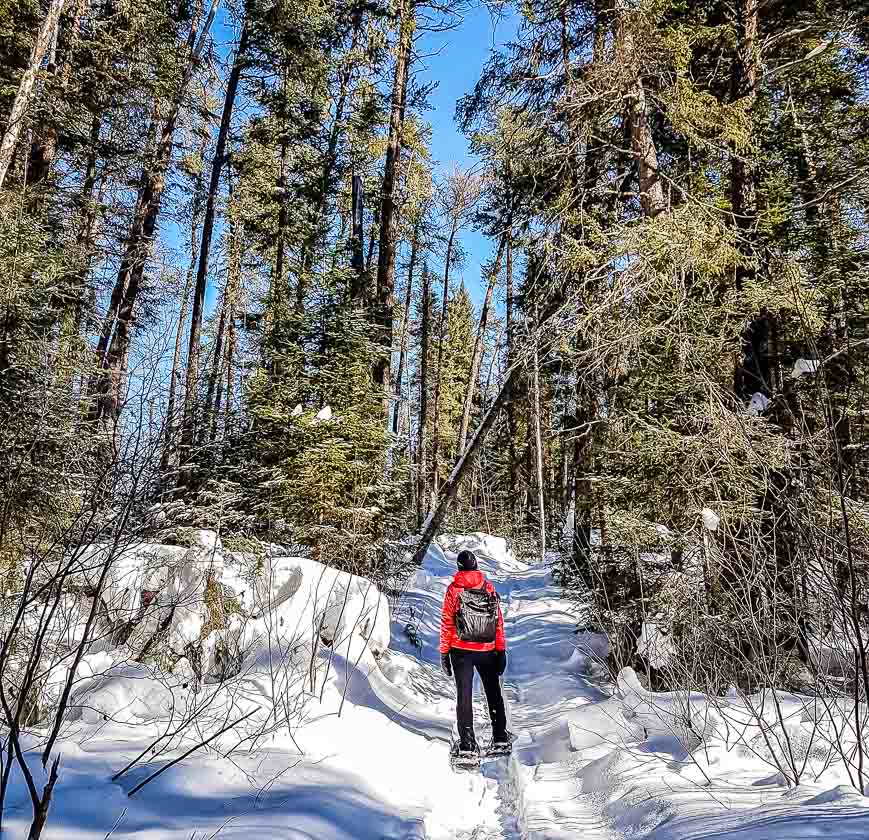 Cooking at the Ojibway Cabin on our Quetico girls getaway
I already mentioned that we kept the cooking easy. I was really pleased to have the propane burner so we could bring the water for pasta to a roaring boil. It wasn't really a hardship standing out here waiting for the water to boil, with this view.
If it had been just a few degrees warmer we could have bundled up and eaten outside.
An annual ski event in March in Quetico Provincial Park
Every March there is an event called the Cross-Quetico Lake Tour. It's a one day event in which participants opt for one of three choices – a 35, 45 or 60 km route.
The routes "stretch from the town of Atikokan south to the Quetico park boundary, and then east across the canoe routes of Batchewaung and Pickerel Lakes to the tour's end point at the park's Dawson Trail Campground."
Check with the park to see if it is happening in 2024. Click here for all the details. It sounds very similar to the wonderful annual Canadian Ski Marathon I did in Quebec one year. Great fun and an awesome sense of accomplishment no matter how far you ski.
Want to book a cabin for a Quetico girls getaway in winter?
Jo has already booked another three night stay at the same cabin. It may be simple and cozy but it's also a wonderful way to get a break from busy lives.
If you'd like to learn more about the three cabins or if you're ready to book a cabin in Quetico you can do it all online. All cabins are $86 per night plus tax, a bargain for what you get.
Where to stay in Thunder Bay
There's a good chance you'll need to spend a night in Thunder Bay either coming to going to Quetico Provincial Park.
Jo and I stayed at the Delta Hotels by Marriott Thunder Bay. It has a great location and very comfortable rooms.
If you want to be close to the Thunder Bay Airport, the Hampton Inn & Suites by Hilton Thunder Bay is a great choice.
Further reading on things to do in northern Ontario
Thank you to Ontario Parks for hosting me, to Destination Ontario for getting me there and for Thunder Bay Tourism for putting me up for a night. We both had a great time and HIGHLY recommend the experience.
Click on the photo to bookmark to your Pinterest boards.