On a drive up the California coast, I discovered Santa Barbara — an upscale paradise with its red-tile rooftops, thriving local food and wine scene, compact downtown and bounty of outdoor activities. Located about two hours north of Los Angeles, where the Santa Ynez Mountains meet the Pacific Ocean, Santa Barbara describes itself as the "American Riviera." A 1925 earthquake leveled much of the city and buildings were re-built in the Spanish-Revival style, resulting in the iconic whitewashed adobe walls and red-tile roofs.
There was so much to do in Santa Barbara that I'm already plotting a return trip, but here are three go-to activities you don't want to miss.
Get moving outside in Santa Barbara
Go for a walk
Santa Barbara's car-free initiative makes it easy to get around without wheels. Stroll down State Street, where shops spill into open-air plazas called paseos. The Santa Barbara Trolley Company offers narrated hop-on, hop-off tours and an electric shuttle offers a 50-cent open-air ride down State Street and the waterfront.
Paddle in Santa Barbara
With 300 days of sunshine a year, Santa Barbara is a great place to get out on the water. We took a 2.5-hour kayak tour of the Gaviota Coast courtesy of Santa Barbara Adventure Company, starting at beautiful white-sand El Capitan State Beach.
The Gaviota Coast is the largest stretch of undeveloped coastline in southern California and we saw dolphins and sea lions during our leisurely paddle (spiced up a bit by the surf entry and exit). If I go back to Santa Barbara, visiting Channel Islands National Park, known as America's Galapagos, 40 kilometres off the coast will be at the top of my list.
Explore the Urban Wine Trail
Santa Barbara's ingenious urban wine trail was the highlight of our visit to the city, with twenty-six wine-tasting rooms all within walking distance of each other downtown.
Many of them are in the Funk Zone, a hip area where old warehouses have been transformed into restaurants, microbreweries and wine-tasting rooms. Our favourite was The Valley Project for its friendly staff, tasty wines and incredible mural.
Eat well in Santa Barbara
Santa Barbara is chock-a-block full of tempting dining options — from fresh seafood to tacos to gourmet dining.
First, tacos: they are serious business in Santa Barbara, in part due to the fact that, in her later years, Julia Child famously told journalists that La Super Rica Taqueria was her favourite place to eat in Santa Barbara. That has stirred a lot of controversy — and a lot of competition over the years. In other words: it's pretty hard to go wrong eating tacos in Santa Barbara.
Our favourite spot was Mony's Mexican Food in the Funk District — which we had to race to after our kayak tour to get there before it closed at 4:30 p.m. Try the al pastor taco, which is sweet and flavourful, and don't miss the eight different kinds of salsa.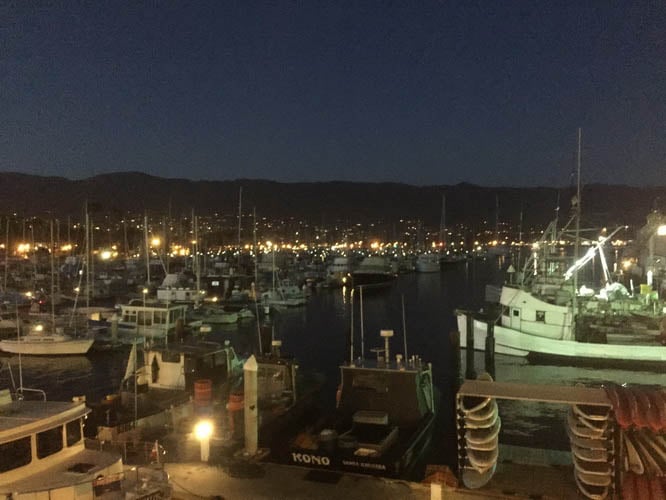 We also had a great night at Brophy Bros. Restaurant and Clam Bar, which has a fantastic view of the harbour. In a quintessential California moment, we watched fishermen unload on the docks below while eating delicious clam chowder at the stand-up outside bar.
Further reading on California
Click on the photo to bookmark to your Pinterest boards.
Emma Gilchrist's trip was coordinated by Visit California and Visit Santa Barbara.