While you don't see a lot of blogs related to food on HikeBikeTravel, there are always exceptions to be made. The walking, food and history tour of Amman led by from Rahhalah Tours is one such exception. It's a tour of Amman that I would recommend to anyone visiting Jordan, even if you don't usually do food tours.
How our tour of Amman unfolded
The day started early. Rather than eat a crappy breakfast in our dowdy hotel we asked Raed to pick us up so we could have breakfast with him. And we asked for a coffee stop as soon as humanly possible. No sooner had we hopped into the car that he produced bread with za'atar on it – a little slice of heaven that I would like to be eating in Canada.
Za'atar, Arabic for wild thyme, is actually a mixture of herbs including sumac, salt and sesame. Depending on who makes the Za'atar you may also find oregano in it. There was definitely olive oil as every mouthful was lip-smacking good and packed with calories. So much for all the calories I burned off on my week-long bike ride in Jordan.
Thick street coffee is fabulous in Amman
After driving past thousand year old ruins hidden in a neighbourhood that grew up around them, we made for central Amman. The traffic can be bad but Raed was able to nab a parking spot close to our coffee stop.
I had a big smile on my face drinking delicious, thick street coffee with a hint of cardamon – served with a smile and good humour. Interestingly a small bottle of water is served with the coffee as well – all while standing up.
A stop at the Roman Theatre
With coffee in hand we made our way on foot to the ruins of the Roman Theatre. It dates back to the 2nd century AD when the city went by the name of Philadelphia. The 6,000 seat theatre was used for plays back then and concerts now. Even Yanni has played here.
If you stand at a small marking at the base of the theatre and speak – or sing as one Chinese man did, your voice projects to the entire theatre.
It's a magnificent spot with a view up to the Temple of Hercules. But beware of the stairs. They're steep and they can be a tad slippery. And while we didn't go inside there is a small museum onsite called the Jordan Museum of Popular Traditions.
The next stop was for savoury pastries from a small stall on a road leading to King Faysal Square. Raed bought an assortment of pastries and John and I proceeded to wolf them down in short order.
Insider tip: If you're thinking of a food tour in Amman – eat lightly the night before if you really want to try all the exotic foods presented.
The markets near King Faysal Square
Exploring the markets and shops in the vicinity of King Faysal Square can take a half day if you dawdle. Wandering through fruit and vegetable markets in any country never gets old but in Amman there seemed to be more than the usual number of surprises.
One of the big ones were bags of green almonds. They're in season in spring. Dip into salt – and voila, a local favourite and a mouthful of fuzz, crunch and jelly. The almonds need to finish maturing on the tree to become the nut we're all familiar with.
Olives are a big deal in Jordan as they are all over the Middle East. They are served at breakfast, lunch and dinner. You're also served pickled turnips – coloured pink by adding a few slices of beets.
Flatbread vendors
On many occasions I saw young men running through the streets with great loads of freshly-made flatbread. In the market we passed a father and son (???) kneading, baking and stacking the breads to be delivered I suspect to nearby restaurants. Toppings are often added to the breads including thyme, ground meat and/or cheese.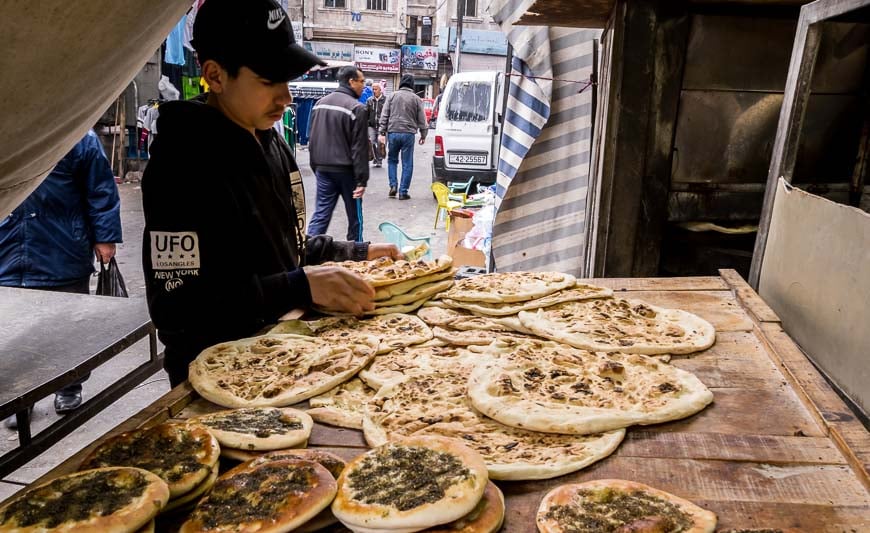 My new favourite sweet treat
Jordanians love their sugar and many of the desserts are on the sickly sweet side to me. Cue the baklava that we saw everywhere.
But the combination of crunchy pastry, white cheese and a sweet syrup in Kanafeh turned me into a fan. John as well. It is unbelievably good. And rich. We passed little shops that lived and breathed Kanafeh. Don't miss a chance to try a piece.
We made a random juice stop before a quick walk through the gold market. Sugar cane juice is freshly pressed before your eyes. A sign in the shop suggests that it will cure almost any affliction. I found it to be a refreshing light drink and again wish this was something we could easily enjoy in Canada
The one market my Canadian sensibilities didn't enjoy so much was the live market filled with ducks, quails and rabbits – all tightly packed into cages. I would have liked to buy up all of them and free the animals – to what end I know.
The Citadel and the Temple of Hercules
We didn't stop in at the Citadel and the Temple of Hercules on this tour as John and I had already visited. So if you do the food tour save this stop for then. Allow at least an hour to wander around this fascinating site dating back to somewhere between 10,000 and 2,000 BC.
Hashem Restaurant is a must stop on any tour in Amman
Another stop Raed includes on tours is a light meal at the legendary Hashem Restaurant. It's known for its street food but while simple and anything but fancy the Royal Jordanian family has been seen enjoying breakfast here.
John and I had lunch here at the start of our trip and practically swooned over their falafels and hummus. Hummus is like ketchup to a North American as it's served with everything! And it's silky -smooth and way better than anything you've tasted at home.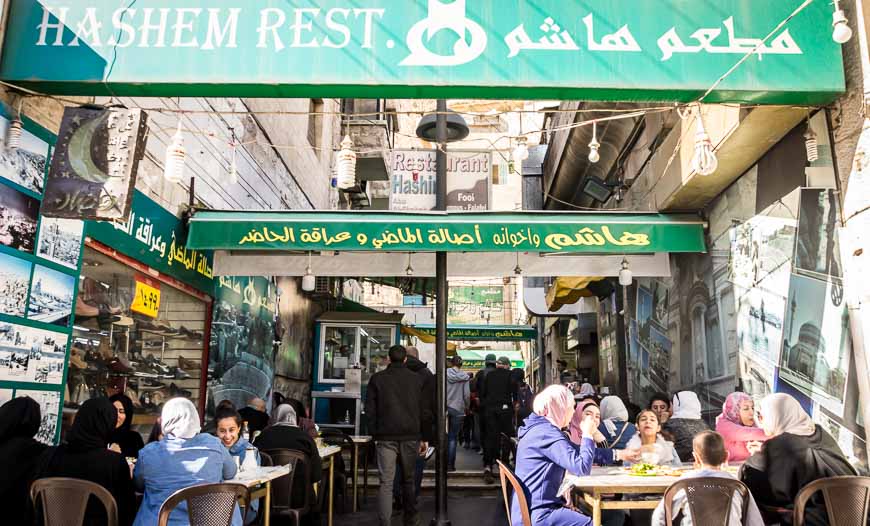 You have to try Mansaf
Our tour finished with lunch in another part of town. We were served Mansaf – an authentic Jordanian dish consisting of lambed cooked in jameed, a fermented dried yogurt (who came up with this ingredient?) and served with rice or bulgur.
The dish is eaten communally using your hands. Raed showed us out how to gather a clump of food together, form it into a ball and then plop it in your mouth.
While we didn't eat any dates on the food tour they could be seen in markets and were offered every day on our bike ride in Jordan. You can find dates in many forms including dried and even as juice.
At the end of the tour Raed dropped us off at the luxurious Fairmont Amman– where breakfast is divine so there was no need to head to Hashem.
I'm so glad we did the tour with Raed as we learned not only about food but about the history, customs, culture and religion in Jordan. I highly recommend it and would like to extend a big thank you to Samer from Rahhalah for providing the complementary tour.
Further reading about Jordan
Click on the photo to bookmark to your Pinterest boards.