The day started early. I left the comfort of my luxurious Fairmont Hotel Vancouver bed to be whisked in a bus along with hundreds of others to the Rocky Mountaineer train terminal. And that's when the magic unfolded.
Walking into the airy train terminal, John and I were immediately greeted with three things – glasses of orange juice, a coffee bar, and gorgeous music coming from the grand piano. It didn't take long to get over the fact it was still only 7 AM. I figured this was an auspicious start to our adventure on the Rocky Mountaineer train across the Canadian Rockies.
Rocky Mountaineer train experiences
The Rocky Mountaineer is a privately owned train company founded by Peter Armstrong in 1990. When I lived in Vancouver I used to see the Rocky Mountaineer train on its way to Whistler if I happened to be hiking at just the right time in just the right spot.
The Rocky Mountaineer train offers luxurious rail experiences between Seattle, Washington and Vancouver, British Columbia with the option to continue to either Banff or Jasper, Alberta. The train was recognized as having the World's Best Luxury Travel Product by the prestigious World Travel Awards.
The biggest difference between the two levels of service on the Rocky Mountaineer train is the railcar. The Gold Leaf Service offers a two level railcar with the top level a glass-domed rail car offering superb, unencumbered views.
The lower level enjoys a separate dining car along with roomy washrooms and a door to the outdoors. The Silver Leaf Service, a one-level railcar, does not have a separate dining car. Instead meals are served in your seat.
Gold Leaf guests also receive premium alcohol and meals of a higher quality. And the seats are unbelievably comfortable.
John loved the fact he could get heated seats with the press of a button. I enjoyed reclining without guilt. The chairs are designed so that they don't interfere with your neighbour's space.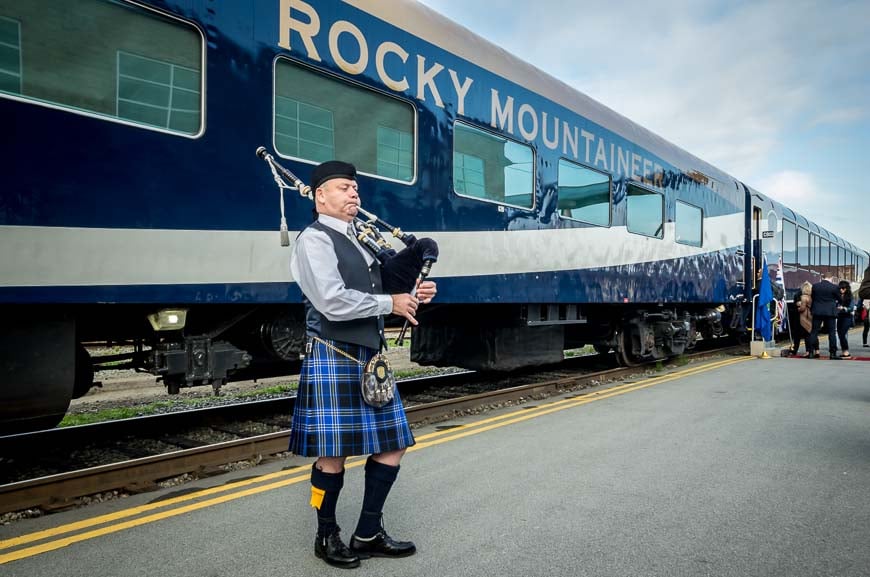 Vancouver to Banff on the Rocky Mountaineer train
John and I were on a two day Rocky Mountaineer train trip called The First Passage to the West from Vancouver to Banff with an overnight stop in Kamloops.
We were seated in the Gold Leaf cars which offer a level of service and comfort a notch or two up from the Silver Leaf service.
Go outside for an unobstructed look at the landscape
Walk out the back of any Gold Leaf railcar for a breath of fresh air. Just don't forget your coat as it can be really chilly in the mountains. If you're after photos you'll enjoy the unobstructed views of the landscape.
The hosts on the Rocky Mountaineer give you plenty of warning so that you can be outdoors when the best scenery appears. When you're outside you can still hear what the hosts have to say, a real bonus if any wildlife has been spotted.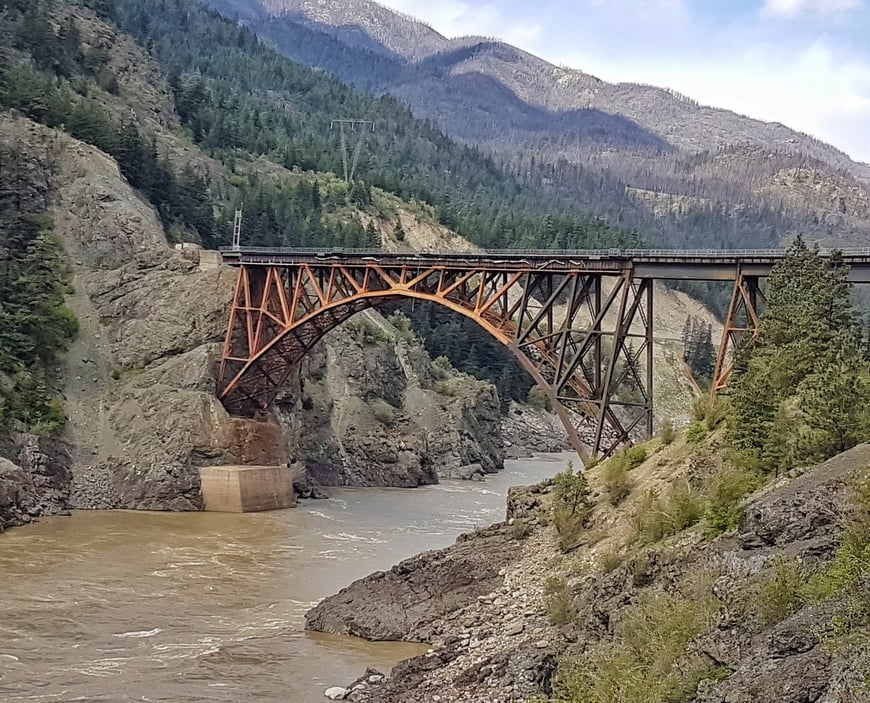 Dining on the Gold Leaf railcars
Breakfast, lunch, snacks and premium alcohol are all included in the price on the Rocky Mountaineer train if you've booked the Gold Leaf Service. There are two seatings for breakfast and lunch.
They split you into two groups by seat number as there isn't room for everyone in the dining car. If you have the early breakfast and lunch the first day, you'll have the later meals on the second day.
Since John and I were a party of two we were seated with another group of two. For us it was a great way to get to know the Australian ladies pictured below.
We looked forward to breakfast and lunches and learning more about their lives back in Australia. In speaking with other travelers, several commented "that dining with strangers added a richness to the trip they hadn't expected."
On the first day we were told we would be eating breakfast during the second seating. Fortunately they are quick to bring around fresh coffee or tea along with a freshly baked scone.
If you've got the late lunch you can count on snacks, like cheese and crackers to make an appearance. Alcohol is freely offered beginning in the late morning, so trust me – you need never go hungry or thirsty!
The meals are excellent – creative and inventive as you can see in the photo of the menu. They cater to people with a full range of food likes and allergies.
For breakfast the first day I indulged in pancakes with real maple syrup along with copious cups of coffee, all while watching the world go by from our comfortable seats on the Rocky Mountaineer train.
On the second day I opted for a spinach soufflé with farmer's sausage and sliced potatoes – and equally delicious dish. There are light options like oatmeal but I treated this excursion as a holiday and indulged.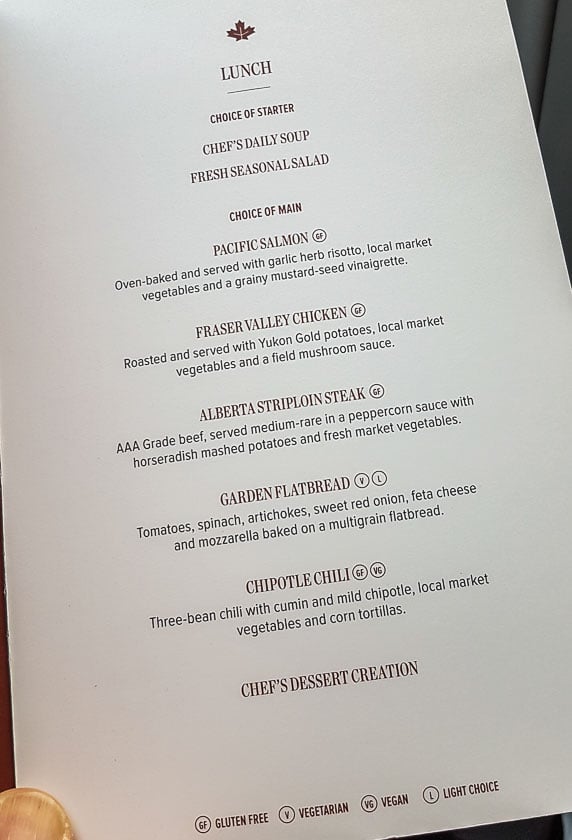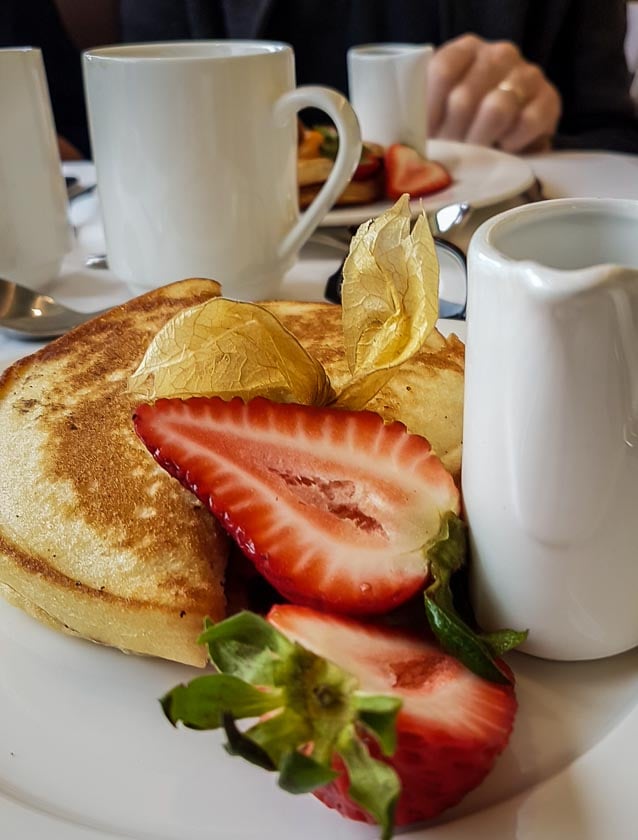 The saying eat with your eyes first went through my head with every course that was served at lunch time. After a salad I enjoyed salmon the first day and chicken the second.
I actually was in awe at what the chefs could create on a moving train. Its delicious food and the portions are substantial enough that you may not feel like a full dinner when you roll into Kamloops. John and I certainly did not.
Wine and other alcoholic beverages are freely offered beginning somewhere around 10 AM. While I do love a glass of wine with dinner I don't usually indulge during the day.
But on this trip I made an exception and thoroughly enjoyed a glass of wine as the clock ticked 5 PM in St. Johns, Newfoundland.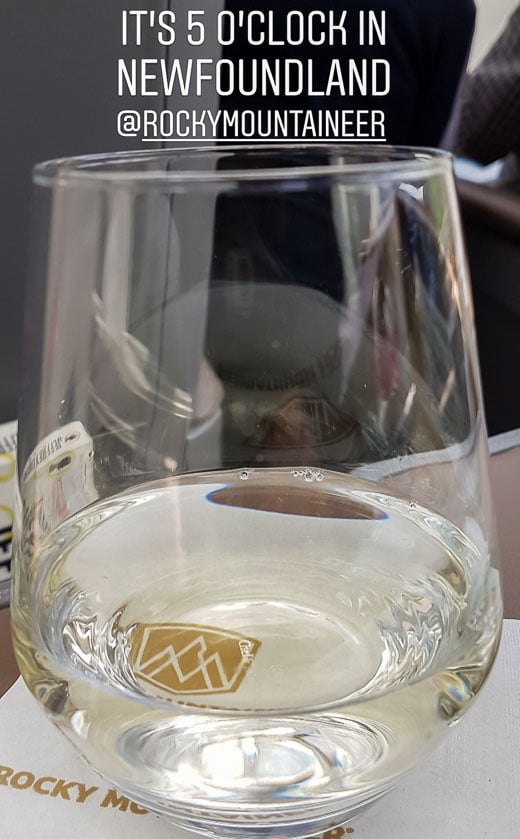 What can you do on the Rocky Mountaineer train?
I was so happy to have a couple of days of complete rest and relaxation on the train after a crazy period of work. There was no agenda other than to show up for meals.
It's a trip where you can stare out the window lost in your thoughts for hours at a time. Or perhaps have a snooze, read a book, run up and down the stairs to go outside and take more photos, talk to your fellow passengers or play one of the occasional games the hosts came up with. I was truly surprised how quickly 12 hours on the train flew by on both days.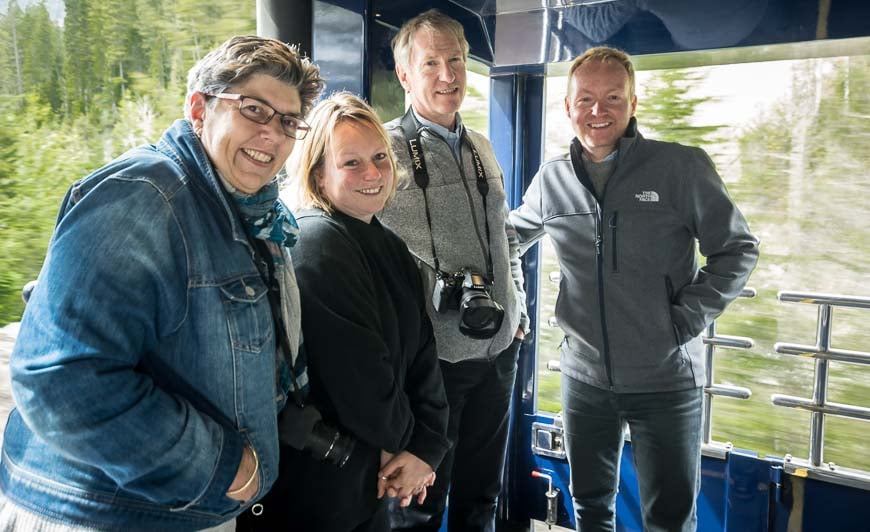 The hosts on the Rocky Mountaineer train
When we first got on the train, we were greeted by at least five hosts. Holy smokes I thought – all these people on one car. That's the Rocky Mountaineer difference. You are looked after from the moment you get on the coach until they leave you at your hotel in Banff.
The hosts are the best in the business. They know how to serve, without being intrusive. They make you laugh with their silly games and keep you entertained when the train has to come a complete stop to let a freight train go by. (Freight trains have priority on the tracks.)
Need a glass of wine? Coming right up. They were all intuitive about our needs (make that wants not needs) but never overbearing.
The hosts we met were also happy to engage. They were fantastic storytellers and could pull out weird and random facts at will. Little did I know that floating logs on the Fraser River is a rent-free storage option for lumber companies and floating logs on water acts as a natural pest repellent.
When we arrived in the town of Hope one of hosts came up with this – Live in Hope, die in despair. That actually referred to the short-lived gold rush in the area a long time ago.
An overnight in Kamloops
You don't spend the night on the Rocky Mountaineer train. Instead you get bused to your hotel which is literally a five-minute walk from the train station. The check-in process is positively seamless and another example of the excellent service you can expect.
While on the bus you're given the keys to your room so there's no waiting around in the hotel lobby. Luggage is in the room when you arrive so there is literally not a minute of waiting around. Brilliant in my opinion!
In Kamloops the hotel isn't of Fairmont quality but it's very comfortable. It's location on the river is ideal. After we checked in, we took off for an hour's walk along the river and could have gone further if we were so inclined. Should you want a meal, there are loads of choices within walking distance of the hotel as well.
What do the other Rocky Mountaineer train trips look like?
If you're keen to ride the Rocky Mountaineer you have three other trip choices. The Journey Through the Clouds takes you to Jasper via Kamloops over two days.
If you want to add another dose of luxury to your trip once you're in Jasper I highly recommend the heli-hiking experience in the Cariboos Mountains with CMH. You don't have to be an expert hiker to enjoy the truly exceptional mountain experience close-up. There are pick-ups available in Jasper with the heli-pad only about a 90 minute drive away.
The Rainforest to Gold Rush Experience takes you to Jasper via Whistler and Quesnel over three days. It's a great way to fit the charming village of Whistler into your holiday plans.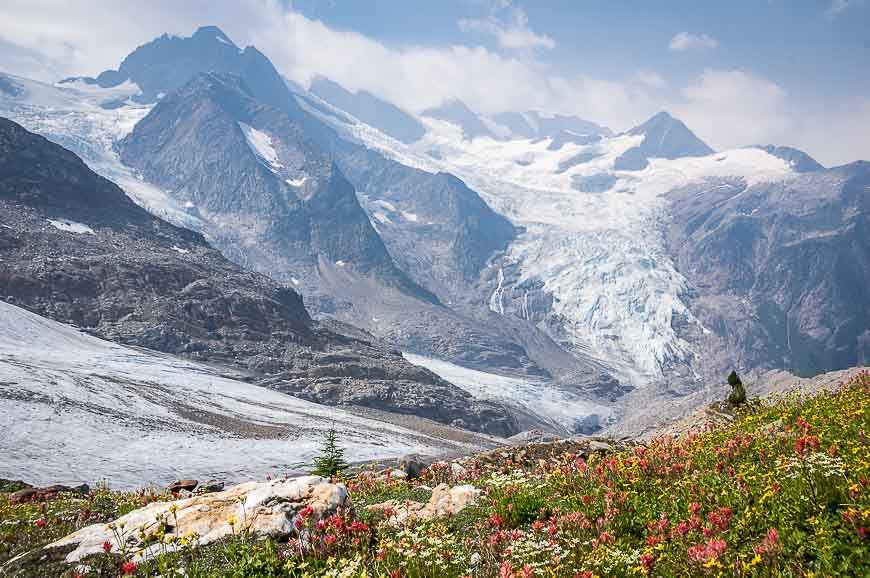 Is the Rocky Mountaineer train worth the money?
Already I've been asked the question by several people – is it worth the money? I would say honestly it depends. If you're thinking of a trip with kids or grandkids I'd say a definite no.
They would be bored out of their head, especially with the average age of guests being 50 on up. If you're a budget traveler and hate forking out money then no, you'd probably not feel good about the price tag either.
But as one of those true, once in a lifetime bucket list experiences it's worth every penny. I know as an Albertan it doesn't hold the same exotic appeal as it does if you're from afar.
But I can honestly say that I thoroughly enjoyed seeing the Rockies at the slower pace of the train. There are things you never see when you drive between Banff and Vancouver – like Kamloops Lake for example.
Driving isn't the least bit relaxing especially on the Trans-Canada where you need to focus with all the transport trucks around. The train offers an experience that is the polar opposite of a drive – slow travel where you enjoy the journey.
It's a real holiday on the Rocky Mountaineer train
The Rocky Mountaineer train experience offers a true holiday where every detail is looked after. Hotel rooms are booked before, during and after your trip. If you're looking for a pre or post tour they can offer up suggestions and arrange whatever you're interested in as well.
Bags are delivered to your rooms and drinks brought to your seat. Hosts explain what you're seeing – whether it's a historical bridge or a grizzly bear. And you do have a pretty good chance of seeing a bear. We saw three on our trip, including one called Bear 122 – the largest bear in Banff National Park.
A bucket list train trip
For a memorable, bucket list train trip through the Rockies, the two days on-board the luxurious Rocky Mountaineer train checks off all the boxes; first-class service, world-class mountain scenery, plush soft leather seats, delicious food, as much alcohol as you choose to drink and a humorous approach to entertainment.
If this sounds like a trip you'd like, why not visit the Rocky Mounatineer website for more information.
I was a guest on the Rocky Mountaineer train and I'd like to wholeheartedly thank them for a wonderful experience. All opinions as always are mine alone.
Click on the photo to bookmark to your Pinterest boards.