With trees as tall as skyscrapers and an understory of primeval ferns, a hike in Hendy Woods State Park just outside of Boonville, California will leave you with a sore neck from staring up for so long.
On the soggy day that we visited, we had the entire Hendy Woods Park to ourselves. We elected to do a loop hike in the Big Hendy area – a great choice as it turned out. From the minute we stepped onto the easy hiking trail we were in awe of not only the quiet but the sheer size of the massive redwood trees with some reaching heights of 300 feet. I can see why the area is a popular choice for picnickers on a fine day.
Hendy Woods State Park hiking
Hendy Woods is a small park compared to Humboldt Redwoods State Park (two hours north of Mendocino) with just two groves of old-growth coast redwood. It is thought that some of the trees are close to 1,000 years old.
Located in Anderson Valley, about three hours by car north of San Francisco, the surrounding area also has a lot to offer the visitor and is definitely worth a full day of exploring, more if you like a relaxed pace.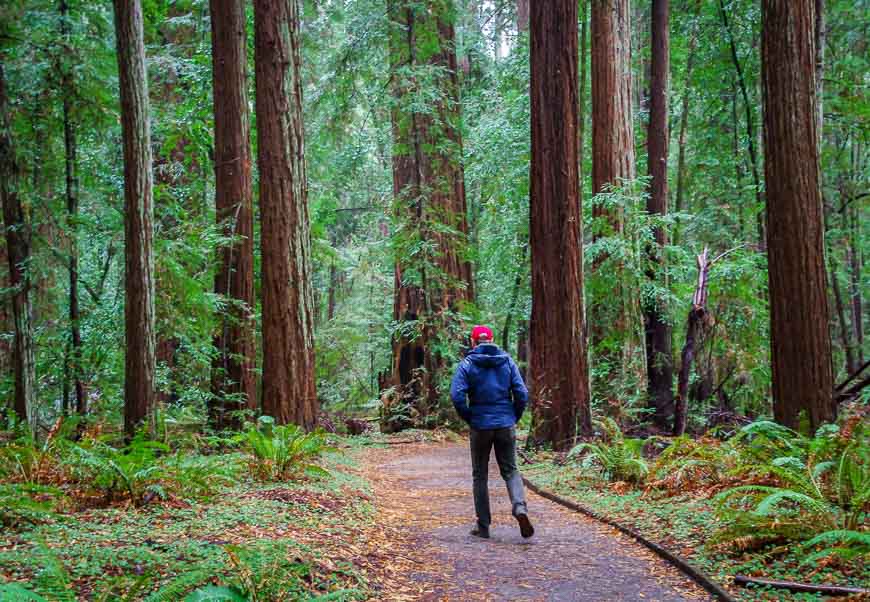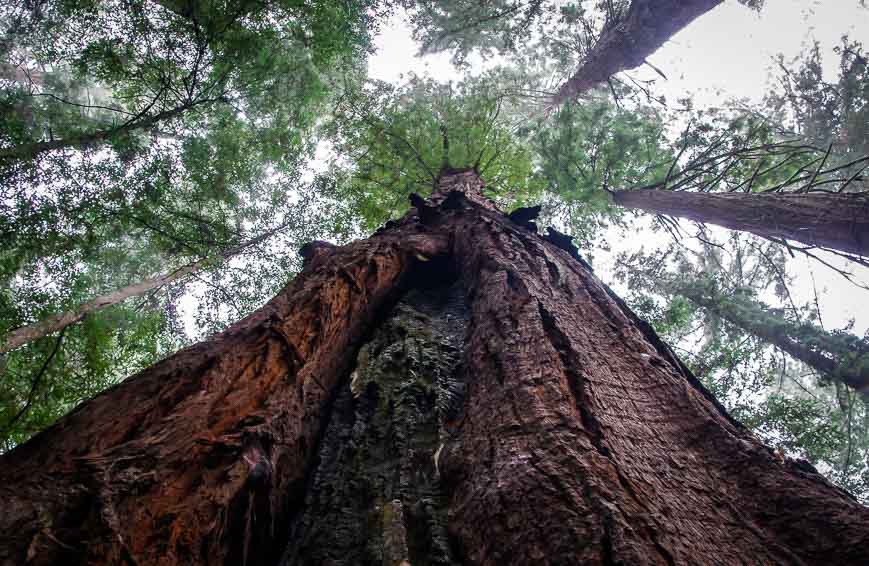 Getting to Hendy Woods State Park
We approached Hendy Woods State Park from Highway 1 on the coast via the fabulous, scenic and very winding, Mountain View Road. It starts just north of Stornetta and ends in Boonville.
To finish in Mendocino, an hour's drive away to the north we drove the equally unforgettable Highway 128 past vineyards and through tunnels of trees. You don't want to miss it.
A stop in Boonville, California
Stop in Boonville, a town known for its great food and wine but also for its unique slang language called Boontling – that was only understood by insiders with words unique to the area. It all but disappeared after WWII.
Fortunately John and I ended up in a long conversation with one of the local wine owners (as this is Anderson Valley wine country) and got a little insight into some of the more unusual words. Two examples I laughed at were fogeaters, referring to people from the Mendocino Coast and Brightlighters, another name for people from San Francisco.
After you've stopped for lunch goodies at the Boonville General Store, pick a few wineries to visit. We enjoyed a tasting at Lichen Estate and Philips Hill Winery located on Highway 128 as you head east.
Although the Anderson Valley is only 15 miles long it does have a reputation for world-class Pinot Noir and Alsace varietals. We have two bottles in a wine fridge from our trip waiting for just the right moment to open.
I loved the laid back feel to this part of California. Next time you've got a trip planned to San Francisco add another three days so you can visit the Boonville to Mendocino area.
For more information about Hendy Woods State Park visit their website.
Location map of Hendy Woods State Park
Other posts you might enjoy from California
Click on the photo to bookmark to your Pinterest board.