Winter is prime time for trips to the Scottsdale- Phoenix AZ area. Families, couples, singles – everyone wants a dose of sunshine. And they all want to be doing interesting things. Fortunately there's no shortage of fun things to do in Phoenix or the surrounding area. If you've got more time consider going further afield a doing day trips to Sedona for some stunning hiking.
This post includes some affiliate links. If you make a qualifying purchase through one of these links, I will receive a small percentage of the sale at no extra cost to you. Thank you very much for your support.
Fun things to do in Phoenix and the surrounding area that should keep you busy for days.
Of course there is also golf on more than 200 courses which I'm sure is fun for many of you but I can't figure out the appeal of the sport. Ditto tennis. But as you'll see there are plenty of fun things to do in Phoenix from goat yoga to hiking, shopping and architecture tours.
Location map of fun things to do in Phoenix and nearby
Go hiking in the Phoenix, AZ area
The hiking is excellent in and around Phoenix, AZ. Try the popular Piestewa Peak hike (formerly Squaw Peak) – an outdoor version of the Stairmaster.
The most popular route is the Summit Trail – which takes you roughly 1.2 miles to the top. But it gets busy – very BUSY. The other option is the Circumference Trail. It's 3.5 miles long and doesn't see nearly the traffic of the Summit Trail.
Another classic hike is the one up Camelback Mountain. You can choose the 2.2 mile Echo Canyon Route or the 2.8 mile Cholla Lane route. Be prepared for some steep hiking – but you'll be rewarded with 360 degree views of Phoenix.
Head out of town to the Superstition Mountains. There are lots of trails to choose from, and a choice of access points. Try one of the trails out of Lost Dutchmen State Park, just 40 miles east of Phoenix.
Read: 10 of the Very Best Hikes in Arizona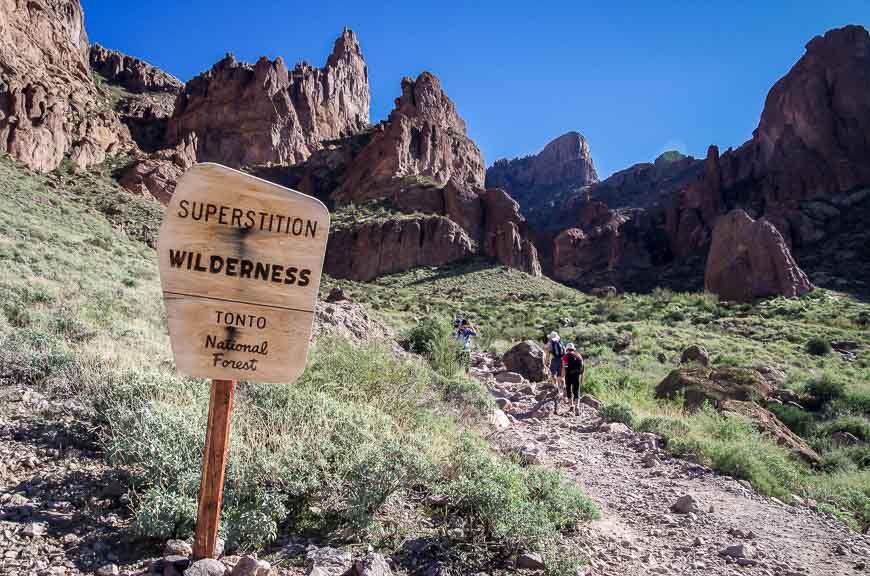 Visit the Botanical Gardens in Phoenix
Look for over 50,000 plants in the Desert Botanical Gardens. Spring is a particularly beautiful time to visit with many plants coming into bloom. There's also a "Music in the Garden" series on Friday nights from early March through until June, though you can't bring the kids.
Drive the Apache Trail
I discovered this remarkable drive on one of my visits to Phoenix. AZ. Jaw dropping scenery begins at the Theodore Roosevelt Dam, at the junction of Highway 88 and 188, and ends just outside of Apache Junction, though you could continue all the way to Globe.
The Apache Trail is mostly a dirt road, often narrow, and not a place you want to be caught with an RV. In fact they're prohibited. Take water and a lunch – though you can get something to eat in Tortilla Flats – and plan on lots of stops so you can really enjoy the scenery.
Another fun thing to do is to take the Dolly Steamboat and enjoy a 90 minute boat ride on the inner waterways of the "junior Grand Canyon."
Visit Museums in Phoenix
The Phoenix Art Museum, a world class museum, boasts over 18,000 works of art from many genres including American, Asian, European, Western American and Modern. They, along with the Center for Creative Photography at the University of Arizona in Tucson, have established a photography exhibit with over 80,000 photographs representing 2,000 photographers.
The Heard Museum is the place to go if you are interested in American Indian art and history. Exhibits change frequently.
The Pueblo Grande Museum Archaeological Park, a National Historic Landmark, is a prehistoric Hohokam Indian village site that was occupied between 100 and 1450 AD. The ruin is located at 4619 East Washington Street in Phoenix. You'll need to pay a fee before you walk the self guided trail to the ruins.
Sign up for an architecture tour in Scottsdale
Take an architecture tour of Taliesin West in Scottsdale – Frank Lloyd Wright's winter home, studio and architectural campus. Or visit The Hotel Valley Ho – one of the best known mid century hotels in the US, filled with colourful furnishings.
Other area tours will educate you about sustainable architecture in the southwest or designing with solar. If you have time, an interesting place to visit is Cosanti, the gallery, studio and residence of Paolo Soleri, out in Paradise Valley. You'll find bronze and ceramics wind bells and depending on the time of year, you might be able to watch a bell being poured.
Spas, shopping and dining in Phoenix
If you want to be pampered in Phoenix and that is your idea of fun, then you're in luck. Most of the fine hotels have onsite spas where you could spend the whole day.
If you're into shopping, the Biltmore Fashion Park is one of the top places to go. And excellent dining choices abound in both Phoenix and Scottsdale. Check out Pizzeria Bianco (maybe even catch sight of a celebrity), The Stand for burgers, fires and shakes, Little Miss BBQ, Rito's Mexican Food and Red Thai.
Goat yoga anyone?
An addition to the Phoenix scene that is a big hit is goat yoga – with more information here.
Goat yoga classes sell out quickly. Expect to see upwards of 100 people in a giant circle around the partners – Sarah Williams of Desert Paddleboards and April Gould, owner of the goats. When the yoga gets underway everyone is spread with room to go through some traditional yoga moves.
But after 15 minutes the goats take over and the thread of the class is lost. It doesn't seem to bother anybody – as long as they get a photo of themselves with a goat on their back.
Go glamping at Schnepf Farms
Wondered what it's like to stay in a kitted out Airstream? Check out Schnepf Farms – a working peach orchard with a big U-Pick garden. It's a cool thing to do for a night. Be sure to order the strawberry breakfast pancakes for the morning.
The Airstream comes with a shower and toilet, a small kitchen, a sitting area and a bed – all in a retro style.
Where to stay in the Phoenix – Scottsdale area
There are so many amazing places to stay in the Phoenix – Scottsdale area that the difficulty will be in narrowing down your options.
In the Roosevelt Row District, check out Found Re Phoenix, rated fabulous.
RISE Uptown offers adult only accommodation with a restaurant, bar and terrace. It is rated fabulous.
AC Hotel Phoenix Biltmore, rated superb, features an outdoor swimming pool and a 24-hour front desk.
More things to do in Arizona
What other fun things to do in Phoenix would you recommend?
Click on the photo to bookmark to your Pinterest boards.