Looking for suggestions on things to do in Sooke, British Columbia? The municipality is only 38 kilometres from Victoria – or about an hour's drive, unless you try and get there during rush hour. For a smallish centre, there sure is plenty to keep outdoorsy people busy. And at the end of the day when your stomachs are rumbling, you'll be spoiled for choice when it comes to dining choices. To get the most out of these things to do in Sooke, plan at least a few days in the area.
Things to do in Sooke summary
Sooke is well worth visiting for its beautiful beaches, great dining, unique accommodation and loads of wonderful outdoor activities. The town motto is "where the rainforest meets the sea."
Sooke is famous for rugged, unspoiled west coast beauty, massive trees and easy access to the Pacific Ocean.
The downtown area of Sooke is small. It's referred to as the Village Core.
Sooke is a year round destination. In winter it's in an area famous for storm watching in addition to the other things to do listed belwo.
Sooke is the westernmost community in Greater Victoria.
November is the rainiest month in Sooke and July the driest. Plan your visit accordingly.
Things to do in Sooke – take a hike in East Sooke Regional Park
With 50 km of trails in East Sooke Regional Park, there's something for every type of hiker. Families will love the short, easy hike to Aylard Farm where they'll find pocket beaches and tide pools. I personally love the challenging 10 km Coastal Trail which is best done as a one way hike.
The Coastal Trail has got a surprising amount of up and down but rewards with rugged and truly spectacular coastal scenery with views out to the Olympic Mountains. It's also got huge fir trees, loads of smooth-barked arbutus trees, swaths of wildflowers and plenty of moss covered trees. Expect a fair amount of solitude.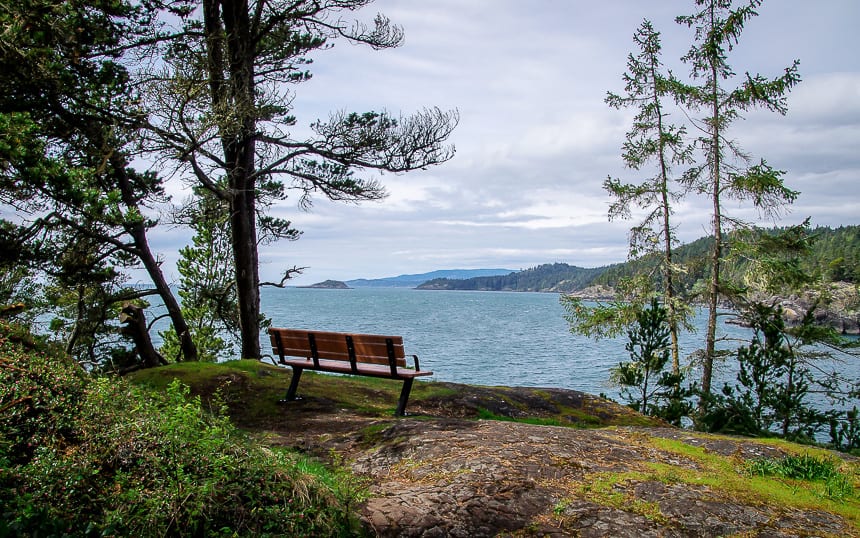 Hike or bike a section of the Galloping Goose Trail
The Galloping Goose Trail runs from downtown Victoria to Leechtown, north of Sooke Potholes Regional Park. It's a fabulous trail for biking and hiking.
Some parts of it are popular with the horsey crowd as well. Explore a section of it in the Sooke area or do what I did years ago and make a weekend of the trail. Start at the Swartz Bay ferry terminal on the Lochside Trail.
Pick up the Galloping Goose Trail in Victoria and cycle to Sooke. Overnight and retrace your steps the next day. All you need is a change of clothes and a credit card!
Read: Biking the Galloping Goose Trail from the Swartz Bay to Sooke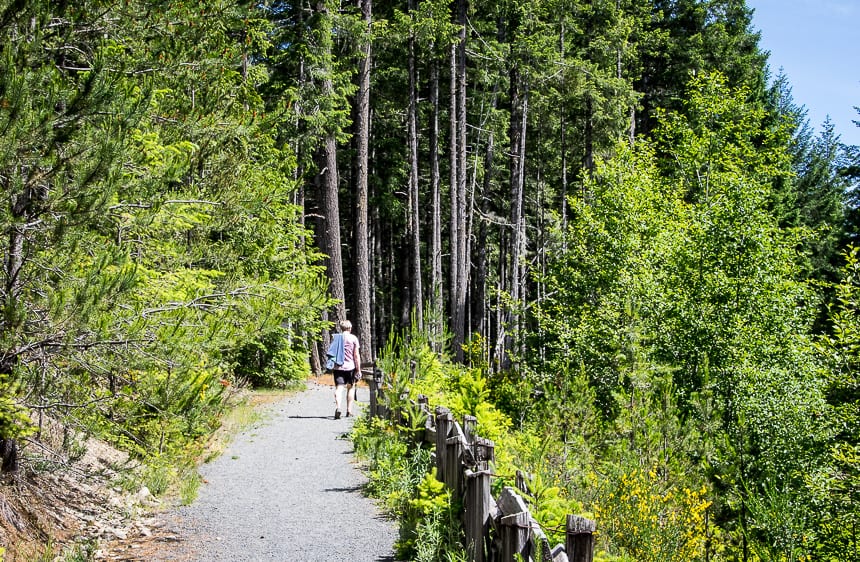 Visit Sooke Potholes Provincial Park
I'd seen photos of Sooke Potholes Provincial Park on Pinterest that sparked my interest in visiting. The potholes themselves are deep rock pools naturally carved into the bedrock.
To see the Sooke Potholes, walk the trails that run high above the canyon walls and stop at the overlooks. A lot of local people visit the park to swim in the crystal clear water and hang out with friends on the beach. You only need about an hour to wander around, but if it's a sizzling summer day take a picnic, a bathing suit and enjoy.
Head to Mystic Beach
Mystic Beach is only a 2 km hike from the China Beach Trailhead and about a 30-minute drive north of Sooke via Highway 14. It's a super popular place for families and young people who want to have fun and hang out on a beautiful beach.
You can also camp on it though you'll have to pay $10/night/person to do that. Take a picnic and make a day of it by the ocean. It's one of the prettiest beaches I've seen on Vancouver Island. And the hike getting to it is easy and includes a suspension bridge.
If you entertain thoughts about hiking the Juan de Fuca Trail that starts/ends near Mystic Beach read A 4 Day Hiking Trip on the Juan de Fuca Trail.
Visit Whiffen Spit Park
Just a few minutes' drive from downtown Sooke via Whiffen Spit Road is Whiffen Spit Park. It's an easy, beautiful walk to the end of the spit with the wild Juan de Fuca Strait on one side of the spit and the calm waters of the Sooke Basin on the other.
It's a great park to visit no matter what your age. Benches on the path beckon you to sit and enjoy the views.
Hike a section of the Juan de Fuca Trail
The Juan de Fuca Strait runs from Botanical Beach near Port Renfrew to China Beach with access points at Parkinson Creek and Sombrio Beach.
If you can arrange a car shuttle, do a one way section of the trail. Alternatively an out and back hike would work. The trail both north and south of Sombrio Beach would be a particularly good choice if you're short on time.
Read: Juan de Fuca Trail: What You Need to Know
You have to eat in Sooke
After all your adventures you're going to want to eat – and fortunately you're spoiled for choice in the Sooke area. About 25 minutes outside of Sooke I'd recommend a stop at Point-no-Point Resort for lunch or dinner. Closer to Sooke is Shirley Delicious, a perfect stop for great coffee and a light lunch.
In Sooke visit the Copper Room at the Sooke Harbour House for bistro inspired food. Or make reservations and enjoy a fine dining experience with views of their amazing gardens and the Juan de Fuca Strait.
The West Coast Grill at the Prestige Oceanfront Resort also serves delicious food; cue the memorable fresh wild salmon with barley risotto.
And if you have a giant appetite head to local favourite, Mom's Café, housed in a 60's style diner for delicious home cooking. Their soups are awesome! Save room for one of their gargantuan made-for-sharing slices of fresh-baked pie.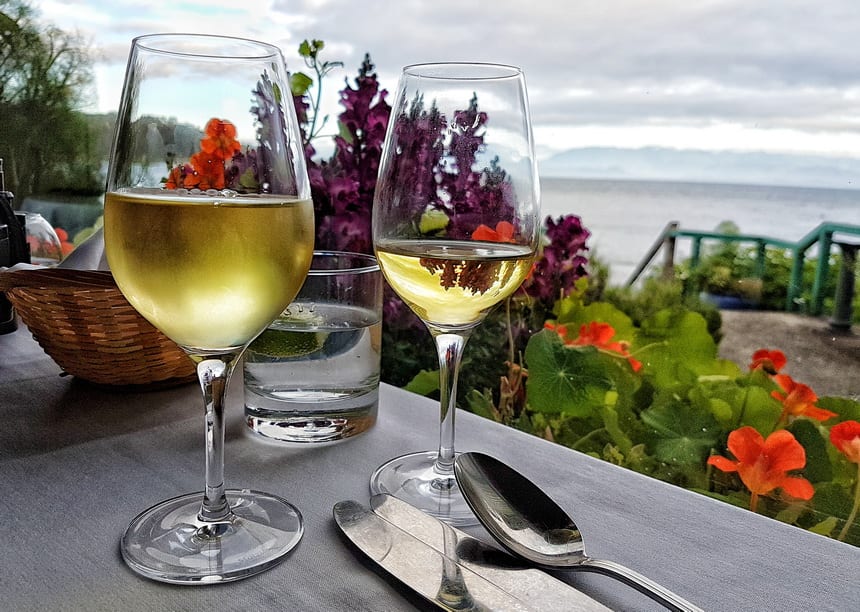 More choices in Sooke
There are plenty of other adventures you can organize in Sooke if you have more time. They include whale watching with Sooke Whale Watching and kayaking with Rush Adventures. For a small part of Vancouver Island, Sooke offers the visitor a veritable feast of outdoor adventures.
Places to stay in Sooke
This post includes some affiliate links. If you make a qualifying purchase through one of these links, I may receive a small percentage of the sale at no extra cost to you.
One of the most romantic places in Sooke – the Sooke Harbour House, is also tops overall in Canada. We splurged on one of my big birthdays and enjoyed a couple of nights here. They have beautiful gardens, nicely appointed rooms and great food. I highly recommend it.
For a mid-price option the Prestige Oceanfront Resort is also great – and I can vouch for delicious food in their restaurant. The Sooke Point Ocean Cottage Resort is called exceptional.
Location map of things to do and places to eat around Sooke
Click on the photo to bookmark to your Pinterest boards.
Thank you to Tourism Vancouver Island for help in making this trip possible.