If you think kayaking with icebergs sounds bucket list worthy, then head to Iceberg Alley, a section of coastline that stretches from Labrador, south along the northeast coast of the island of Newfoundland. Iceberg Alley is one of the top places in the world for viewing icebergs and Twillingate is one of the few towns in Newfoundland where it's easy to safely access a kayaking in Iceberg Alley experience. Prime iceberg viewing time in Twillingate is May, but icebergs can linger into July. Kayaking in Iceberg Alley is an exciting way to experience the icebergs.
Every year is different, depending on how many icebergs calved off the west coast of Greenland and how quickly they move. You can check the location of icebergs in advance of your trip by consulting IcebergFinder. Prime time for kayaking with icebergs is June and early July but that varies by year.
I had the pleasure of a half day trip where we kayaked with icebergs and circumnavigated a couple of islands from Twillingate.
This post includes some affiliate links. If you make a qualifying purchase through one of these links, I will receive a small percentage of the sale at no extra cost to you. Thank you very much for your support.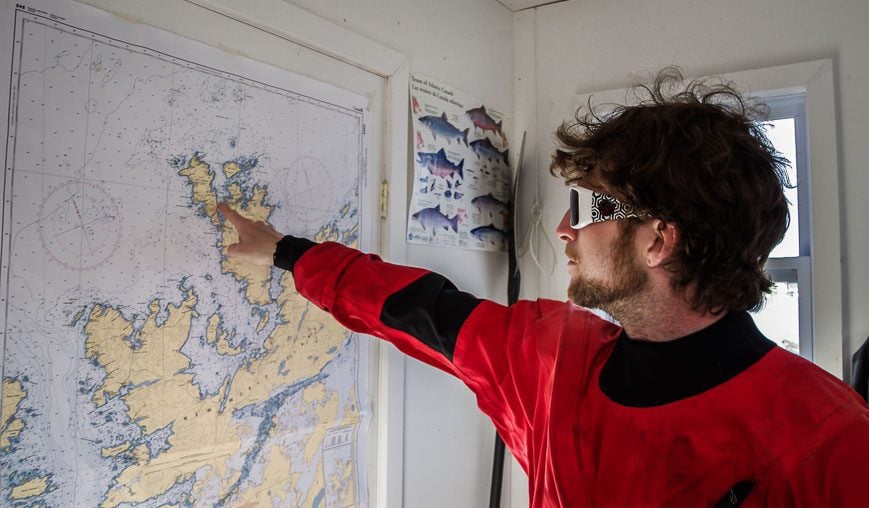 Looking at the route through Iceberg Alley
What Grant our local guide tells me before we head out is this:
"What is amazing about paddling with icebergs is the context it provides. Here you are – paddling with 15,000 ice behemoths, sculptures of the land, who themselves are gradually sculpted by the sea. It's hard not to feel small, insignificant and sometimes that is good and refreshing."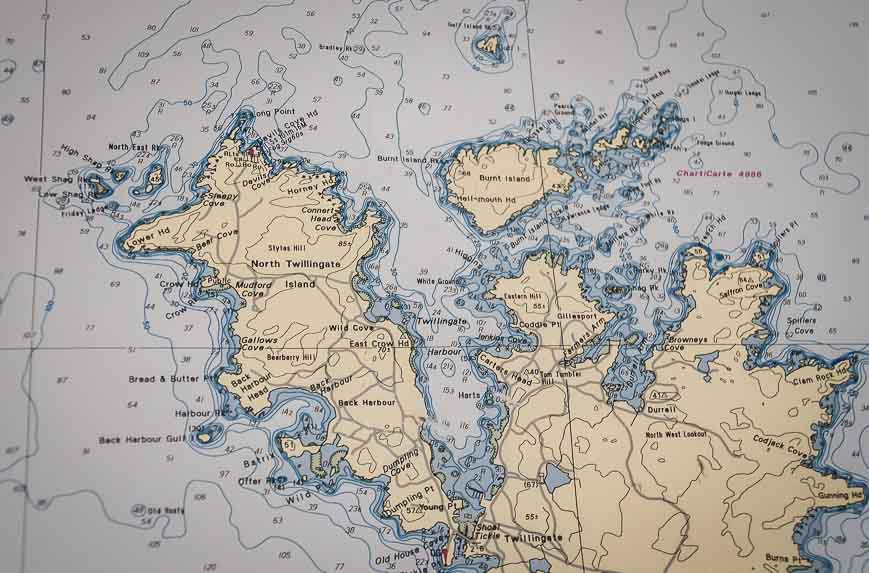 A perfect day for kayaking in Iceberg Alley
Winds were light, seas were calm and the sun was shining – a perfect day for Iceberg Alley kayaking. I was joined on this trip by my friend Judy. Both of us have loads of west coast of BC kayaking experience in all conditions, some of them gnarly (the polite description) and dangerous.
Interestingly, for the second time in 48 hours, as two middle aged women, our skill set was not so much called into question, as it wasn't initially considered. Oh the joys of getting older.
Grant the guide came around with time. Not only did he show us Twillingate's Long Point Lighthouse and numerous icebergs up close but we became his second group EVER to circumnavigate Burnt Island. And that was a real treat, and not the least bit difficult in our opinion.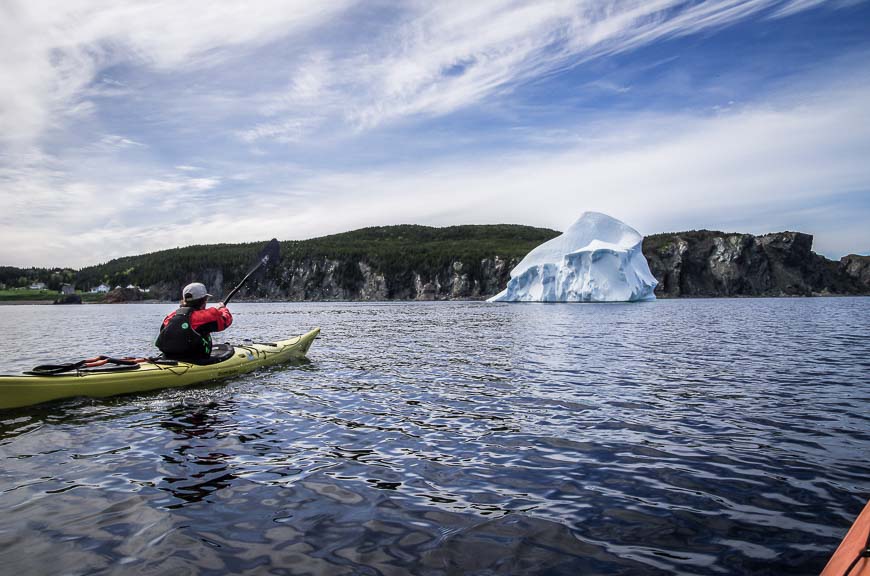 Magical paddling at eye level with icebergs
Icebergs are powerful and unpredictable. They're incredibly beautiful and each one looks very different. Icebergs can rollover on a dime, taking you with them if you get too close.
They can also calve without warning and send a wave that can flip you. But if you keep a respectable distance away – either twice the height or the length of the iceberg then you should be safe.
Kayaking around Burnt Island
Heading around Burnt Island was a real highlight for us. The island is deeply incised by long channels on the north side – with towering multi-coloured cliffs.
We kayaked down one L-shaped channel and entered a calm area surrounded by cliffs, a perfect place to go to contemplate the meaning of life.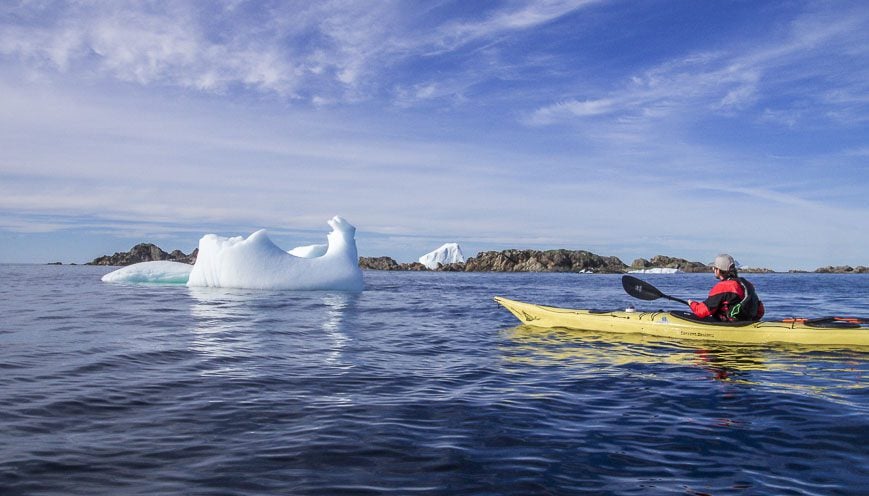 Once we made it to the backside of the island, the waters calmed considerably. There are beautiful beaches that would certainly beckon me to camp on if I lived nearby – for what could be better than a beach with an iceberg view?
From Burnt Island we headed back to Twillingate – a very attractive town from the water.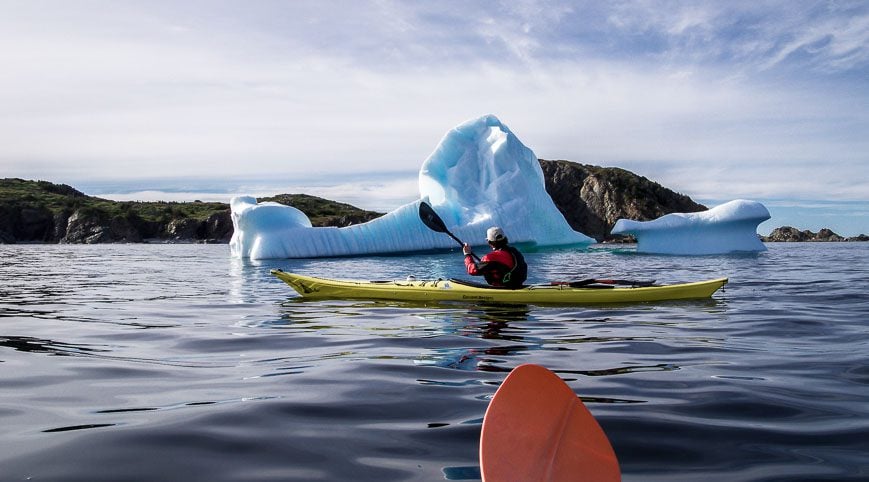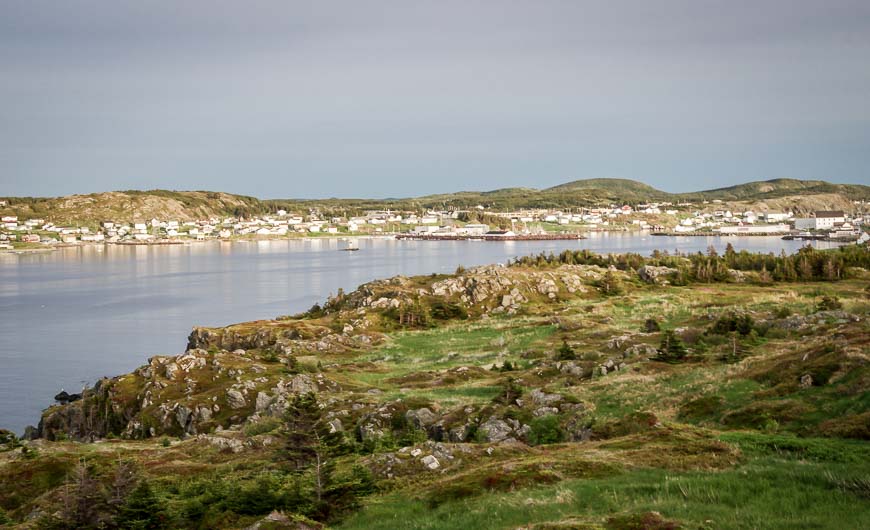 Eating in Twillingate
We didn't get off the water till about 7 PM and so we were both famished. Between three plus hours of kayaking and several hours of hiking we had burnt off some calories – a good thing because we ate them all back.
For dinner in Twillingate, head for Canvas Cove Bistro. We came as close to heaven as you can get with a lobster salad that was nothing but lobster and a partridgeberry crumble. It was one of the top two meals we ate in Newfoundland.
Where to stay in Twillingate

If you need a place to stay in Twillingate try Paradise Bed and Breakfast. Not only do you get friendly hosts, including Fred – one of the local hiking guides, but you get some of the best views of Twillingate. And in the morning Mildred serves to die for molasses buns with partridgeberry jam.

Other suggestions include The Old Salt Box – Gertie's Place on the beachfront. It's rated as fabulous.

Toulinguet Inn & Suites – with a seaview, is also rated fabulous. Some rooms have kitchenettes.

The Old Salt Box – Daisy's Place, located 8 km from Twillingate in Merritt's Harbour is also rated superb.
Kayaking when there aren't icebergs
Even if the icebergs have melted, the Twillingate area is a fun place to explore by kayak. No matter what the day, you can count on wearing a wetsuit but bring along a fleece jacket, raincoat, sunscreen and sun hat as well.
If you're just not that into kayaking, then head for the trails around Long Point Lighthouse. You could easily spend a solid day hiking kilometres worth of trails. Here's a teaser of a photo.
Twillingate was one of the highlights of my trip to Newfoundland. I really wish I had allowed for at least one more full day.
Further reading on things to do in Newfoundland
Click on the photo to bookmark to your Pinterest boards.
Thank you to Adventure Central Newfoundland for organizing part of this trip – and for helping to make it possible.