For rustic luxury, nature and privacy, there's nothing else like Logden Lodge declares Annelies Ellerman. She and her partner, Paul Hulshoff, have created a retreat in the Kootenay Mountains that is as close to perfection as you'll find in the boutique lodging category in western Canada.
Sitting on 42 acres of private forest and bordering backcountry wilderness, the lodge is the culmination of a life-long dream. Both Annelies and Paul have worked all over the world – often in "hotspots" like Iran and Sudan, with Annelies working as a diplomat on behalf of the Dutch government and Paul working with the United Nations. Both of them were ready for the "freedom and serenity of the outdoors."
What you get at Logden Lodge
The lodge does not offer the full service Four Seasons type of luxury lodging. Instead what you'll find is a place where you're surrounded by natural beauty outdoors while indoors you can enjoy all the comforts of home in an aesthetically pleasing environment – one that is loaded with paintings and one-off art pieces collected by Annelies and Paul on their travels.
And when they say privacy they mean it here. Each one of the four lodges sits well apart from the others so you have the sense that you're the only people in the forest. There is WiFi and a phone should you need to call, but you won't find a television.
Our Gold Cup Cabin at Logden Lodge
John and I visited the lodge – and our only complaint was that we didn't have two nights or even more so we could completely relax and hang out – because that's what you're going to want to do here. We stayed in the Gold Cup Cabin, built on the original road to a late 19th century Ymir gold mine.
During the building process they uncovered memorabilia from the era including an old handsaw, a bucket of nails and even well preserved whiskey cups.
Inside the woodsy 800 square foot lodge are hardwood floors and beautiful rustic wooden beams. The main floor offers a powder room, a kitchen with all the amenities so you can do your own cooking (there is no restaurant on site though food can be delivered if pre-arranged), an eating area and a living room with a wood stove.
The master bedroom, with its high thread count linens and a super comfortable mattress is also on the main floor. Upstairs you'll find a loft with a couple of beds (all cabins sleep four people comfortably) and a shower/bathtub combination.
Outside is a porch that beckons you to sit with a cup of coffee in the morning and a glass of wine in the evening. The lodge – with all its storage spaces feels much bigger than its 800 square feet.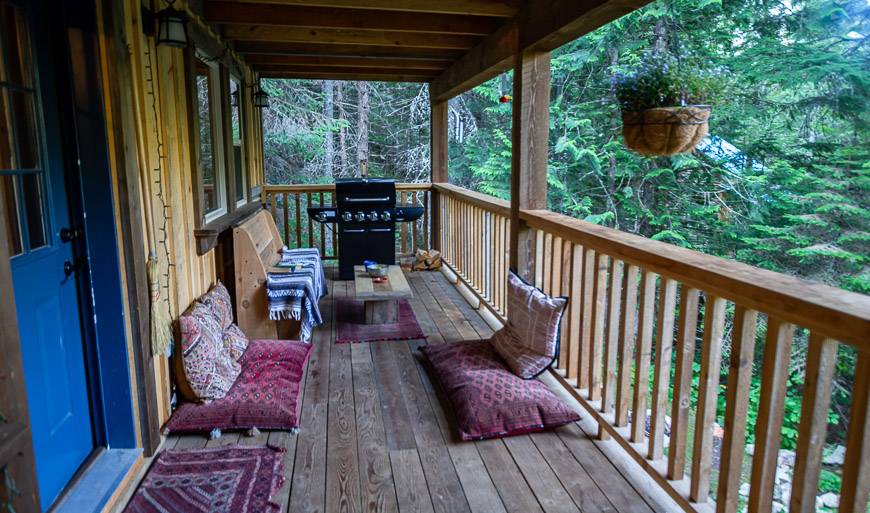 Going green
Logden Lodge is one of only 12 other lodges or hotels in Canada that have received the Green Tourism Gold label from Green Tourism Canada. To get the gold label rating they were reviewed on over 100 criteria related to energy, water, green management, waste, nature, culture and innovation. It's an award they're very proud of – and high praise for all the thought and effort that has gone into the building of the lodge.
Inside your cabin you'll find a full description of exactly what they've done and continue to do to achieve the gold designation. They're hoping eventually to generate their own hydro-electricity; as an example they already process their own septic waste.
Where is Logden Lodge located?
Logden Lodge is located just 25 km due south of Nelson via Highway 6. It's also the closest accommodation to Whitewater Ski Resort – a ski/snowboard destination famous not only for its mountains of powder but for their excellent must-have, mouthwatering Whitewater cookbooks.
Nearby is the hamlet of Ymir and the town of Salmo where you can stock up on a few things or grab a coffee at the Dragonfly Café – perhaps after you've done one of the nearby recommended hikes.
What can you do at Logden Lodge?
Logden Lodge is a great place to come and do nothing. But because it's close to Nelson you can do everything that city offers – which is plenty (culture, dining, outdoors adventures galore). Paul is also happy to give you directions to a couple of local hikes where you're not likely to run into anybody.
Or if you just want to watch the world go by, hike 10 minutes up from the cabin on a trail to a bluff with a couple of chairs and the view pictured below. Bring some wine and stay a while. The bugs are close to non-existent and the setting feels far removed from humanity.
You will be warmly welcomed by Annelies and Paul – and although they believe in all the green initiatives they aren't there to preach. They will let nature speak for itself. What they really want you to do is kick back, unwind and relax. Once you're here, you'll see just how easy it is to do just that.
For more information about the lodge visit their website.
Check rates and availability and book a stay at the lodge here.
Further reading on things to do in the Kootenays
Thank you Kootenay Rockies Tourism for sponsoring my stay. All thoughts as always are my own. And I really would love to go back – no matter what time of year.
Click on the photo to bookmark to your Pinterest boards.