Plan to visit Camp Denali near the end of the only road in Denali National Park if you're looking for an uncommon wilderness experience that blends the magic of the park, with a stay in a wilderness camp unlike any other.
While it's hard and time consuming to get to Camp Denali, it's well worth the effort. It is here that you can marvel at Denali itself while lying in bed; where you can taste blueberries right from the bush; and where you might run into a lone caribou while riding a bike like I did.
Come mid-August perhaps Lady Luck will be on your side and you'll catch the dance of the Northern Lights.
To understand why its so hard to get to Camp Denali read Driving Alaska's Stunning Denali Park Road. Note that because of a major road issue, that as of 2022 you have to fly into Camp Denali but in a few years once the road is repaired, perhaps you'll be driving in again.
Staying at Camp Denali
To be clear, your stay will not be luxurious. There is no running water or thermostat in your cozy cabin. You won't find a shower, toilet or an electrical outlet. But what you will experience will make up for the lack of so-called civilized amenities.
Camp Denali cabin
The cabin itself is cozy and welcoming with a comfortable bed made up with a handmade quilt and a fireplace that will have you opening doors to cool it down in short order. It's also got all the fire making materials so that even those of you that can't regularly keep a fire going will be successful.
In addition there is a small desk, propane lanterns, a sink and a faucet just outside the front door, a hotplate, a kettle and freshly ground coffee so you can start the day off right. The spotlessly clean private outhouse (with a view of Denali out the window) is but a short walk out your cabin door.
You'll get a better understanding of what the cabins are like by watching this video.
Other amenities you'll find at the lodge at Camp Denali
The people at Camp Denali also appreciate that everyone still likes a hot shower and a cold drink so trust me – despite the simplicity of your cabin, you will not be left wanting.
A short walk up the road from all the cabins is a larger building with separate men's and women's showers (again spotlessly clean), sinks, flush toilets and a drying room. Your boots are going to get wet so its great to be able to dry them out. There's also a small gift shop with all the items you might have forgotten along with a great selection of books to purchase.
Check out the living room too. Pull up a chair and enjoy a good book with a view. Peruse items of history related to the camp – things like animal skulls, rocks and other cool things natural history buffs will love.
Need to charge your camera batteries and phones? Do it here though you won't find a cell signal. Outside this building you can pick up PFD's should you want to canoe on nearby Wonder Lake, hiking poles (so don't bother bringing your own) and gaiters.
The food is reason enough to visit
At Camp Denali everything is homemade, as local as humanly possible and mostly organic. Many of the vegetables and edible flowers used to decorate salads and desserts come from their greenhouse located beside their sister property – The North Face Lodge.
Bread is baked fresh daily. The make your own lunch spread is the best I've seen at any lodge. It includes homemade bread, a pesto of sorts whether it be arugula or beet as examples, sliced meats, cheeses, roasted vegetables, lettuce, tomatoes and condiments. And of course there are homemade treats like fresh cookies or brownies along with fresh fruit. And that is just lunch.
Breakfast and dinner are equally good. They cater to everyone – somehow. Gluten free – no problem. The same goes for lactose, vegetarian and vegan.
What Camp Denali doesn't have is wine so bring your own. (There is no corkage fee.) I didn't have time to buy any so a big thank you to Allan and Maggie for keeping my glass filled. I did learn on leaving however that they have an emergency supply – so ask if you've forgotten.
At Camp Denali you are assigned seating – which as a solo traveler is a blessing. You also introduce yourself on the first night and are made to feel incredibly welcome. This backcountry lodge in the middle of nowhere is hands down the best place I have ever stayed in for making me feel like I'm part of a community in really short order.
If you've ventured here, chances are you've come for more than the cabin, food and friendly atmosphere they foster. Everyday there are three levels of hikes offered, some nearby and some up to a 90 minute drive away.
If you prefer to do your own thing – whether that's hiking, canoeing or just hanging out with a good book, that's okay. But I kept busy, hiking on two of the days with the strenuous group and on the rainy day I mountain biked on one of their impeccably-serviced bikes.
Day 1 – Hiking the ridge behind Camp Denali
With Denali in full view and a planned hike to the ridge, I knew it was going to be a great day. But what I didn't appreciate before starting out was how much I was going to learn from our naturalist guide, Drew.
I do a lot of hiking but rarely in the company of a guide. And while I stop to look at wildflowers and birds, it's not often that I get the backstory to what I've just seen. The guides here are definitely a value-add proposition.
The hike was particularly interesting because we were in a land of permafrost. Right off the bat we learned the difference between black spruce (usually seen in clumps) and white spruce.
We stopped to talk about dwarf birch with its edible leaves. We learned the same goes for wild rhubarb, at least before it goes to flower and the fact it's an important food source for the people of northern Alaska. Its leaves can be packed in oil and used as a salad dressing.
If we'd had a match we would have lit the Lycopdium flower and watched while it sparkled. And we discovered a fungi called bleeding Mycena that bleeds dark red when cut.
We listened to Boreal chickadees – "the Kathleen Turner of chickadees" according to Drew as they flitted by in close view. He taught us the saying "Alice Algae met Freddie Fungus and took a lichen to each other" so we'd never forget what lichen is made of.
And that's just a sampling of what we learned!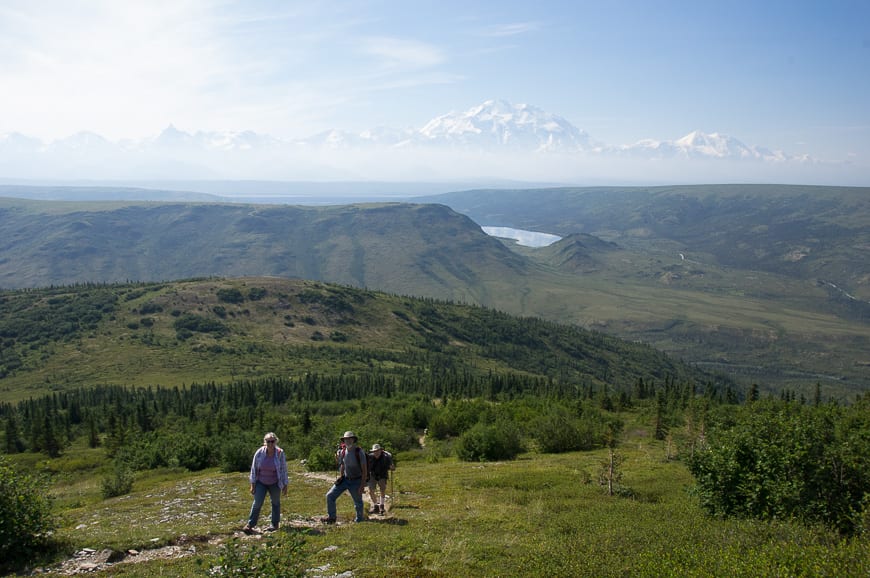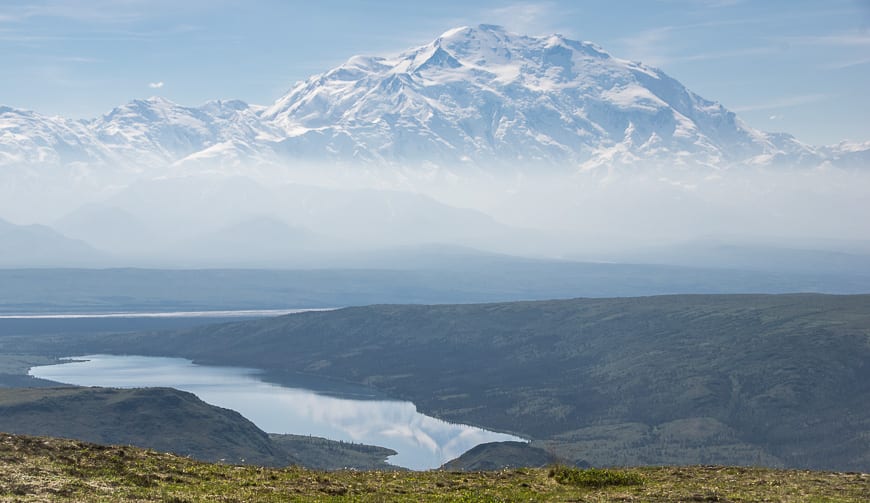 Day 2 – Solo biking 30 miles through the Denali wilderness
On my second full day Denali disappeared and on-again, off-again rain showers were the order of the day. Somehow walking through wet tundra didn't sound overly appealing to me but I did like the sound of a bike ride.
A bike was thrown into the back of a van and about 90 minutes later I was dumped – in a manner of speaking – by myself many miles east of the Eielson Visitor Centre.
There was something rather exhilarating despite the weather about being out alone in the Alaska wilderness. Granted there was the odd school bus that passed me – at least until I reached the visitor centre and then after that it was the rare vehicle that passed.
That was all fine by me until I thought a giant boulder in one of the tarns was a grizzly. Once I figured it wasn't I relaxed a bit, knowing I could reach my bear spray in short order. Apart from numerous birds, the only wild animal of note I saw was a caribou. While I went looking for my good camera, the lone caribou departed as fast as it appeared. Still, it was a thrill.
By the time I returned, I was coated in mud from top to bottom but I felt rather pleased with myself. I'd recommend getting out on a bike to every visitor, even if it's just a short out and back ride to Wonder Lake. There's something about having all your senses engaged while on a bike – and so much more participatory than sitting in a bus!
Day 3 at Camp Denali – A soggy tundra hike with a view
On our last full day at Camp Denali, I elected to do the strenuous hike that started in an area about a 15 minute drive west of the Eielson Visitor Centre. You make your own trails here – and at times it can be tough going, especially in dense shrubbery like we had at the start and on soggy, spongy tundra where it's easy to lose your balance.
The stiff hike up to the ridge entailed all of the above along with a couple of wet river crossings. The reward – grand wilderness views and a sighting of couple of short-tailed weasels fighting and rolling down a hill.
While tough walking this is fabulous country for all the bird life, the possibility of large animal sightings, wildflowers and blueberries galore.
What I missed on my visit to Camp Denali
While I had four nights and three days in Camp Denali, I didn't feel like I'd done everything I wanted to do. I missed out on a paddle on Wonder Lake. I never made it to the former mining town of Kantishna and didn't even poke my nose in the greenhouse.
But I did enjoy all the excursions, the evening talks by noted fungi expert, Dr. Philippe Amstislavski (most four night stays feature speakers on a wide range of topics) some quiet, contemplative time in my cabin and the companionship of new friends.
A big thank you to the folks at Camp Denali for hosting my stay. It exceeded all expectations, especially since I was traveling solo. All opinions are truly my own and if you want to visit Denali National Park I highly recommend this experience.
For more information and to book visit their website.
Camp Denali location map
Further reading on other cool backcountry lodges worth visiting
Click on the photo to bookmark to your Pinterest board.