A winter visit to Elmhirst's Resort on Rice Lake is a great way to beat the winter blahs. The resort offers a full menu of winter activities to keep everyone happy and as busy as they'd like to be. For anyone living in the Toronto – Ottawa corridor Elmhirst's Resort is very accessible – under two hours from Toronto and just over three hours from Ottawa. For me coming from Calgary it was a snap to catch a shuttle from the Toronto airport and be delivered on their doorstep.
This post includes some affiliate links. If you make a qualifying purchase through one of these links, I may receive a small percentage of the sale at no extra cost to you. Thank you very much for your support.
Elmhirst's Resort is a third generation family business. Greg and Steve Elmhirst (and their families) are well known in the community, especially with their commitment to both buy and hire locally. In the summer they employ upwards of 65 people to run the resort.
Visit their website here for detailed information.
I stayed overnight once before as part of a three day bike ride in the Peterborough area. It was June so the focus was on Rice Lake and of course the food and wine as we arrived after biking 90 km. I didn't appreciate the extent of what is offered at the resort until I visited in winter.
What you can do at Elmhirst's Resort in winter
There are the usual suspects in the winter – snowshoeing, cross-country skiing and hiking on an array of trails crisscrossing the property. If the snow is melting as it was on my February visit, snowshoeing in the trees where the snow stays longer or hiking are your best options. You can spend the better part of a day exploring.
There's plenty to see on the property too – including a chicken coop filled with Rhode Island reds (and the source of about 18 eggs a day), a duck pond that in season hosts 25 ducks at a time, and a field that is home to a herd of black Angus cows. There is also a barn where the Clydesdale's are kept. In summer, horseback riding is an option.
Interestingly Elmhirst's Resort is able to offer their own home-grown beef, duck, vegetables and honey on the menu as well as vegetables in season.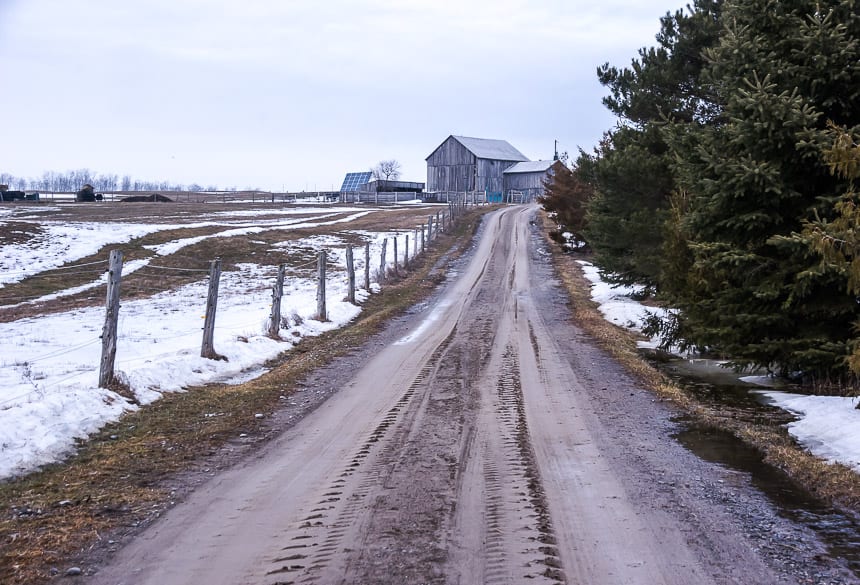 Go kiteboarding at Elmhirst's Resort
Steve Elmhirst is a certified kiteboarding instructor and a very patient and encouraging man. On my last morning at Elmhirst's Resort, the wind was blowing hard enough that my kiteboarding lesson was a go. It was the sort of day that didn't look good for more than drinking coffee, reading and sitting by a fire. It had thundered and poured rain an hour earlier. Still, Steve called the conditions on Rice Lake close to perfect.
I started off learning how to fly and control the kite while wearing boots with icers so I had some grip on the lake. I practiced for perhaps half an hour with Steve holding onto my jacket at times so I didn't take off. I was a little concerned at how I'd manage the switch to skis.
Fear not – at least if you know how to ski already. Within minutes of grabbing the kite on skis all I wanted to go much faster and further.
I can see how this sport hooks you in – and the outlay is fairly insignificant. Go to garage sales to find old beater boots and straight edged skis. Buy a kite, about $150 if I remember correctly and that's it. An ATV might come in handy so someone can follow you – should you end up 10 kilometres down the lake when the wind dies.
Steve offers a kiteboarding weekend on skis on the third weekend in January every year and private lessons for $80 an hour. They'd be worth every penny.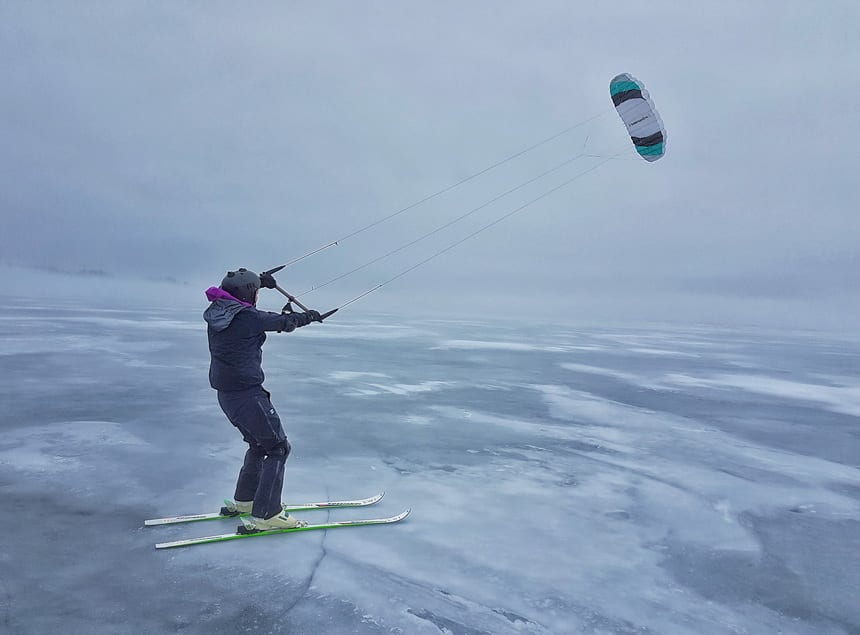 Check out the kiteboarding video taken at Elmirst's Resort
Try some ice fishing
Ice fishing on Rice Lake (famous for bass fishing) seems pretty meditative after kiteboarding but it's still a fun way to hang out with your buddies.
Jordan Norrad, an angler and instructor was most helpful when it came to drilling holes, putting live bait on hooks and adding some homegrown concoction into the water to bring in the fish (even though I only had one bite in an hour). His knowledge about the area and fishing in general was encyclopedic and very impressive – in an unassuming way.
Relax at the onsite spa
On the first morning of my visit when the weather was less than pleasant, I enjoyed one hour of pure bliss in the spa. My feet were turned into a thing of beauty – or as close as is possible.
It made be wonder why I didn't become a spa blogger, a way more relaxing way of spending time than the outdoor and adventure focus I've got going on. Elmhirst's Resort provides an array of services at reasonable prices and all the pedicures come with a view out towards the pool and gardens.
A range of accommodation options at the resort
At Elmhirst's Resort you have the option of 30 cottages with a one to five bedroom configuration. Most are stand alone with many of them enjoying a significant amount of space between cabins.
Last year one of the cabins had a fire so a new one – pictured below – was built. It's wheelchair friendly and by summer the dock outside will also be designed for people with disabilities. All the others are a tad more rustic but very comfortable. They come with a fireplace, deck and a gas BBQ, a fridge and stove and a flat screen TV. Each has its own dock in summer.
Memorable food and wine at Elmhirst's Resort
There are two restaurants at the resort – a dining room with a superb view of Rice Lake and a less formal pub filled with a lot of flying and plane memorabilia. Both offer excellent food with much of it local – as in just up the road from the cottage type of local.
There's also an underground wine cellar and wine tastings are available to the public. It's a fun experience – and it feels like you're entering another world when you slip into the cellar. Many of the wines are from Prince Edward County and the Niagara area.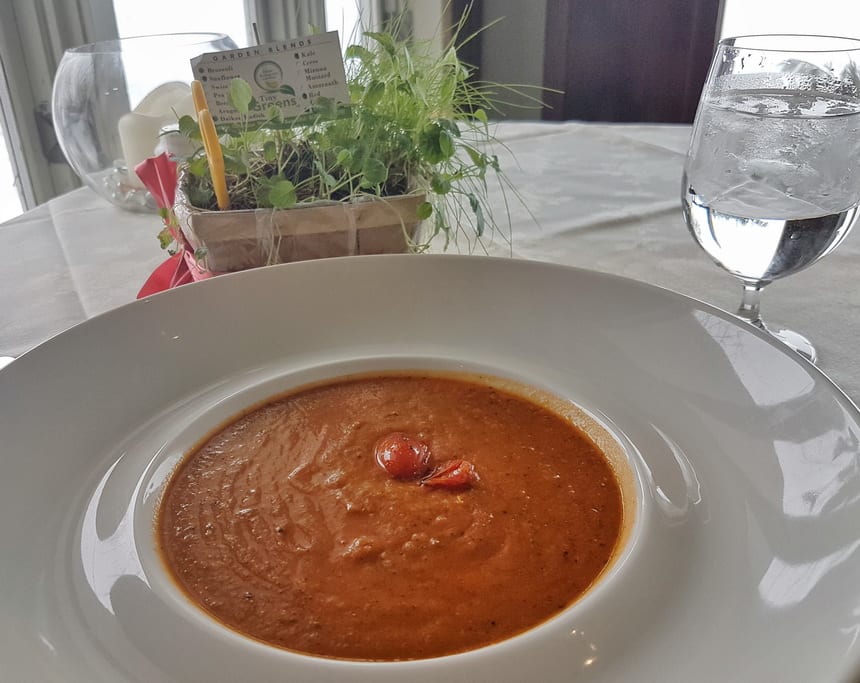 Book a stay at Elmhirst's Resort
If you need a getaway to recharge – at any time of the year, you would do well to choose Elmhirsts Resort. It's a great place for both couples and families.
Check availability and pricing and then book a night through Booking. In summer they are really well set up with their location on Rice Lake.
Location map of the resort
Further reading on things to do in Ontario
Click on the photo to bookmark to your Pinterest boards.
A huge thank you to Peterborough and the Kawarthas, Kawarthas Northumberland and Ontario Tourism for hosting my visit. My opinions as always are my own. Thank you for getting me out kiteboarding.