48 Hours in Key West, Florida
Driving into Key West didn't mix with my preconceptions of loud floral shirts, Cuban cigars and Hemingway. Instead we were treated to traffic jams, roosters and cats – and the odd view of turquoise blue water and tiny islands making up the Florida Keys.
We had only planned on 48 hours in Key West, Florida. Here's what we did that allowed us to feel like we'd made the most of our time without feeling like we were rushing from activity to activity.
First lesson – ditch the car and don't plan to use it again until you leave Key West. The old town is immensely walkable and if that doesn't appeal, then rent a bike or take a taxi. Bikes are an especially great way to get around.
Bring ear plugs, as the roosters start crowing early – as in 1:30 AM early one day. A lint brush wouldn't hurt either if you have a fondness for cats – as they're everywhere. Hemingway's house alone is still home to about three dozen of them – all named after famous people.
Booking Hotels in Key West
If it's high season, book your accommodation well ahead of time. We stayed at the Gardens Hotel – a lush oasis within walking distance of all the sights. Mentioned in 1000 Places to See Before You Die, it was pleasant but not peaceful. The building directly across from our room was being torn down so the noise level beginning at 7 AM was most unwelcome. Hopefully that doesn't last much longer.
We didn't spend a lot of time in our room – opting to explore as much of Key West in the limited time we had. Although it's got a reputation as a party town, that's not what we'd come for.
On the first day it rained off and on so we decided to make that our museum and exploring day.
Don't miss the tour of Ernest Hemingway's Home and Museum. I have been intrigued by the man since reading The Paris Wife last year. Our guide brought him to life. Not only did we learn of Hemingway's writing schedule – 700 words per day starting first thing in the morning, but we learned the stories behind the urinal disguised as a water fountain and the fights with wife #2 related to the building of the $20,000 pool.
Close to Hemingway's house is the Six Toed Cat Cafe. (Many of the cats living at Hemingway's home have six toes; most cats have five.) It is here we had our first piece of Key Lime pie on the trip. Watch out. It's rich and one piece is plenty for two people.
Nearby is the Key West Butterfly and Nature Conservancy. On a rainy day, it's a particularly good place to visit. Filled with people, I didn't see a single soul without a big smile on their face, all happy to see so many butterflies and birds in one place.
From there we wandered the back streets and discovered the real charm of Key West. Tiny, beautiful homes in a rainbow of colours, often festooned with gardens and planters make up the majority of the buildings in the old town. We wandered down to the pier, checked out the southernmost point in the continental US and eventually landed at the Little White House where Truman vacationed and worked.
We hadn't planned to visit The Little White House but I am so glad we did. Years ago I'd read Truman by David McCullough so this President became far more real when I could see where he lived and worked. Boasting a modest interior by today's standards, it cannot be photographed but life inside the house came alive with the stories told by yet another superb guide.
You can easily spend a couple of days walking, visiting museums and taking long lunches.
Key West is equally well known for its water adventures.
In a previous blog, Discovering the Florida Keys by Kayak, I recommended a half day kayaking trip – ideal for families and anyone looking for some soft adventure.
And equally fun is a wine and cheese sunset cruise. We enjoyed a late afternoon/early evening with Danger Charters. There are several companies offering similar tours but the concierge at the Gardens Hotel suggested we go with this company – as they don't overload the boat. I couldn't believe how many people were crammed on some boats (see photo below).
That's what we were able to comfortably do in Key West in 48 hours. Of course there are more tours you can do, there's shopping which we did none of and we didn't ride a bike. I wish we'd had time to do the gravestone tour – as I would have liked to see the gravestone with this epitaph – written in Spanish that translates as – At least I know where you're sleeping tonight.
Key West is loaded with restaurants. What I particular liked was their location – often within a neighbourhood and well off the main street.
It was a great trip, but if I were to do it over again I would opt to fly to Key West to avoid the traffic.
Click on the photo to pin to your Pinterest board.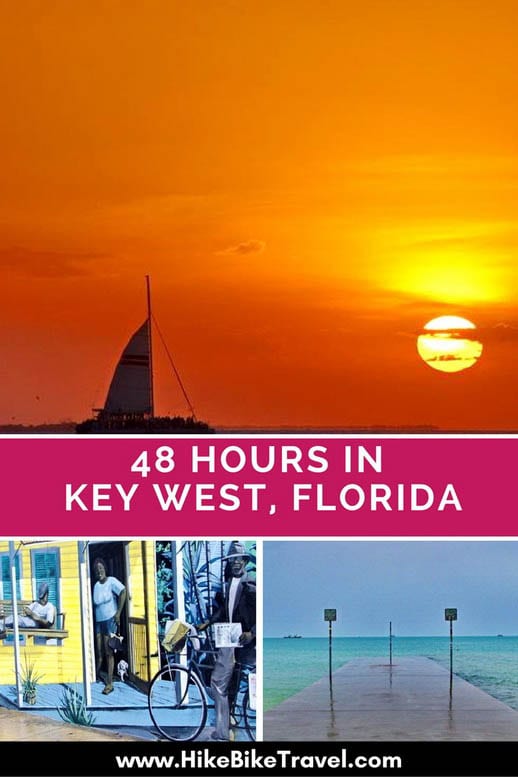 Thank you to Florida Keys Tourism for providing complimentary passes to museums and tours.
Leigh McAdam
Author of Discover Canada: 100 Inspiring Outdoor Adventures
Co-author of 125 Nature Hot Spots in Alberta
HikeBikeTravel
Follow me on Facebook, Twitter, Instagram and Pinterest