The small town of Grand Lake, Colorado – population 471 or thereabouts – sits on the shores of Grand Lake at an elevation of 8,369 feet. It's the gateway community to the west side of Rocky Mountain National Park and as such has all the services you need. Grand Lake, Colorado is also a destination in itself. In summer the lake – the largest natural body of water in Colorado, becomes a recreational playground. In winter snowshoeing, cross-country skiing, and snowmobiling are popular.
I visited Grand Lake, Colorado at the invitation of the Grand County tourism board. I came specifically to cross-country ski and snowshoe. With its proximity to Rocky Mountain National Park and US Forest Service lands, I discovered that there's a tremendous amount of country to explore – and two days on snowshoes and skis barely scratches the surface of what's out there.
Summary of things to do in Grand Lake, Colorado in winter
Grand Lake, Colorado is the western access point into Rocky Mountain National Park.
The town is called the snowmobiling capital of Colorado. It gets almost 11 feet of snow per year.
Grand Lake is not in Winter Park but it's only a 45-minute drive between the two towns.
Visit Grand Lake in winter to enjoy a host of activities including cross-country skiing, snowshoeing, winter hikes, downhill skiing, snowmobiling, ice fishing, and wildlife viewing.
The town of Grand Lake is very much open in winter. If you're on a snowmobile, you can drive down the streets and park in front of restaurants.
Grand Lake does freeze over – and this is where you can go ice-fishing in winter. Contact Rocky Mountain Outfitters.
Be avalanche aware when you are traveling the trails – on skis, snowshoes or via snowmobile. Check the Colorado Avalanche Information Centre before you go.
If you want to go snowshoeing in Rocky Mountain National Park, it's smart to first talk to the rangers to learn out about trail conditions, avalanche danger, and any wildlife sightings – especially as this is moose country. It will also give you an opportunity to pick up a map and learn the location of more snowshoeing and cross-country ski trails.
Cross-country skiing is very good at the Grand Lake Nordic Centre on 35 km of trails.
Go downhill skiing at Winter Park Resort or the family-friendly Granby Ranch Resort.
There are a couple of snowmobiling companies in Grand Lake that rent snowmobiles and offer tours.
Go cross-country skiing at the Grand Lake Nordic Centre
Both skate and classic cross-country skiers will love the 35 km of groomed trails at the Grand Lake Nordic Centre. The trails cater to all abilities with some easy sections set aside for those with dogs.
Spend a day skiing loops off Randall's Romp with some trails offering views of the Never Summer Mountain Range. Ski across the Colorado River before its gained any size and enjoy the beauty and peace as you ski through groves of aspen and pine. A lucky few might see a moose on the trail.
Rent skis for $16/day, $13 per half day. Trail passes are $25 for a full day. Snowshoers are welcome but will need a $15 ticket to use the facilities. There's also a great tubing hill that doesn't cost a penny. Onsite there's a store and the Sly Fox Dining Room. The Nordic centre is about a 10-minute drive outside of Grand Lake.
Snowshoe in Rocky Mountain National Park just outside of Grand Lake
There are so many options when it comes to snowshoeing in Rocky Mountain National Park. If you stick to the East Inlet Trail near Grand Lake, Colorado there are no fees. Otherwise you'll have to pay $25 per vehicle for the day, good for a week, or $15 for a walk-in, also good for a week.
There are numerous trails that are perfect for snowshoeing in the Kawuneeche Valle. Trails to try include the hike to the Holzwarth Historic Site and the Green Mountain Trail to Big Meadows. The park also offers ranger-led snowshoeing expeditions – see below for my experience.
I spent a day snowshoeing and explored three different snowshoe trails. I came away wishing I had several more days so I could do the trails in their entirety.
Snowshoeing the East Inlet Trail
The East Inlet Trail can be a long hike in summer if you do the full 9.5 miles one way to Boulder-Grand Pass. In winter, you can still take advantage of the trail but most people don't go past the lookout, three miles from the trailhead. If you continue to Lone Pine Lake, you should be avalanche aware and carry the right equipment.
I started with the easy o.3 mile one way snowshoe to Adams Falls, with the trailhead just a few miles outside of Grand Lake. The falls themselves were frozen and underwhelming when I visited but the trail through a landscape of open lodgepole pine forest was stunning.
Continue past the falls on a snowshoe trail that follows the river to a large meadow with terrific views. From there the trail steepens as it continues to an overlook. Unfortunately I didn't have time when I visited.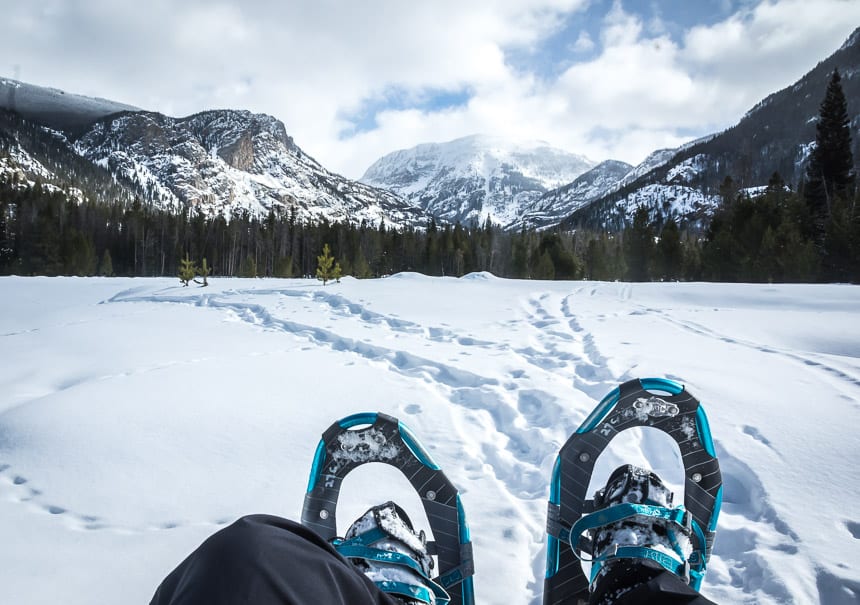 Go on a ranger led backcountry snowshoe tour
At 1 PM on Sundays, intermediate level snowshoers can meet at the Kewuneeche Visitor Centre in Rocky Mountain National Park from January 1 – March 5 for a free park ranger lead backcountry snowshoeing tour. If you're a beginner level snowshoer sign up in advance and meet on Saturdays at 1 PM for a mostly flat hike. Reservations are required by calling 970-627-3471.
Our group drove north on Trail Ridge Road and stopped in the vicinity of Timber Lake on a big pullout. A couple of volunteers had scouted out the route we took a few days beforehand. Over the two hour trip (which includes driving time to the trailhead) we climbed about 700 feet through another beautiful forest of aspen and lodgepole pine with some views of the Never Summer Mountain range.
Along the way as we paused to catch our breath – as we were at above 9,000 feet – the ranger, Barb King, pulled out flash cards with nature oriented questions. For example – what colour should you wear to repel mosquitoes? Orange is the correct answer – and news to me.
It was a great way to get participation and there was a prize – the know-it-all award. The best part about this snowshoe tour, apart from learning some unusual facts, was the fun of running down the mountain on snowshoes through deep powder. The tour is definitely worth signing up for.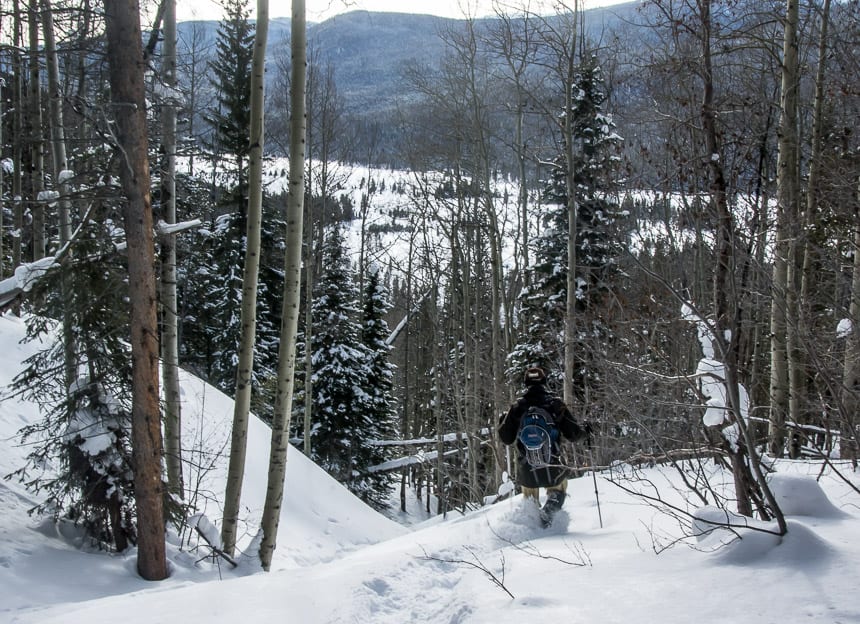 Snowshoe the Tonahutu Spur Trail
My third snowshoe trip of the day started at the Kawuneeche Visitor Centre. I headed off on the short but beautiful Tonahutu Spur Trail. In the late afternoon sunshine, the trees almost glowed orange.
This spur trail hooks up with the North Inlet Trail (3.4 miles long) and the Tonahutu Creek Trail (3.3 miles long). From the Tonahutu Creek Trail there are even more options including a 7.6 mile loop so you can really have a full day of snowshoeing right from the Visitor Centre.
Where to rent snowshoes in Grand Lake
You can rent snowshoes (and any other kind of outdoor equipment) at Never Summer Mountain Products in Grand Lake, Colorado. The Grand Lake Nordic Centre also rents snowshoes but only for use on their trails.
Go downhill skiing or boarding
Grand Lake is an easy drive to Winter Park Resort and Granby Ranch Resort.
The family-friendly Granby Ranch Resort is small but ideal for beginners. It is a 30 minute drive south of Grand Lake.
Winter Park Resort is about a 45-minute drive from Grand Lake. It's Colorado's oldest continually operated ski resort with over 3,000 acres of skiable terrain. I have always loved the blue-black hills here and the moguls Mary Jane is so famous for. If you catch the groomers first thing in the morning, you'll enjoy plenty of sweet turns. It's an easy place to visit either coming or going to the Denver Airport.
Snowmobiling in the Grand Lake area
Although I am not a snowmobiler I can see the appeal of the region from a snowmobiler's perspective.
Right from the town of Grand Lake, Colorado you can head out on 150 miles of groomed trails. Add another 700 miles of trails in Grand County and you could be exploring a new trail every weekend of the winter. The town itself is very supportive of snowmobiling – to the extent roads are left snow-packed so people can drive to shops, bars and restaurants on their snowmobiles.
There are a couple of local companies that rent snowmobiles and offer guided tours.
Grand Adventures offers several locations for snowmobiling including Grand Lake. You can rent snowmobiles or do a guided tour.
On the Trail Rentals offers snowmobile and Side by Side Rentals on 130 miles of groomed trails in the Arapahoe National Forest. Guided tours are also offered from late November into the first week of April.
What else can you do in Grand Lake?
The one main street in Grand Lake Colorado is loaded with cute shops and restaurants. Hours may be limited in winter but most were open over the weekend.
I'd recommend the Sagebrush BBQ and Grill for lunch and dinner and the Blue Water Bakery for awesome lattes and baked goods.
Visit Point Park
Where the ice is thick enough, you can certainly enjoy a walk on Grand Lake itself. And don't miss a visit to Point Park for the views down the lake.
In the summer it would be a lovely place to come and picnic. But even in winter the birds are out on the open water and when it's warm enough to comfortably sit in the sun, it would be a great place to just hang out and take in the beauty of the area.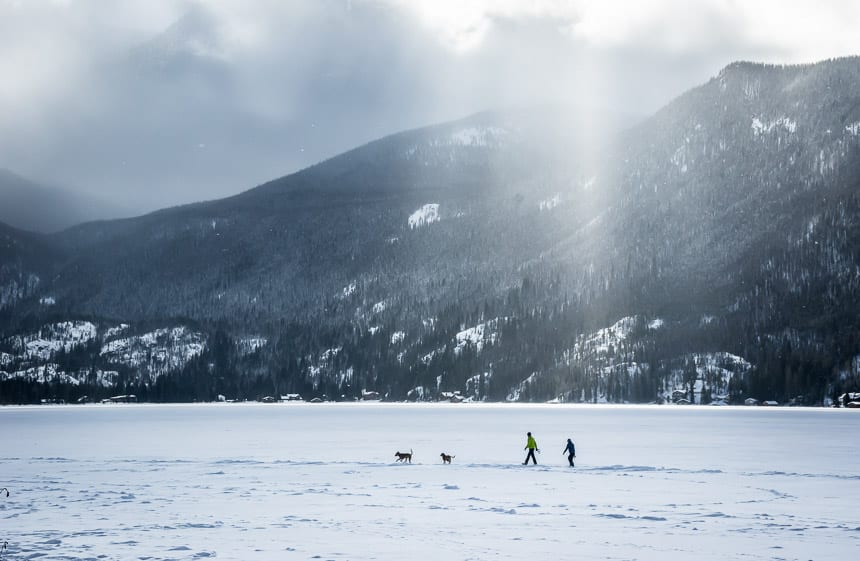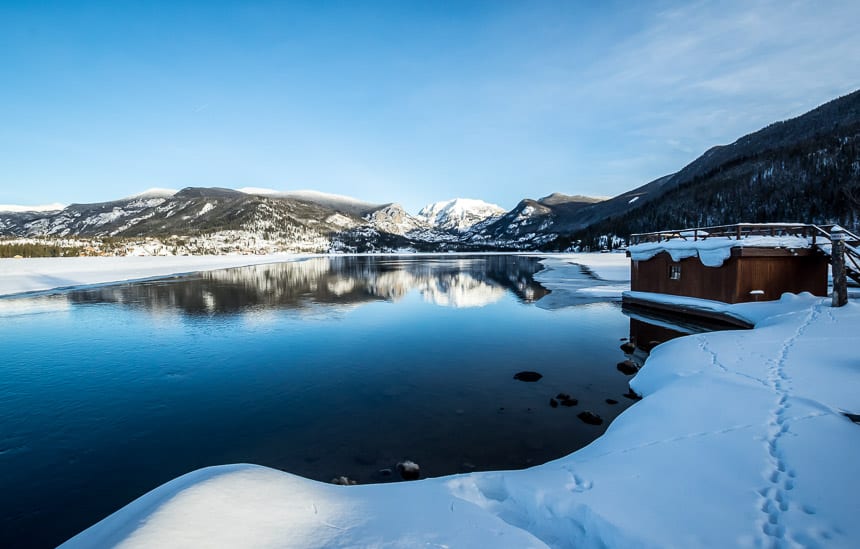 Where is Grand Lake, Colorado?
Grand Lake Colorado is a 2.5 hour drive from the Denver airport via Berthoud Pass. it's 46 miles north of Berthoud Pass via Highway 40 and 34.
If you live in the Boulder – Denver corridor you could certainly visit over a long day trip but there's enough to do outdoors in the winter that it's well worth making it into a weekend getaway.
You can email a copy of the map by clicking on the three dots in the top right hand corner.
Where to stay in Grand Lake
This post includes some affiliate links. If you make a qualifying purchase through one of these links, I may receive a small percentage of the sale at no extra cost to you. Thank you for your support.
There are lots of private cabins and holiday homes for rent in Grand Lake Colorado if that's what you're after. But for something in town check out the very well rated Grand View Mountain Lodge.
The Gateway Inn and Conference Centre has a more upscale feel to it. The Western Riviera Lakeside Lodging, where I stayed, it just off the main street with a view of the lake. It's not fancy but it was very comfortable.
Further reading on things to do in Colorado
Click on the photo to bookmark to your Pinterest boards.