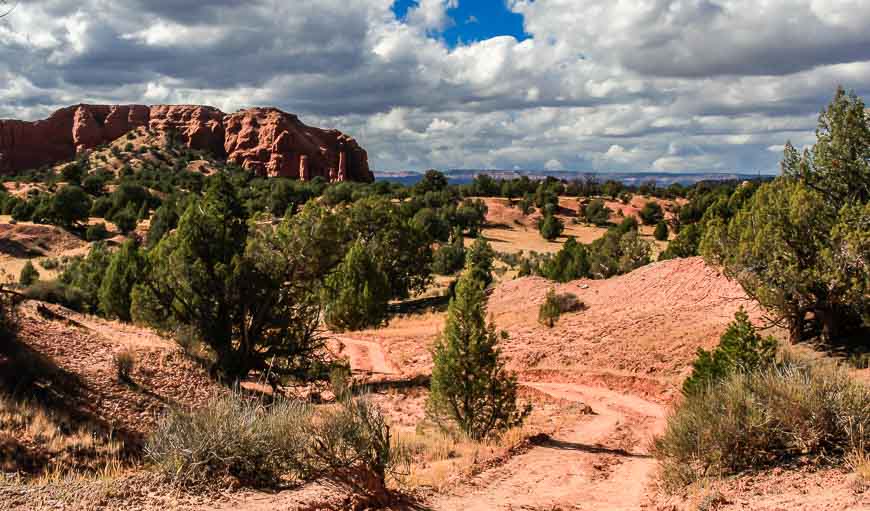 Hiking the Trails of Kodachrome Basin State Park in Utah
A visit to Utah's Kodachrome Basin State Park, even for a day is definitely worth doing, especially with some particularly lovely hiking trails.

Kodachrome Basin State Park was named for the colour film by visiting

members of the 1948 National Geographic Society. It wasn't a park yet but the name stuck. The 2,241 acre park is filled with beautifully coloured, multi-hued sandstone formations and unique structures known as sand pipes, not found anywhere else in the world.
Count the spires
There are 76 of these monolithic stone spires – representing 180 million years of geologic time. It is believed that they were underground springs or geysers (like you might see in Yellowstone) which filled with calcite rich sediment and cemented over time.
The softer sandstone around the pipes eroded, leaving behind what you see today – sand pipes, chimneys and petrified geysers.
We hadn't planned to visit the park but then a few photographs in coffee table type books caught my eye and voilà. Kodachrome Basin State Park offers five trails form 1.5 miles to six miles in length.
The trails are mostly easy and almost deserted on the day we hiked. Although the park is only about 30 minutes away from Bryce Canyon National Park it doesn't see nearly the traffic. But I think its well worth the visit.
Here's a look at the scenery on our hike in Kodachrome Basin State Park
Useful Information about visiting Kodachrome Basin State Park
It's $6 per vehicle for a day use pass.
The park is open from 6 AM until 10 PM.
Overnight camping is an option -with and without hook-ups.
You can book a stay in the Redstone Cabins located within the park.
The park is located nine miles south of the town of Cannonville off of Highway 12.
Further reading on hiking in Utah
Share the Pinspiration.