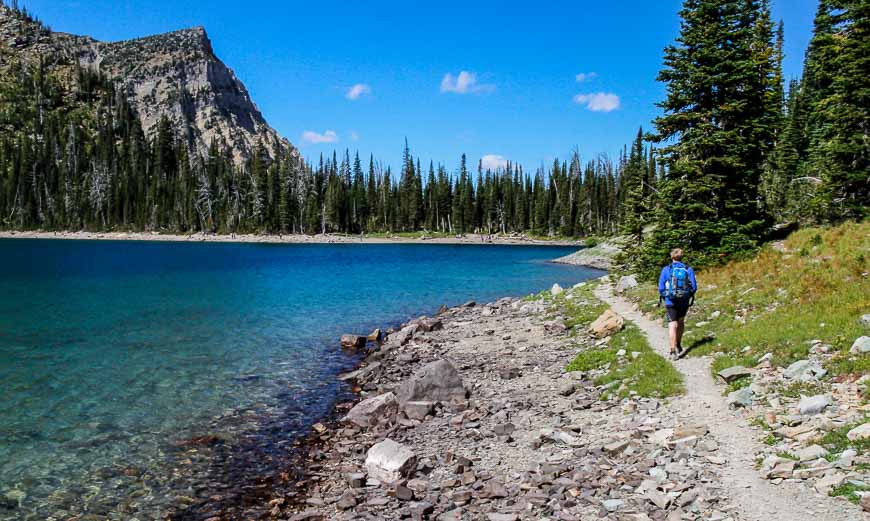 4 Fabulous Hikes in Waterton Lakes National Park
Waterton Lakes National Park is a superb destination for hikers. It doesn't see anywhere near the crowds that Banff and Jasper National parks see – and yet the Rocky Mountain scenery here is truly spectacular. The best time to visit – if its hikes in Waterton you're after, is between July and mid-September though some people enjoy October when almost everyone has gone home.
There was a forest fire in 2017 that destroyed about 38% of the park – reducing trees to ash. While some parts of the park are completely unaffected, including the famous Crypt Lake trail, there are many that are now difficult to access or even closed. Be sure to visit the park website for current trail conditions.
Described are four hikes in Waterton Lakes National Park
Rowe Lakes and Lineham Ridge
The trail to the Rowe Lakes and even to Lineham Ridge is spectacular from start to finish. It begins at the Rowe Lake Trailhead on the Akamina Parkway. From there it follows the north shore of Rowe Creek – an amazing site in itself as the bedrock is a brilliant red argillite – through low brush at a moderate grade.
NOTE: The Akamina Parkway is closed to motorized traffic. You must walk or bike to the trailhead, a distance of 20.8 kilometres round trip. You can rent e-bikes in the Waterton townsite to speed up the trip.
Make lots of noise in this area as it is bear country and they are hard to see in the brush. Reach the intersection to Lower Rowe Lake at 3.9 kilometres and continue to the next junction at the 5.2 kilometre mark. Then it's a short hike into Upper Rowe Lakes.
Energetic hikers might want to consider the full 17.2 kilometre hike to the top of Lineham Ridge and back. It affords magnificent view of the Rowe Lakes from above. Add just another 2.4 kilometres to do a quick out and back to the Upper Rowe Lakes.
Read: The Gorgeous Lineham Ridge Hike in Waterton
The Crypt Lake Trail
I don't think this trail is the prettiest one in the park but it does offer a variety of experiences that you're not likely to find on any other hike in Canada. That's not to say that the trail isn't lovely. It does offer some beautiful views and a sparkling turquoise lake at it's end. But it's the sum total of all the experiences that keep people visiting.
Start with a boat ride to the trailhead – offered just once a day in the morning and late afternoon from now until Thanksgiving. Check ahead of time to be sure.
The hike itself is 8.7 kilometres one way with 700 metres of elevation gain. It's not until you get into the scree that it gets "interesting".
After crossing a narrow scree slope you must climb an eight foot ladder (easy), negotiate a 20 metre tunnel (duck) and finally inch your way along a steep, rocky trail while holding onto a steel cable. (can be scary) It sounds worse than it is – though many people do freeze here. The rest of the hike is a snap – though leave enough time to hike back to the shuttle – as they don't wait around.
Read: The Crypt Lake Hike in Waterton Lakes
The Bear's Hump
Note – still closed because of the 2017 Kenow fire
This is the perfect trail to hike if you don't have a lot of time. It's only 2.4 kilometres round-trip with an elevation gain of 238 metres – enough to give you a bit of a workout.
Located beside the Visitor Centre, it leads to an inspiring view down the full length of Upper Waterton Lake. The trail switchbacks up to the summit at a moderate grade so it's more doable than you might think. In the fall, the views of the surrounding townsite dotted with oranges and yellows is particularly attractive.
Bertha Falls
The Bertha Falls hike is considered to be one of the most popular hikes in the park. It's easily accessed from the Waterton townsite just past the bridge at Cameron Falls. It's 2.6 kilometres one way to the falls, much of it through burnt forest – though it's still pretty. It shouldn't take you more than 2 hours for the up and back hike.
It's 5.2 kilometres one way to Bertha Lake, named after a local resident who has been called a bootlegger and a counterfeiter. It sits in a high alpine cirque surrounded by Mount Richards and Alderson. The trail to the lake passes by several waterfalls and affords grand views of Upper Waterton Lake. Allow 3 – 4.5 hours to do the hike.
For more information on Waterton Lakes National Park visit the park website.
Further reading on things to do in southern Alberta