For a romantic getaway near Calgary, plan a visit to The Crossing at Ghost River. It's located on 145 rolling acres along the picturesque Ghost River, just 20 minutes west of Cochrane, and only an hour's drive from Calgary. Over the years the property has primarily been used for corporate and team building meetings, weddings, and retreats. It's just recently that they've been allowed to open to individuals and couples. In fact, John and I were only the second couple to visit!
The Crossing is one of 12 properties that are part of the Charming Inns of Alberta, a group of small hotels and inns across Alberta that offer a range of experiences. I've visited over half of them now – and all offer something unique, whether it be a wilderness stay off the beaten track (Mount Engadine Lodge), a honeymoon getaway (Baker Creek Mountain Resort), a romantic getaway near Calgary like this hotel or just an overnight escape – like you'd find at the Juniper Hotel in Banff or the Georgetown Inn in Canmore. Some are dog and kid friendly. Most are run in a very hands-on manner by the owners.
Read: 12 Charming Inns of Alberta to Visit Year-Round
Location map
The Crossing – A romantic getaway near Calgary
There is much to recommend about a stay at The Crossing. John and I spent two wonderful nights here and instantly felt far removed from Calgary – even though it had only taken us an hour to get here. It's got a remote feeling as you must drive down a 2 km road to get to the hotel and all you see on that drive is trees, meadows – and bluebirds if you're lucky – and we were.
On arrival we were warmly welcomed by Troy, who showed us the lay of the land around the hotel along with our room. In no time we had a couple of wine glasses in hand and could feel ourselves starting to unwind. We sat outside for a short time admiring the landscape before the wind blew us back indoors.
Our bedroom featured a super comfortable king bed, antique furnishings, lights on both sides of the bed (I can't tell you how many places don't do that!), a bathroom with a shower and of course the outdoor deck with a set of stairs that led to open spaces. There is WiFi and it's reasonably fast. What you won't find is a TV.
In the colonial style hotel, home to 27 bedrooms, there are also common areas indoors along with loads of benches and seating both high above the Ghost River and near the river around a fire pit.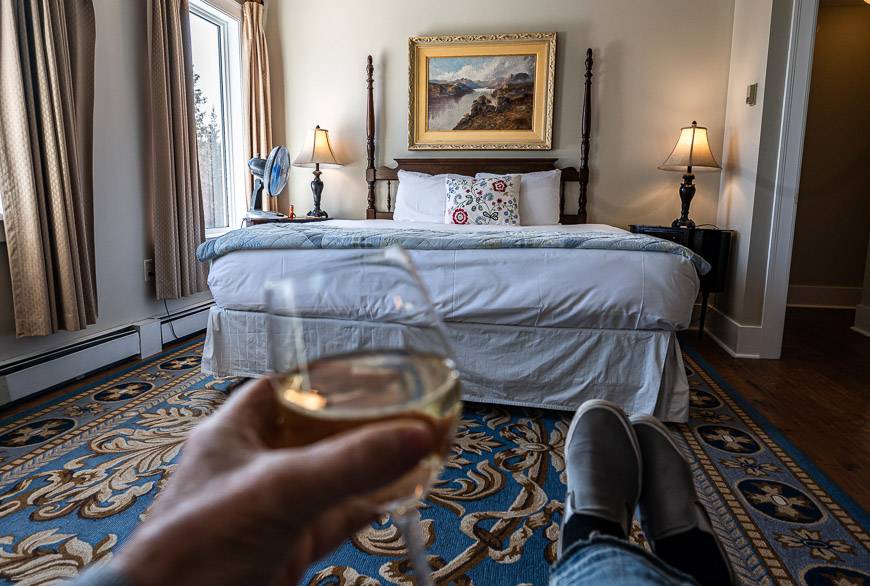 Exploring the property
It's a good 15-minute walk to get down to the Ghost River from the main lodge. We ambled down after dinner one night, passing a couple of other spaces where meetings are held. We were warned to be wary of wildlife, but a garter snake was the only thing of note that we saw. However, the lodge does provide a can of bear spray if you're exploring as an individual or couple.
John and I were both surprised when we got to the Ghost River. It's an exceptionally scenic spot with far more topography – cue the cliffs – than I ever expected. There are a few places in the river that look like swimming holes that would beckon on a hot summer's night. As you can see in the photo, meetings are held outside, often around a campfire. That's my idea of a well-designed retreat.
One night we were to have a picnic dinner down by the water, but a possible thunderstorm and rain forced us to eat inside instead. If their picnic dinners are anything like their lunches, you will eat well in a scenic setting.
There was a large group on the day we visited that had taken over the fire pit by the Ghost River, so John and I ended up at another spot on the river that wasn't quite as well set-up. Still, it was a treat to sit around a fire on a cool evening. Hopefully in the future they will add a couple of chairs, so everyone can enjoy the same gorgeous landscape.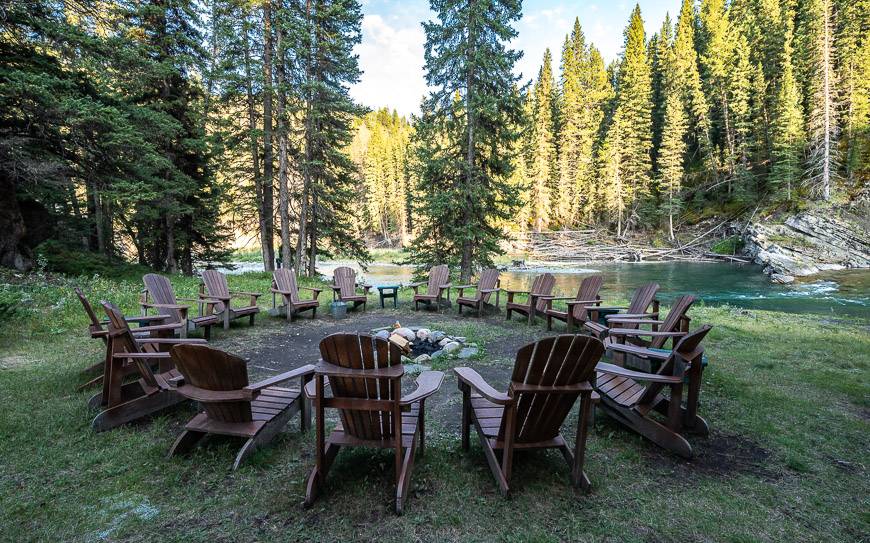 A hike to Mockingbird Lookout
There are lots of hikes in the area – but after chatting with Jori Guetg, the delightful and charming general manager, we nixed a hike that sounded difficult to get to. We didn't want our romantic getaway near Calgary to turn into an exercise in how to extricate our vehicle from a rough river crossing, especially in a land without cell signals.
We only had one full day in the area – and it was a wet one. Still, we decided to do a hike up to the Mockingbird Lookout, one of over a 100 manned fire towers in Alberta. Normally there'd be some good views of the area, but that didn't happen for us. Nonetheless, we enjoyed a chat with the person who was manning the tower for his fifth year in a row.
Allow two to three hours of hiking time to do the 5.9 km return hike with 470 m of elevation gain. It's a 34 km drive from The Crossing to the trailhead, partially on gravel roads.
Our bagged lunch
I have never seen a bagged lunch like the one I got from The Crossing. The only one that has some close is one from Camp Denali in Alaska.
Here's what was included: a delicious wrap with chicken, rice and vegetables, a bag of chips, several slices of cheese, a bag with a smarties – peanut mix, a quinoa salad, hummus with vegetable sticks, an apple, two cookies, one brownie and a drink.
We enjoyed our lunch outside in a dry spot below the Mockingbird Lookout. The lunch was impressive for both the breadth of what was offered and for how amazing everything tasted.
More things to do near The Crossing
If we hadn't been quite so lazy, we would have visited the nearby Yamnuska Wolf Dog Sanctuary. It's been on my list for a long time, but instead I opted for an afternoon nap and some reading.
Hunter Valley Adventures offers rafting on the Upper Red Deer River (I've done this before and its great fun) or an interpretive float to Cochrane on the Bow River. They also offer fly fishing experiences on the Red Deer River.
If you love horseback riding, you don't have far to drive to reach Saddle Peak Trail Rides. They offer half and full day trips in the Ghost River Valley or up Pringle Mountain.
Great White North Guides out of Cochrane can arrange a private mountain experience to suit your needs.
For something simple to do, stay up late and then go outside, perhaps with a blanket, lie back, and count the shooting stars. Night skies are incredible out here with a lack of light pollution.
Of course, you can also visit Banff National Park, about a 75-minute drive away or check out Kananaskis Country, 50 minutes away. But quite frankly, it was a pleasure to stay close by and keep life simple for a change.
Dining at The Crossing
Good food and romance go hand in hand in my books. John and I were amazed again at the breadth of what was offered at breakfast and dinner. The one thing to be aware of is that meals are at set times – 7:30 AM for breakfast and 6:00 PM for dinner, unless you do the picnic dinner. And if you're a couple, you might end up in a smaller room, away from the main dining room.
Meals are served buffet style – and from what I saw over our two-night stay, they are heavy on the vegetables. I mean this in the best way possible, as the dishes were unique – kohlrabi salad for instance and oh so tasty. If you're a meat eater though – fear not, as every night there were a couple of options.
Breakfasts were ample – lots of fruit, yogurt, eggs, bacon, sausages, and some of the best pastries I've had since moving to Alberta.
Thank you to The Crossing for hosting my stay. All thoughts and opinions are mine – and I highly recommend you visit for a romantic weekend filled with rest and relaxation. Visit their website or call them to make a booking. They do have a few pet-friendly rooms. It's possible to purchase a package where all meals are included – and they also offer occasional themed weekend stays.
Click on the photo to bookmark to your Pinterest boards.