I returned to Blue Rocks, Nova Scotia after more than a 33 year hiatus. The last time I was here was in the early dating phase with my husband John – and we've been married now for almost 38 years.
At the time we were both working as geologists for the summer in Nova Scotia – but for different companies. My company gave me a vehicle and a cook prepared our meals. His company gave him a vehicle and weekly food allowance. That meant we could indulge weekly in wine and scallops in the Lunenburg area and then head to Blue Rocks Nova Scotia – a 10 minute drive away, to walk off the meal.
That wine we'd drink was probably Liebfraumilch or Black Nun. That was living though I wouldn't be caught dead drinking that stuff now. But a hearty yes still to the scallops.
This post includes some affiliate links. If you make a qualifying purchase through one of these links, I will receive a small percentage of the sale at no extra cost to you. Thank you very much for your support.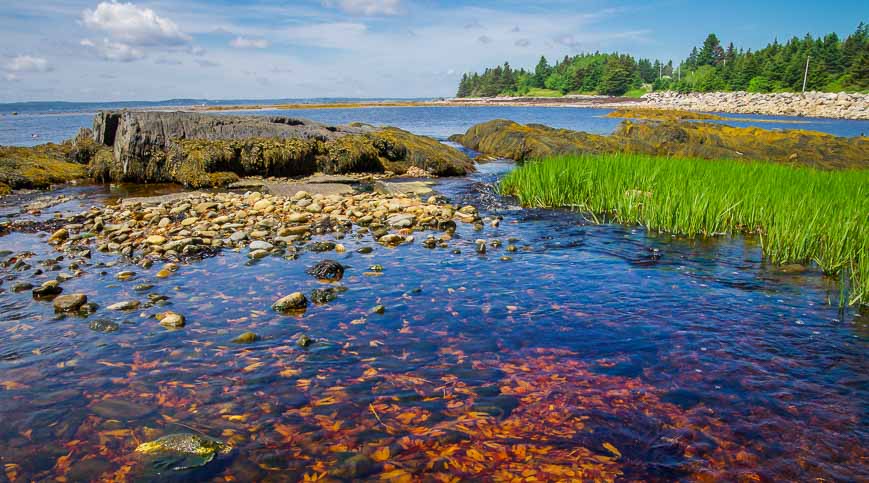 Blue Rocks is minute's from Lunenburg
When I revisited Blue Rocks by bike what most struck me – apart from the totally quiet feeling to Blue Rocks – was its timeless beauty. I spoke with someone last night who had found a local to chat to – and she was told that there are still six fisherman working out of Blue Rocks. It's also the type of place people retire to.
Should you make it as far as Lunenburg don't miss the chance to explore this small fishing hamlet. Blue Rocks Nova Scotia is a place untouched by time.
Blue Rocks, Nova Scotia location map
Who would enjoy a visit to Blue Rocks, Nova Scotia?
If you're a photographer or an artist you'll adore a visit to Blue Rocks. Try and catch the golden hour for the magical light. And if you're into kayaking, the waters around Blue Rocks would be fun to poke around in.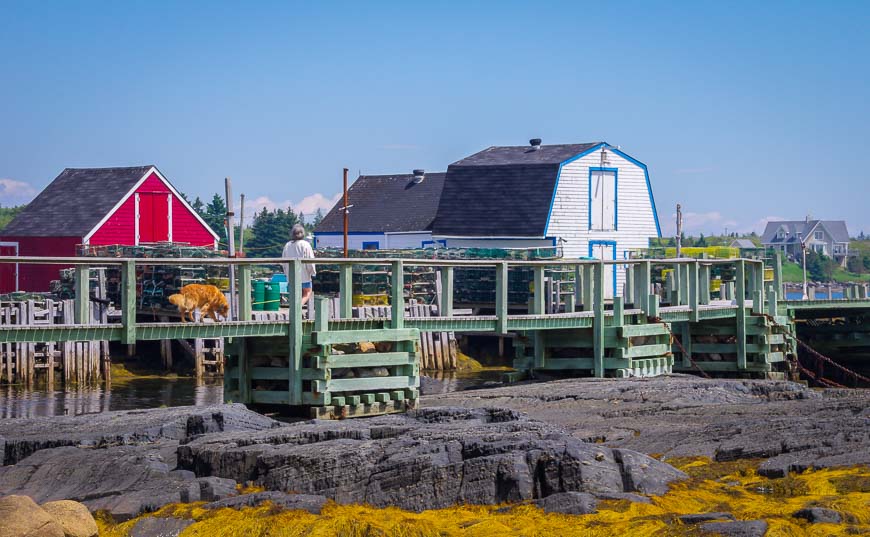 Where to stay near Blue Rocks
Lunenburg is just an 8-minute drive away. It's home to loads of B&B's, motels and inns.
The Sail Inn Lunenburg is a turn of the century B&B that's close to the waterfront. It's rated superb.
The Alicion Bed & Breakfast rated exceptional is known for its great breakfasts.
The Smuggler's Cove Inn across from the Lunenburg docks is rated as fabulous.
Further reading on things to do in Nova Scotia
Click on the photo to bookmark to your Pinterest boards.