What's the first thing you think of when you hear about Whistler? The 2010 Winter Olympics? Skiing on one of the biggest mountains in North America? Snowboarding? Have you heard ANYTHING about what a great place Whistler is to visit in summer? Well its time you did. It's a spectacular place and there really is something for everyone. If you're visiting Vancouver and you want a taste of the mountain life, 36 hours in Whistler will provide that though I recommend at least another day.
Here's my recommendation on some of the things you can do in just 36 hours in the summer in Whistler.
Updated April 2021. This post includes some affiliate links. If you make a purchase via one of these links, I may receive a small commission at no extra cost to you.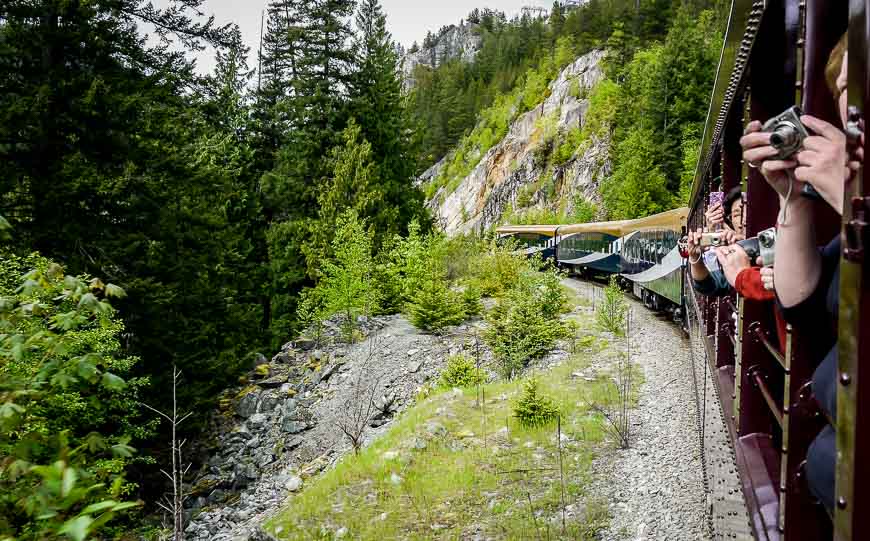 Getting to Whistler
First you have to get to Whistler. It's about a 90 minute drive from downtown Vancouver. There are shuttles from the airport or you could drive the beautiful sea to sky highway.
If you arrive in the morning in Whistler then you've got a full day to try out any number of activities. Better yet spend a few nights so you can enjoy a range of activities. (See below for suggestions on where to stay in Whistler.)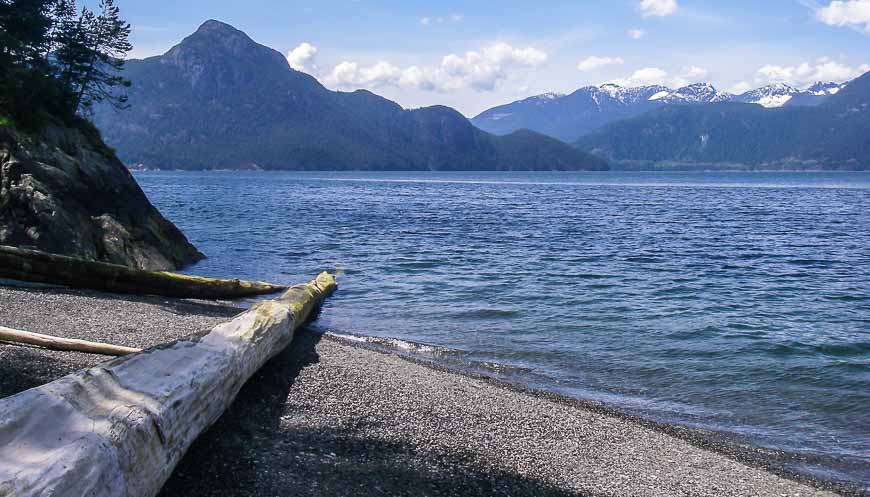 Try something adventurous like zipling
Why not try ziplining. Choose from a variety of tours. One I liked took about three hours and offered the chance to experience five ziplines and four treetop bridges. It's great for the family too – providing kids are six and older. I took my 14 year old niece and she was all smiles. If the thought of a zipline scares you to death, then I'll assume that bungee jumping isn't high on your list either. It's not on mine.
Include the gondola experience if you just have 36 hours in Whistler
If you've never been to Whistler before, then take the gondola up to get an aerial view. You have to get off at Roundhouse Lodge – where you have the option of a number of high alpine hikes.
If you're okay with heights then take the Peak 2 Peak gondola over to Blackcomb Mountain. Its the highest lift of its kind in the world with some amazing statistics.
Its high point is 1,427 feet (436 m) above the valley floor.
The distance you travel on the gondola is 2.73 miles (4.4 km).
One cabin shows up every 49 seconds.
The silver cabins have a glass bottomed floor – though it's not as scary as it sounds.
It takes 11 minutes of travel time between the Whistler and Blackcomb mountains.
If you only ride the gondolas and don't take any time exploring on top then count on a minimum 70 minute round trip – to get back to the base of Whistler Mountain.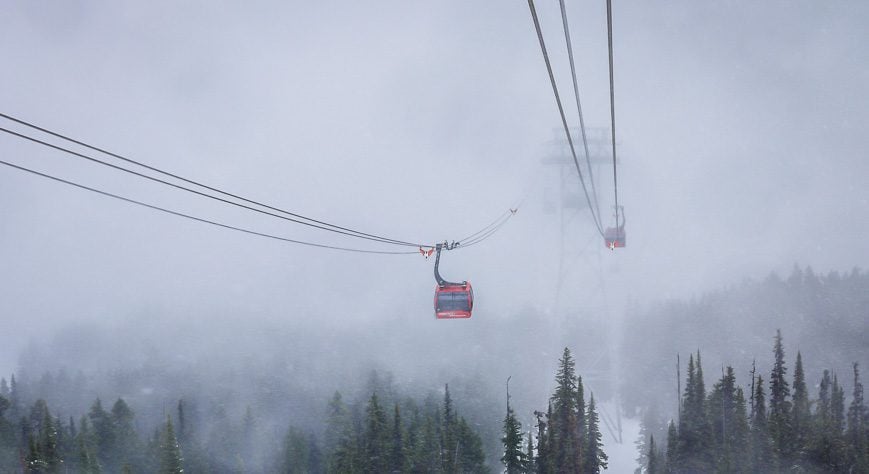 The Cloudraker Skybridge
I highly recommend the airy walk on the Cloudraker Skybridge – on a sunny day when the views are spectacular. You get to it via a walk from Roundhouse Lodge and a ride on the Peak Chair – which in itself is a thrill for many people.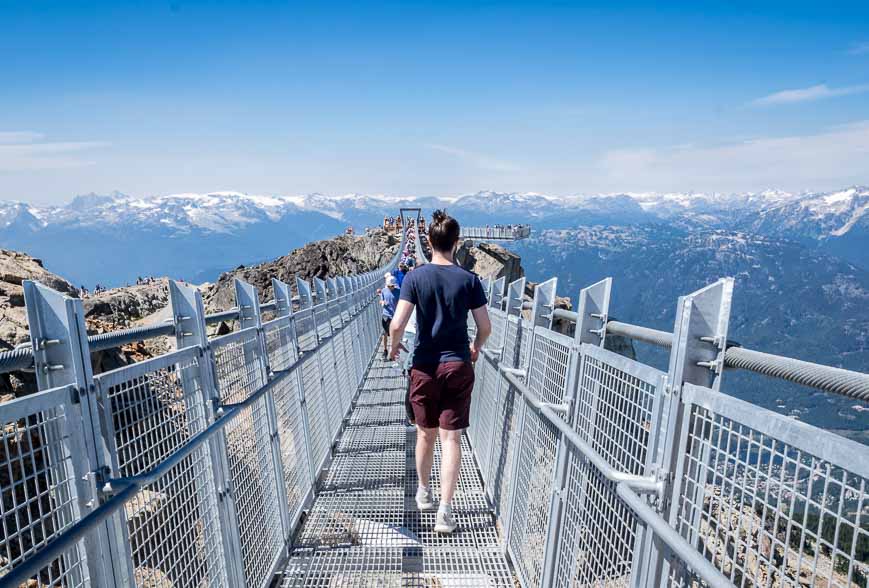 Go for a hike
There is an amazing amount of choice when it comes to hiking in the Whistler area. If you're there for a short time you'll probably want to do just a half day outing. There's a very nice, very flat trail called the Valley Trail.
But by late May hikers can enjoy postcard perfect mountain scenes at the top of the Whistler-Blackcomb Peak 2 Peak gondola. That's when over 50 km of trails open. From the gondola you can choose an hour long casual stroll, of a full day's hike complete with views of the famous Black Tusk, wildflower filled meadows, sparkling glacial lakes and massive glaciers.
From Blackcomb the top pick is the combination of the Alpine Loop – Overlord Trail and Decker Loop. Stand in awe at the Overlord Glacier Lookout and perhaps finish with a late lunch on the patio at Christine's on Blackcomb.
If you're after a workout challenge yourself on a combo of the Blackcomb Ascent Trails. Their names say it all – Little Burn, Big Burn and Heart Burn. Each one adds more vertical and length.
There is also the option to do the full day epic hike to the Black Tusk or Panorama Ridge.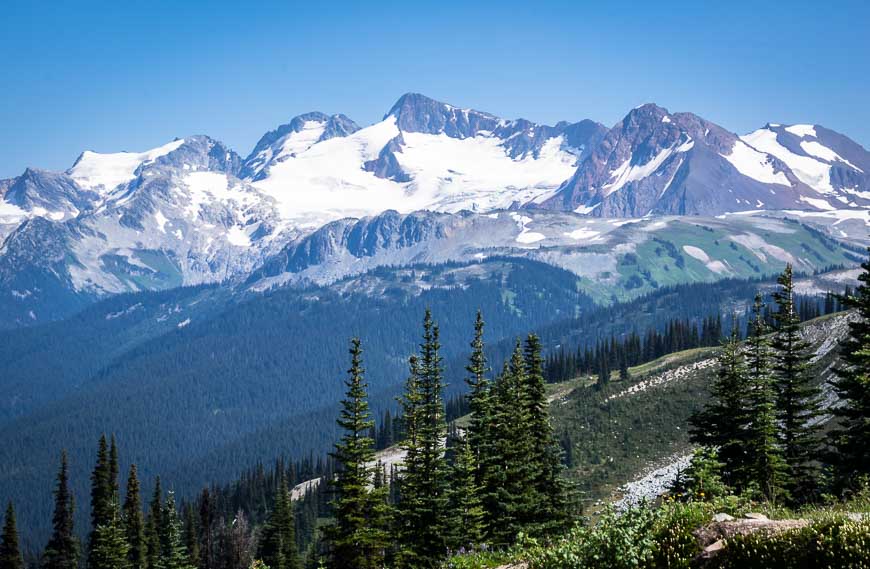 Other activities in Whistler
If a gondola ride doesn't appeal to you then perhaps an afternoon of fishing, golfing or even horseback riding might.
Then there's always road biking on 35 kilometres that run through all the Whistler neighbourhoods and past all five lakes. You can rent a bike and take it a leisurely pace or walk a section of it. Most of the trail is paved.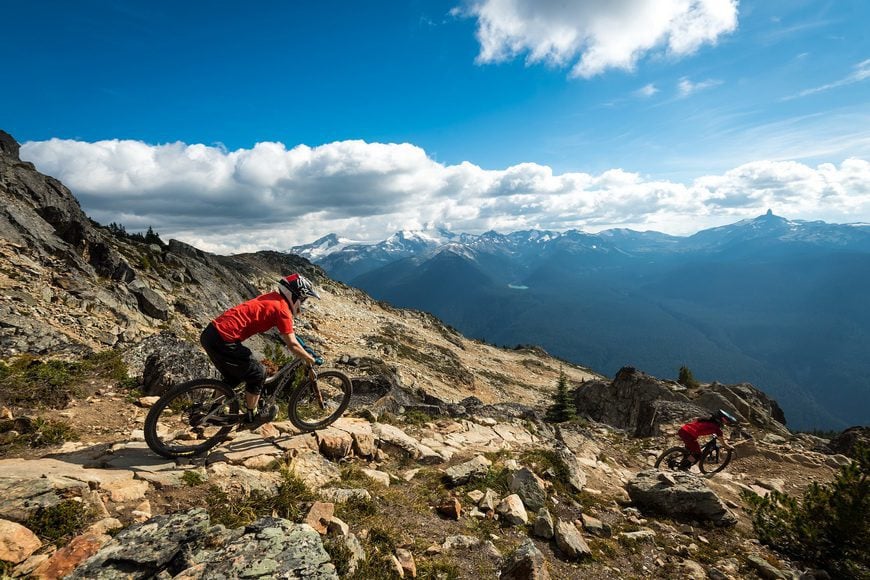 Where to eat in Whistler
There are many excellent restaurants in Whistler. I've loved the food at Araxi and the Rim Rock Cafe – both are pricey but worth it. The Bearfoot Bistro is always in the news and reputedly excellent. I chose to try Alta Bistro.
La Bocca Restaurant & Bar is always a solid choice. Sometimes I just like a great latte and muffin for lunch and discovered The Lift Coffee Company at 4293 Mountain Square. Check them out if you like a good coffee. Mogul's Coffee House would be another great choice.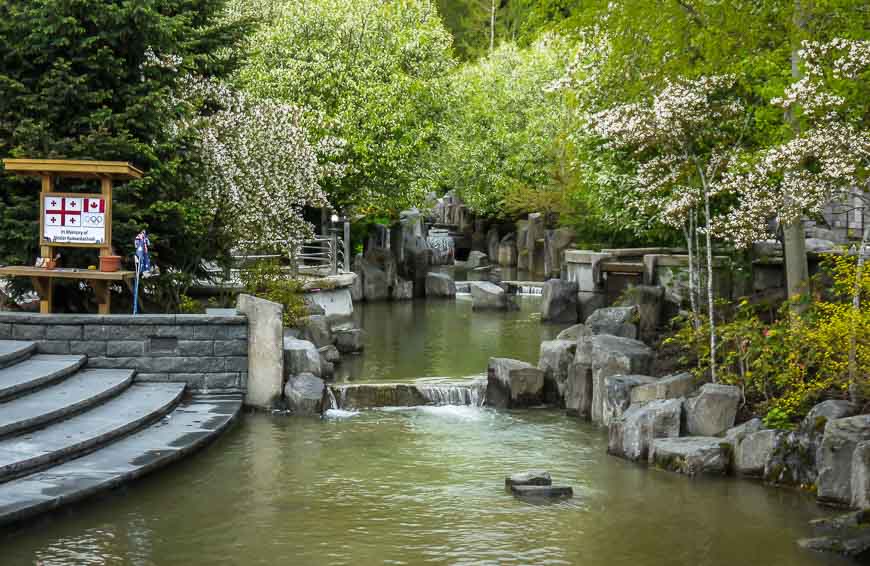 36 hours in Whistler – time to Canoe the River of Golden Dreams
On one morning in Whistler – put on some sunscreen, store your electronics and head for Alta Lake. Here you have the choice of a canoe or kayak to rent. Alternatively you can take a guided paddle down the River of Golden Dreams – which is what I would suggest.
The river is easy to navigate with water running just fast enough to make it a wee bit thrilling. It only takes a few hours but it's another side of Whistler most people don't see. If you're lucky you'll see beavers and bears and hear all sorts of bird-life.
Whistler Mountain provides the backdrop and once you get past the power lines, it's a very scenic outing.
Get a taste of the mountain biking scene in just 36 hours in Whistler
Whistler is a hot spot for mountain biking especially as it is the home "of the most famous bike park in the world." You have three options – ride downhill via the chairlifts (lots of fun to watch to at the base of Whistler), use the chairlift to access enduro style riding, or explore the valley trails.
If you're unsure what to do hit up one of the bike stores for some local advice.
Read: A 3 Day Sea To Sky, BC Mountain Bike Adventure
Accommodations in Whistler
Whistler is not an inexpensive town to spend a night – but it's a treat to do so. I'd recommend the Pangea Pod Hotel (Canada's first pod hotel) if you're a young person. There is also the Whistler Lodge Hostel that's rated superb and the Alpine Lodge Whistler 4 kilometres from town that is also rated superb.
I've always had comfortable stays at The Crystal Lodge and Suites which offers well-appointed rooms – complete with kitchenettes. As well I love the The Summit Lodge Boutique Hotel. If you want a massive splurge check out the Fairmont Chateau Whistler.
Further reading on things to do in British Columbia
Click on the photo to bookmark to your Pinterest boards.