The last day of our four day hike on the Long Range Traverse in Newfoundland was the second best for scenery, and that's saying something considering this hike over-delivers in the beautiful landscape department from start to finish.
Our final day on the Long Range Traverse Newfoundland hike began with a river crossing at our campsite near Green Island Pond. But before we even got going, we enjoyed the sight of a moose checking us out from just across the river.
It took us about three hours to get to the Ferry Gulch Campsite, including lots of time for photos at Ten Mile Brook Pond – one of the major highlights on the traverse.
(Updated April 2020)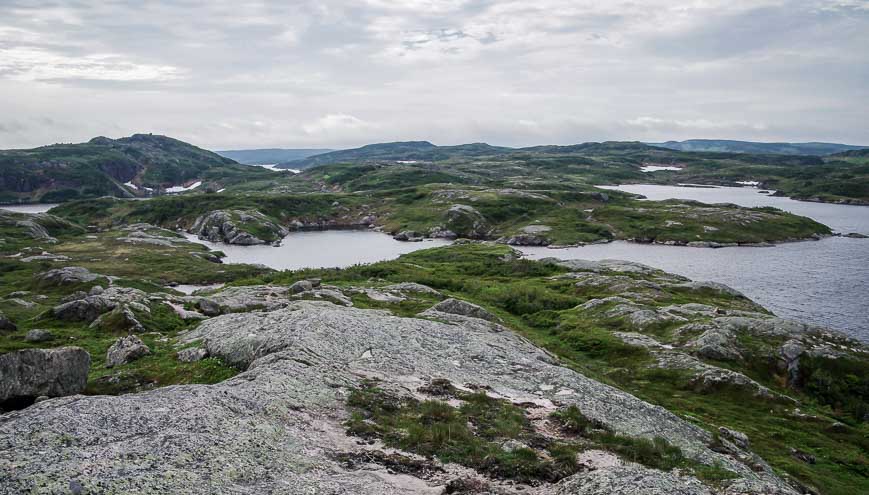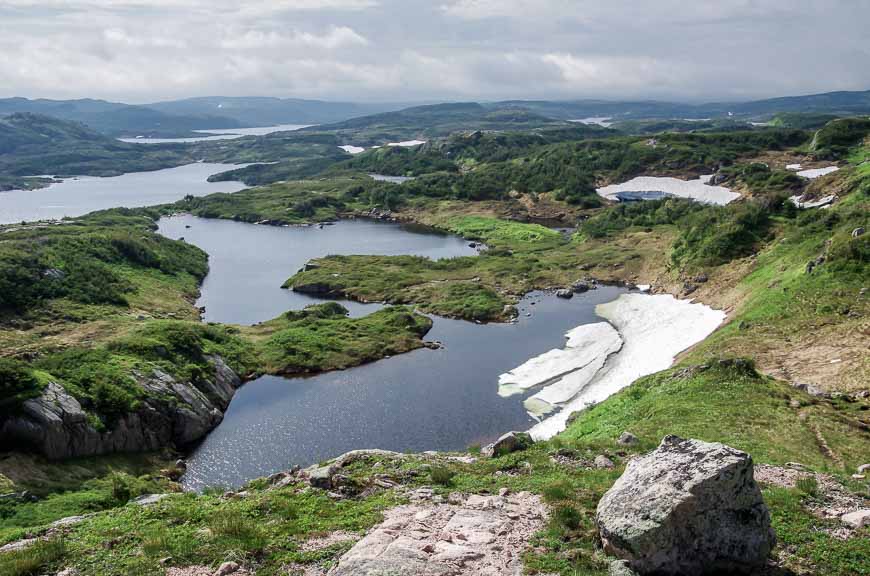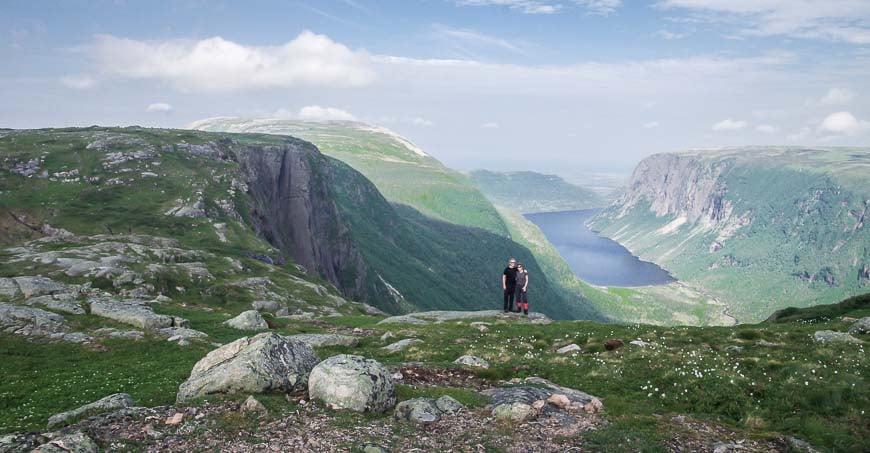 Once we made it down to the Ferry Gulch Campsite we parted ways with the other two backpackers – Jenny and John from New Brunswick.
Instead of continuing to the car, we headed up to the summit of Gros Morne Mountain – so it would be at least four hours before we were back at the campground and heading to the parking lot. Most people don't do that.
This post includes some affiliate links. If you make a qualifying purchase through one of these links, I may receive a small percentage of the sale at no extra cost to you. Thank you for your support.
Relief and sadness
It was a mixture of relief and sadness when we finished this trip. It's one of the best backpacking trips in Canada – both for the scenery and the sense of accomplishment considering there are no marked trails. But it's not a backpacking trip to take lightly.
You need to be prepared physically and mentally but what a reward!
Our plan when we finally got to the parking lot was to find someone who would be kind enough to drive us back to town. John, knowing how tired I was by the end of the day, practically accosted a German couple who were loading up their car to leave. I literally walked off the trail and got into their car. Our timing was impeccable.
And they were very gracious about dropping us off at the Fisherman's Landing Inn in Rocky Harbour. Otherwise it might have been a long wait for a ride.
The other bit of luck we had was running into the Gros Morne National Park ranger on the Gros Morne Mountain hike.
She remembered us as she had been the one to administer the navigation test five days earlier. We were able to hand back our SPOT GPS (given to every party in case of a true emergency) so we didn't have to stop in at the park office. It all worked out – as John kept telling me it would.
Visit the Gros Morne National Park website for more information.
Other posts related to the Long Range Newfoundland hiking trip
Click on the photo to bookmark to your Pinterest boards.