Have you ever considered paddling, either by kayak or canoe, Canada's longest river – The Mackenzie River? If you haven't, you will after reading Michelle Swallow's The Mackenzie River Guide: A Paddler's Guide to Canada's Longest River.
Michelle takes you on an 1,850 kilometre journey that with good weather and moderate mileage, will take you a minimum of 48 days to complete – assuming you start in Hay River on Great Slave Lake in the Northwest Territories and finish in Tuktoyaktuk on the Arctic Ocean.
Although this book is a guide book in the traditional sense, boasting over 60 beautifully illustrated maps, its got a whole lot more going for it.
Michelle expertly weaves in myths and legends of the native people, and adds in interesting quotes from people who have traveled before her. Traditional and highly unpronounceable – at least for me – place names are also used.
Michelle begins the book with all the useful information you really need to start your own trip planning.
When should you paddle the Mackenzie River?
Unless you want to paddle among icebergs the size of small houses, you really need to wait until mid to late June. Then for a few weeks, you and the mosquitoes can wage full scale war. But by July she says, it's hotter and the mosquitoes are mostly kept at bay. September is stormy and colder and the bugs are pretty well gone.
Where should you start paddling on the Mackenzie River?
Not everyone has a whole summer to devote to paddling so Michelle offers a breakdown of the number of days it takes to canoe between each of the ten communities you pass through. As an example, you might decide to start in Fort Simpson instead of Hay River and save yourself nine to ten days of paddling.
Kayak or canoe?
Read her thoughts on the pros and cons of kayaking versus canoeing. It seems that kayakers are able to continue paddling under adverse wind conditions when canoes, under the same conditions, are forced to stay on shore.
But if you take a canoe you can take more food, wine…and your dog.
A guide packed with information
You'll find the Mackenzie River Guide to be extremely thorough. Michelle provides great detail about the history and services available in each of the ten towns you pass through.
She's a big proponent of taking the time to meet and talk to the locals, as well as supporting them by shopping in their communities. And if there is shopping available for food, you'll know ahead of time and can plan accordingly.
The same goes for transport, dining, camping and other accommodations and community services you might be interested in using.
Where are the best campsites?
Michelle shares her knowledge of where the prettiest campsites are located, on whether you should stay right or left on the river and all sorts of information on the wildlife you might encounter. She also reveals some of her low points so you have a sense of what the worst might be.
The book has many beautiful colour photographs in addition to lovely illustrations by artist Farah Denkovski.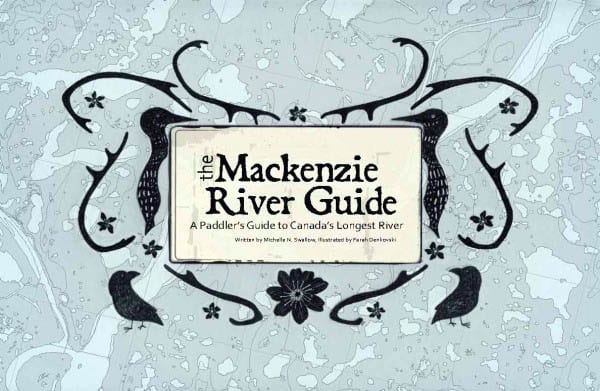 This post includes some affiliate links. If you make a qualifying purchase through one of these links, I may receive a small percentage of the sale at no extra cost to you. Thank you for your support.
I would highly recommend this book to anyone who is even remotely thinking of paddling the Mackenzie River. But I'd also recommend it for the non-paddler as there are plenty of photos and lots of history to make it an interesting read.
You can purchase The Mackenzie River Guide online here.
Further reading about paddling in Canada's North