If you're in the mood for easy family-friendly hikes these five Rocky Mountain hikes – all within a two hour drive of Calgary (and the Calgary airport should you be visiting from out of town) should fit the bill. From Kananaskis Country to Banff National Park, there are Rocky Mountain hikes for every type of hiker. All five of these hikes are easy – popular too, so do expect to be sharing the trail unless you get a really early start.
If the weather craps out on you and you wat to stay close to home you might like: 25+ Walking Trails in Calgary & Nearby.
This post includes some affiliate links. If you make a purchase via one of these links, I may receive a small commission at no extra cost to you. Thank you very much for your support.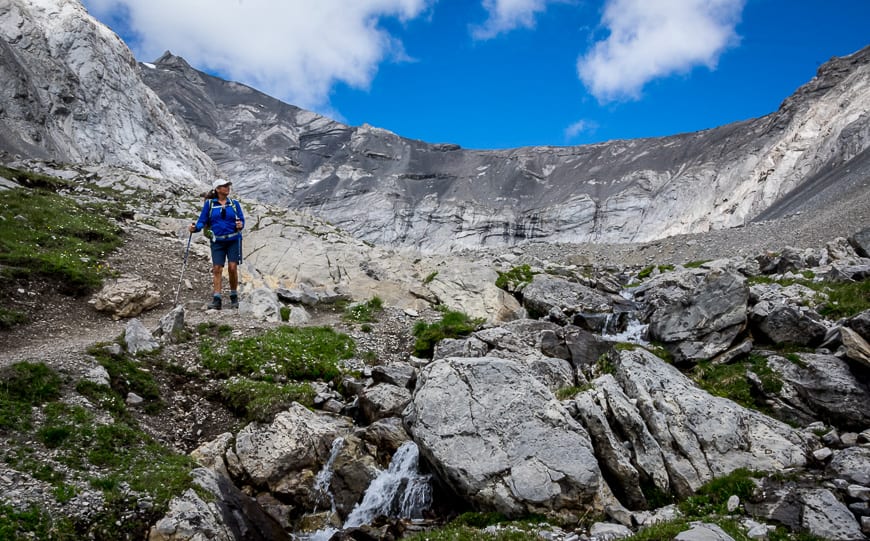 Easy Rocky Mountain hikes summary
The Ink Pots hike via Johnston Canyon
Distance: 5.7 km (3.5 miles) one way
Elevation gain: 330 m or 1,083 feet
Time needed: 2.5 – 4 hours to do the return hike
Difficulty: Easy
Dogs allowed: Yes, on a leash but I'd recommend not doing the Johnston Canyon route because of the number of people on the trail unless you go first thing in the morning.
Johnston Canyon is wildly popular with tourists and locals alike because of its captivating beauty no matter what the season. The cantilevered catwalks always add a thrill to walking beside the river.
While many people stop at the first set of falls, 1.1 km from the trailhead, don't unless you're short on time. At the very least head for the upper set of falls (2.7 km from the trailhead) as they put on quite a show. The trail to the Ink Pots continues just past the upper falls.
If you continue for roughly another hour you'll reach five pristine, aquamarine coloured pools formed by mineral springs that maintain a year round temperature of 4°C.
In theory you can continue well past the Ink Pots to Mystic Lake – though that is done as a backpacking trip. The total elevation gain is just 355 m and the round-trip distance is 11.8 km.
Read: The Inkpots Hike via Johnston Canyon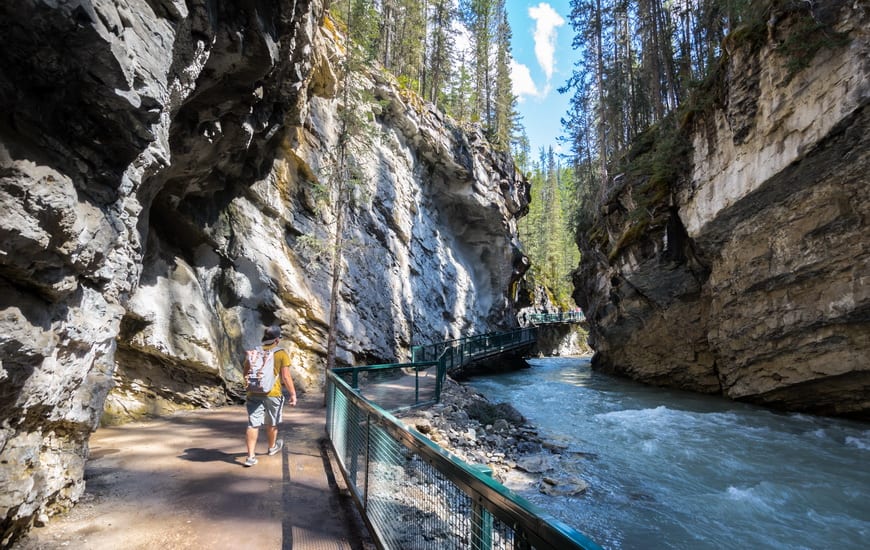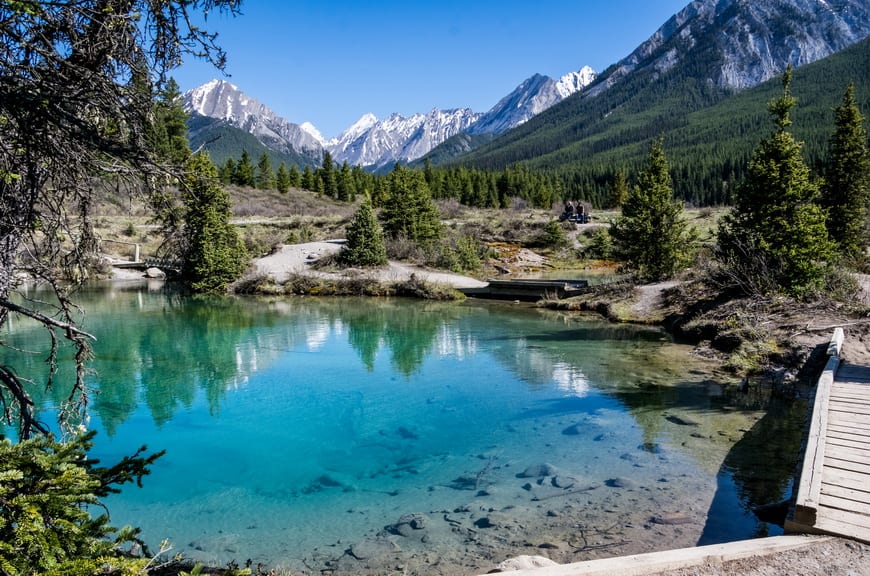 Plain of the Six Glaciers hike – one of the classic Rocky Mountain hikes
Distance: 13.8 km return or 8.6 miles
Elevation gain: 380 m or 1,245 feet
Time needed: 3 – 4.5 hours
Level of Difficulty: Easy if you're a regular hiker
Trailhead: The trail to the Plain of Six Glaciers starts on the Fairmont Chateau Lake Louise side of the lake. See below for getting to the trailhead.
Dogs allowed: Yes, on a leash
Start at Lake Louise and hike along the shoreline passing rock climbers and horseback riders. Continue up the moraine with views back to the Fairmont Chateau Lake Louise and even the Lake Louise Ski resort on a well-marked trail, lined with masses of wildflowers come summer.
At 5.5 km reach the Plain of Six Glaciers Teahouse. If you hike another 0.5 km or so, enjoy in your face mountain and glacier views.
This is a classic hike in the Rockies that gains 400 m over 6 km one way. The grade is never tough. For families with active kids it would be a great choice.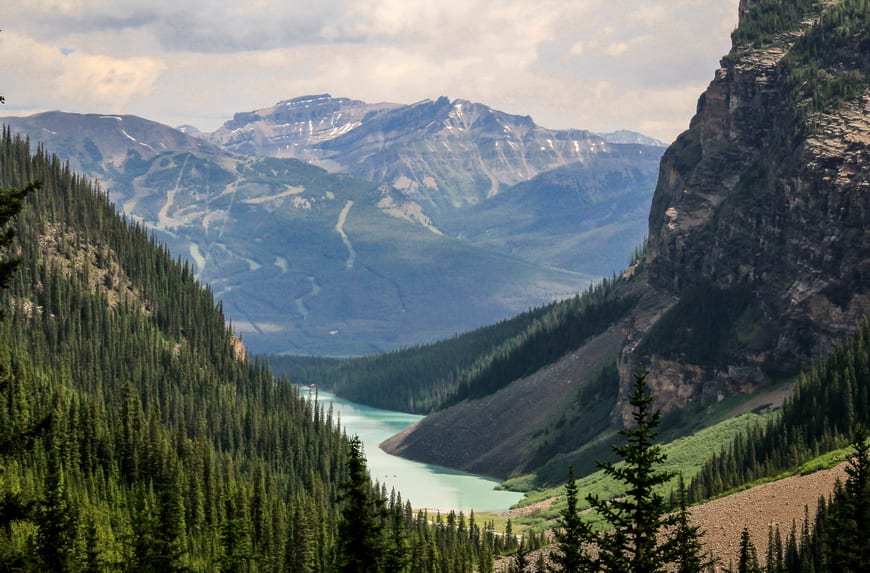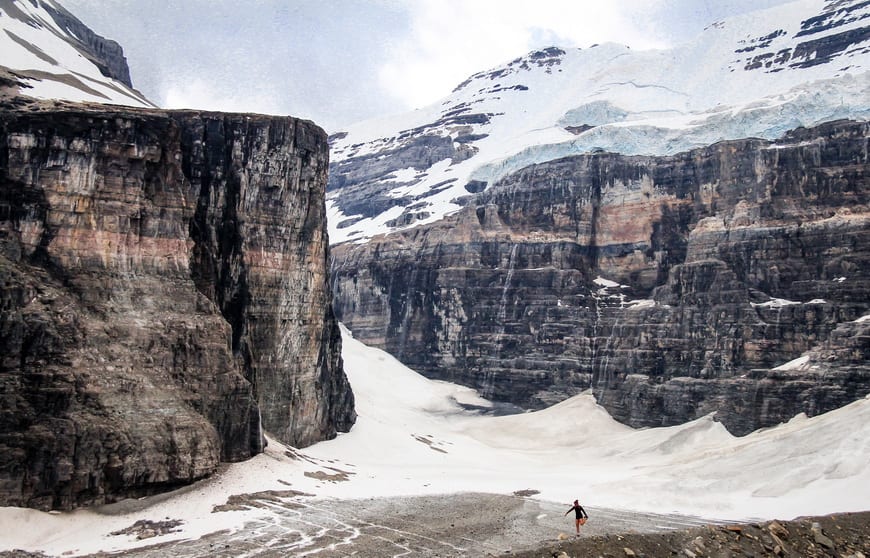 Upper Kananaskis Lake hike
Distance: 15.8 km (9.8 miles) loop hike around Upper Kananaskis Lake but if you don't want to hike that distance simply do and out and back hike from one of the trailheads. It doesn't matter what direction you hike the loop.
Elevation gain: 295 metres or 968 feet.
Level of difficulty: Easy but moderate for some because of its length.
Time needed: 4 – 5.5 hours for the full loop hike around Upper Kananaskis Lake.
Trailhead: Park at either the North Interlakes Trailhead or the Upper Lake trailhead.
Dogs: Permitted if on leash.
There is the option to do the full loop hike around Upper Kananaskis Lake totaling 15.8 kilometres (which puts it in the moderate category just because of its length) or an out and back hike depending on how ambitious you feel.
You're never more than 60 metres above the lake so though the trail is rolling it's still an easy one. There are loads of places, especially close to the parking lots where you can hang out by a beach so it's particularly family-friendly.
The hike rewards with beautiful mountain scenery for almost the entire loop along with a couple of waterfalls. Very energetic hikers could add an extension to Rawson Lake.
There is also a fantastic, I hate-to-even-tell-people-about-it because it's so nice camping spot called the Point Backcountry Campground where lucky campers can nab spots overlooking the lake. Put it on the must-do list.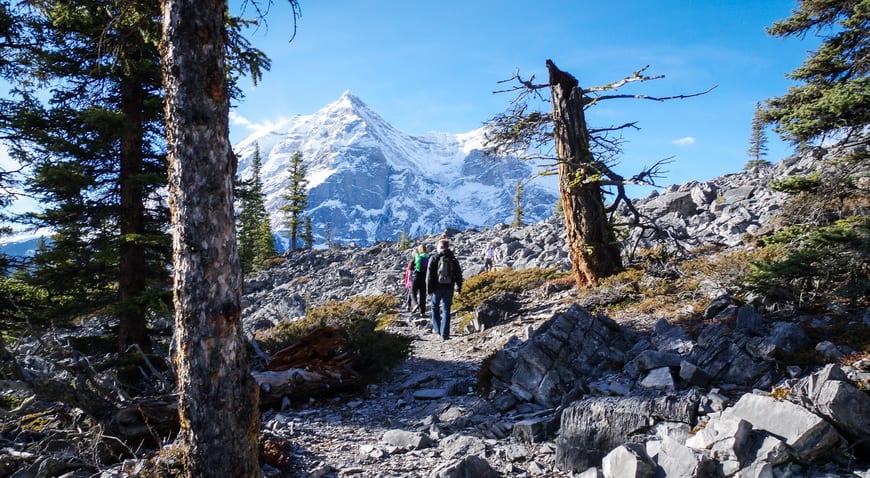 Lake Minnewanka Shoreline Trail (+ option to hike to Aylmer Lookout)
Hike length: Most people hike well past the Stewart Canyon turnoff and many go down as far as the turnoff to Aylmer Lookout but it's all up to you. Up to 31 km (19.2 miles) one way if you go as far as the Ghost Lakes campsite. From there it's another 4.5 km (2.8 miles) one way to the Devil's Gap Trailhead
Elevation gain: Approximately 300 metres (984 feet) on the full out and back hike.
Time needed: As much as you want. Plan to backpack if you want to head to the end of Lake Minnewanka.
Dogs: Allowed on leash except between July 10 and September 15th.
Trail restrictions: The trail travels through an area that sees a lot of bear activity. From July 10 until September 15 you must hike Lake Minnewanka as a tight group of four and everyone needs to carry a can of bear spray. I'd recommend carrying it in a bear spray holster so you don't set it off accidentally – which happens more than you might think.
Lake Minnewanka, the largest lake in Banff National Park, hosts a hiking trail along its length with lots of beaches worth stopping at, especially at the start of the trail. It offers easy family-friendly hiking along with a very high probability of seeing big-horned sheep.
Do an out and back hike for a couple of hours with a stop for a picnic. Or opt to do several days of hiking to the end of the lake, staying at well-spaced campsites on a backpacking trip (you need backcountry permits and the trail sometimes gets closed because of grizzly activity).
If you're feeling energetic – and you don't have young kids with you, also consider the hike up to Aylmer Lookout which I highly recommend for the incredible view. Along the route you'll be treated to wildflowers. Come mid-July you must hike as a group of four or more and carry bear spray.
At the bridge over the river there is also the option to do the easy Stewart Canyon hike.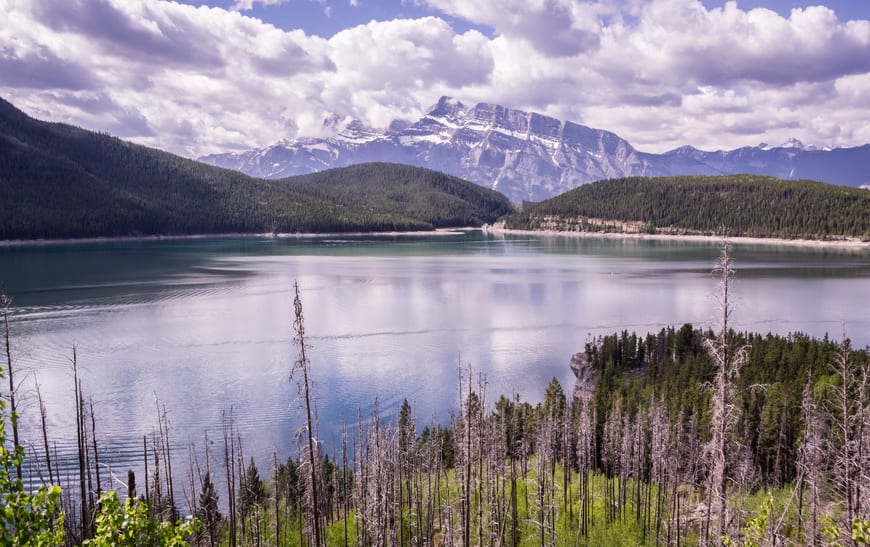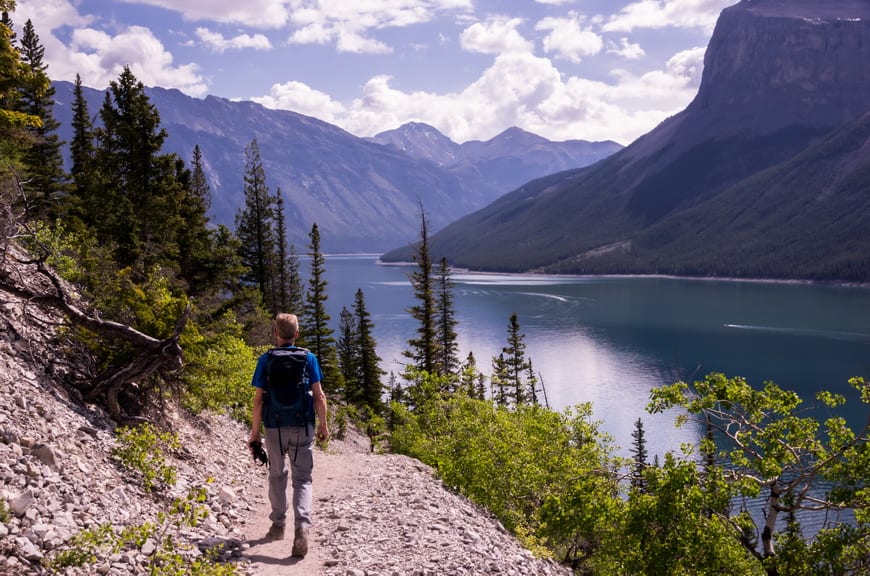 Ptarmigan Cirque hike – one of the popular Rocky Mountain hikes
Distance: 4.5 km (2.8 miles) lollipop hike including the interpretive trail.
Elevation gain: 214 m or 702 feet (mostly at the start)
Highpoint: 2,420 m (7,938 feet)
Time needed: The Ptarmigan Cirque hike typically takes 1.5 – 2.5 hours.
Level of difficulty: The Ptarmigan Cirque hike though short is classified as a moderate hike by some because of the elevation gain though I think it's an easy one. Most of the vertical gain occurs in the first kilometre. After that you reach the meadows and the grade moderates to one where you won't hear your heart pounding in your ears.
The hike to Ptarmigan Cirque starts from the parking lot of the highest public road in Canada at Highwood Pass – so it doesn't take long from there to get into the high alpine. Expect superlative mountain scenery on this short hike with only 210 m of elevation gain. Most of that is in the first kilometre.
For a short hike this is one of the Rocky Mountain hikes that delivers a punch for the tremendous variety of scenery you experience over a short distance. Hike through coniferous forest. Stroll through high alpine meadows and hike higher on scree slopes to get close to the mountains.
On the descent pass several pretty waterfalls. It's the perfect family-friendly hike to take your out of town guests who want a taste of the mountains without spending a full day in them.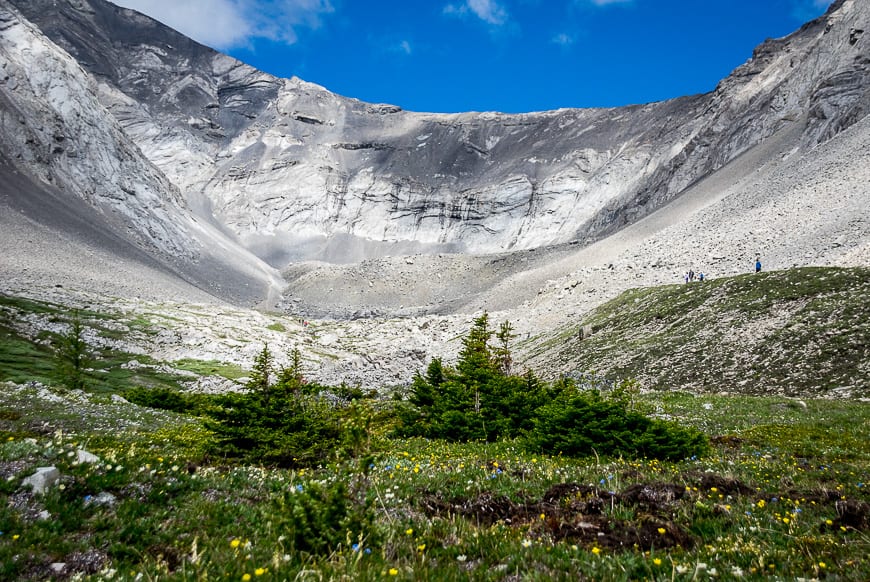 A few things to take on these Rocky Mountain hikes
On any of these Rocky Mountain hikes a wildflower guidebook can add a fun, educational component even kids will love.
In case you run out of water, it's always a good idea to carry either a water filter or drops (more compact) so that you can make lake or stream water safe to drink. I like the Pristine water purification system.
Don't forget a couple of protein bars or chocolate bars for you or your kids if your energy starts to fade.
If you want to err on the side of safety on the Rocky Mountain hikes, carry a Garmin InReach Mini.
More great Rocky Mountain hikes
Click on the photo below to bookmark to your Pinterest boards.