What can you do and where can you go if you have three delicious days to spend on a winter getaway? If you've never been to the Kootenay Rockies, put this area on your must-visit list. In particular, plan stops in Kimberley, Invermere, and Panorama along British Columbia's famous Powder Highway. This part of the Rockies is often warmer than in Banff National Park, and you won't typically find much in the way of crowds. Either coming or going, be sure to plan a visit to one of the area's hot springs!
Here's an itinerary of what you can do on a 3-day Kootenay Rockies winter getaway, assuming a start in Calgary.
This post includes some affiliate links. If you make a purchase via one of these links, I will receive a small commission at no extra cost to you. Thank you very much for your support.
Location map of places to visit on a Kootenay Rockies winter getaway
Stop in Marble Canyon in Kootenay National Park
If you have a little time to spare, be sure to stop and do the short walk up Marble Canyon. There is a 1.3-kilometre out and back trail with numerous bridges, so you can peer over the edge of the canyon – and gasp at the snow pillows. Hold onto your children's hands as the barriers can be snow-covered by mid-winter.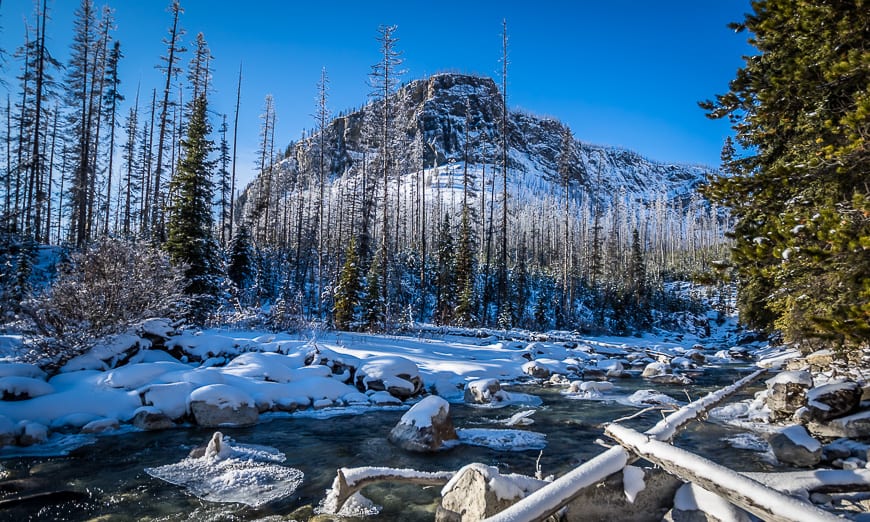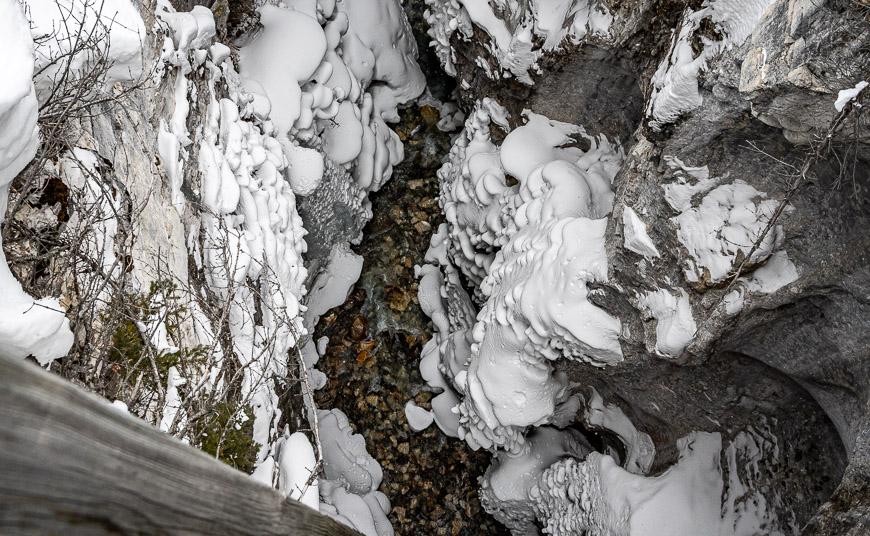 Getting to Kimberley from Calgary
The drive from Calgary through both Banff and Kootenay National Parks is nothing short of spectacular. Just be prepared for winter driving conditions.
Snow tires are a must. (If you're renting a car, request them.) Make a quick detour to the Wild Flour Bakery in Banff if you've forgotten to pack food and drinks. Then enjoy the rest of the scenic 135 km drive to Radium Hot Springs.
Recommended reading: How to Survive a Winter Drive – 15 Tips for Safety
Stop in Radium Hot Springs in the Kootenay Rockies
If you're not in a hurry to get to Kimberley stop at the actual Radium Hot Springs for a soak. Don't worry if you've forgotten a bathing suit as they rent them along with towels.
There's the option to sign up for an onsite spa treatment as well. Alternatively stop in after a day of skiing at Panorama Mountain Resort on the drive home. Nothing warms and relaxes you like a soak in these springs!
Onwards to Kimberley
Continue driving for another 130 km to arrive in Kimberley. While you enjoy the grand mountain scenery interspersed with ranch-like looking landscapes watch out for big-horned sheep on the road. They seem oblivious to cars.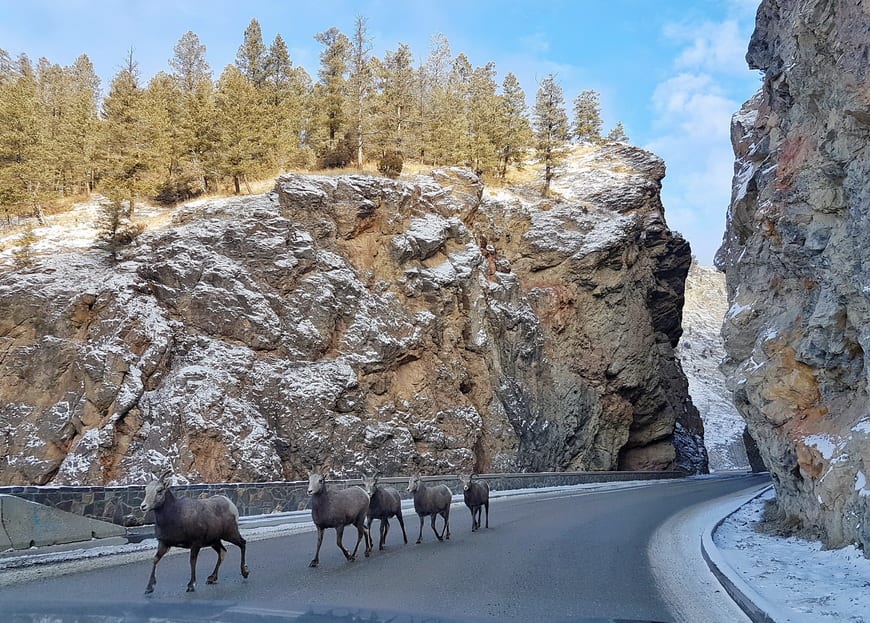 Spend a couple of days in Kimberley
Arrive in the cute town of Kimberley, population 7,000 or so. For 92 years the Sullivan Mine, the largest lead-zinc mine in the world, operated here. Before it closed in 2001 the town started the process of reinventing itself.
Now Kimberley is very much a thriving alpine town with a young vibe and an entrepreneurial spirit. With its enviable location in the Purcells, outdoor lovers may find themselves checking out real estate options. Flights to Calgary and Vancouver are also easy to access from the nearby Cranbrook Airport.
Kimberley is a snap to get around, especially as its small enough to need only one stop light. Before heading to the ski hill, 3 kilometres from town, fill up your car and stock up with healthy groceries at the Centex gas station. That's not a typo.
You could easily drop a couple of hundred dollars at this close cousin to Whole Foods. And while you're there, if it's the season order your Christmas turkey and pick up a tree.
Where to stay on the ski hill in Kimberley
There are many ski in-ski out condo options at Kimberley Alpine Resort. After our two night stay I'd highly recommend Mountain Spirit Resort for its well-appointed rooms, its location and several extra-large outdoor hot tubs.
Rooms are fully equipped for cooking as well. I'd suggest breakfast in your room so you can quickly hit the slopes in the morning and dinner in town.
Visit Kimberley's Platzl
On your first night in Kimberley check out the world's largest cuckoo clock on the pedestrian friendly Platzl, wander into some of the locally owned shops, try a few climbs at the indoor climbing gym where you can self-belay and then grab a local brew at The Shed.
Walk 30 seconds around the corner to dine at the Pedal & Tap, recently featured on the Canadian series " ."
Our first day in Kimberley
On your first full day in Kimberley plan to ski or board at the Kimberley Alpine Resort. Located in the Purcell Mountains, it offers four lifts to access 68 runs and 12 glades.
With an average of 13 feet of snow, the season lasts until early April. While I was there, the valley was fogged in but it was glorious and sunny on top. The hill doesn't see much in the way of line-ups so you can ski till your legs give out. Then hit the hot tub.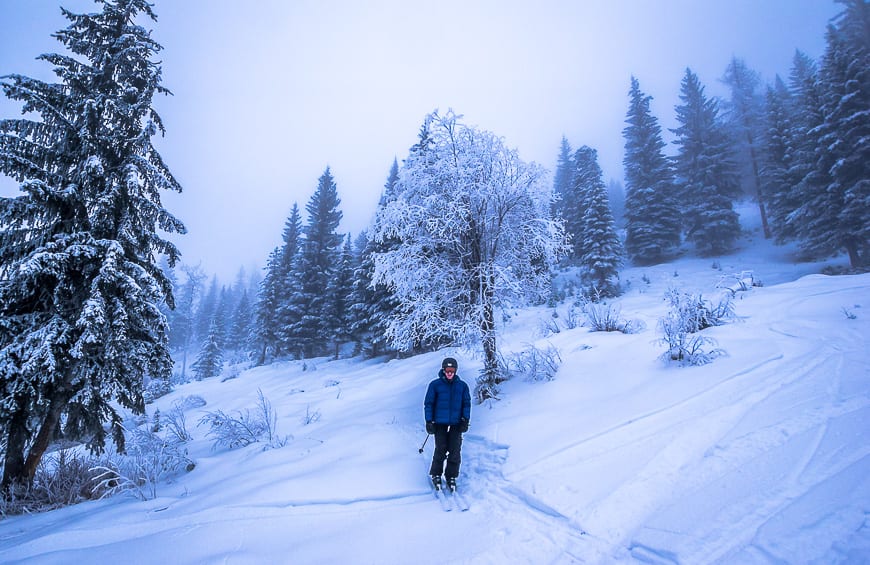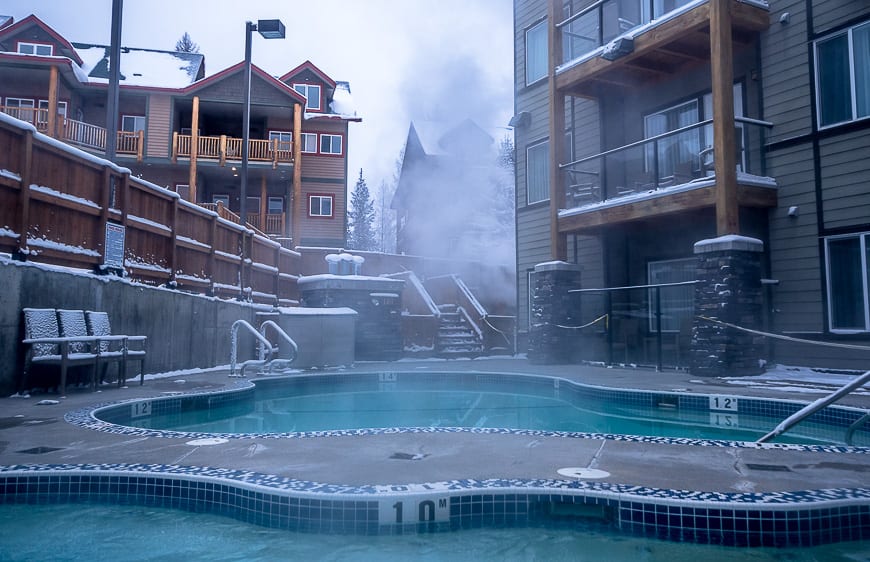 Where to eat in Kimberley
Make reservations (250-427-5133) when you first arrive in Kimberley so you can eat at the Old Bauernhaus Restaurant on your second night in town.
The restaurant is housed in a beautiful 350 year old building that was originally constructed in Germany. It survived the Black Plague. Transported in pieces and reassembled in Kimberley in 1989, it's been serving delicious Bavarian food like spätzle, schnitzel and apple strudel since then.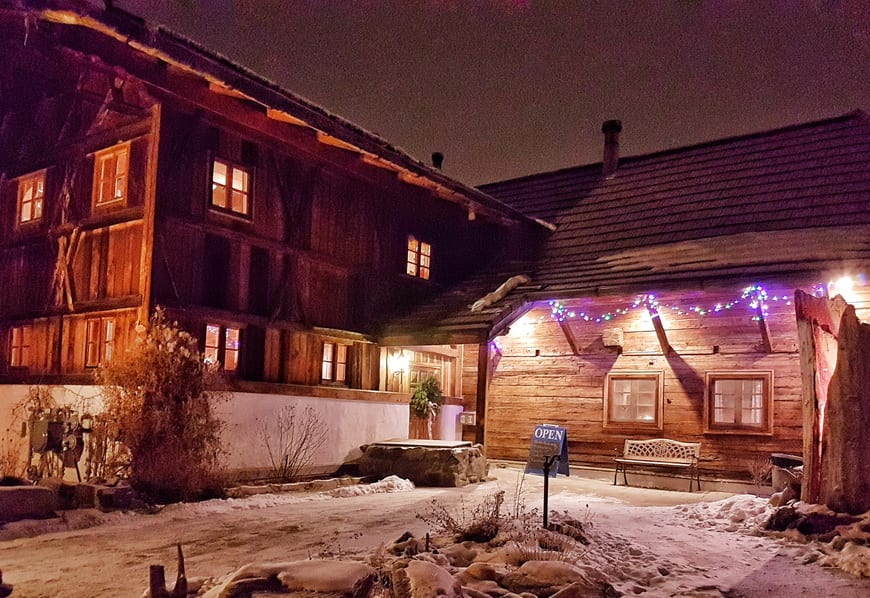 Day Two in Kimberley + a drive to Invermere and Panorama Resort
Friendly and low key, the Kimberley Nordic Centre is home to 35 km of double track that is groomed for both classic and skate skiers. It's got another 7 km of singletrack and the 3.3 km lit loop for night skiing.
While there are no warming huts on the trails, there is a clubhouse and waxing room located a short walk away from the parking lot.
There's excellent signage, picnic areas, and lookouts along some of the trails. The skiing here is truly sublime. It's higher than the downhill resort so it gets a bit more snow and the area is simply beautiful as you can see in the photos below.
Say good-bye to Kimberley sometime in the early afternoon so you can do the 90 minute drive to Invermere during the daylight hours.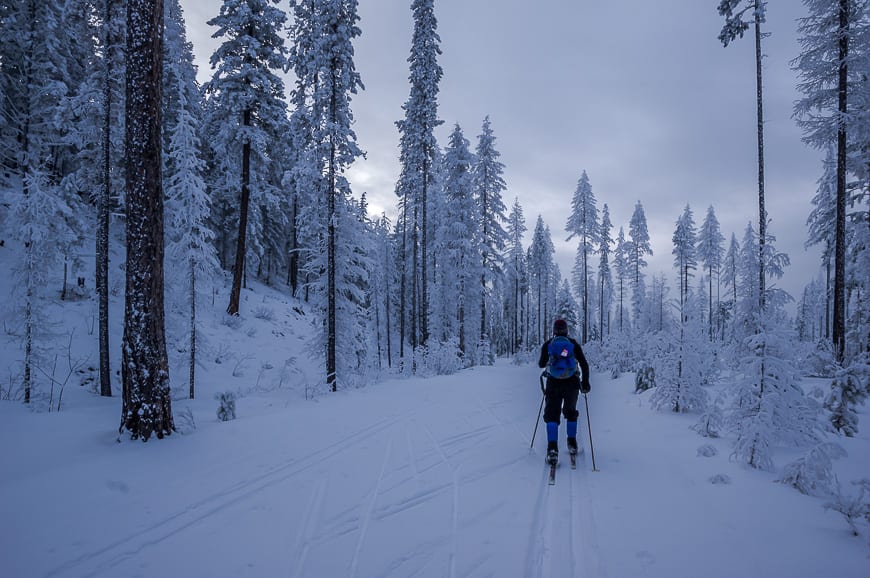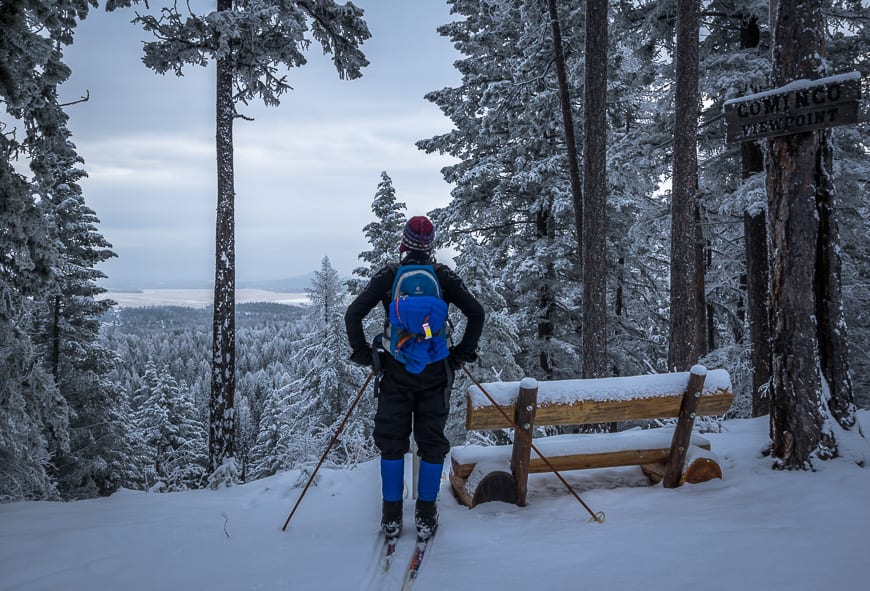 Arrival in Invermere
If you haven't brought skates, stop in at The Inside Edge Boutique and Sports Store on 7th Avenue, the main street in Invermere.
You want to do this because Windermere Lake is home to the Whiteway – an awesome 30 km skating loop and this year it's smooth as glass.
You HAVE to go skating! When I did it there was a dusting of snow but the day before people who skated here told me they could see the fish swimming below them.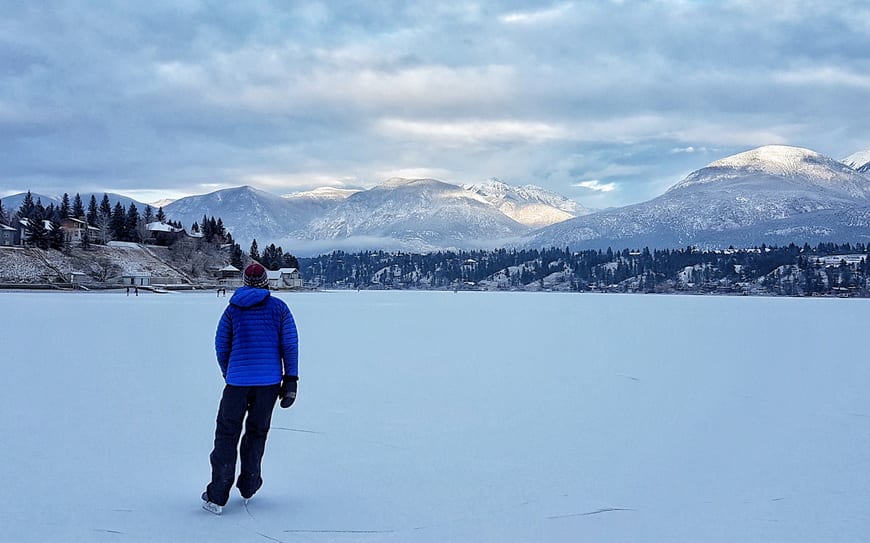 After skating, drive the 20 kilometres up the winding mountain road to the easy to find Central Reservations check-in at Panorama Resort. Find your condo and then hit the hot pools before dinner on the hill.
Day 3: Go downhill skiing or snowboarding at Panorama Mountain Resort
Get up early, grab breakfast at Picnic (at the base of the ski resort) and be one of the first in line so you can ski the groomers before anyone else. You'll find its hard not to fall in love with Panorama Mountain Resort, one of the highest and I think prettiest alpine resorts in Canada.
Its home to 10 lifts and 129 named runs. There is terrain for everyone including the experts who will want to go directly to Taynton Bowl, especially on a powder day.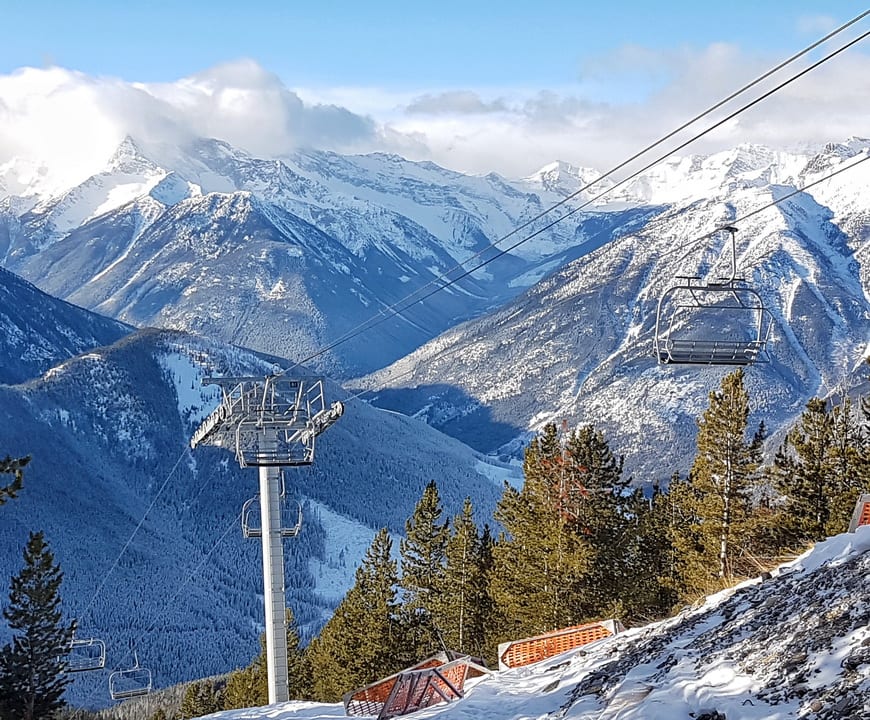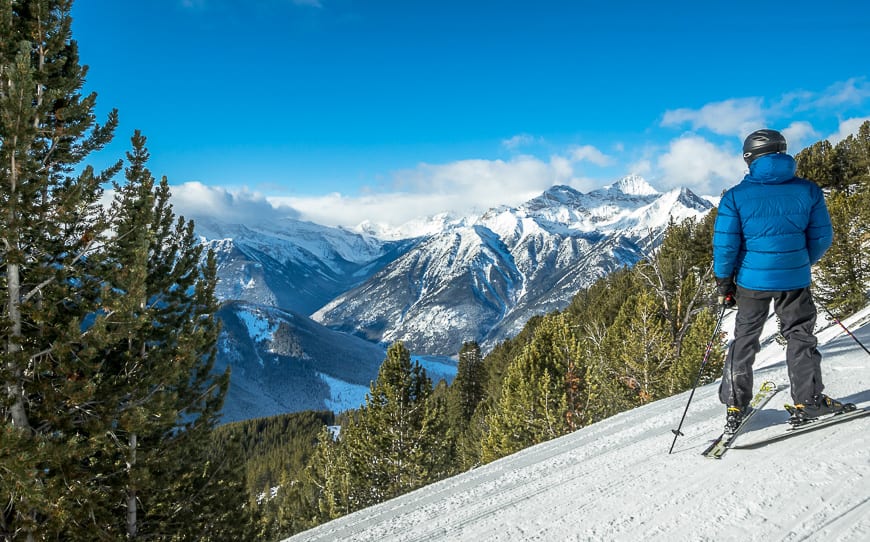 More things to do near Panorama Mountain Resort
If there are friends or family members that aren't into downhill skiing send them across the road for a snowmobiling tour with Toby Creek Adventures. They welcome novice snowmobilers.
Check out the Nordic ski trails or try some fat tire biking. One of the newest options that sounds very appealing is Heli Fondue. Take a scenic helicopter flight to the Summit Hut; partake of both cheese and chocolate fondue and fly back.
Further reading on things to do on a Kootenay Rockies winter getaway
Click on the photo to bookmark to your Pinterest boards.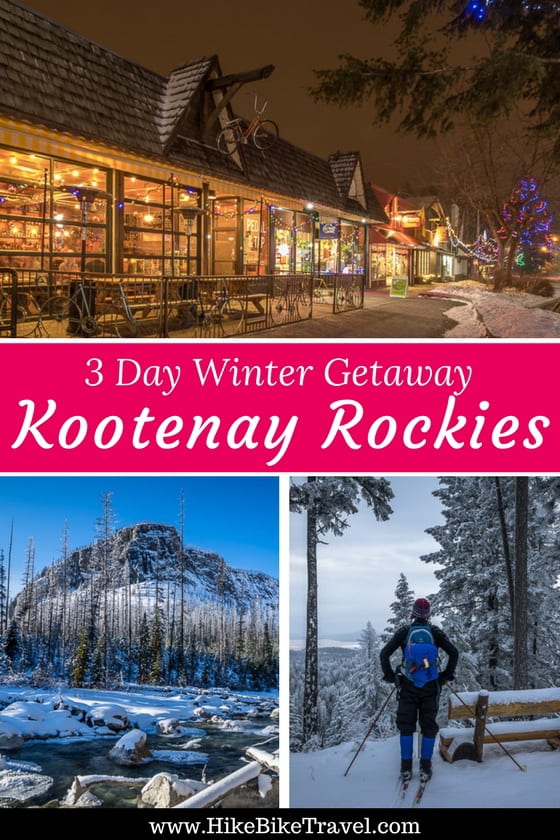 I did this exact trip over a three day period – without the Heli Fondue. You could easily spend a week in the area, skiing more and taking advantage of all the extra activities offered. A big thank you to Kootenay Rockies Tourism , Tourism Kimberley and Panorama Mountain Resort for making all the arrangements and hosting my trip. It was a real treat to spend time in the area.