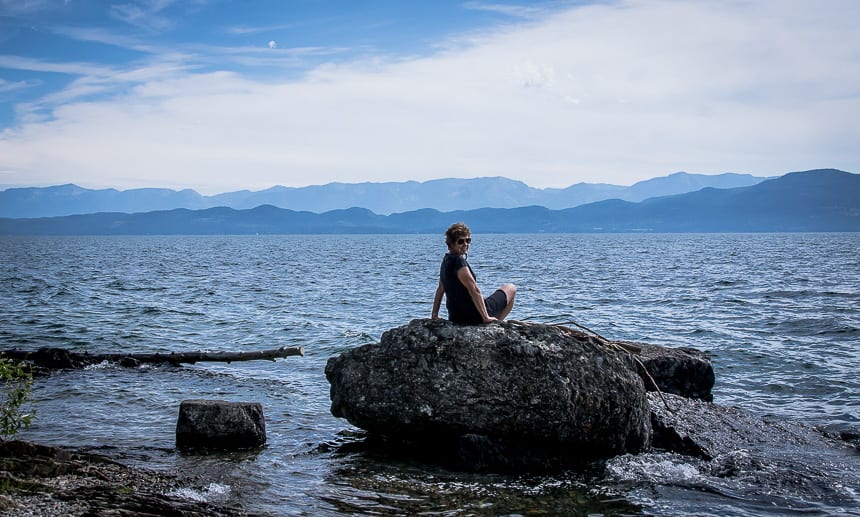 Clean, Drain and Dry Your Boats – Why its Important
If you've been reading my blog for a while you know I'm passionate about kayaking, nature and the outdoors. I'm also fully on-board (as it relates to these themes) in trying to keep invasive aquatic species (AIS) out of our waters.
Invasive species are nasty – displacing native fish and wildlife through rapid growth and competition for food and habitat. Many are probably familiar with the devastating zebra mussel problem in the Great Lakes, but invasives aren't just a Great Lakes problem. Unfortunately, they're spreading to new locations every year.
AIS in Montana
In many places across Montana watercraft tourism is a very big deal. Boaters bring in lots of money and generate jobs in the local economy. Keeping aquatic invasive species out of the lakes and waterways that boaters have come to visit is good for both business and the environment.
Without a plan to keep these AIS in check, there will be a loss of boating and fishing opportunities, not something I as a kayaker want to see.
Clean. Drain. Dry. in Montana
That's why Montana takes the aquatic invasive species threat very seriously. Their motto – Clean. Drain. Dry. is both easy to remember and to put into practice.
You may see reminders on the highways and signage pointing to statutorily required inspections. In 2018 alone over 100,000 watercraft were inspected for AIS and zebra/quagga mussels were intercepted on 16 boats that were entering the state.
Fortunately the 2,000 plus water samples taken on 250 bodies of water came back negative for invasive mussels, but you can't let your guard down when it comes to invasive aquatic species. AIS include plants, animals and microscopic pathogens that can't be seen with the naked eye.
What does Clean. Drain. Dry. entail?
Boats, or watercraft as they like to say are broken down into two categories – non-motorized watercraft like my kayak and motorized watercraft like power boats or jet skis. The Clean. Drain. Dry. routine is slightly different for each.
Non-motorized watercraft
Here's what you should do for kayaks, sailboats, rowboats and the like.
CLEAN off any visible aquatic plants and animals. Get rid of the mud from not just the boat, but all the gear including paddles, floats, ropes, anchors, dip nets, and even the boat trailer before you leave the water access point.
DRAIN the water from watercraft – along with any sponges, bailers or water containing devices before you leave the water access point.
DRY everything when moving between waters. Drying time can vary based on the weather, but if your boat is dry to the touch then small species not easily seen don't have a chance to survive. The other option is to wipe the hull with a towel before you use the boat again.
If you're a sailor you should take extra precautions. Be sure to clean off any visible aquatic plants, animals, and mud from the centerboard, bilge board wells, rudderpost and trailer along with any other equipment that has come into contact with the water before leaving the water access.
Motorized Watercraft
While the Clean. Drain. Dry. theme is much the same for motorized watercraft there are a couple of notable additions.
After cleaning the boat as described above the motor should be flushed according to the directions in the owner's manual.
If it's a jet boats or a personal watercraft that you've been using, clean the aquatic plants, mud and animals from not just the hull and trailer but from the intake grate and steering nozzle. Then run the engine for 5-10 seconds to blow out excess water and vegetation from the internal drive before leaving the water access.
DRAIN the water from the watercraft, motor, bilge, bladder tanks, livewell, and even the portable bait containers before you leave the water access.
Again DRY everything before moving to a new waterbody. While some of these precautions may sound time-consuming and onerous to some, the reality is that if each of us do our part we can look forward to continued fishing and boating opportunities across the state for years to come.
Watercraft Inspections
Watercraft inspections are required by law when entering Montana. Visit the watercraft inspection website for full details, including a map of the Flathead River Basin and inspection rules pertaining to it.
If you live in Alberta and regularly travel to Montana with a boat, be sure to check out the website ahead of time so you don't get offside with your boat.
If you're a snowbird traveling with a boat
If you have plans to travel south out of Montana in the winter and but you return in the summer with a boat in tow, please take the same precautions outlined above for transporting watercraft into or through the state.
Further reading on Montana
Click on the photo to bookmark to your Pinterest boards.
Thank you to Montana Fish, Wildlife and Parks (@MontanaFWP) for partnering with me on this post.