Wondering what outdoor adventures in Canada to do this summer? These 22 bucket list worthy adventures in Canada – two in each province except for PEI and one in each of the northern territories should give you plenty of fresh ideas.
I've personally tested all of these adventures in Canada but picking a favourite would be nearly impossible. It depends on the weather, the company, the season – along with a little je ne sais quoi.
Adventures in British Columbia, Canada
Bike the Gulf Islands
It's hard to beat island hopping by ferry with your bike. You'll have to decide which Gulf Island to cycle and which ferry to catch. Tough decisions! Choose from Galiano, Mayne, Pender, Salt Spring and Saturna Island. Salt Spring is the busiest, Saturna the quietest.
All offer a mix of beautiful coastal scenery, beaches, farmer's markets, galleries and wineries.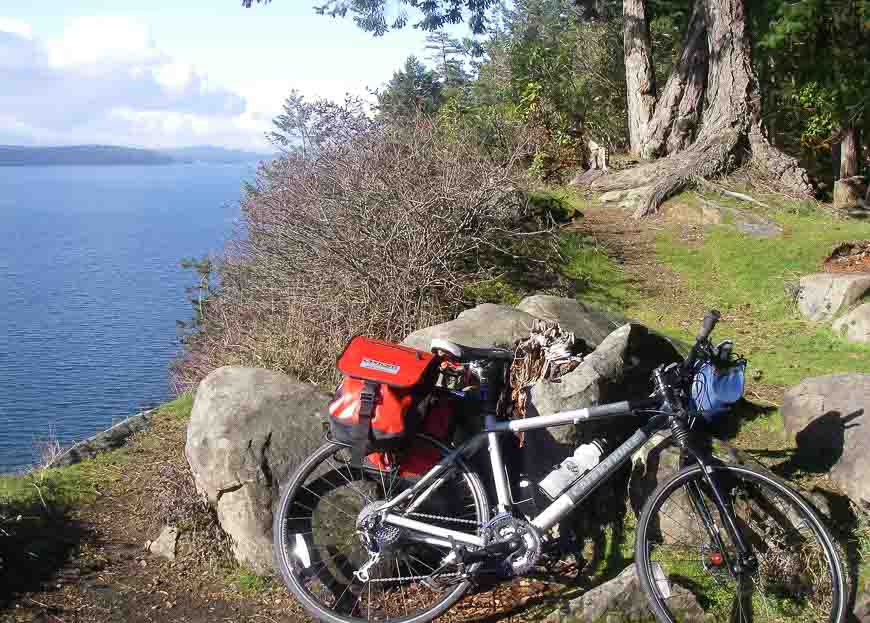 Hike the Iceline Trail in Yoho National Park
If you're looking for a moderate day hike in the Canadian Rockies that delivers high impact scenery within 60 minutes of hitting the trail, then the Iceline Trail would be an excellent choice. Superb views of Takakkaw Falls along with the mountains and glaciers of the Yoho Valley will take your breath away.
And if you're willing to climb 690 m to the high point on the trail – the amphitheater at the base of Emerald Glacier, then your reward is expansive vistas of three peaks – the Vice President, Whaleback and Isolated Peak.
Alberta Outdoor Adventures
Bike up Highwood Pass, Kananaskis Country
The ideal scenario for this bike ride is a one way trip where you start at the gate nearest Longview, cycle 37 km to Highwood Pass and then descend 17 km on a road with a much steeper grade to the gate by King Creek.
If you were climbing from the King Creek Trailhead, part of the road would be Category 1 – the steepest grade on the Tour de France climb. But barring a one way ride, the cycle up and back to the pass from either direction makes a marvelous day trip.
Only those with great stamina should consider the full return ride. This road is closed to cars until June 15th so it's one of Alberta's great early season bike rides. Be bear aware as this is grizzly country.
Paddle Maligne Lake in Jasper National Park
Maligne Lake is beautiful – turquoise coloured and ringed by mountains with a couple of glaciers to add drama. It's also home to Spirit Island – one of the most photographed spots in the world. And it's got wildlife aplenty.
You can paddle to one of three campgrounds – Coronet Creek at the far end of the lake, Fisherman's Bay about halfway down and the newest addition, the family friendly Hidden Cove Campground. The campgrounds are busy in the summer – but paddling Maligne Lake is worth it for the drama and beauty it delivers.
Saskatchewan outdoor adventures
Canoe the Churchill River
There's a lot of river to choose from when you're planning a trip on the Churchill River. No matter what route you take, you'll paddle through fabulous Canadian Shield landscapes, camp on rocky islands and enjoy a solitude rarely experienced these days.
You should be comfortable portaging and canoeing through Class II and III rapids. Don't expect to see a lot of wildlife but do expect to catch your own dinner if you're a few portages out from Missinipe. Contact Ric, the expert on the area at Churchill River Outfitters for ideas of what works with your paddling ability and time frame.
Hike the Boreal Trail
The 120 km Boreal Trail is Saskatchewan's only long distance backpacking trail. Located in Meadow Lake Provincial Park in the west central part of the province, the trail showcases the beauty of the boreal forest.
Be awed by huge swaths of aspen interspersed with bands of pine and spruce trees and look for examples of the area's glacial past. Wander up and down eskers – long, sinuous ridges of sand and gravel, past numerous kettle lakes that are perfect for swimming in the summer.
Walk old roads and listen to a multitude of birdsong. But always stay alert for wild animals. There is plenty of evidence of their presence. We saw a wolf on a kill.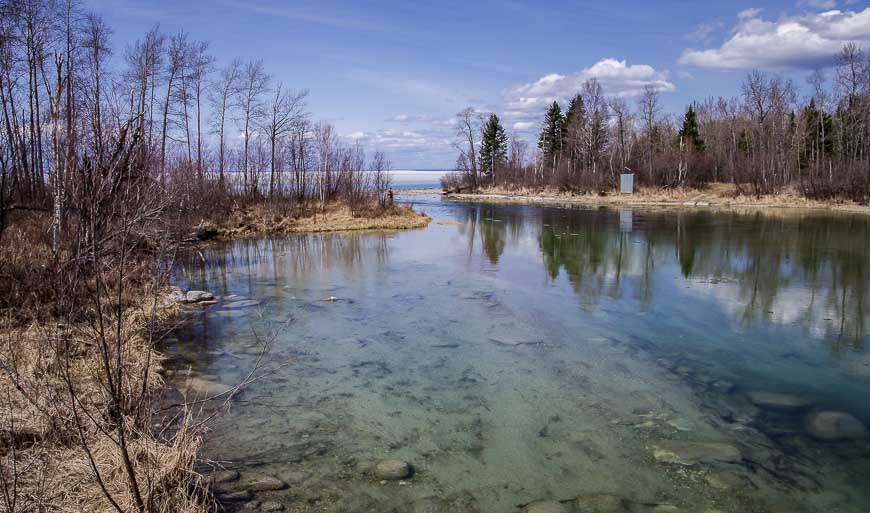 Manitoba adventures
Paddle the Caddy Lake Tunnels in Whiteshell Provincial Park
The Caddy Lake Tunnels offer a unique canoeing experience you'll find nowhere else in Canada. Two tunnels were built around the turn of the twentieth century by both the CN and CP Railways. You paddle through them, hoping that the water level isn't too high or you'll have to portage over the railway!
The first tunnel is located about 2.4 kilometres from the Green Bay Resort, the second a further 4.8 kilometres away. The landscape is pretty with lots of Canadian Shield and lakes that are great for swimming.
Hike the Spirit Sands – Devil's Punchbowl Trail
Spruce Woods Provincial Park is the home of the only sand dunes found in Manitoba. Called the Spirit Sands, they are located in the southern part of the province where the boreal forest meets the Assiniboine River.
Rising to a height of 30 m, they are a great place to hike, play and photograph, especially in summer when the wildflowers make an appearance. Just beware of the copious amounts of poison ivy that line the forested trails and stairways.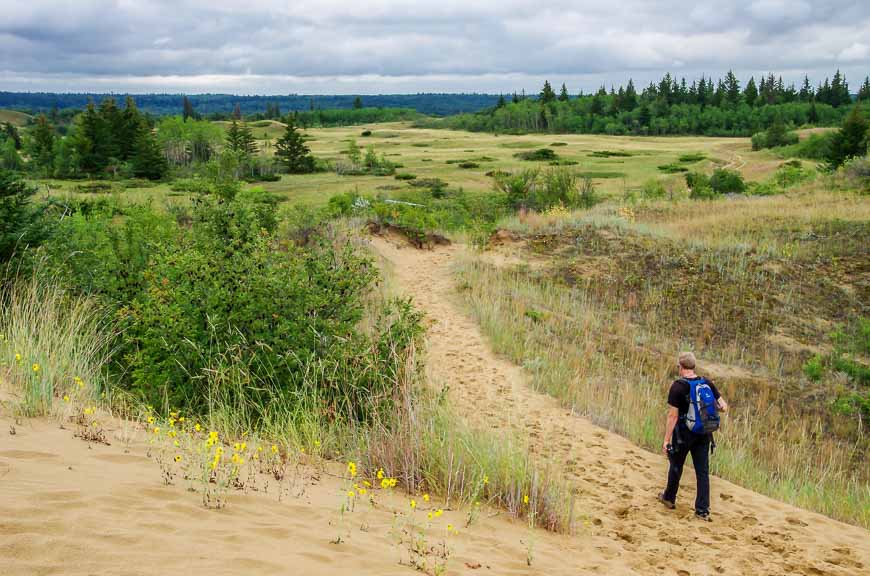 Ontario outdoor adventures
Hike the Coastal Trail in Pukaskwa National Park
If you're up for a tough hike do the 60 km Coastal Trail along the shores of Lake Superior in Pukaskwa National Park. A one way hike is the way to go as there is a boat shuttle you can organize for the start or end of the trip.
The hike is incredibly diverse offering everything from steep climbs and slippery descents, mossy forest walking, beautiful sections of rock hopping on the Canadian Shield and nasty ankle turning sections that feel like they go on forever.
Enjoy stunning beach campsites every night, wonderful sunsets, the varied moods of Lake Superior and blueberries galore in season. Plan on a September trip to avoid the bugs.
Canoe in Algonquin Provincial Park
Although this premier wilderness canoeing destination is extremely popular, it literally offers a lifetime of paddling opportunities with 2,000 km of canoe routes, 2,400 lakes and 1,200 km of rivers.
Pick a canoe route to suit your skill level. And then get into the backcountry and enjoy one of the nearly 2,000 campsites – many with drop-dead gorgeous settings on outcrop of Canadian Shield with windswept pine trees, just like a Group of Seven painting.
Quebec Adventures
Hike Les Graves in Forillon National Park
Les Graves is one of eight hikes in the park. It's very family friendly because it offers so many diversions. In Grand-Grave, a fishing village in the late 19th and early 20th century, guides dressed in period costumes demonstrate some of what life's day to day activities looked like back then.
After Grand-Cave, the trail meanders along grassy paths to meadows bursting with wildflowers. Interspersed are pretty, cobble beaches and spectacular views of eroding cliffs. Near the lighthouse, snag a picnic table with a view of rugged 95 m cliffs. Also look for the zero marker for the Canadian portion of the International Appalachian Trail.
All told it's an 8-19 km hike depending on where you start.
Paddle in La Mauricie National Park
Paddling in La Mauricie is a great place to learn. It's family friendly and the water is warm. There are two main launch points for a paddling trip – Lac Wapizagonke and Lac Édouard.
Both offer easy paddling if the winds don't blow up and campsites within a short distance of the launch site. There are also opportunities for extended wilderness trips, starting on either one of these lakes as well, if you don't mind portaging.
New Brunswick adventures
Bike in Kouchibouguac National Park
Biking through Kouchibouguac is an enjoyable way to spend a day though you may not get very far with all the possible diversions. The park is considered to be one of the best biking destinations in all of Atlantic Canada.
Explore salt marshes and bogs as you loop through the park on 60 km of mostly easy and well-signed trails. Stop to admire fields of wildflowers and listen for birdsong in the woods. Stop at Kelly's Beach at the end of a beautiful boardwalk but because it's such a great place to swim and relax, time a visit for the end of the day.
Kayak around the Hopewell Rocks
If you want to experience the highest tidal paddling experience on earth, then sign up for an easy kayaking trip at the Hopewell Rocks Park on the Bay of Fundy. Here the difference between high and low tide is between 10 and 14 m.
It's possible to walk the ocean floor at low tide among scenic, eroded rock formations called the flowerpots and then a few hours later kayak in exactly the same spot. Over those couple of hours you can watch how fast the water rises, on average between 1.2 – 1.8 m per hour.
Adventures in Canada – Nova Scotia Edition
Hike in Kejimkujik Seaside National Park
Located on the southwest shore of Nova Scotia, the park is a special part of the province that feels untouched by humans – even though it has a long history of habitation. Within the park there are two superb hiking trails – the 5.2 km out and back Harbour Rocks Trail and the 8.7 km Port Joli Head loop.
They can be done individually in just a few hours but it's also possible to combine them. Highlights include secluded rocky coves, beaches, rugged coastal scenery, wildlife including seals, black bears and sea birds and wildflowers galore. This is a real gem!
Cycle the Cabot Trail on Cape Breton Island
The Cabot Trail is a 300 km loop that takes most people five to seven days to complete. Because it's a loop, you can in theory start anywhere. From Baddeck, the bike ride takes you through the Margaree Valley, home to world class salmon fishing. Then it's out to the coast and north through a mix of Acadian and Gaelic towns.
The coastline en route to French speaking Cheticamp is dramatic at times. From Cheticamp, continue north through the spectacular Cape Breton Highlands National Park where you can expect to be physically challenged by two major climbs. The east side of the Cabot Trail offers many lovely surprises including beautiful pink, rocky shores, secluded beaches and inspiring vistas.
Prince Edward Island Adventures
Prince Edward Island, only 229 km long, is a great cycling destination for people who like quiet back roads and little in the way of hills. If you are new to multi-day bike trips, this is a good one to start with.
You can expect to ride a mix of scenic roads as well as sections of the 273 km long Confederation Trail, an old rail bed that is now a multi-use trail. The roads and trail take you through a patchwork of farmland, past thousands of acres of potatoes fields on gently rolling terrain with occasional coastal sections.
A real treat is the new 10 km multi-use trail along the Gulf Shore Parkway in Prince Edward Island National Park. Allow two days to a week to bike the length of the island.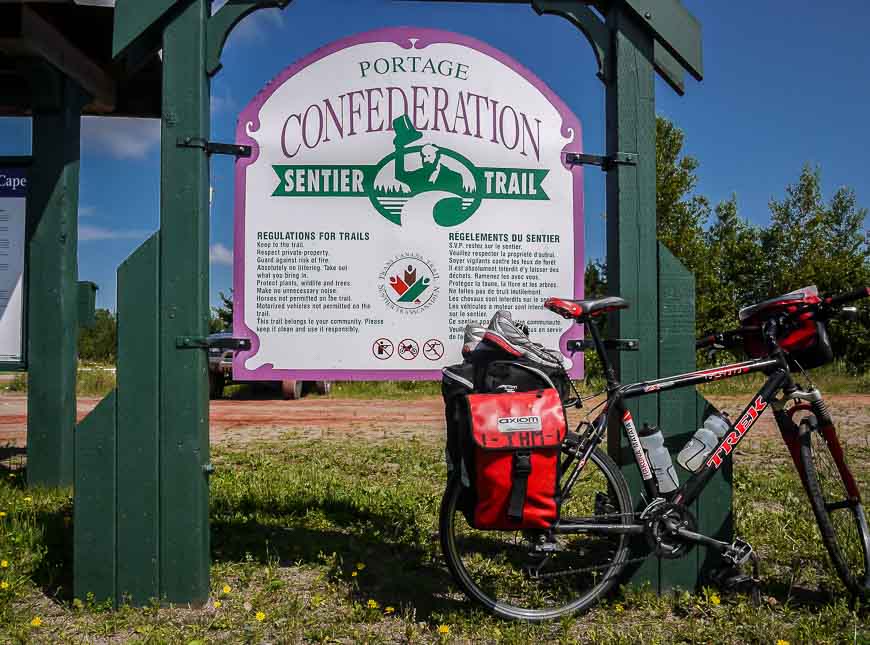 Newfoundland Adventures
Hike the Skerwink Trail
The Skerwink Trail, located in Trinity East on the Bonavista Peninsula, offers more scenery per linear foot than any other trail in Newfoundland, at least according to John Vivian, the founder of the trail. It follows the north and south coasts of Skerwink Head, a ruggedly beautiful peninsula separating Port Rexton from Trinity Harbour.
It's best hiked in a clockwise direction so you can take advantage of the views of Trinity Harbour as you hike south from Skerwink Head.
Over its 5.3 kilometre length you'll be treated to a coastal landscape filled with sea stacks, sea caves and arches, capelin beaches, bird life, whales, moose and occasionally even icebergs. And you only need a couple of hours!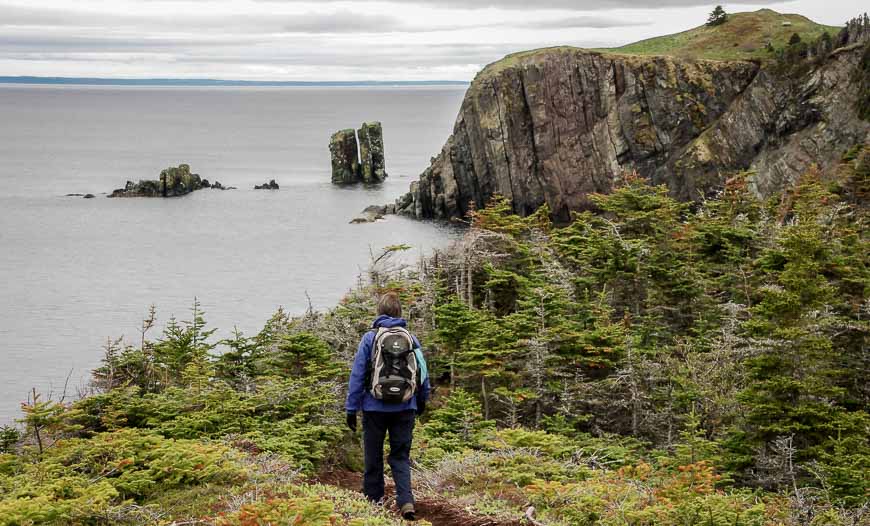 Hike up Gros Morne Mountain in Gros Morne National Park
If you only have time for one hike while you're in Gros Morne National Park, and you're looking for a stunning view of Ten Mile Brook Pond, the Long Range Mountains and Bonne Bay, then plan on the challenging hike to the top of Gros Morne Mountain. It's one of the exceptional adventures in Canada you're not going to want to miss.
To reach the summit, you must hike for the better part of four hours, and ascend 800 m. The return is no picnic either.
But for incomparable views and the chance to stand on the second highest peak in Newfoundland at 806 m, it's well worth the effort.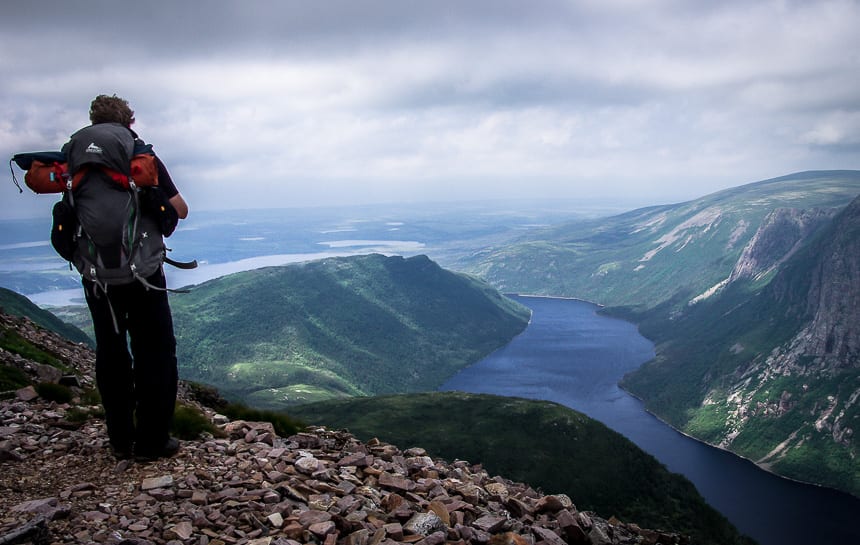 Adventures in Canada – Nunavut version
Backpack in Auyuittuq National Park
If you're looking for a remote, wilderness backpacking experience in Canada's north that takes you across the Arctic Circle, then Auyuittuq National Park on the Cumberland Peninsula of Baffin Island is a great choice.
The 8 – 12 day backpacking trip takes you through a powerful landscape of rugged mountains, glaciers, and roaring rivers where only the hardiest of plants and animals survive and where the weather can change in a heartbeat.
You must be self-reliant. The Arctic is an unpredictable place to visit. Some of the highlights on the trek include magnificent mountain vistas, Mount Thor with the highest vertical face in the world, crossing the Arctic Circle, river crossings, wildflowers and a grand sense of space.
Adventures in Canada – Northwest Territories
Canoe the Cameron River Ramparts to Yellowknife
If you want a taste of canoeing in the Northwest Territories but without the cost of a float plane trip, then check out some excellent canoe routes within approximately an hour of downtown Yellowknife. All are accessed via Highway 4, otherwise known as the Ingraham Trail.
Portaging skills should be good and you must be comfortable paddling on big lakes if you want to do the full trip from the Cameron River Ramparts to Yellowknife.
If you're not interested in the possibility of big winds and waves, then you can finish the trip at Powder Point on Prelude Lake. Highlights of this paddle include a side trip to Hidden Lake Territorial Park, fabulous swimming, Cameron Falls, the ramparts, beautiful campsites and lots of bird life.
Yukon Territory Adventures
Backpack to Grizzly Lake in the Tombstone Mountains
World-class mountain scenery, reminiscent of the mountains found in Patagonia awaits those prepared to backpack into Grizzly Lake in Yukon's remote Tombstone Mountain range. The trailhead is accessed from the Dempster Highway and is about a seven hour drive from Whitehorse.
This is one of the top backpacking trips in Canada – in my personal top five. Highlights on the 11.5 km one way hike to Grizzly Lake include incredible fall colours come late summer, gorgeous, rugged mountain scenery and plenty of wildlife.
You do need to book campsites in advance. Always carry bear spray for this country is famous for its grizzly bears. (You can get it at the Visitor Centre.)
What one of the adventures in Canada most speaks to you?
Click on the photo to bookmark to your Pinterest boards.