I've been asked the question numerous times. What's the better place to visit – Whistler or Banff?
It depends on what you're looking for is my answer as they are very different despite both being mountain towns. I've read on forums that if you've been to one you don't need to visit the other as they're so similar.
I disagree. Both towns have their own unique personalities. And as someone who has lived within 75 minutes of both Whistler and Banff – and visited both frequently, I think I am qualified to opine on the matter.
Here are the pros and cons of visiting Whistler and Banff. 
Whistler
Pros:
If the sun is shining the drive from Vancouver to Whistler via the Sea to Sky Highway  is one of the most scenic in Canada. You can also get to Whistler via the beautiful train ride on board The Rocky Mountaineer from May until September.
Whistler and Blackcomb offer some of the top rated downhill skiing in North America – good enough to host the 2010 Winter Olympics. Both mountains boast over 5,000 feet of vertical. There is a run for every type of skier on these mountains. And yes it can rain but that's usually at the bottom of the hill. Ski from mid-mountain up and you'll end up in snow most of the time. The views are stellar too.
There are loads of things to do in the winter if you're not a skier – bobsledding, ziplining, snowshoeing, tubing, shopping, spa days and excellent dining.
Every December Whistler plays host to a Film Festival.
In November Whistler plays host to a wine and food extravaganza called Cornucopia.
There is a wide range of accommodation options in Whistler. You can stay for $30 a night at Whistler's Fireside Lodge – in a dorm room; you can book a room at the hostel from $31.50 a night; or stay in a high end full service hotel like the Pan Pacific; renting a condo and splitting the costs is also possible.
In the summer the mountain biking is world class. And there is lots of it.
There are loads of hiking options. To get the views quickly you can take the gondola up out of Whistler village. Or hike in nearby Garibaldi Park. The Black Tusk hike, the Panorama Ridge hike and the hike to Garibaldi Lake are all excellent options.
Swimming in Whistler's lakes is possible in the summer.
Canoeing or kayaking on the River of Golden Dreams is an easy but fun half day outing.
You can ski from late June to late July on the Horstman Glacier.
Cons:
Whistler is frequently rainy and dreary – especially in the spring and fall. 

If you haven't bought an Edge card or a discounted ski ticket you may suffer sticker shock from the one day ticket price. Buying at the window will set you back $102.
Prices can be steep -and you pay 12% tax on everything in British Columbia.
You can't camp in Whistler. Expect to be at least 30 minutes away.
Although the hiking is good, you have to climb thousands of feet to get the views.
Wildlife sightings are a fraction of what you will see in the Banff area. You do have to be bear aware as you can run into bears – even on the city trails.
Banff
Pros
Banff is the gateway to Banff National Park – the most visited National Park in Canada – and for good reason. Scenery is world class and accessible.
If you want to see wildlife then the Banff corridor offers lots of opportunities. Elk are everywhere. And it's a rare day that I don't see big horned sheep on the way up to Lake Minnewanka. Bears and wolves are around but I have yet to see either of them in the park.
The Banff Mountain Film and Book Festival takes place yearly beginning in late October. Go listen to some of the biggest names in the outdoor field read from their books – or watch a wide range of mountain themed films – on culture, adventure, the environment, skiing, kayaking…you name it.
The Rocky Mountain Wine and Food Festival takes place every May over the course of a weekend.
The Two Jack Main Campground is just 12 kilometres from Banff and offers 320 first come, first served secluded campsites. The Tunnel Mountain Village Campground, just five kilometres from Banff offers 188 sites year round.
There is a wide range of accommodation options outside of camping including the famed Banff Springs Hotel, and numerous motels, small hotels, B&B's and hostels.
Tax in Alberta is only 5%.
The Banff Hot Springs are amazing – especially on a cold winter day. Don't miss out on a visit.
The drive from Calgary gets better and better the closer you get to Banff. And even the prairie is interesting with its big sky views.
There are extensive options for cross country skiing around Banff. They range from easy to difficult but almost all take you through glorious country.
Hiking options in the summer abound. The Banff-Lake Louise corridor could provide you with enough hikes and backpacking trips to keep you busy all summer. In the fall the larches put on a world-class foliage display.
Cons:
It can be nuts in Banff on a beautiful sunny day. Over three million people visit Banff National Park on a yearly basis – and the bulk of the visitors are in July and August. Waits to get into the park can easily be a half hour if you don't have a permit. Go early and beat the rush is my advice.
(In 2017 national parks passes are free so Banff will be crazy. Here are six summer alternatives to Banff National Park for summer 2017.)
The main street in Banff feels very touristy.
Banff is glorious when it's sunny but it has its fair share of grey, overcast, snowy and wet days.
Downhill skiing (at Norquay, Sunshine Village and Lake Louise) is nearby but it's not as good as Whistler. Sorry but it's true.
Banff – because it's in a national park – cannot develop some of the activities that are offered at Whistler – things like ziplining and bobsledding – which may be a con for some and a pro for others.
There are lots of places to eat – and many are excellent – but I think Whistler offers diners more choice.
I'm sure I've missed some points on both the pro and the con side. Please feel free to leave a comment.
What is your favourite place to visit? Whistler or Banff – and why?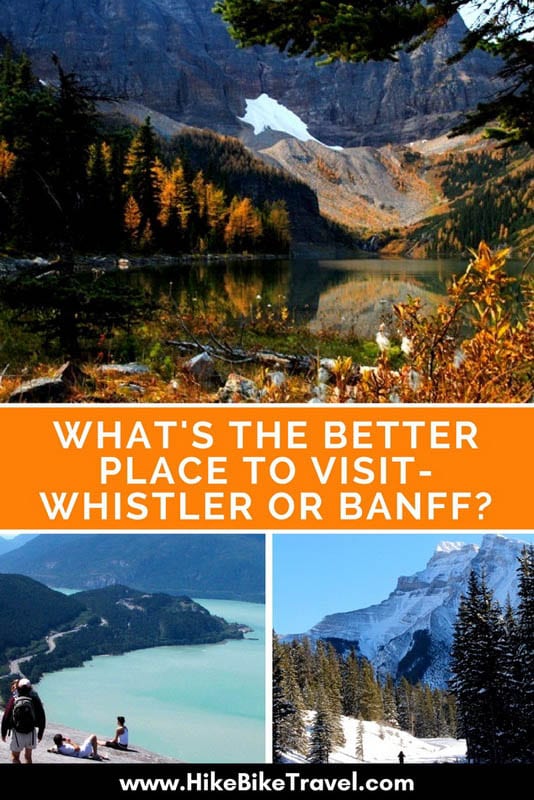 Leigh McAdam
Author of Discover Canada: 100 Inspiring Outdoor Adventures
Co-author of 125 Nature Hot Spots in Alberta
HikeBikeTravel
Follow me on Facebook, Twitter, Instagram and Pinterest